NIEMODLIN

castle of the Opole dukes
CASTLE IN NIEMODLIN, VIEW FROM THE NORTH
---
T
he ori­gins of the cas­tle in Nie­mod­lin, which is cur­rent­ly one of the largest and best pre­served me­dieval res­i­dences in the Opo­le re­gion, date back to the pe­ri­od be­fore 1228, that is be­fore han­dover the set­tle­ment by Ka­zi­mierz I (d. 1230) to Kle­mens Gry­fi­ta (d. 1241) as a com­pen­sa­tion for the fi­nan­cial ef­fort made by Gry­fi­ta while build­ing ducal res­i­dence in Opole. Its ap­pear­ance in the first half of the 13th cen­tu­ry, how­ev­er, did not re­sem­ble con­tem­po­rary build­ings. Ini­tially the fort­ress was on­ly a small tow­er of res­i­den­tial char­ac­ter, sur­round­ed by a moat and wood­en for­ti­fi­ca­tions. Sit­u­at­ed near the riv­er cross­ing, it served main­ly as a cen­tre of lo­cal ad­min­is­tra­tion and a toll col­lec­tion point on the trade route lead­ing from Si­le­sia to Mo­ra­via. In the vicin­i­ty of the tow­er there was a ducal vil­lage, lat­er be­long­ing to the Bene­dic­tine monastery in Sta­niąt­ki, first men­tioned in 1224 as Ne­mod­li­na vil­la. A fair set­tle­ment de­vel­oped from it, and then the town, which has been called Fal­ken­berg as a re­sult of the in­creas­ing num­ber of Ger­man set­tlers. Its lo­ca­tion, dat­ing back to the pe­ri­od be­tween 1260 and 1283, is con­nect­ed with the con­struc­tion of a sec­ond res­i­den­tial tow­er, erect­ed on the ini­tia­tive of Wła­dy­sław Opol­ski (d. 1281/82) on the site of an ear­li­er one. This in­vest­ment was prob­a­bly rel­ated with or­gan­i­sa­tion of the Cas­tel­lany of Nie­mod­lin, whose first ad­min­is­tra­tor was a cer­tain Syg­hard (1294).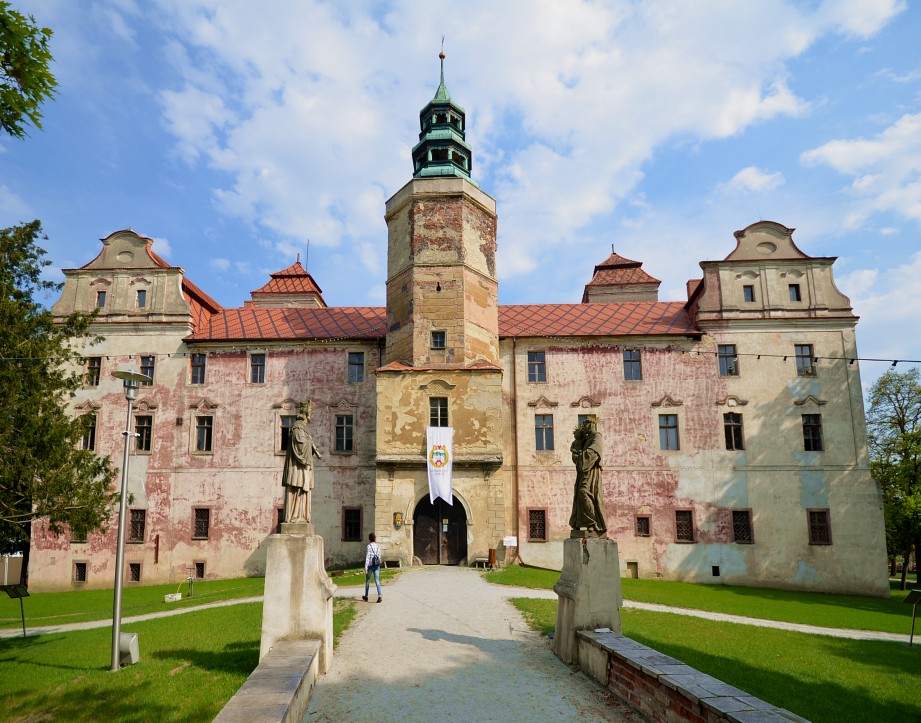 NORTH-WEST ELEVATION OF THE CASTLE
According to linguists, the Slavic name Niemodlin is derived from the na­me of first ow­ner of the vil­la­ge Nie­modl-im, which could be as­so­cia­ted with ne­ga­tion of the word mo­dlić się (eng. pray). In the se­cond half of the 13th cen­tu­ry, with the ar­ri­val of Ger­man-spe­aking po­pu­la­tion, the term Fal­ken­berg be­gan to do­mi­na­te he­re. In the fol­low­ing cen­tur­ies Po­lish and Ger­man na­mes fun­ctio­ned al­ter­na­te­ly or in pa­ral­lel, and their pro­nun­cia­tion and spel­ling were of­ten dis­tor­ted, in­clud­ing Yal­kin­berg (1318), Val­kin­berg (1368), Fal­kin­berg (1370) or Fal­ken­berg-Nie­mod­lin (1819).

IN THE CASTLE COURTYARD, 2020
A
fter death of Bolesław I in 1313, his three sons Bo­le­sław (d. be­fore 1365), Bo­le­sław (d. 1356) and Al­bert (d. be­fore 1375) di­vid­ed the Opo­le dis­trict among them­selves, which led to sep­a­ra­tion of the small Duchy of Nie­mod­lin. It was tak­en o­ver by the old­est son, Bo­le­sław Pier­worod­ny (the First­born), hence­forth called Nie­mod­liń­ski. The town's grow­ing im­por­tance as the cap­i­tal of in­de­pen­dent state en­ti­ty was re­flect­ed in ex­pan­sion of the fort­ress, which was strength­ened by de­fen­sive wall and equipped with wood­en util­ity build­ings. When Bo­le­sław Pier­wo­rod­ny died, the duchy was suc­ceed­ed by his el­dest son Bo­le­sław II Nie­mod­liń­ski (d. 1368), and af­ter heir­less death, his younger broth­ers Wacław (d. 1369) and Hen­ryk (d. 1382) ruled o­ver these lands. Due to the fact that all sons of Bo­le­sław Pier­wo­rod­ny died with­out male off­spring, af­ter the ex­piry of Nie­mod­lin line of Piasts in 1382, the cas­tle and the duchy were tak­en o­ver by sons of the Opo­le duke Bol­ko III
: Bol­ko IV (d. 1437), Hen­ryk (d. 1394) and Ber­nard (d. 1455). The last of these, in 1399, as an in­de­pen­dent ruler of this land, he merged it with Strzel­ce Opol­skie to cre­ate a sovereign state, which end­ed in 1460, on­ly a few years af­ter death of its founder. Ear­li­er, how­ev­er, dur­ing the Hus­site wars in the 1420s, the town and the cas­tle were in­vad­ed and then de­stroyed by Czech troops, go­ing through Nie­mod­lin to Brzeg. As ear­ly as in the first half of 15th cen­tu­ry, the fort­ress was re­built and per­haps even mod­ern­ized. How­ev­er, it was prob­a­bly no longer a cen­tre of pow­er, but was still used as a seat of lo­cal ad­min­is­tra­tion.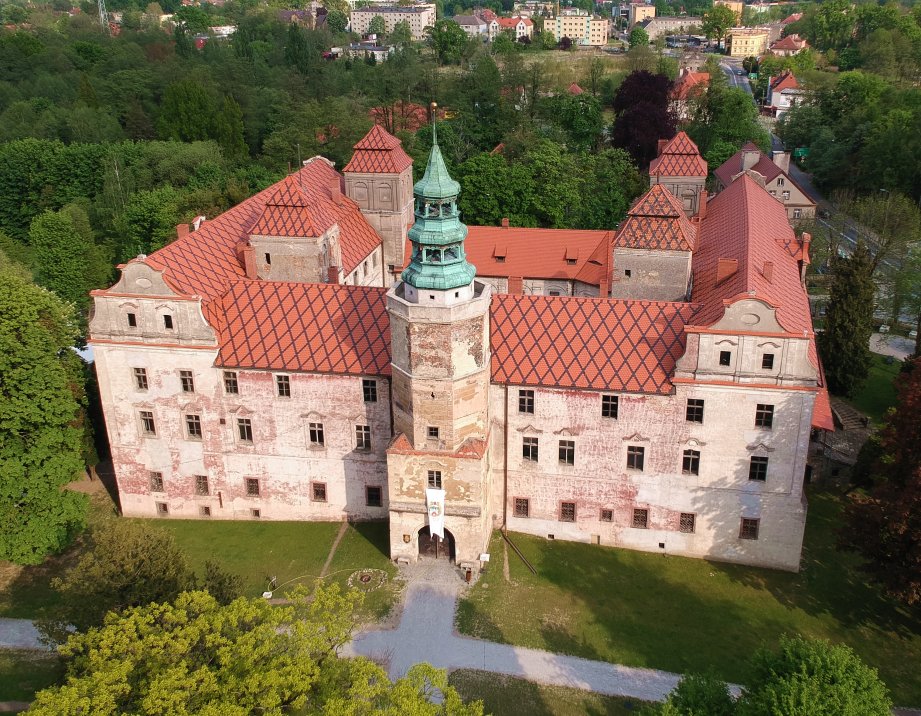 AERIAL VIEW FROM THE NORTH-WEST
I
n 1450, o­ver 70-year-old Ber­nard, who had no male de­scen­dant, hand­ed o­ver the Nie­mod­lin part of duchy to Bol­ko V Wo­ło­szek (d. 1460), son-in-law of the Pol­ish Queen El­żbie­ta Gra­now­ska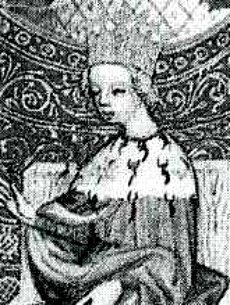 . He and his wife Jad­wi­ga Bies al­so did not have a son, as a re­sult of which af­ter Bol­ko's death the dis­trict of Nie­mod­lin be­came prop­er­ty of the Dukes of Opo­le, who from that time on used the ti­tle: Lord of Nie­mod­lin. Such a state of af­fairs last­ed un­til 1532, when, af­ter the heir­less death of the last Opo­le-Ra­ci­bórz Piast Jan II Do­bry (John II The Good) the duchy came un­der the power of Czech King Fer­di­nand I Hab­sburg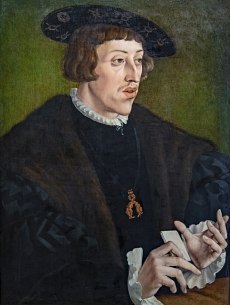 (d. 1564). Soon this ruler leased the cas­tle to Bran­den­burg Mar­grave Georg Ho­hen­zol­lern-Ans­bach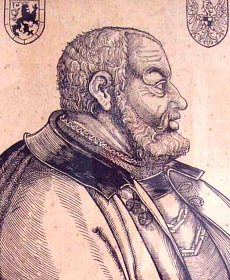 (d. 1543), nephew of Pol­ish King Zyg­munt Sta­ry (Si­gis­mund the Old)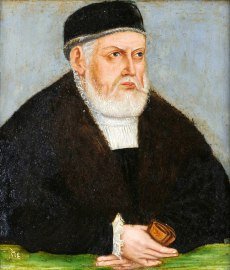 , and then to his mi­nor son Georg Frie­drich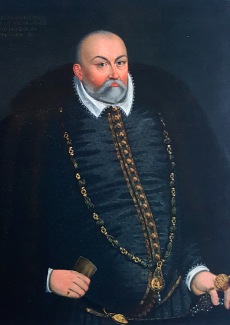 (d. 1603). In 1551, as a com­pen­sa­tion for re­lin­quish­ing claims to the Hun­gar­i­an throne, the Duchy of Opo­le, to­geth­er with the ti­tle of Duke of the Reich and an an­nu­al salary of 25 thou­sand flor­ins, re­ceived Queen Re­gent Iza­be­la Ja­giel­lon­ka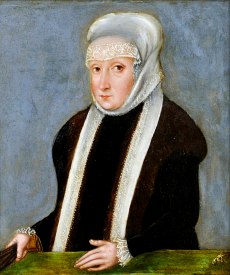 (d. 1559) and her son Jan Zyg­munt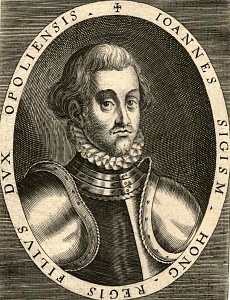 (d. 1571). How­ev­er, they did not come to Nie­mod­lin, and on their be­half the ad­min­is­tra­tive au­thor­i­ty was held here by Wen­zel Pück­ler, who may have wit­nessed the great fire of the town in 1552, which de­stroyed part of the build­ings and se­ri­ous­ly dam­aged the cas­tle walls and its equip­ment.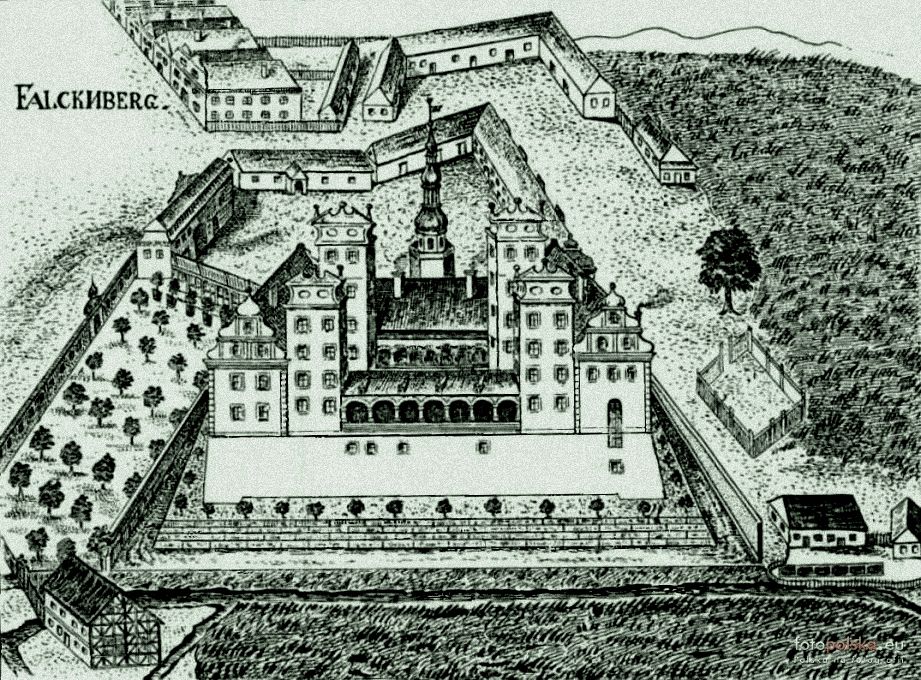 THE OLDEST KNOWN IMAGE OF THE CASTLE, VIEW FROM THE SOUTHEAST
CH. GLAUBITZ GESCHICHTE DER HERRSCHAFT FALKENBERG IN OBERSCHLIESEN, 1734
W
hen Isa­be­la Ja­giel­lon­ka left in 1557, the half-burnt ru­in was pledged to Count Math­es von Lo­gau, Chan­cel­lor of the Ny­sa Bish­opric, and af­ter his death in 1567, it was placed in the hands of his son Hen­rik. A year lat­er, how­ev­er, his fa­ther's con­tract with the late Em­per­or Fer­di­nand Hab­s­burg ex­pired, and the town of Nie­mod­lin it­self ap­plied to the in­cum­bent Em­per­or Max­i­m­il­ian
(d. 1576) to take o­ver the pledge, even­tu­al­ly re­ceiv­ing it. The town coun­cil ad­min­is­tered the cas­tle for on­ly four years, af­ter which in 1572 Cas­par Püc­kler von Gro­ditz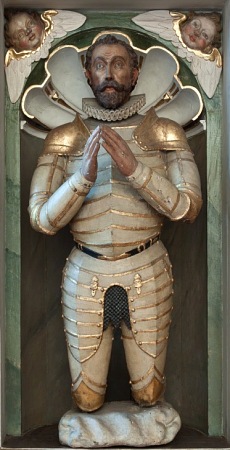 (d. 1584) took o­ver the Nie­mod­lin es­tate, pay­ing a huge sum of 32 thou­sand thalers for a 22-year lease. This amount in­clud­ed a 'dis­count' of 6200 thalers, which the pur­chas­er re­ceived from Em­per­or due to planned cost of the cas­tle re­con­struc­tion, since by de­ci­sion of Em­per­or's ex­pert, the build­ing was wild and bad­ly built, and the old tow­er was an use­less heap of stones. In 1581 he de­cid­ed to buy the sub­leased prop­er­ty, and then to­geth­er with his son Balt­haz­ar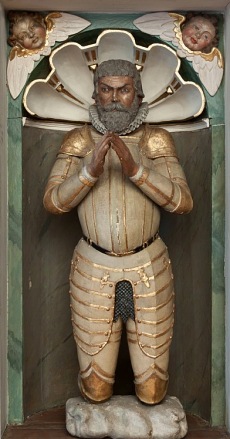 (d. 1591) and his wife Polix­e­na Nech­er von Buch­wald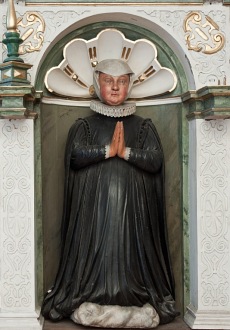 (d. 1609) es­tab­lished the pri­vate state of Nie­mod­lin (Herr­schaft Fal­ken­berg). As a hered­i­tary lord, Balt­haz­ar start­ed to re­build the Goth­ic cas­tle in­to a Re­nais­sance style. For that pur­pose, he hired mas­ters Ja­kob West­phal and Hans Cz­erre, un­der whose su­per­vi­sion the build­ing re­ceived a new north-west­ern wing with gate tow­er, wind­ing stair­case and brick kitchen, as well as three-storey clois­ters. Its south-west­ern wing was al­so mod­ernised, and de­fence sys­tem has been enriched with bas­tion and moat, where up to three hun­dred three-year-old carp are kept and over­win­tered an­nu­al­ly.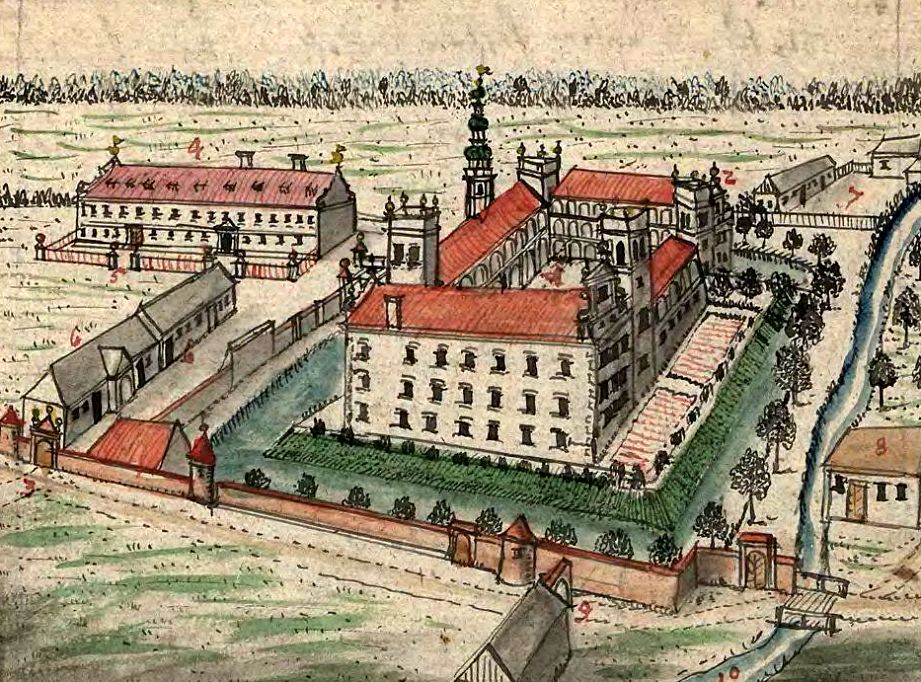 THE TOWN AND THE CASTLE IN THE MIDDLE OF XVIII CENTURY, F. B. WEHRNER TOPOGRAPHIA SEU COMPENDIUM SILESIAE 1744-68
B
al­thasar Pück­ler did not see the end of con­struc­tion work as he died on 14 Au­gust 1591. The in­vest­ment was con­tin­ued by his son-in-law Weig­hardt Prom­nitz (d. 1618), thanks to whose ef­forts the cas­tle was en­larged by two more wings and four tur­rets with stair­cas­es, re­sult­ing in the form of an el­e­gant quadri­lat­er­al with a Re­nais­sance ar­cade court­yard. How­ev­er, this stylish ap­pear­ance did not de­prive the cas­tle its de­fen­sive ca­pa­bil­i­ties. It was pro­tect­ed by a moat re­in­forced with stones and a cur­tain wall with bas­tions, and the con­stant pres­ence of its crew at the be­gin­ning of 17th cen­tu­ry was to be proved by mili­tary equip­ment for 23 in­fantry and 22 cav­al­ry­men, list­ed in the in­ven­to­ry from 1618. The ex­pen­di­ture on ex­pan­sion and fur­nish­ing of the palace ap­par­ent­ly ex­ceed­ed own­ers' fi­nan­cial pos­si­bil­i­ties, since at the time of Weig­hardt's death the es­tate was in­debt­ed to the amount of 177 thou­sand thalers. Some of these re­ceiv­ables re­sult­ed from his obli­ga­tions to Ernst Pos­er, who in ex­change for un­paid debts con­clud­ed a tem­po­rary lease agree­ment with care­tak­ers of Sey­fried, son of Weig­hardt, and hold the cas­tle un­til his death in 1624. At that time, he was sup­posed to run a rob­bery econ­o­my, not car­ing about the state of prop­er­ty. As­sa­man Nos­tiz, the in­her­i­tor of Ernst, con­tin­ued his rule in Nie­mod­lin un­til 22 April 1648, when, with the sup­port of the lo­cal in­hab­i­tants and Opo­le mi­li­tia, the cas­tle was tak­en o­ver by force by Sey­fried Prom­nitz. When Sey­fried died with­out an heir­loom in 1650, the town and the cas­tle once again be­came the sub­ject of dis­putes and lit­i­ga­tion be­tween the heirs of the Po­sers and the heirs of the Prom­nitz fam­i­ly. Un­reg­u­lat­ed le­gal sta­tus of res­i­dence, but al­so the re­cent­ly end­ed Thir­ty Years' War and the ac­com­pa­ny­ing mil­i­tary march­es, req­ui­si­tions and fires made the cas­tle in need of ur­gent and far-reach­ing ren­o­va­tions. Apart from the in­fras­truc­ture dam­age, valu­able cas­tle equip­ment was al­so de­stroyed or stolen.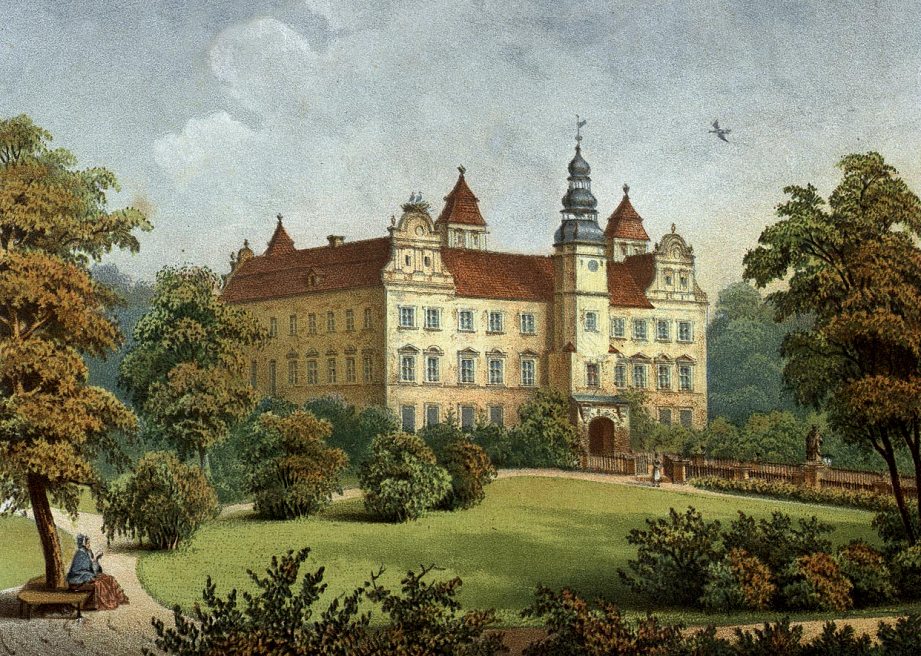 F. PAZELT'S LITHOGRAPH WITH VIEW OF THE CASTLE FROM THE NORTH, 2ND HALF OF THE XIX CENTURY
I
n year 1650, the Nie­mod­lin es­tate was tak­en o­ver by Sey­fried Prom­nitz's cousin and Balt­haz­ar Pück­ler's grand­son Ber­nard von Zie­ro­tin (d. 1655). Af­ter his death, the prop­er­ty was hand­ed o­ver to his son, Sieg­fried Erd­mann, who, hav­ing reached the age of ma­jor­i­ty, made an at­tempt to raise the fam­i­ly head­quar­ters from the fall. How­ev­er, scope of work car­ried out on his ini­tia­tive was quite lim­it­ed and in­clud­ed, above all, ren­o­va­tion of in­te­ri­ors and new dec­o­ra­tions in the ear­ly Ba­roque style. With Sieg­fried's death in 1708, a court dis­pute arose be­tween his heirs, which end­ed by hand­ing o­ver Nie­mod­lin to his youngest son, Franz Lud­wig (d. 1731), who since 1716 has held the ti­tle of Lord on Nie­mod­lin and Tu­ło­wi­ce and Va­lašské Me­ziřice, Kras­na and Rož­nov un­der Rad­hoštĕm in Mo­ra­via. Franz chose Valašské Me­ziřici as the main seat of the fam­i­ly, where his work was the Baroque re­con­struc­tion of the lo­cal old cas­tle
. He did not pay much at­ten­tion to main­te­nance of Si­le­sian res­i­dences, as ev­i­denced, among oth­er things, by the fact that some rooms of Tu­ło­wi­ce palace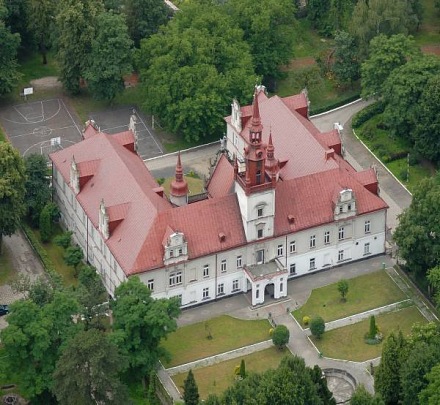 were used to store grain. In 1731 the Nie­mod­lin-Tu­ło­wi­ce part of es­tate was in­her­it­ed by Franz Lud­wig's younger son, Mi­chael von Zie­ro­tin (d. 1779). Tech­ni­cal con­di­tion of the cas­tle was not so good at that time, as its man­agers de­scribed the bridge as very un­cer­tain, sug­gest­ing an in­dis­pens­able, nec­es­sary ren­o­va­tion. It is very pos­si­ble that in the mid­dle of 18th cen­tu­ry it was on Mi­chael's ini­tia­tive that the res­i­dence re­ceived mansard roofs, baroque win­dow and gable dec­o­ra­tions, as well as new ar­cade bridge with baroque sculp­tures of saints, while the park was en­riched with stylish pavil­ions and or­angery. We al­so owe to him the cre­ation of so-called Gold­en Book of Nie­mod­lin-Tu­ło­wi­ce as­sets - a list of prop­er­ties pre­pared in 1734 by Chris­toph Glaub­itz, with a reg­is­ter of res­i­dents, de­tailed field maps and plans, as well as the old­est icono­graph­ic rep­re­sen­ta­tion of the cas­tle. In 1755, af­ter the heir­less death of his old­er broth­er Franz, Mi­chael von Zie­ro­tin in­cor­po­rat­ed the Mo­ra­vian es­tates in­to his Si­le­sian her­itage and man­aged them un­til his death in 1779.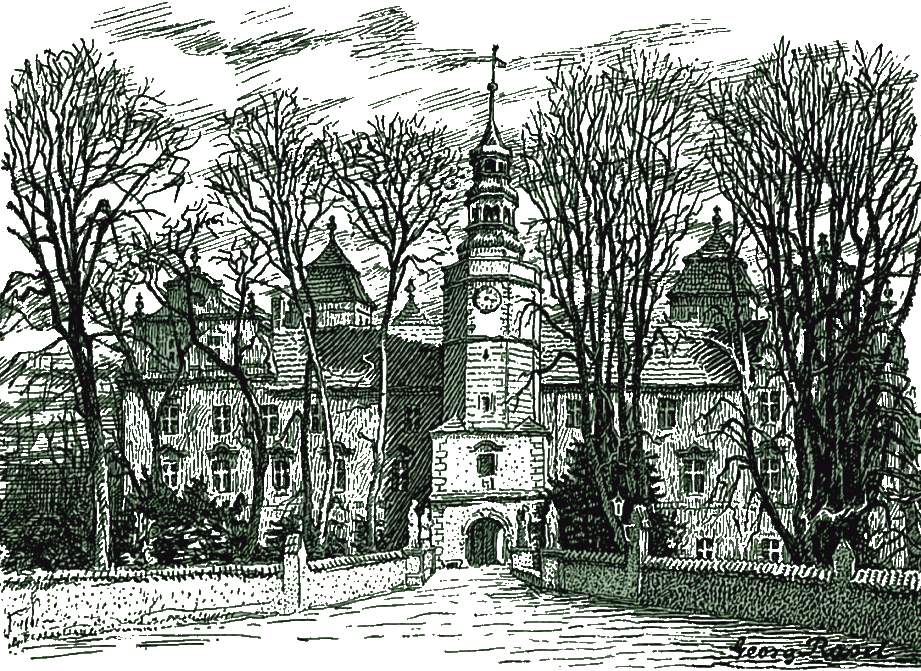 VIEW OF THE CASTLE FROM THE NORTH-WEST ON DRAWING BY G. RASEL
COLOURED POSTCARD FROM AROUND 1900
S
ince Michael von Zierotin re­mained a bach­e­lor un­til the end of his life, he made a cousin, Lud­wig An­ton von Zie­ro­tin (d. 1817), heir to the Mo­ra­vian es­tate. The heir to the Si­le­sian part was his moth­er's nephew, Jo­hann Ne­po­muk Carl Praschma (d. 1822), a lover of lit­er­a­ture and mu­sic, who gath­ered large li­brary in the cas­tle of Niemod­lin, or­gan­ised the­atre per­for­mances here and main­tained a court band. In 1787, on his ini­tia­tive, an­oth­er re­con­struc­tion of the cas­tle com­plex be­gan, as a re­sult of which, un­der su­per­vi­sion of the ar­chi­tect named Steglich, some of Re­nais­sance clois­ters and dec­o­ra­tive at­tics were re­moved. In Lip­no, 3 kilo­me­tres away, Jo­hann Ne­po­muk has al­so es­tab­lished a land­scape park with botan­i­cal gar­den, var­ied by leisure pavil­ions and ro­man­tic park ar­chi­tec­ture. The work start­ed by fa­ther was con­tin­ued af­ter his death by son, Frie­drich I Praschma (d. 1860), a vet­er­an of Na­po­le­on­ic Wars and an ea­ger sub­ject of the Prus­sian King Frie­drich Wil­helm IV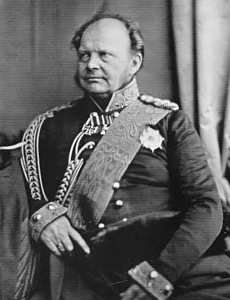 , whom he per­son­al­ly host­ed in 1846 at the cas­tle in Nie­mod­lin. He com­plet­ed re­con­struc­tion of the cas­tle court­yard. Al­so on his ini­tia­tive, in the first half of nine­teenth cen­tu­ry, the res­i­dence was sur­round­ed by a small En­glish-style park, par­tial­ly ar­ranged on site of me­dieval moats. The heir of Frie­drich I was Frie­drich II Wil­helm Prasch­ma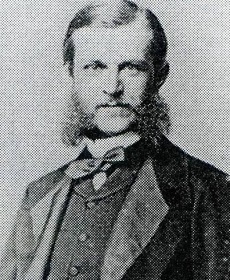 (d. 1909), a par­tic­i­pant in the wars with Den­mark, Aus­tria and France, where he ac­tive­ly en­gaged in samar­i­tan ser­vices. The cas­tle owes him a num­ber of ren­o­va­tion works com­bined with neo-Goth­ic re­con­struc­tion, which was car­ried out in 1869-73 un­der su­per­vi­sion of Dres­den ar­chi­tect Karl Pieper and dec­o­ra­tor Hein­rich Com­mans from Düssel­dorf.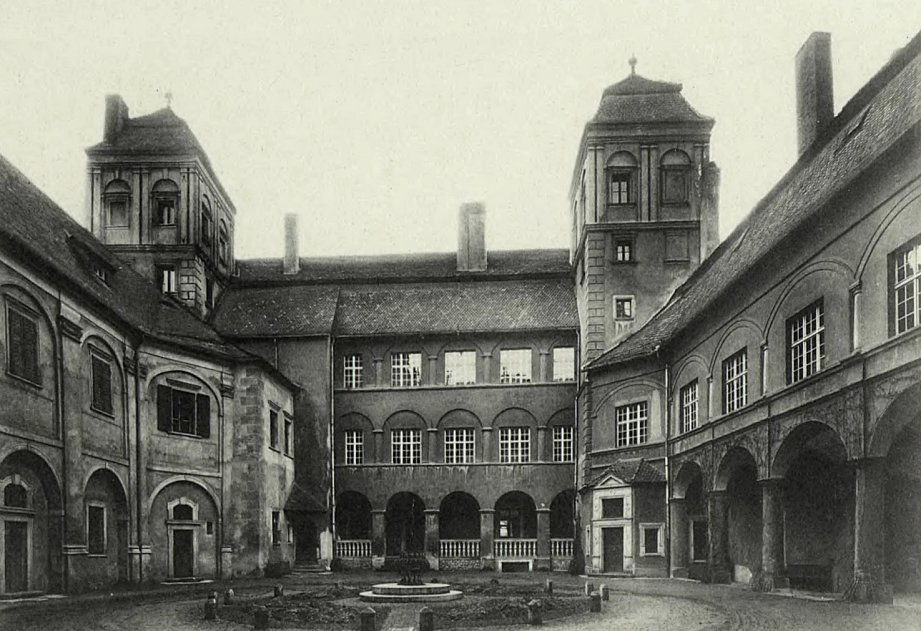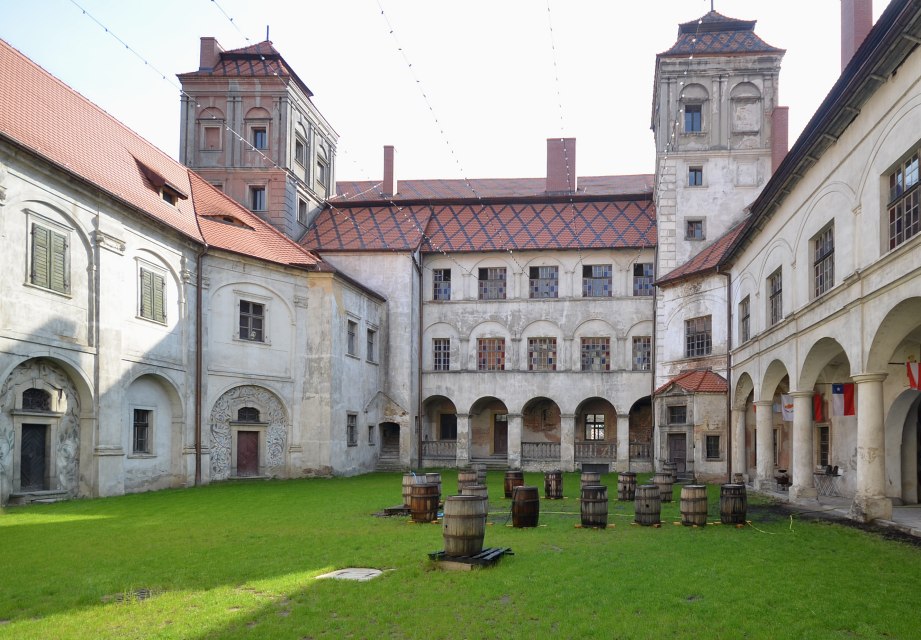 THE CASTLE COURTYARD IN THE 1920S AND NOWADAYS (2020)
A
fter death of Friedrich II in 1909, the el­dest of his ten chil­dren, Jo­han­nes Prasch­ma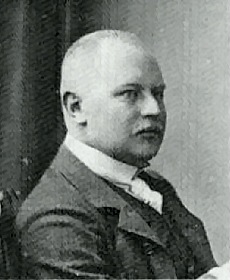 (d. 1935), be­came the next heir of fam­i­ly for­tune. He ini­tial­ly lived with his fam­i­ly in Ro­gi palace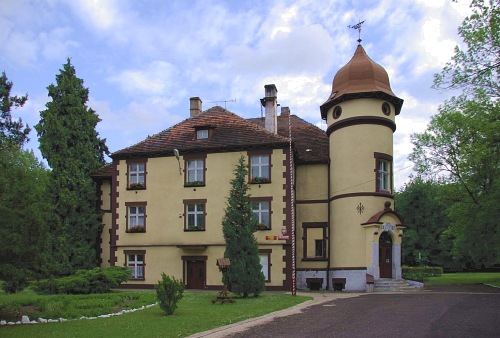 , but in 1916 moved to Nie­mod­lin and soon af­ter­wards com­mis­sioned an­oth­er mod­erni­sa­tion of the cas­tle. Its main goal was to aban­don the al­ready un­fash­ion­able neo-Goth­ic form in favour of a style based on neo-Re­nais­sance and neo-Baroque mo­tifs, and it was car­ried out un­der strict con­ser­va­tion su­per­vi­sion of ar­chi­tects Karl Gross­er and Hum­bert Walch­er, co-au­thor of re­build­ing of Książ cas­tle
. Aes­thet­ic changes of the build­ing were ac­com­pa­nied by in­tro­duc­tion of tech­ni­cal in­no­va­tions such as elec­tric­i­ty and cen­tral heat­ing; as well as long-await­ed wa­ter­works, which had not been in­stalled here be­fore. Frie­drich III Le­o­pold Praschma (d. 2000), the last pre-war own­er of the cas­tle, tried to con­tin­ue his fa­ther's restora­tion pro­ject. His reign last­ed on­ly a decade, of which he spent a few years in Ger­man army, vis­it­ing Niemod­lin on­ly dur­ing his hol­i­days. In this sit­u­a­tion, the ma­jor­i­ty of cur­rent mat­ters re­lat­ed to prop­er­ty man­age­ment and pro­tec­tion against ad­min­is­tra­tive de­ci­sions were han­dled by his wife, So­phie zu Ho­h­elo­he-Schil­lings­fürst (d. 1981). Al­though she suc­ceed­ed in pre­vent­ing de­mo­li­tion of gate build­ing and the south­ern wall, planned at the end of 1941 due to the idea of widen­ing the main com­mu­ni­ca­tion road, the fol­low­ing year she had to hand o­ver the 16th-cen­tu­ry cas­tle bells, con­fis­cat­ed by Nazi au­thor­i­ties for war pur­pos­es. Af­ter the Al­lied air raids on Ger­many's largest cities be­gan, places for var­i­ous in­sti­tu­tions and or­gan­i­sa­tions were ur­gent­ly sought in small­er cen­tres such as Nie­mod­lin. So here, in March 1944, in sev­er­al cas­tle rooms, chests be­long­ing to the State Ar­chives were placed, and half a year lat­er, more rooms were adapt­ed for the needs of the I.G. Far­benin­dus­trie con­cern, which used the slave la­bor of con­cen­tra­tion camp pris­on­ers.
CASTLE FROM THE WEST, 1930S
M
em­bers of the Praschma fam­i­ly left Niemod­lin in Jan­uary 1945 and nev­er re­turned, set­tling in Ka­pel­len near Düssel­dorf. Af­ter the Red Army en­tered the town, the cas­tle was oc­cu­pied for a short time by the war com­mand and mil­i­tary hos­pi­tal, so that af­ter the front was gone, the lo­cal mil­it­siya found its head­quar­ters here. In farm build­ings, the of­fices of Dis­trict Land Ad­min­is­tra­tion have been ar­ranged, which was re­spon­si­ble for "ad­min­is­ter­ing" the for­mer Ger­man land es­tates and their equip­ment, of­ten com­ing from Si­le­sian pa­laces and manors. In win­ter of 1946, the build­ing housed a gym­na­si­um, lat­er trans­formed in­to a high school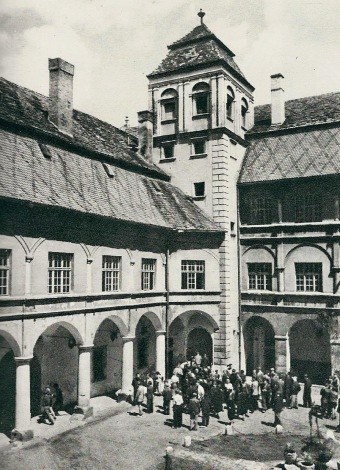 . The cas­tle cham­bers served as class­rooms and apart­ments for teach­ers, rooms for stu­dents were placed in the out­house, and the gym hall was adapt­ed in the build­ing of ...for­mer sta­ble. In the ear­ly 1960s, the build­ing need­ed ur­gent ren­o­va­tion, but the lack of funds lim­it­ed main­te­nance work to nec­es­sary re­pair of the fa­cade and plas­ter. In 1971, for se­cu­ri­ty rea­sons, the high school was moved to new lo­ca­tion, and the cas­tle was hand­ed o­ver to lo­cal cul­tur­al in­sti­tu­tions and to pri­ma­ry school (de­spite the risk of con­struc­tion dis­as­ter!). How­ev­er, as ear­ly as in 1978, it be­came the prop­er­ty of Pen­i­ten­tiary Board, which was plan­ning to adapt the build­ing for the school of prison staff. The on­ly ben­e­fit for the cas­tle in this sit­u­a­tion was the roof ren­o­va­tion, which has been car­ried out in the 1980s. - no school was opened here and un­til the fall of com­mu­nism the build­ing was aban­doned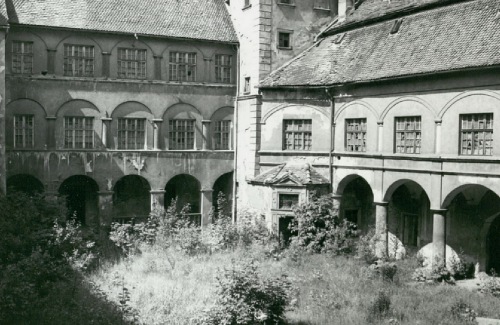 . In 1990, it was bought by pri­vate in­vestor, start­ing its ren­o­va­tion, which is go­ing on (with breaks) to this day. In 2006, the res­i­dence was owned by In­sti­tute of Cre­ative Work, in 2014-15 it be­longed to the Ital­ian Count (?) de Rav­i­g­nani, and fi­nal­ly was hand­ed o­ver to Cen­trum com­pa­ny.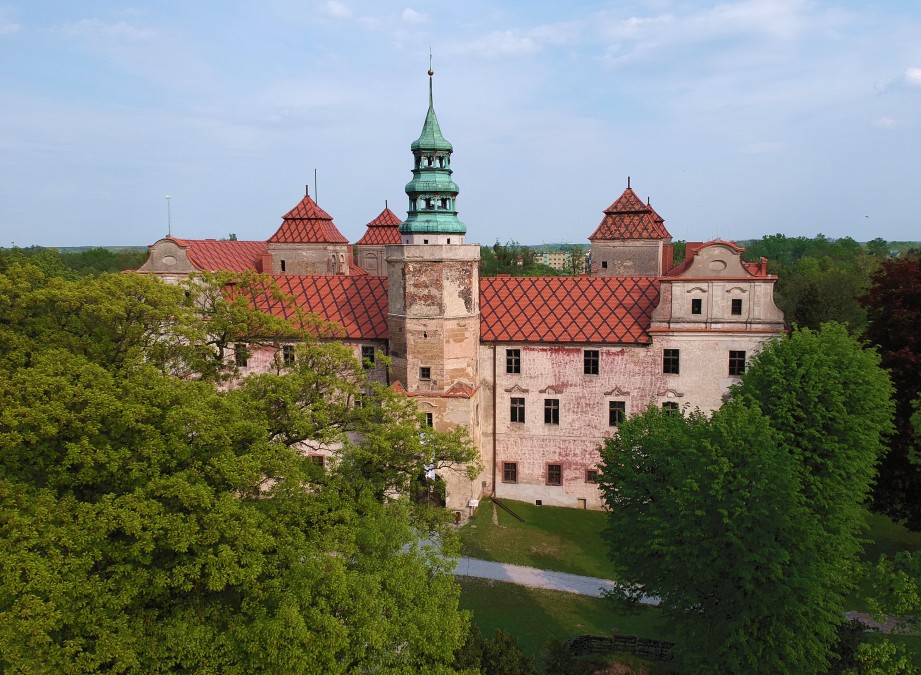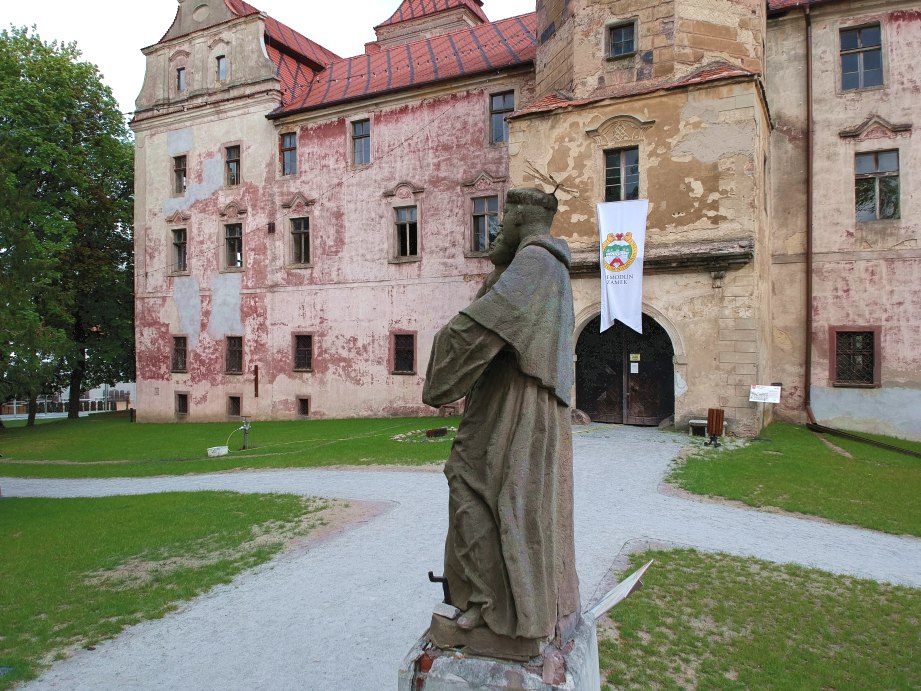 CASTLE IN NIEMODLIN, 2020
DESCRIPTION OF THE CASTLE

THE SPATIAL FORM OF THE CASTLE AND ITS TRANSFORMATION
BETWEEN 13th AND THE END OF 16th CENTURY

1. half of 13th century

The stone residential tower erected on rec­tan­gu­lar plan with si­des of 4.8x9 me­ters, among the pools of Ści­na­wa Ri­ver. The lack of but­tres­ses may sug­gest small height of the buil­ding. It is sur­roun­ded by an ir­ri­ga­ted mo­at.

2. half of 13th century

The existing tower is demolished and a more im­pres­si­ve buil­ding is erec­ted in its pla­ce, al­so in form of re­si­den­tial to­wer, which is in­cor­po­ra­ted in­to the town' s de­fen­ce cir­cuit. Built on a rec­tan­gu­lar plan with si­des of 11x12.3 me­ters, in the lo­wer parts ma­de of sto­nes and bro­ken li­me­sto­ne, in the up­per part pro­ba­bly of brick. From the north and west the walls of the to­wer are sup­por­ted by mas­si­ve butt­res­ses. Sur­roun­ding co­ni­cal em­bank­ment and cas­tle mo­at pro­vi­de ad­di­tio­nal de­fen­se.

ca. 1313

The embankment is leveled. In its pla­ce Bo­le­sław Nie­mo­dliń­ski builds the brick cur­tain wall, clo­sing a 33.7x40.5 me­ter squa­re. The court­yard is for­med be­tween the to­wer and the wall. The en­tran­ce to the cas­tle le­ads through a ga­te pro­ba­bly lo­ca­ted in the south-east­ern cur­tain.

ca. 1450

The stone tower is demolished. Residential fun­ctions are ta­ken o­ver by new Go­thic pa­la­ce, erect­ed on the out­si­de of e­xist­ing de­fen­si­ve pe­ri­me­ter, in its south-west­ern part. It is a three-sto­rey brick buil­ding with four cham­bers on each floor, who­se in­ter­iors are il­lu­mi­na­ted by small win­dows. The east­ern part of the pa­la­ce is pro­ba­bly oc­cu­pied by a cha­pel, maybe also by so-cal­led big hall, whe­re po­li­ti­cal and so­cial li­fe of the court may took pla­ce. From court­yard si­de, the buil­ding's fa­ca­des are de­co­ra­ted with mul­ti­co­lour­ed, po­ly­chro­me blends, whi­le its cor­ners and ou­ter wall are sup­por­ted by butt­res­ses. An en­tran­ce to en­lar­ged court­yard le­ads pro­ba­bly from the north-west­ern si­de, in the pla­ce of to­day's ga­te­way.

1572(89)-93

Renaissance rebuilding of the castle. North-west­ern wing is erected with ga­te to­wer and brick, vaul­ted kit­chen, and three-sto­rey clois­ters. The to­wer is crown­ed with sty­lish hel­met with two-sto­rey lan­tern, and its fa­ca­des are de­co­ra­ted with sgraf­fi­to. Ver­ti­cal com­mu­ni­ca­tion takes place through the spi­ral stair­ca­se located in­si­de the tur­ret, stan­ding in the cor­ner of the court­yard. The bas­tions strength­en the exis­ting de­fen­si­ve sys­tem of the buil­ding, which acquir­es the fe­atu­res ty­pi­cal for pa­laz­zo in for­tez­za ob­jects.
THE CASTLE IN A NIEMODLIN, THE GROUND FLOOR LAYOUT - THE OLDEST, XV-CENTURY CASTLE WALLS ARE MARKED IN BLACK:
1. TOWER WITH ENTRANCE TO COURTYARD, 2. NORTH-WEST WING, 3. SOUTH-WEST WING, 4. CHAPEL, 5. TOWERS - STAIRCASES, 6. CLOISTERS

THE MOST IMPORTANT CHANGES IN ARCHITECTURE OF THE CASTLE
FROM THE 17th CENTURY TO THE PRESENT DAY

1610-1618

The north-eastern wing with a chapel and a south-east­ern wing with an open gal­le­ry are ad­ded to exist­ing two wings. In all four cor­ners of the court­yard, sty­lish tur­rets with stair­ca­ses are erec­ted. The walls of the cas­tle are pro­ba­bly pla­ste­red in white, and de­co­ra­ted with po­ly­chro­me win­dow fra­me or­na­ments. The cur­tain wall with roun­dels and the ga­te buil­ding le­ading to the farm court­yard are e­rec­ted. A lit­tle earl­ier, pre­su­ma­bly at the turn of the 16th and 17th cen­tur­ies, ga­te to­wer re­cei­ves a clock me­cha­nism and bells with in­scrip­tion (trans­la­ted): God, from fire and other dan­gers want to pro­tect this town, its in­ha­bi­tants, and tho­se bells, that we­re cast on 24 Sep­tem­ber 1599.

ca. 1750

Michael von Zierotin changes the castle's décor to Ba­ro­que: the wings gain de­co­ra­ti­ve gab­les and man­sard roofs, a new court­yard fa­ça­de of the south-east­ern buil­ding is cre­ated, and new win­dow de­co­ra­tion ap­pe­ars. The old draw­brid­ge is re­pla­ced by the ar­ca­ded sto­ne brid­ge, which is de­co­ra­ted with Ba­ro­que sta­tu­es of saints. New farm buil­dings are be­ing e­rec­ted in the bai­ley, and an oran­ge­ry is built in the gar­den.

1787-1822

Brick up the open gallery in the southeastern wing and ar­ran­ge li­ving quar­ters in it. The cor­ner tur­rets, so far top­ped with an at­tic, are gi­ven man­sard roofs with sha­ped tips. Start of work aim­ed at a tho­rough trans­for­ma­tion of im­me­dia­te sur­round­ings of the re­si­den­ce. Cas­tle mo­ats are le­vel­led, and in their pla­ce Jo­hann Ne­po­muk Carl Prasch­ma sets up an Eng­lish sty­le park.

after 1822

Cloisters in the castle court­yard are brick­ed up and win­dows are pla­ced in their ar­ca­des.

1869-1873

Friedrich II Wilhelm Praschma raises the chapel by one floor and con­verts it in­to a neo-Go­thic sty­le, and al­so trans­forms the cas­tle in­ter­iors. The ex­ter­ior e­le­va­tion of the south-west­ern wing is equip­ped with ter­ra­ce with exit to the gar­den. The ga­te buil­ding is gi­ven an ec­le­ctic ap­pe­aran­ce, and the tops of out­buil­dings are gi­ven man­ne­rist forms.

1916-1935

Conversion of the residence into a neo-Ba­ro­que and neo-Re­nais­san­ce sty­le: the main to­wer, the gar­den ter­ra­ce and the ga­te buil­ding re­cei­ve new de­co­ra­tion. The ar­ca­des of the clois­ters are part­ial­ly ex­po­sed. In­ter­ior re­no­va­tion is com­bi­ned with in­stal­la­tion of wa­ter­works, cen­tral heat­ing and e­lec­tri­ci­ty.

1961

Demolition of part of the south­ern wall and one of the roun­dels due to ro­ad wi­de­ning.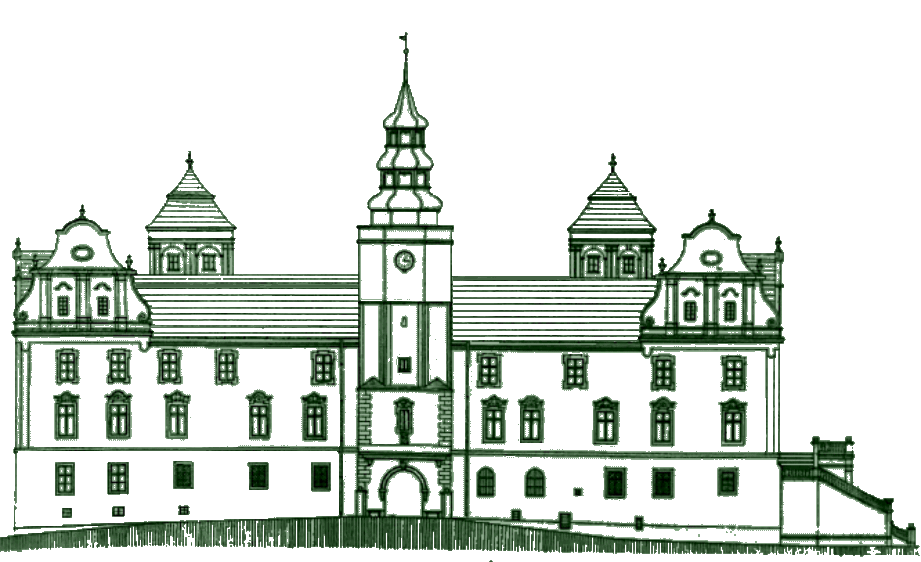 NORTHWESTERN FACADE OF THE CASTLE WITH THE GATE TOWER, DRAWING BY O. E. NOETTNER (1913)
T
he cas­tle rep­re­sents a type of low­land, quadri­lat­er­al res­i­dence with an in­ner court­yard, con­sist­ing of three high wings and low­er south-east­ern build­ing. The old­est part is here the 15th cen­tu­ry south-west­ern wing, whose façade was main­ly ar­chi­tec­tural­ly formed in the ear­ly 17th cen­tu­ry. Its aus­tere, nine-ax­is front is dec­o­rat­ed with Baroque win­dows and ter­race stair­case
that gen­tly goes down to the gar­den, while the in­te­ri­ors hide vault­ed cel­lars and al­so vault­ed rep­re­sen­ta­tive hall on the ground floor, prob­a­bly formed in place of the Goth­ic Grand Hall. The bar­rel vaults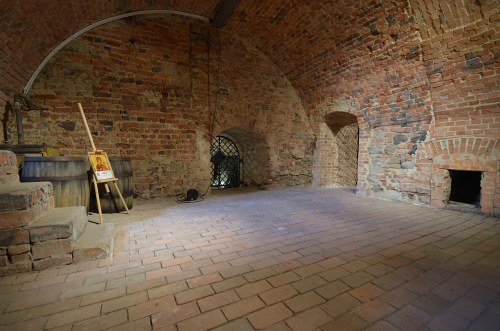 can be found in the base­ments of the north-east­ern wing as well, where Jo­hann Ne­po­muk Carl Praschma and his wife Mar­ian­ne rest­ed in tomb crypts. Above them ris­es a 17th cen­tu­ry chapel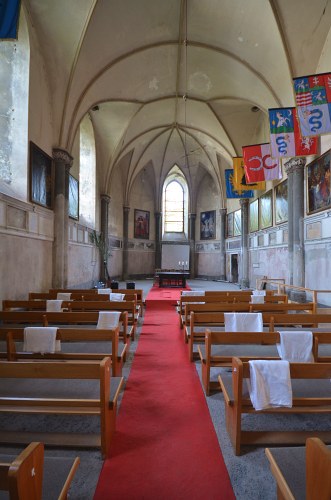 , whose con­tem­po­rary neo-Goth­ic ar­chi­tec­tural form re­sulted from re­con­struc­tion car­ried out by Karl Pi­per in the 1870s. In its west­ern bay there is brick mu­sic choir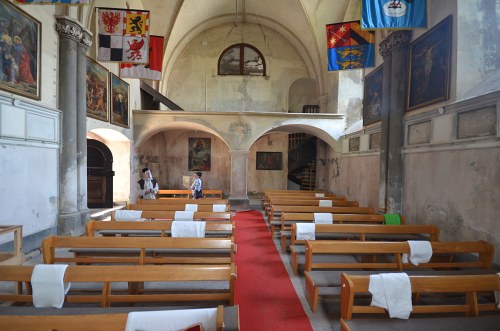 , and the walls are var­ied by neo-Goth­ic se­mi-columns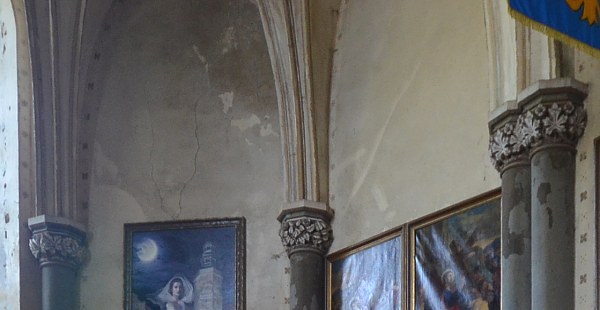 with unique heads dec­o­rat­ed with plant mo­tifs. The oth­er rooms in the cas­tle are char­ac­terised by ar­chi­tec­tural so­lu­tions and dec­o­ra­tions typ­i­cal for lat­er pe­ri­ods: Baroque, Clas­si­cism and Neo-Goth­ic. Com­mu­ni­ca­tion be­tween them on in­di­vid­u­al floors is en­sured by vault­ed clois­ters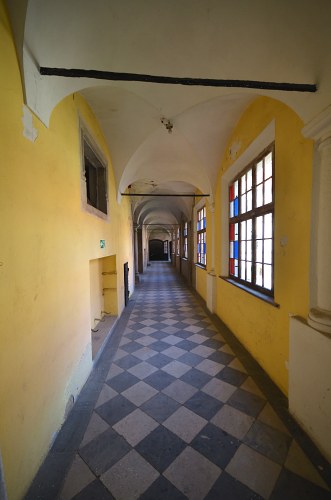 , whose ar­cade open­ings were part­ly bricked up in the 19th cen­tu­ry and coloured glass win­dows were placed in them. In their orig­i­nal form, the clois­ters have been pre­served on­ly in the ground floor of the north-west­ern and north-east­ern wing (the chapel). Ver­ti­cal com­mu­ni­ca­tion is car­ried out by four cor­ner tur­rets with wind­ing stairs.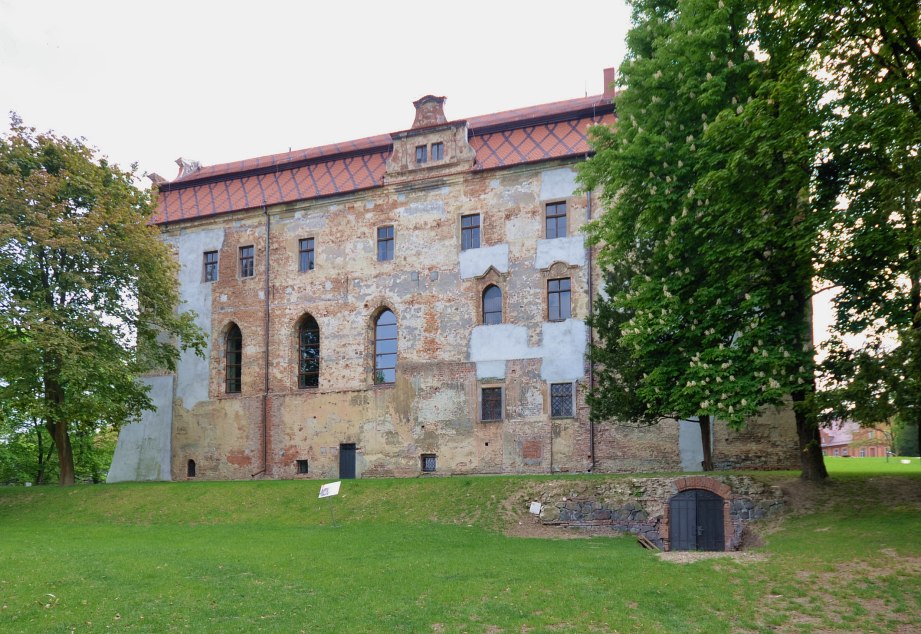 NORTH-EASTERN WING WITH CASTLE CHAPEL
GARDEN TERRACE IN THE SOUTH-WESTERN PART OF THE CASTLE
N
orth-west­ern fa­cade of the cas­tle is ac­cen­tu­at­ed by tall tow­er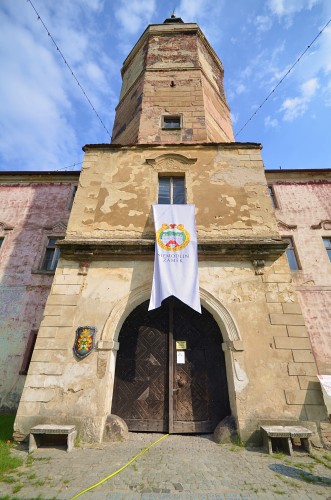 pro­trud­ing be­yond its face, with gate­way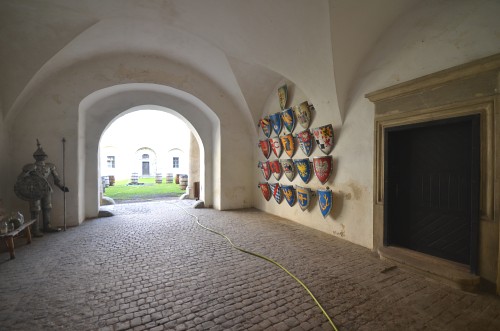 lead­ing di­rect­ly to the court­yard. It is a five-storey build­ing, in the low­er part erect­ed on square plan, high­er oc­tag­o­nal, topped with gal­lery and a Re­nais­sance hel­met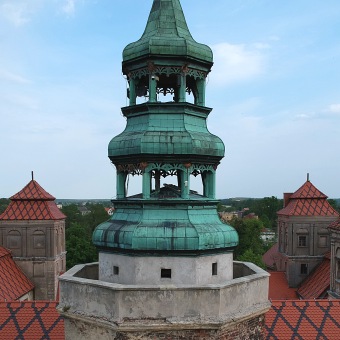 . A car­touche with the Praschma's coat of arms was built in­to the tow­er's el­e­va­tion, slight­ly above the mod­est por­tal, and the clock was in­stalled in its high­est part (on­ly its relics are left). Be­tween them there were two small win­dows and the shoot­ing hole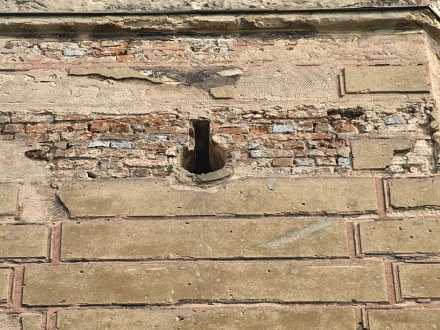 - proof that Re­nais­sance trans­for­ma­tion of the cas­tle was done with view to main­tain­ing its de­fen­sive func­tions. The bridge
from the mid-18th cen­tu­ry leads to the gate, for­mer­ly passed above a cas­tle moat. It is flanked on both sides by four Baroque fig­ures of saints: Flo­ri­an - pa­tron of fire­men, An­to­ni of Pad­ua - pro­tec­tor of mar­riages and trav­el guard, Ne­po­mu­cen - pa­tron of bridges and fi­nal­ly Ve­ne­lin, guardian of shep­herds and farm­ers, de­pict­ed here as a young man with curly hair and a lit­tle lamb hug­ging him. The res­i­dence is sur­round­ed by small cas­tle park, es­tab­lished in the 19th cen­tu­ry on the area of the 17th cen­tu­ry gar­den, and on the site of buried me­dieval moats. Many of spec­i­mens grow­ing here are o­ver an age-old trees, of which the most valu­able, due to their met­ric, size and aes­thet­ic val­ues, are the near­ly 170-year-old Leopold oak and 400-year-old yew Iwo.
| | |
| --- | --- |
| | |
| | |
| --- | --- |
| | |
BAROQUE SCULPTURES ON THE CASTLE BRIDGE, ST. ANTONI AND ST. NEPOMUCEN
BELOW: ST. VENELIN AND ST. FLORIAN
O
n west­ern and north-west­ern part of the cas­tle there was a large bai­ley, which has been lat­er trans­formed in­to a grange with two court­yards, sep­a­rat­ed in the 17th cen­tu­ry by mag­nif­i­cent out­house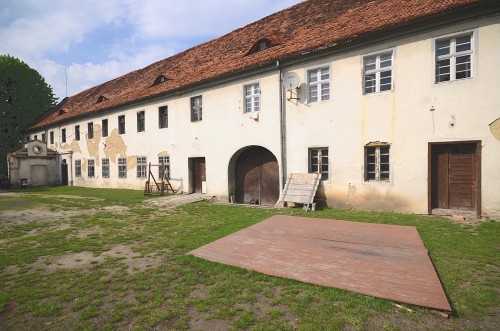 . This two-storey build­ing, sup­port­ed by butress­es, on the ground floor housed rooms of the of­fi­cials man­ag­ing the Niemod­lin es­tate, while its floor served as quar­ters for low­er-lev­el of­fi­cials and ser­vants. In the 18th cen­tu­ry part of the build­ing was oc­cu­pied by bur­graves and land writ­ers, lat­er troops of var­i­ous armies were sta­tioned there, and not long ago a bustling life of stu­dents took place here. The sig­nif­i­cant func­tion of the out­house in the past is ev­i­denced by de­tails and el­e­ments of dec­o­ra­tion pre­served to our times, in­clud­ing the en­trance por­tal with cor­nice and columns, dec­o­ra­tive tops or wood­en ceil­ings or­na­ment­ed with col­or­ful poly­chrome. In its east­ern sec­tion there is the gate­way lead­ing to for­mer north­ern court­yard, whose strict­ly eco­nom­ic char­ac­ter was em­pha­sized by small­er build­ings of var­i­ous pur­pos­es (brew­ery, dis­tillery, slaugh­ter­house, etc.). A slight­ly dif­fer­ent, more so­phis­ti­cat­ed style char­ac­ter­ized the space around hon­orary court­yard, lo­cat­ed in the south­ern part of the bai­ley. A rep­re­sen­ta­tive drive­way to the cas­tle was lead­ing here, start­ing from the el­e­gant gate build­ing with dec­o­ra­tive por­tals and the round tow­er equipped with stair­case. The court­yard is closed from the west and from the east by old farm build­ings (guard's quar­ters, sta­bles, coach hous­es, garages) dec­o­rat­ed with basalt stone and clink­er brick, and the whole is com­plet­ed from the north by pre­vi­ous­ly men­tioned manor out­house. The gate­way was in­te­grat­ed in­to the stone and brick wall, the re­mains of which were pre­served at en­trance to the mar­ket square.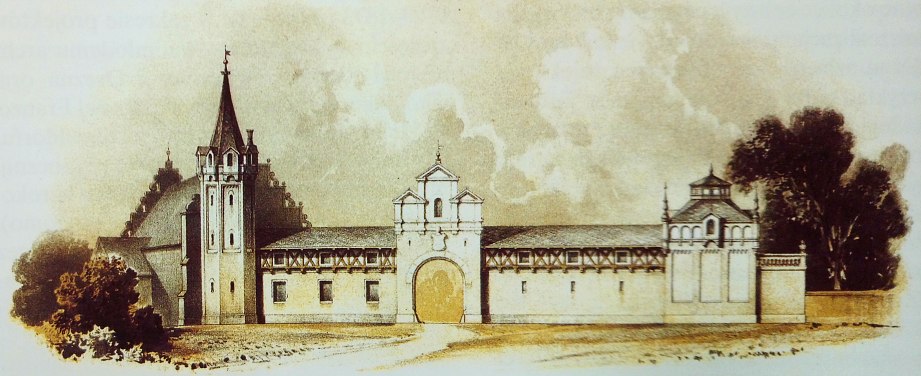 (UNREALIZED) PROJECT OF GATE BUILDING RECONSTRUCTION, 1862
---
S
ev­er­al decades of post-war stag­na­tion, fol­lowed by of­ten chang­ing pri­vate own­ers, made the cas­tle, al­though al­most com­plete, re­quir­ing ur­gent in­vest­ment. There are some win­dow stone­ma­son­ry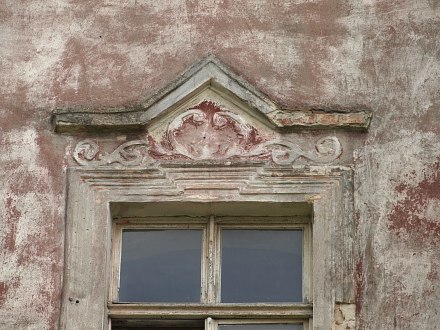 and por­tals pre­served from its for­mer ar­chi­tec­tural or­na­ment, and some of the in­te­ri­or dec­o­ra­tions (stuc­co, Re­nais­sance fire­place, vault or­na­ments), as well as frag­ments of sgraf­fite dec­o­ra­tions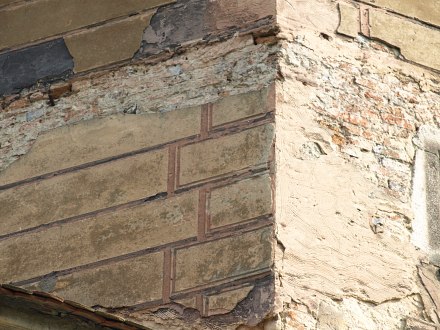 , un­for­tu­nate­ly large­ly erased by the time and na­ture. The lack of prop­er care of the build­ing has par­tic­u­lar­ly severe­ly af­fect­ed the con­di­tion of the gar­den ter­race and the sta­bil­i­ty of the cas­tle ceil­ings, which par­tial­ly col­lapsed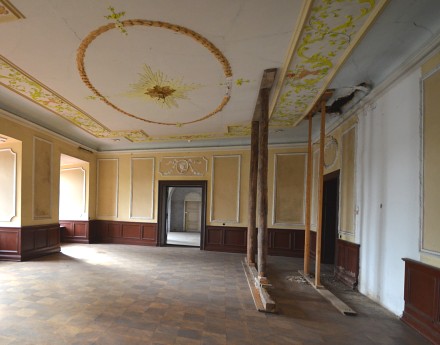 . De­spite the neg­li­gence vis­i­ble at ev­ery turn, let's just hope that thanks to the en­gage­ment of new own­er, the cas­tle with its clos­est sur­round­ings will re­gain at least part of its pre-war charm. The first sig­nif­i­cant step to­wards this goal was, co-fi­nanced by the Min­istry of Cul­ture and Na­tion­al Her­itage, re­place­ment of roof cov­er­ing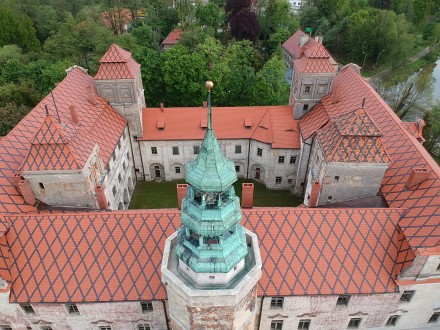 , con­sist­ing of 120 thou­sand tiles. The near­est plans are al­so to re­place the wood­work, in­clud­ing all win­dows, and to ren­o­vate the fa­cade.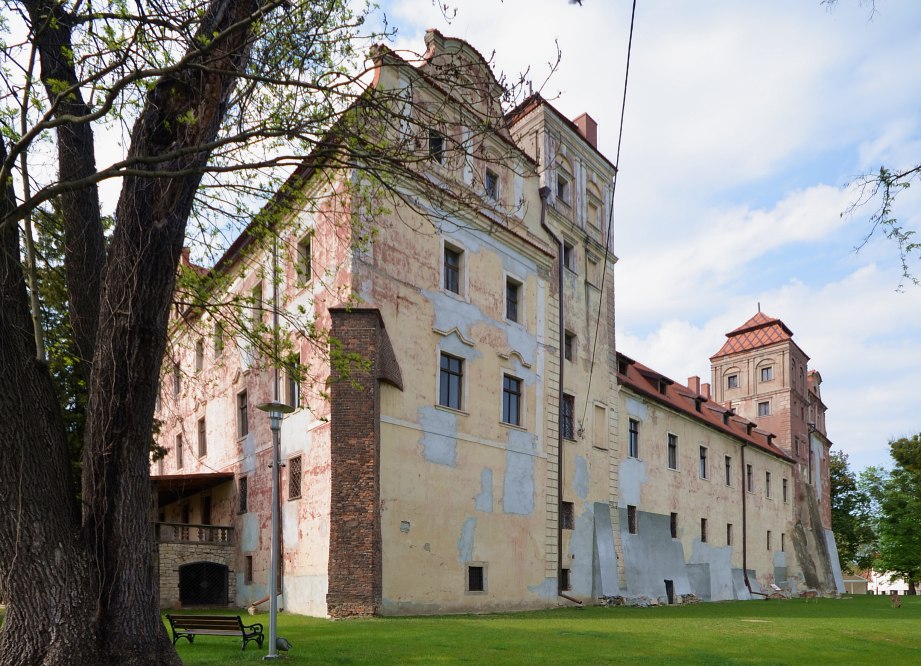 VIEW OF THE CASTLE FROM THE SOUTH
RENAISSANCE PORTAL AND STONE BENCHES AT ENTRANCE TO THE CASTLE COURTYARD
T
he cas­tle is open for tourists. Ac­com­pa­nied by guide, vis­i­tors can ex­plore the neo-Goth­ic chapel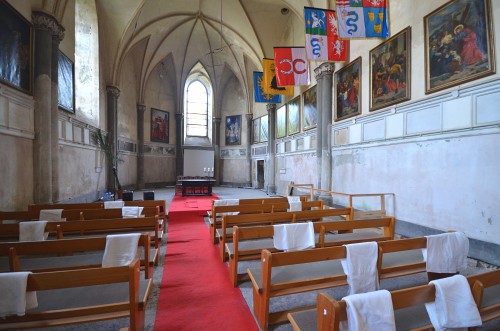 with 19th cen­tu­ry paint­ing dec­o­ra­tions and rem­nants of the orig­i­nal equip­ment: wood­en spi­ral stairs, stone bap­tismal font and epi­taphs com­mem­o­rat­ing for­mer own­ers of Niemod­lin. Large cas­tle cel­lars con­tain the grave crypt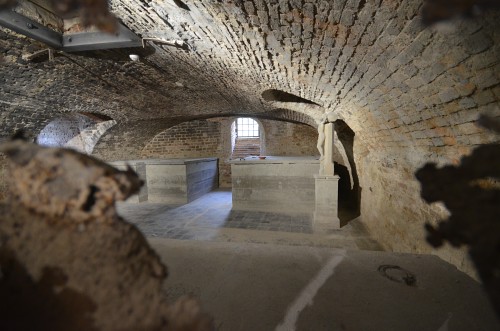 , where the bod­ies of Jo­hann Ne­po­muk Carl Praschma and his wife Mar­i­an­na are buried in con­crete sar­copha­gi. Ex­hi­bi­tion of 18th-20th cen­tu­ry icons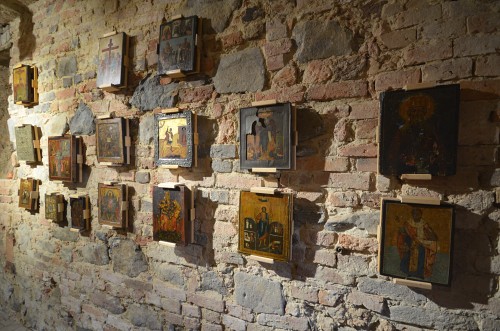 , com­ing from Rus­sia, Greece and the Bal­kans, is al­so or­ga­nized here. In the oth­er part of the cel­lars there is an ex­e­cu­tion­er's work­shop, or rather a con­tem­po­rary in­ter­pre­ta­tion of for­mer tor­ture cham­ber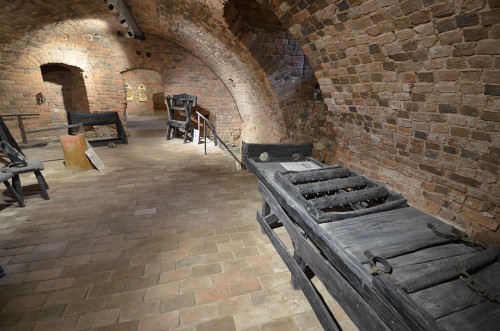 as well as place called the win­ery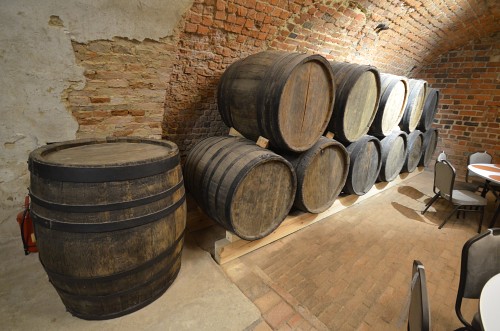 . The liv­ing ar­eas are rep­re­sent­ed, among oth­ers, by stylish rooms of the south­west­ern wing, in­clud­ing pa­rade neo-Goth­ic lounge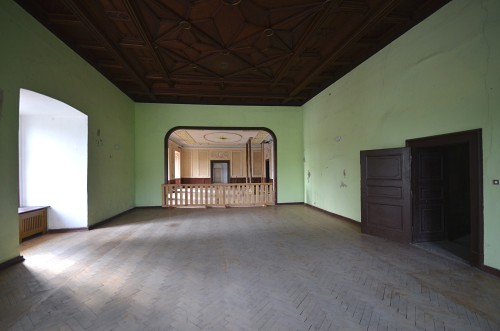 and the white lounge
, un­for­tu­nate­ly re­quir­ing ur­gent in­ter­ven­tion - oth­er­wise it will col­lapse. Leav­ing the cas­tle walls it is worth to stop by the bridge o­ver the for­mer moat. For sev­er­al cen­turies, there have been four saints stand­ing here at the post: Flo­rian, Ne­po­mu­cen, An­to­ni and Ve­ne­lin, which are one of the most valu­able baroque park sculp­tures in Si­le­sia. Fi­nal­ly, I should men­tion the fal­low deer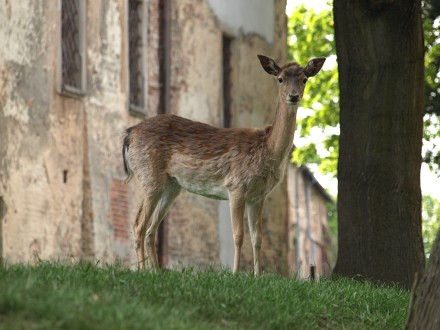 liv­ing half-wild in the sur­round­ing park, whose pres­ence here is a ref­er­ence to the tra­di­tion of pre-war cas­tle me­na­gerie.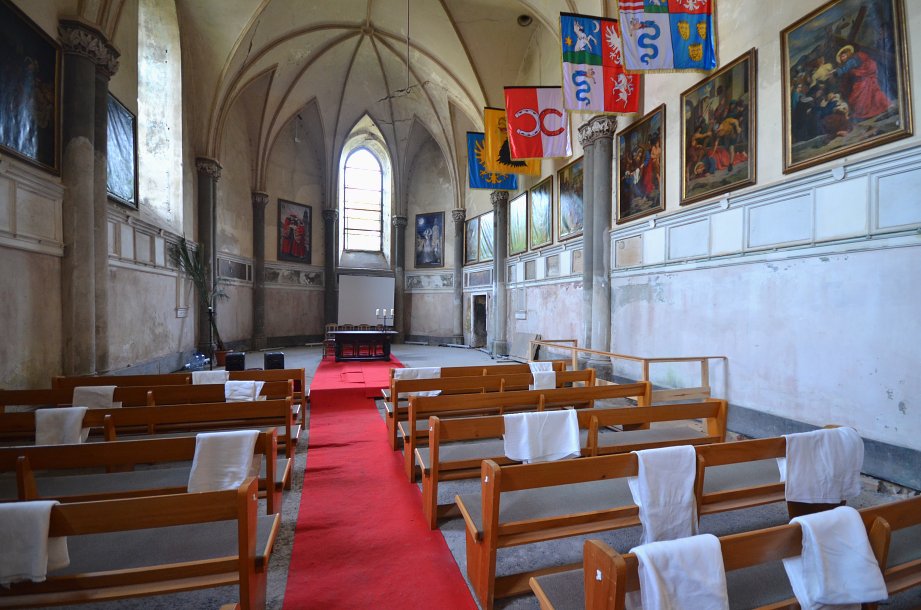 NEO-GOTHIC CHAPEL IN THE NORTHEAST WING
| | |
| --- | --- |
| | To visit the castle, you need to buy a ticket. Entrance to the courtyards and the castle park is also paid. |
| | |
| --- | --- |
| | Pho­tog­ra­phy for non-com­mer­cial pur­pos­es is free. |
| | |
| --- | --- |
| | Dogs are not allowed in the castle (including the castle park). |
A YOUNG FALLOW DEER POSING ON THE BACKGROUND OF THE CASTLE CHAPEL
---
T
he castle is located in the north­east­ern part of the old town, near the na­tio­nal road no. 46 leading from Opo­le to Ny­sa. The best way to park your car is at the Mar­ket Square (Ry­nek), a few dozen met­ers from the en­trance gate.
---
1. F. Idzikowski: Opole - dzieje miasta do 1886 roku, Opole 2002
2. L. Kajzer, J. Salm, S. Kołodziejski: Leksykon zamków w Polsce, Arkady 2001
3. W. Kawka: Murowane wieże na zamkach księstwa opolsko-raciborskiego..., UJ 2014
4. A. Paszkowska-Witkowska: Zamek w Niemodlinie - dzieje i architektura, NTR 2018
5. A. Wagner: Murowane budowle obronne w Polsce X-XVIIw., Bellona 2019
6. advertising brochures issued by Niemodlin castle
Castles nearby:
Tułowice - neo-Renaissance palace from 19th century (former medieval knight's castle), 6 km
Dąbrowa - Renaissance noble castle from 17th century, 12 km
Kantorowice - ducal castle from 16th/17th century, 16 km
Opole Ostrówek - Piast Tower from 13th century, 25 km
Prószków - castle from 16th century, 25 km
Opole Górka - relics of ducal castle from 14th century, 26 km
Chrzelice - ruins of ducal castle from 14th century, 29 km
Moszna - eclectic palace from 19th century, 32 km
Krapkowice - castle of the nobility from 17th century, 38 km
Krapkowice Otmęt - ruins of knight's castle from 14th/16th century, 39 km
Przeworno - Renaissance castle from 16th century, 39 km

text: 2020
photographs: 2020
© Jacek Bednarek