GRUDZIĄDZ

relics of the Teutonic castle
RELICS OF GRUDZIĄDZ CASTLE
---
T
he first Teu­ton­ic Knights ar­rived in the vicin­i­ty of pre­sent-day Gru­dziądz in 1243, af­ter a pa­pal legate took the land of Cheł­mo from Bish­op Chris­tian (d. 1245) and gave it to the Or­der of the Teu­ton­ic Knights of Saint Mary's Hos­pi­tal in Je­ru­sa­lem. The do­na­tion al­so in­clud­ed a quon­dam cas­trum, that is a wood­en cas­tle, es­tab­lished much ear­li­er by Slavs or Prus­sian tribes. Pre­sum­ably, it was a small, mi­nor set­tle­ment at the time, maybe even de­stroyed and de­void of any mil­i­tary or strate­gic sig­nif­i­cance.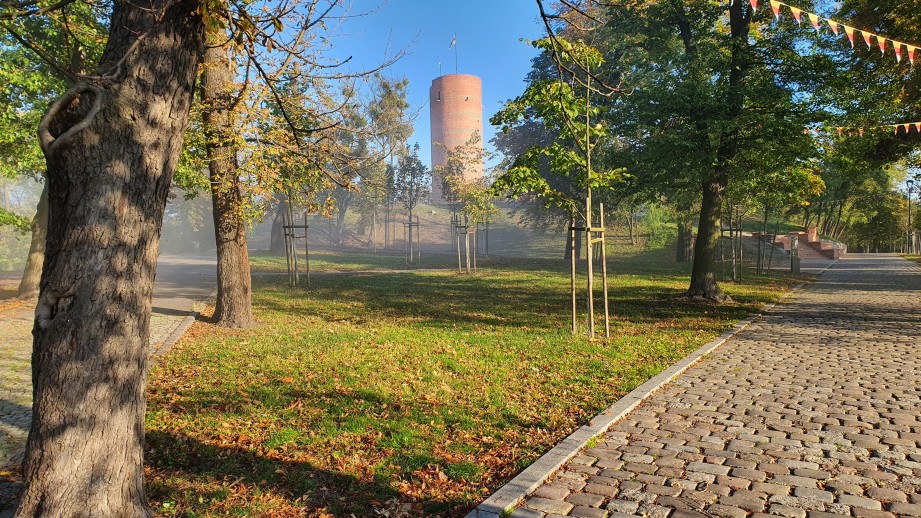 I
n the mid­dle of the 13th cen­tu­ry, a com­man­dery was es­tab­lished in Gru­dziądz, and around 1260 works be­gan on the con­struc­tion of a for­ti­fied brick cas­tle. They last­ed un­til at least 1299, that is, un­til the cas­tle chapel was com­plet­ed, al­though ac­cord­ing to some his­tor­i­cal ref­er­ences, work was still be­ing done on fin­ish­ing the cas­tle's west wing in the ear­ly 14th cen­tu­ry. In 1330, Grand Mas­ter and Com­man­der-in-Chief of the Teu­ton­ic army Wern­er von Or­seln (mur­dered the same year) placed his quar­ters in the new­ly built cas­tle in time for the war waged against Poland.
HYPOTHETICAL APPEARANCE OF THE CASTLE IN GRUDZIĄDZ ACCORDING TO A. WOLNIKOWSKI
I
n 1388, due to a slope land­slide, part of the west wing col­lapsed. Dur­ing its re­con­struc­tion, the farm yards were es­tab­lished with their eco­nom­ic build­ings, which in­clud­ed a kitchen, a bak­ery and a hos­pi­tal for old and sick monks. We have quite a bit of knowl­edge about the equip­ment and ar­ma­ments of the strong­hold from this pe­ri­od. For ex­am­ple, when Mar­quard von Lor­heim as­sumed the com­man­dery of­fice (1383), the cas­tle's cloth­ing ware­house and ar­mory con­tained, among oth­er things, 25 ar­mor, 29 hel­mets, 12 chain­mail, 9 cross­bows and 160 ar­rows, 15 sad­dles, as well as two tents. The cas­tle's lar­der was su­per­bly stocked, with 11400 (!) cheeses, 300 pikes, 20 bar­rels of wine, 3 bar­rels of lard, 160 cu­bic me­ters of oats, 27 cu­bic me­ters of peas and 13 cu­bic me­ters of bar­ley. Of the live­stock, the com­man­dery had 36 stal­lions, 53 hors­es for mail ser­vice, near­ly 1,300 mares and foals, 2,300 sheep and rams, 230 cat­tle and 160 pigs. In ad­di­tion, in 1396 the cas­tle walls were de­fend­ed by 6 light can­nons and 2 stone ball can­nons.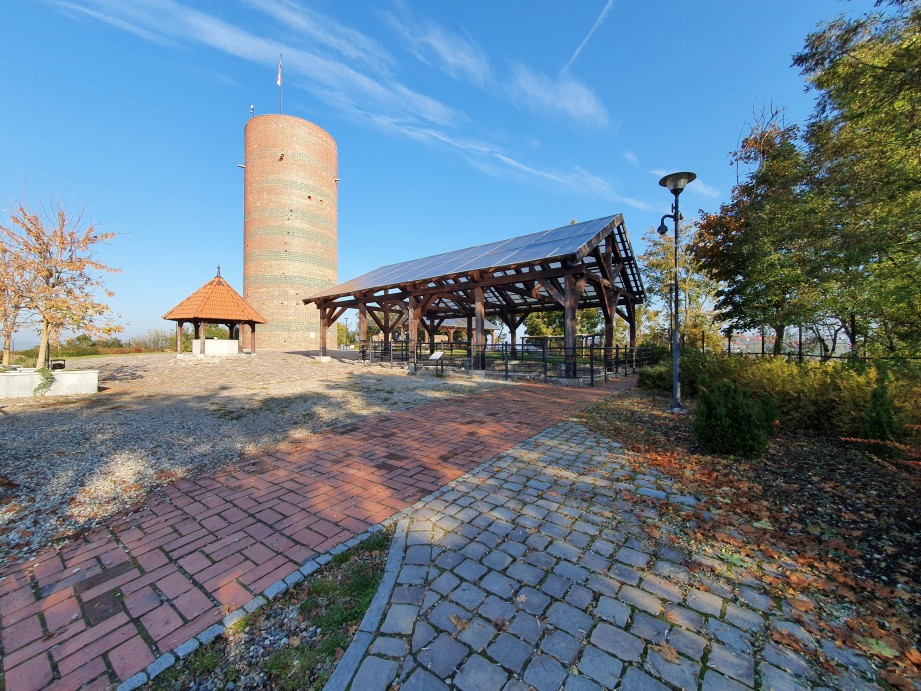 I
n the great bat­tle of Grun­wald (15.07.1410), most of the Teu­ton­ic dig­ni­taries were killed, among them the com­man­dant of Gru­dziądz, Wil­helm von Hel­fen­stein. Two weeks lat­er, the Pol­ish army un­der the or­ders of the castel­lan of Poz­nań, Mo­ścic of Stę­szew of Ło­dzia coat of arms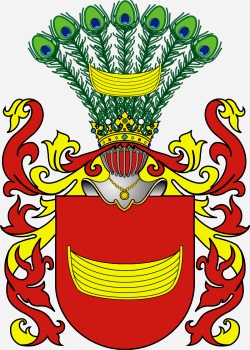 (d. 1426), en­tered the town and cas­tle, but due to the pres­sure of Livo­ni­an troops, they were soon forced to leave, thus Gru­dziądz re­turned to the hands of the Or­der. In May 1411, a Prus­sian knight in the ser­vice of the Teu­ton­ic knights, Mi­ko­łaj of Ryńsk, was im­pris­oned in dun­geons of Gru­dziądz cas­tle. He was charged with es­cap­ing from the bat­tle­field (of Grun­wald), then sen­tenced to death and be­head­ed on May 17, 1411. Armed con­flicts waged against Poland and Lith­ua­nia in the first half of the 15th cen­tu­ry weak­ened the bud­get of the Teu­ton­ic state, and as a con­se­quence the Gru­dziądz cas­tle be­gan to lack equip­ment, tools and even food, hors­es and cat­tle, as well as funds to re­pair col­lapsed vaults and gun porch­es. Around 1450 Recht­hauß (the up­per cas­tle) was de­scribed as need­ing nu­mer­ous roof re­pairs.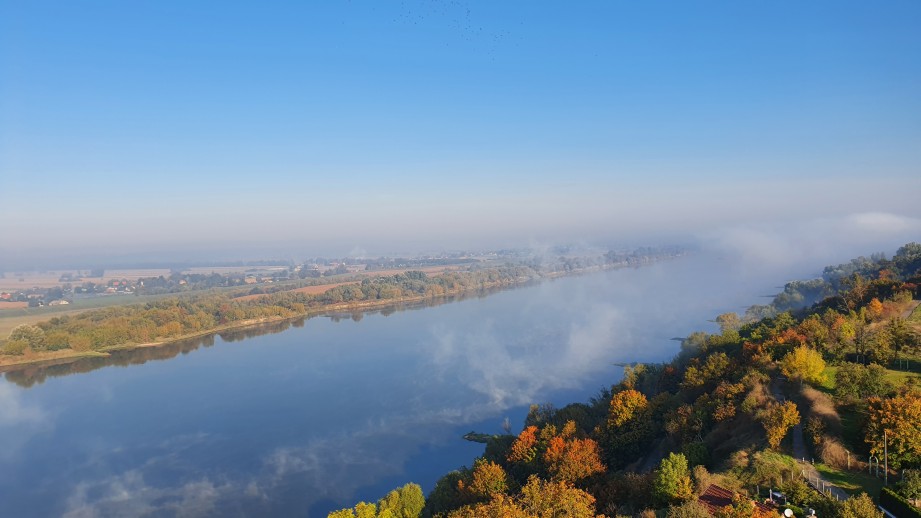 VIEW FROM THE TOWER OVER THE CITY AND THE VISTULA VALLEY
O
n eve of the Thir­teen Years' War (1454-66), in the face of grow­ing dis­con­tent among the towns­folk, Teu­ton­ic Knights pro­ceed­ed to pre­emp­tive­ly re­in­force the cas­tle. Gru­dziądz was at that time the site of ral­lies of the an­ti-Teu­ton­ic Prus­sian Union, which, on Feb­ru­ary 4, 1454, de­clared in­obe­di­ence to the Or­der, and four days lat­er a del­e­ga­tion con­sist­ing of the may­or Jo­hann Scho­ne­berg and mem­bers of the mu­nic­i­pal­i­ty an­nounced that they want to be un­der Pol­ish rule, they want to take the cas­tle, and they want to re­move the Or­der's reg­i­ment for­ev­er. On the same day in­sur­gents cap­tured the strong­hold, and de­spite lat­er at­tempts to re­cap­ture it, this one re­mained first in the hands of the Union and then un­der the ad­min­is­tra­tion of Pol­ish starosts.
GREETINGS FROM KLIMEK :-)
TEUTONIC COMMANDERS AT THE CASTLE IN GRUDZIĄDZ
Bertold (1278), Heinrich von Dobyn (1280), Johannes (1285)
Heinrich von Dobyn (1289), Günter von Schwarzburg (1292-98)
Luther von Sparrenberg (1306), Sieghard von Schwarzburg (1313-35)
Siegismund von Schwartzburg (1336), Dietrich von Senkenberge (1338)
Heinrich von Boventin (1346-51), Daniel von Menden (1362-65)
Geberhard von Ampleden (1366), Daniel von Menden (1367-79)
Johann von Schönfeld (1379-83), Marquard von Lorheim (1383-89)
Walrabe von Scharfenberg (1389), Ulrich von Hachenberg (1389-98, died of the plague)
Johann von Sayn (1398-1404), Wilhelm von Helfenstein (1404-10, died in the battle of Grunwald)
Johann von Bichau (1411-13), Johann von Seelbach (1413-14)
Bohemund Brendel (1414-34), Johann von Trachau (1434-37)
Hans von Reibenitz (1437-40), Johann von Erlbach (1440-47)
Wetzel von Vladicheim (1447-49), Wilhelm von Helfenstein (1454)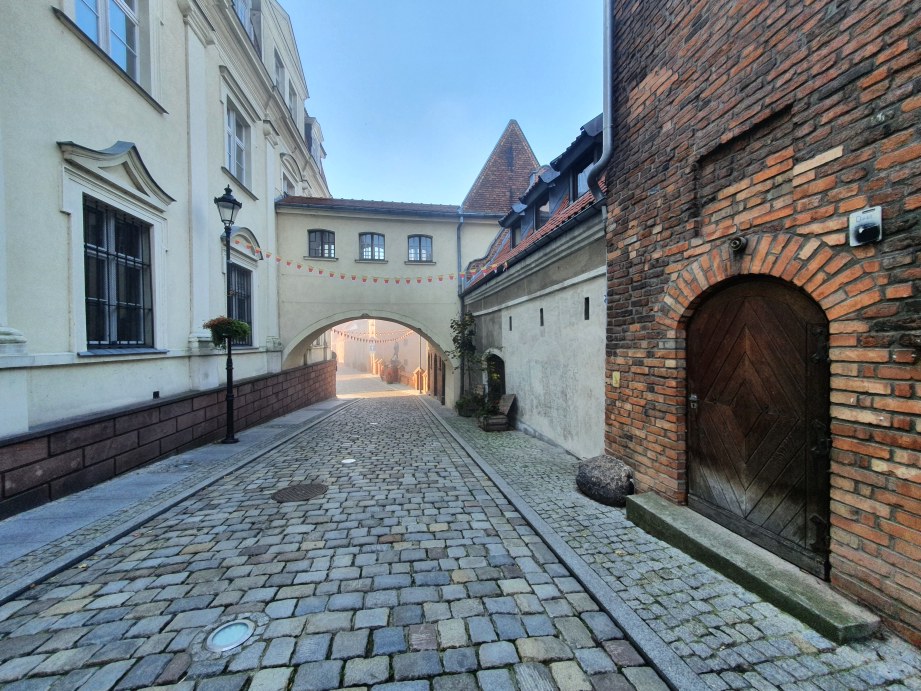 THE SO-CALLED CASTLE GATE ON SPICHRZOWA STREET WAS BUILT ON THE SITE (OR PERHAPS IS EVEN A RELIC)
OF THE FORMER OUTER COURTYARD
I
n 1466, un­der the terms of the Sec­ond Peace of To­ruń, Gru­dziądz be­came part of the King­dom of Poland, and the cas­tle has since served as the seat of Pol­ish sta­rosts. Be­cause of its new func­tion, but al­so due to war dam­age, it was re­paired in 1482-87, the low­er cas­tle was al­so ex­pand­ed, and at the end of the 16th cen­tu­ry Jan Zbo­row­ski (d. 1603) re­built the Goth­ic com­man­dant's house in­to a com­fort­able sta­ros­ta's house. In the sec­ond half of the 16th and ear­ly 17th cen­turies, the cas­tle was of­ten used as a stop­ping point for roy­al fam­i­lies and en­voys trav­el­ing be­tween Poland and Swe­den. For ex­am­ple, King Si­gis­mund III Va­sa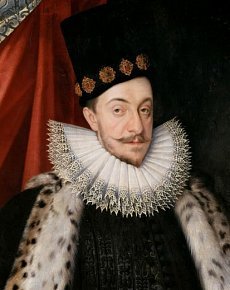 (d. 1632) met with a hos­tile treat­ment from res­i­dents of Gru­dziądz, when he and his sis­ter An­na
stopped here for the night in 1587 dur­ing their jour­ney to the coro­na­tion from Swe­den to Kra­ków. The sec­ond time this monarch vis­it­ed the cas­tle on May 17, 1623. That vis­it then cost the town more than 500 grzy­w­nas, of which a ba­ga­tel­le 322 grzy­w­nas, or the equiv­a­lent of 65 kg of sil­ver, it spent on wine!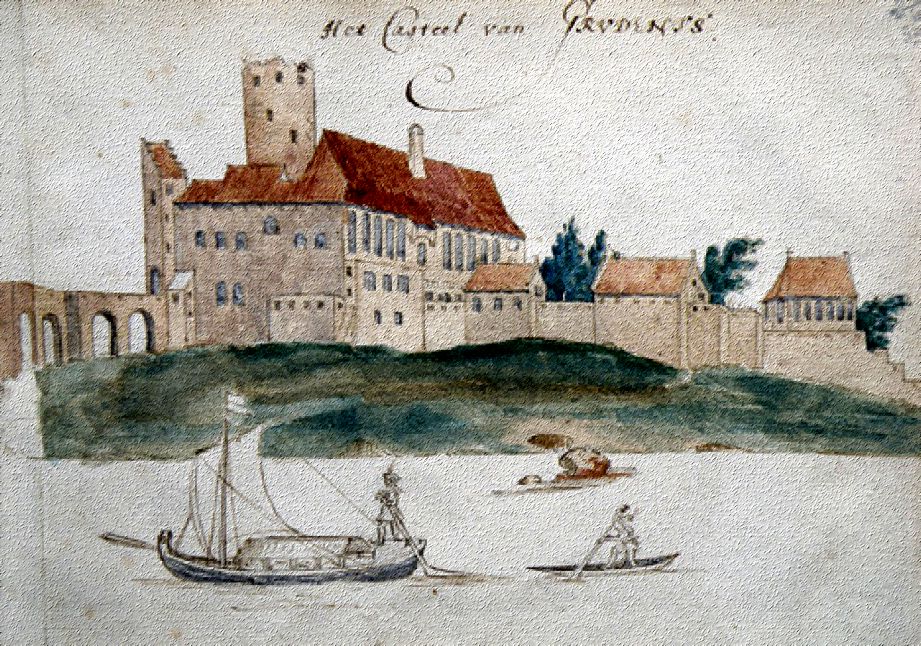 ABRAHAM VAN BOOT, CASTLE IN GRUDZIĄDZ, 1628
O
n De­cem­ber 13, 1655, Gru­dziądz was seized by Swedish troops. Soon, by or­der of Carl Gus­taf X
(d. 1660), the war head­quar­ters and head­quar­ters of the Swedish army were or­ga­nized here, and be­tween May and Sep­tem­ber 1656 the cas­tle served as the res­i­dence of Hed­wig Ele­ono­re von Hol­stein-Got­torp
(d. 1715), the then 20-year-old queen of Swe­den. Dur­ing their three-year stay in Gru­dziądz, the Swedes sur­round­ed the fort­ress with earth­en bas­tion for­ti­fi­ca­tions made to the de­sign of field mar­shal, gift­ed ar­chi­tect and drafts­man Erik Dahl­berg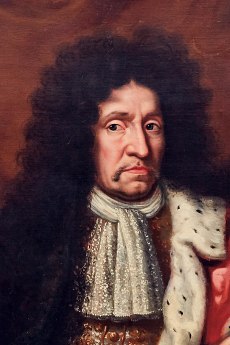 (d. 1703). How­ev­er, these for­ti­fi­ca­tions proved use­less in the face of an on­slaught by Je­rzy Lu­bo­mir­ski's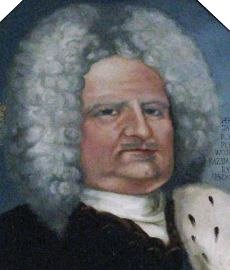 troops, that in 1659, af­ter a siege of bare­ly a week, cap­tured the Swedish gar­ri­son. Dur­ing the con­quest of the cas­tle, Pol­ish ar­til­lery severe­ly dam­aged it, and its then con­di­tion is re­flect­ed in a 1664 vet­ting de­scrib­ing its in­te­ri­ors as in ru­ins, and sta­bles and oth­er build­ings as still us­able. The cas­tle's ar­ma­ment of the pe­ri­od con­sist­ed of 5 can­nons made from melt­ed bells, 2 iron can­nons, 7 bar­rels of gun­pow­der, 100 kilo­grams of lead mus­ket balls, 100 can­non balls and 30 packs of fus­es.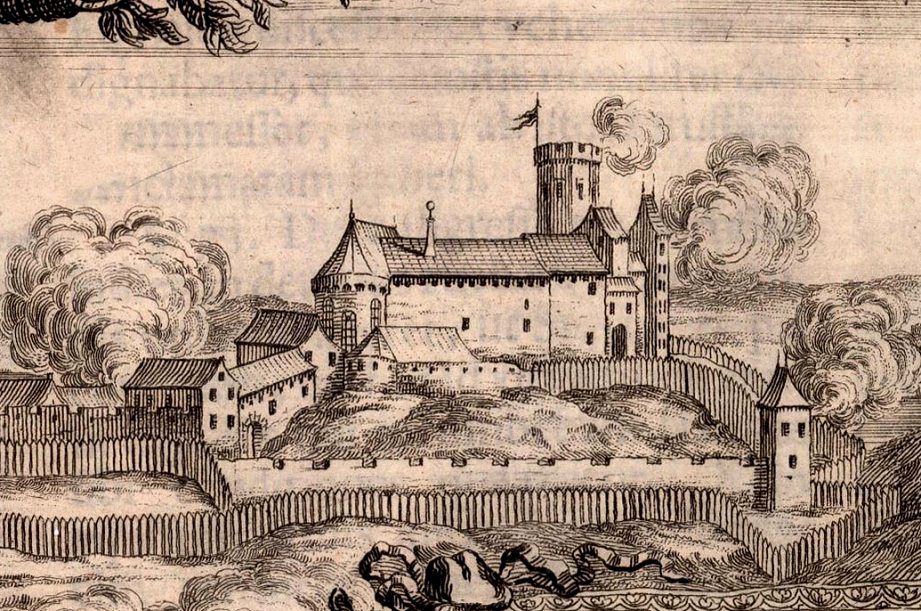 SIEGE OF THE CASTLE BY THE SWEDES, FRAGMENT OF AN ENGRAVING BY ERIK DAHLBERGH FROM 1656
SAMUEL PUFENDORF "DE REBUS A CAROLO GUSTAVO GESTIS"
I
n 1703, the oc­cu­py­ing Swedish army again de­stroyed and loot­ed the cas­tle's in­te­ri­ors, in­clud­ing the chapel, from where many valu­able fur­nish­ings and litur­gi­cal ves­sels were tak­en. The pe­ri­od of sta­tion­ing troops of var­i­ous na­tion­al­i­ties in Gru­dziądz, which be­gan in the mid­dle of the 17th cen­tu­ry, not on­ly caused the cas­tle to lose its res­i­den­tial qual­i­ties, but al­so led to a rad­i­cal de­te­ri­o­ra­tion in the tech­ni­cal con­di­tion of the build­ing. Con­se­quent­ly, around 1765 the cas­tle, though still in­hab­it­ed, was al­ready a par­tial ru­in. Al­though Count Au­gust Sta­ni­sław von Goltz (d. 1795) made the most ur­gent re­pairs here, the starost's seat con­tin­ued to in­evitably de­cline and was even­tu­al­ly aban­doned in the 1770s.
THE CITY AND CASTLE AS SEEN FROM THE WEST ACCORDING TO GEORG FRIEDRICH STEINER, 1738-45
ROYAL GOVERNORS (STAROSTS) AT THE CASTLE IN GRUDZIĄDZ
Augustyn von der Schewe (1454), Jan Ścinowiec (?) (1459)
Albrecht von Tymenitz (1481), Piotr Sokołowski von Wranza (1499)
Jan Sokołowski von Wranza (1516-40), Piotr Wojanowski (1548-69)
Fabian Czema (1570-80), Jan Zborowski (1581-1603)
Mateusz Konopacki (1604-11), Michał Konarski (1612-13)
Ludwig von Mortangen (1613-15), Jakub Szczepański (1616-30)
Zuzanna Szczepańska (widow, 1643), Ferdynand Szczepański (1648-55)
Marcin Kazimierz Borowski (1677-99), Jan Szembek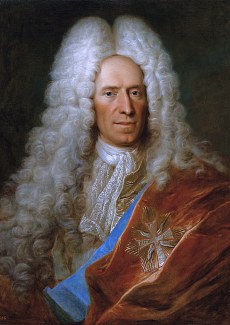 (1700-15)
Ewa Leszczyńska-Szembek (widow, 1731), Jerzy Wandalin-Mniszek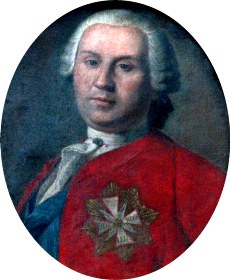 (1735-56)
Rafał von Buchholz (1757-59), Dorota Amelia von Buchholz (widow, 1759-64)
August Stanisław von der Golz (Dorota's second husband, 1764-67)
RUINS OF THE CASTLE IN GRUDZIĄDZ, 1842
I
n 1778, Prus­sian King Friedrich Wil­helm II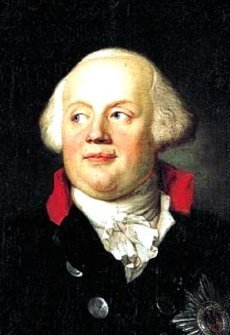 or­dered to de­mo­lish the cas­tle so that the ma­te­ri­al thus ob­tained could be used to ex­pand a pen­i­ten­tiary and build a mod­ern fort­ress. The king's or­der was ex­e­cut­ed, but de­mo­li­tion works did not cov­er the main tow­er. Ac­cord­ing to a ro­man­tic leg­end, King Wil­helm III's
wife, Lu­isa von Meck­len­burg-Stre­litz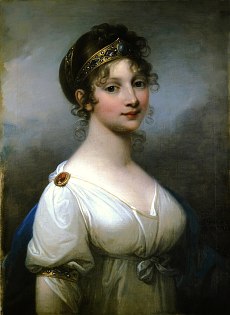 , who briefly stayed in the city in the fall of 1806 while on a trip to Königs­berg, in­ter­vened to keep it. Pre­sum­ably, how­ev­er, the re­al rea­son for pre­serv­ing this el­e­ment of the me­dieval strong­hold turned out to be a lack of funds to break down the thick and solid­ly bond­ed walls. Mean­while, as ear­ly as 1807, the crown of the tow­er was de­stroyed as a re­sult of shelling by Prus­sian ar­tillery on French fir­ing po­si­tions set up here, from where the citadel lo­cat­ed near­by was fired up­on.
CASTLE HILL ON POSTCARDS FROM THE EARLY 20TH CENTURY
W
hen the Cas­tle Hill passed in­to own­er­ship of the city in the mid-19th cen­tu­ry, its grounds were cleaned up, and a park was es­tab­lished on the slopes of the mound. A look­out point was or­ga­nized on the cas­tle ru­ins, and a restau­rant was opened near them. To per­pet­u­ate the mem­o­ry of the for­mer strong­hold, in the ear­ly 20th cen­tu­ry a Goth­ic por­tal was added to the sur­viv­ing ground floor of the south wing, which was lat­er of­ten false­ly in­ter­pret­ed as a rel­ic of me­dieval ori­gin.
OUTDOOR SCENE ON THE CASTLE HILL, 1910
FRAGMENT OF A MEDIEVAL WALL WITH A PSEUDO-GOTHIC ARCH ADDED IN THE 20TH CENTURY, 2002
T
he main tow­er of the cas­tle, on March 5, 1945, was blown up by sap­pers of the Ger­man Her­man Göring Bri­gade to pre­vent the ad­vanc­ing So­vi­et troops from see­ing their own po­si­tions. The strong ex­plo­sion de­stroyed then not on­ly the tow­er, but al­so re­mains of me­dieval build­ings all o­ver the cas­tle hill. In 1956, on its ru­ins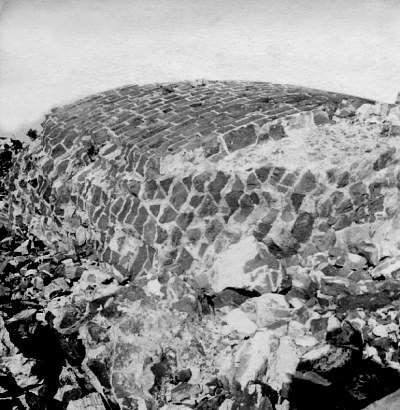 , the then au­thor­i­ties built a mound, on top of which nine years lat­er a stat­ue of Świa­to­wid, the pa­gan god of for­est, sun, fire and fer­til­i­ty, was erect­ed, which had very provoca­tive over­tones in view of the ap­proach­ing mil­len­ni­um of Poland's bap­tism. This con­tro­ver­sial mon­u­ment was moved to one of the parks in the ear­ly 21st cen­tu­ry, and in place of the mound, a new tow­er was erect­ed on the foun­da­tions of the old one in 2014.
THE MOUND WITH THE STATUE OF ŚWIATOWID RAISED ON THE SITE OF THE FORMER CASTLE TOWER, 1968
LOWER PARTS OF THE TOWER (CALLED KLIMEK) AFTER REMOVING THE MOUND, 2010
KLIMEK 2 (RECONSTRUCTION), 2021
DESCRIPTION OF THE CASTLE
G
rudz­iądz Cas­tle was among the largest strong­holds in the en­tire Teu­ton­ic state. It was built on a high, more than 60-me­ter-high Vis­tu­la es­carp­ment, sep­a­rat­ed from neigh­bor­ing hills by nat­u­ral ravines and a deep ditch. The up­per cas­tle oc­cu­pied the north­ern part of the el­e­va­tion, while a low­er cas­tle was lo­cat­ed in its south­ern part.
PLAN OF MEDIEVAL CITY FORTIFICATIONS ACCORDING TO J. HEISE: 1. UPPER CASTLE, 2. OUTER COURTYARD (SOUTH)
3. TOWN HALL, 4. PARISH CHURCH, 5. CHURCH OF THE HOLY SPIRIT, 6. GRANARIES
SOUTH WING OF THE UPPER CASTLE ACCORDING TO G. J. JACOBI, "DIE BAU- UND KUNSTDENKMALER DES KREISES GRAUDENZ" 1894
A
tall Goth­ic tow­er called Klimek was erect­ed in the north­west cor­ner of the up­per cas­tle. It had a cylin­dri­cal shape with a di­am­e­ter of about 9 and a height of about 30 me­ters, with an en­trance lo­cat­ed 14 me­ters above the lev­el of the court­yard. The part of the tow­er be­low the en­trance, that is, about half its height, was oc­cu­pied by a dark prison di­vid­ed by a brick vault in­to two spaces. Rel­a­tive to its di­am­e­ter, this build­ing had very thick walls (3.2 me­ters). A dis­tinc­tive fea­ture of its fa­cades were dec­o­ra­tive stripes formed of red and green-glazed bricks.
KLIMEK TOWER ON POSTCARDS FROM THE EARLY 20TH CENTURY
K
limek was a typ­i­cal tow­er of last de­fense, that is, it served a priv­i­leged group of peo­ple as a place of refuge in a sit­u­a­tion of ex­treme dan­ger. On a day-to-day ba­sis, how­ev­er, it was used for ob­ser­va­tion and sig­nal­ing, as a prison, and per­haps al­so as a ware­house. Quite un­usu­al for Teu­ton­ic ar­chi­tec­ture, the tow­er's con­struc­tion prompts a bold the­sis that it was not nec­es­sar­i­ly erect­ed by the Teu­ton­ic Knights, and may have func­tioned ear­li­er as a bell tow­er of a Cis­ter­cian cathe­dral church.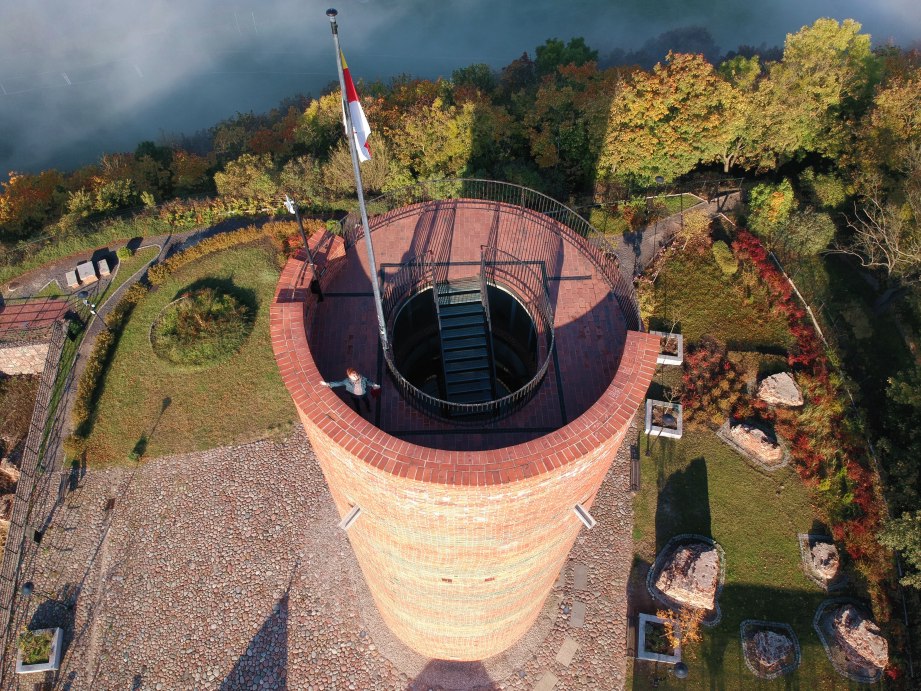 T
he main wing of the up­per cas­tle was erect­ed in the south­ern part of the court­yard. It in­clud­ed a gate pas­sage, per­haps pro­tect­ed by a bay win­dow over­hang­ing the top floor, and con­sist­ed of three floors above ground and a deep base­ment. Its ground floor was oc­cu­pied by vault­ed util­i­ty rooms and two prison cells, while the sec­ond floor housed rep­re­sen­ta­tive cham­bers: the chapel of the Vir­gin Mary, a chap­ter house and a re­fec­to­ry. By anal­o­gy, we can as­sume that the top floor had stor­age and de­fense func­tions. Part of the west wing con­tained guest cham­bers, among them the largest cham­ber (with a view of the riv­er) used by the grand mas­ter when he vis­it­ed the cas­tle. A toi­let tow­er (dan­sker) was con­nect­ed to it.
REMAINS OF THE CASTLE'S SOUTH WING
T
he north­ern and east­ern wings of the up­per cas­tle were in­tend­ed main­ly for util­i­ty pur­pos­es and housed, among oth­ers, a kitchen, a bak­ery and a brew­ery. In ad­di­tion, back in the days of the Pol­ish gov­er­nors, the first floor of the east wing housed ser­vants' quar­ters. In the in­ven­to­ry of 1565, we find a de­scrip­tion re­port­ing that the cas­tle kitchen was ad­ja­cent to the so-called bak­ers' cham­ber, un­der which there was a vault­ed cel­lar where cab­bages are stored. The wings on the court­yard side were con­nect­ed by clois­ters, while on the out­side they were sur­round­ed by a dou­ble line of walls, the width of which var­ied de­pend­ing on the ter­rain.
NORTH WING, RELIC OF THE SEWER DRAINING WASTE FROM THE CASTLE KITCHEN
T
he east­ern part of the sec­ond floor of the south wing was oc­cu­pied by the Chapel of the Blessed Vir­gin Ma­ry, built be­fore 1299 pre­sum­ably by Got­tfried von Ho­hen­lo­he. The tem­ple had three al­tars, and its fur­nish­ings at the end of the 14th cen­tu­ry in­clud­ed, among oth­ers, 4 gild­ed chal­ices, 6 sil­ver chapels, sil­ver and cop­per cen­sers, as well as sil­ver cross­es, nu­mer­ous vest­ments and relics. Among the relics, most note­wor­thy are the sil­ver-framed head of St. Christi­na and one head from the Ele­ven Thou­sand Vir­gins, en­closed in a small cab­i­net.
FRAGMENTS OF THE POLYPTYCH FROM THE CHAPEL OF THE TEUTONIC CASTLE IN GRUDZIĄDZ (CA. 1390)
IT IS NOW PART OF THE COLLECTION OF THE NATIONAL MUSEUM IN WARSAW
O
ut­er court­yards sur­round­ed the up­per cas­tle from the south, north and east. The old­est of them was sit­u­at­ed in the south­ern part, where a road led out of the town. The en­trance to the area was pro­tect­ed by a mas­sive gate tow­er, and fur­ther on - by the sec­ond gate, called Fi­jow­ska. Near a bridge con­nect­ing the south­ern court­yard with the up­per cas­tle, a one-sto­ry com­man­dant's house with three rooms was built in the mid-14th cen­tu­ry. In the mid-16th cen­tu­ry, at the be­hest of the then gov­er­nor of Gru­dziądz, this house was re­built by adding a floor topped with a Re­nais­sance at­tic, equipped with a cor­ri­dor lead­ing di­rect­ly to the south wing of the cas­tle.
PLAN OF THE UPPER CASTLE: 1. MAIN TOWER (KLIMEK), 2. SOUTH WING, 3. WEST WING,
4. COMMANDANT'S HOUSE, 5. GATE, 6. WELL, 7. KITCHEN, 8. DANSKER
PLAN OF GRUDZIĄDZ CASTLE: 1. UPPER CASTLE, 2. SOUTH COURTYARD, 3. EAST COURTYARD,
4. NORTH COURTYARD, 5. GATE NECK LEADING OUT OF TOWN, 6. STABLES, 7. STABLES AND COACH HOUSES,
8. MOAT, 9. BRIDGE LEADING TO THE UPPER CASTLE, 10. PARCHAM
---
A
mod­est sec­tion of the first floor of the south wing and frag­ments of the de­fen­sive walls have sur­vived, as well as foun­da­tions and pil­lars of the vaults in the cas­tle cel­lars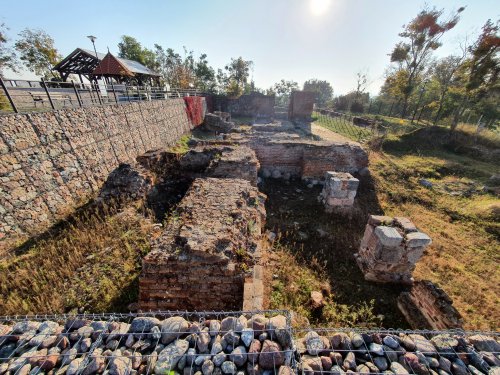 un­cov­ered in 2006-2007, re­mains of the com­man­dant's house, well and out­build­ings of the up­per cas­tle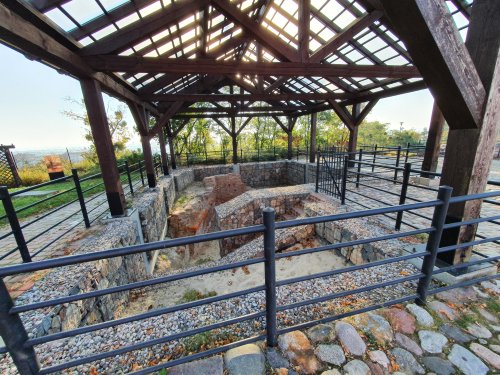 , among them in­ter­est­ing relics of a canal used to drain waste from the kit­chen. Oth­er me­men­tos of the Teu­ton­ic strong­hold are two ter­ra­cot­ta bas-re­liefs em­bed­ded in the west­ern wall of the parish church, as well as part of an al­tar­piece from the for­mer chapel (the so-called "Grudz­iądz pol­yp­tych"), which is now in the col­lec­tion of the Na­tion­al Mu­se­um in War­saw. The Cas­tle Hill is dom­i­nat­ed by the Kli­mek tow­er, which, how­ev­er, is on­ly a mod­ern re­con­struc­tion set on a me­dieval foun­da­tion.
CASTLE HILL, IN THE FOREGROUND WE SEE A FRAGMENT OF THE SOUTH WING
| | |
| --- | --- |
| | The cas­tle ru­ins can be vis­it­ed. You can al­so vis­it the tow­er, which of­fers a pa­no­ram­ic view of the Vis­tu­la Riv­er val­ley and the wide city­scape. Ad­mis­sion is free. |
| | |
| --- | --- |
| | We should re­serve at least half an hour to ex­plore the cas­tle ru­ins and en­joy the pa­no­ra­m­ic view from the tow­er. |
| | |
| --- | --- |
| | No an­i­mals are al­lowed on Cas­tle Hill. |
VIEW FROM CASTLE HILL TO ST. NICOLAS CHURCH
ON THE WAY TO THE TOP OF KLIMEK
---
T
he relics of the Teu­ton­ic cas­tle are lo­cat­ed on the Vis­tu­la es­carp­ment, on Zam­ko­wa Street, about 300 me­ters north of the Old Town Mar­ket Square.
| | |
| --- | --- |
| | Bi­cy­cles can be brought in­to Cas­tle Hill. |
---
1. W. Antkowiak, P. Lamparski: Zamki i strażnice krzyżackie ziemi chełmińskiej, 1999
2. K. Bielicki: Zamki województwa toruńskiego, KAW 1980
3. X. Froelich: Góra zamkowa w Grudziądzu…, Biblioteka Zespołu Szkół Medycznych
4. X. Froelich: Historia powiatu grudziądzkiego (Geschichte des Graudenzer Kreises), 1868
5. M. Haftka: Zamki krzyżackie w Polsce, 1999
6. L. Kajzer, J. Salm, S. Kołodziejski: Leksykon zamków w Polsce, Arkady 2001
7. R.B. Kucharczyk: Kaplica na zamku krzyżackim w Grudziądzu
8. M. Remiś, M. Szajerka: Kwerenda źródłowa dotycząca wieży Klimek..., Polskie Tow. Historyczne 2003
9. M. Szajerka: Kaplica na Zamku Wysokim w Grudziądzu…, Biuletym KMDG nr 23/2018
10.A. Wagner: Murowane budowle obronne w Polsce X-XVIIw., Bellona 2019
11.B. Wasik: Początki krzyżackich zamków na ziemi chełmińskiej…, Archaeologia Historica Polona 24/2016
12.B. Wasik: Prace budowlane na zamkach w Grudziądzu i Toruniu..., Rocznik Grudziądzki Tom XXII 2014
13.B. Wasik: Zamki pokrzyżackie w województwie chełmińskim..., Wiadomości Konserwatorskie 41/2015
14.M. Wiewióra: Zamek w Grudziądzu w świetle badań archeologiczno-architektonicznych, 2012
15.M. Wiewióra: Zamki krzyżackie na ziemi chełmińskiej w świetle najnowszych badań...

WALKING ALONG SPICHRZOWA STREET TOWARDS THE CASTLE HILL WE PASS THE MONUMENT OF LANCER WITH A GIRL
ST. NICHOLAS CHURCH AND ONE OF THE GRANARIES ARE IN THE BACKGROUND
Castles nearby:
Pokrzywno - ruins of a 13th-century Teutonic castle, 11 km
Rogoźno - ruins of a 13th-century Teutonic castle, 15 km
Radzyń Chełmiński - ruins of a 13th-century Teutonic castle, 21 km
Nowe - Teutonic castle from the 14th century, rebuilt, 23 km
Świecie - ruins of a 14th-century Teutonic castle, 27 km
Lipieniek - ruins of a 13th-century Teutonic castle, 33 km
Chełmno - remains of a 13th-century Teutonic castle, now a monastery, 34 km
Kwidzyn - castle and cathedral complex from the 13th/14th century, 34 km
Wąbrzeźno - relics of the Chełmno bishops' castle from the 14th century, 34 km
Osiek - remains of a 15th-century Teutonic castle, 36 km
Papowo Biskupie - ruins of a 13th-century Teutonic castle, 40 km
Gniew - Teutonic castle from the 13th/14th century, 46 km
Kowalewo Pomorskie - relics of a 13th-century Teutonic castle, 50 km

---
A unique in Poland com­plex of his­toric gra­naries erect­ed be­tween the 14th and mid-18th cen­turies (the old­est Born­wald gra­nary dates back to 1351). They are built on a steep Vis­tu­la es­carp­ment, con­se­quent­ly, on the city side they have two to three, and on the riv­er side five to six sto­ries. To fa­cil­i­tate load­ing on­to ships, fa­cades of the build­ings were con­nect­ed to the wa­ter­front via wood­en gut­ters, which, un­for­tu­nate­ly, have not sur­vived to the pre­sent day. In ad­di­tion to their stor­age func­tions, the sol­id, but­tress-sup­port­ed walls of the gra­naries pro­vid­ed de­fense for the city and pro­tect­ed the hill­side from land­slides. One of them, more­over, was used for a short pe­ri­od as an evan­gel­i­cal tem­ple. To­day, the gra­naries of Gru­dziądz house mu­se­um rooms, pri­vate apart­ments, and some are still used as ware­hous­es.
GRANARIES IN GRUDZIĄDZ, VIEW FROM THE VISTULA RIVER (IN THE BACKGROUND WE CAN SEE THE CASTLE HILL)
GRANARIES AS SEEN FROM SPICHRZOWA (GRANARY) STREET
---
Old Town build­ings with a small but pic­turesque Mar­ket Square mea­sur­ing 54x70 me­ters, sur­round­ed by Baroque styled town­hous­es re­built from war dam­age. Ad­ja­cent to the Mar­ket Square to the north is the Goth­ic church of St. Ni­cho­las dat­ing back to the turn of the 13th and 14th cen­turies, con­sid­ered one of the old­est in the Chełm­no Land. In­side it, we can ad­mire re­mains of me­dieval poly­chro­mies, a 13th-cen­tu­ry bap­tis­tery, or­na­ment­ed with drag­ons and mas­carons, and a Baroque pul­pit with dec­o­ra­tion of... Chi­nese mo­tifs. Next to St. Ni­cho­las church, on Ra­tu­szo­wa Street, there is an­oth­er tem­ple - the post-Je­suit church of St. Fran­cis Xa­vier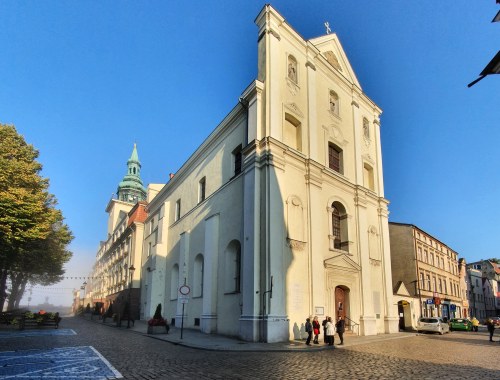 and the for­mer Je­suit col­lege, now the head­quar­ters of the Mu­nic­i­pal Of­fice. The in­te­ri­or of this church has Baroque decor, in­clud­ing rich­ly carved al­tars and a pul­pit and mu­sic choir dec­o­rat­ed with Chi­nese mo­tifs.
WESTERN FRONTAGE OF GRUDZĄDZ MARKET SQUARE
GOTHIC CHURCH OF ST. NICOLAS
NORTHERN ELEVATION OF ST. NICHOLAS CHURCH, NEXT TO WHICH WE SEE THE GRANARIES
---
Af­ter en­ter­ing the Old Town area through the Wa­ter Gate, on the right we see the for­mer church and mo­na­stery of the Bene­dictines, now the parish church of the Holy Spir­it. It was the re­sult of an ex­pan­sion of a 13th-cen­tu­ry chapel erect­ed at a poor­house, and has been ex­pand­ed in sub­se­quent cen­turies un­til it achieved its fi­nal 18th-cen­tu­ry ap­pear­ance. To­day, the church still has re­li­gious func­tions, while the for­mer mo­na­stery build­ings house the city mu­se­um (the Rev. Dr. Wła­dy­sław Łę­ga Mu­se­um). Be­low the Wa­ter Gate, out­side the Old Town, is a square with a dis­tinc­tive foun­tain with a sculp­ture of a rafts­man. Sign­posts with the names of Gru­dziądz­ka Street from var­i­ous cities in Poland and Ger­many were placed right next to it.
SPICHRZOWA STREET, HOLY GHOST CHURCH IN THE BACKGROUND
THROUGH THE WATER GATE DESCEND TOWARDS BISKUPA CHRISTIANA AVENUE....
..WHERE THERE IS A STATUE OF A RAFTSMAN
...AND SIGNPOSTS WITH THE NAME OF THE CITY
text: 2022
photographs: 2002, 2010, 2021
© Jacek Bednarek