KRAPKOWICE OTMĘT

knight's castle ruin
OTMĘT CASTLE, RUINED BUILDING IN THE SOUTHERN PART OF THE COURTYARD
---
T
he gen­er­al opin­ion is that the brick cas­tle in Ot­męt was prob­a­bly built by one of rep­re­sen­ta­tives of the von Stral (Strze­la) fam­i­ly, which owned the vil­lage be­tween 1316 and 1514. On the oth­er hand, the old­est ar­ti­fact found in the ru­ins, which is a frag­ment of a tile with the date 1516, may in­di­cate its slight­ly lat­er met­ric. It could al­so be that the new­er cas­tle was built on the site of an old­er strong­hold, prob­a­bly a me­dieval de­fen­sive manor, the con­struc­tion of which leg­ends at­tribute to the Knights Tem­plar or­der (there is no his­tor­i­cal ev­i­dence to prove this the­sis). How­ev­er, the 13th-cen­tu­ry ori­gin of the cas­tle for­ti­fi­ca­tions may be in­di­cat­ed by ge­om­e­try of the tow­er (now a church tow­er) and lo­ca­tion of res­i­den­tial build­ings along the walls, typ­i­cal of that pe­ri­od.
THE CHURCH OF THE BLESSED VIRGIN MARY'S ASSUMPTION WITH AN OLD CASTLE TOWER
The name of the fish­ing colony Ot­męt comes from the Old Pol­ish word odmęt mean­ing abyss, deep wa­ter. In 1223 the vil­lage was men­tioned as a mo­nas­tic set­tle­ment Oc­nant, and in 1302 its Ger­man­ized ver­sion Oth­mant ap­peared in doc­u­ments for the first time. Oth­er his­tor­i­cal names of the vil­lage were: Oth­much (1425), Oth­menth (1450), Ottmuth (19th cen­tu­ry) and Pol­ish Od­męt (1902).
GATE TOWER, AN OUTLINE OF THE OLD ENTRANCE PORTAL IS CLEARLY VISIBLE
I
n the 16th and 17th cen­turies, the strong­hold be­longed to a num­ber of un­re­lat­ed Si­le­sian fam­i­lies and was re­peat­ed­ly mod­ern­ized. In 1514 it was bought by Lu­cas Buch­ta von Buch­titz of the Odro­wąż coat of arms (d. 1532). His heir was the el­dest son, Buch­ta von Buch­titz us­ing the sur­name Bil­ic­ki (d. 1582). At that time the build­ing was re­designed in Re­nais­sance style and adapt­ed to serve as the fam­i­ly's head­quar­ters.
ROUNDEL IN THE SOUTHWESTERN PART OF THE CASTLE
I
n 1608 Georg Buch­ta, the last male de­scen­dant of the Ot­męt own­ers, died. His wid­ow Ju­dith Czet­tritz mar­ried Jo­hann von Re­den of Krap­kow­ice, then around 1630 she sold the old and al­ready de­te­ri­o­rat­ed cas­tle to Wen­zl von Reis­witz (d. 1638). Af­ter his death, the es­tate re­mained in the hands of his wid­ow, and then passed to her son Hein­rich von Prit­twitz (d. 1680). The daugh­ter of Hein­rich and Ur­su­la Hed­wig von Die­bitsch, He­le­ne Con­stance in 1690 sold Ot­męt to Jul­ius Le­o­pold Ho­ditz (d. 1693), af­ter whose death the cas­tle was in­her­it­ed by his son Carl Jo­seph (d. 1741). From him the es­tate was bought in 1695 by his step­moth­er, Su­sanne Po­lyx­e­na de do­mo von Mans­feld, pay­ing 20,000 thal­ers for it. The next own­er was Mag­da­lene En­gel­burg von Ko­tulirf­s­ki (d. 1751), the wife-to-be of Bal­tha­sar Lud­wig von Lar­isch (d. 1702), who re­ceived the prop­er­ty as a mar­riage dowry. In 1723, that is af­ter Lud­wig's death, Mag­da­lene ced­ed part of the cas­tle in­clud­ing the tow­er to the Ot­męt parish, re­ceiv­ing 2,403 thalers in re­turn.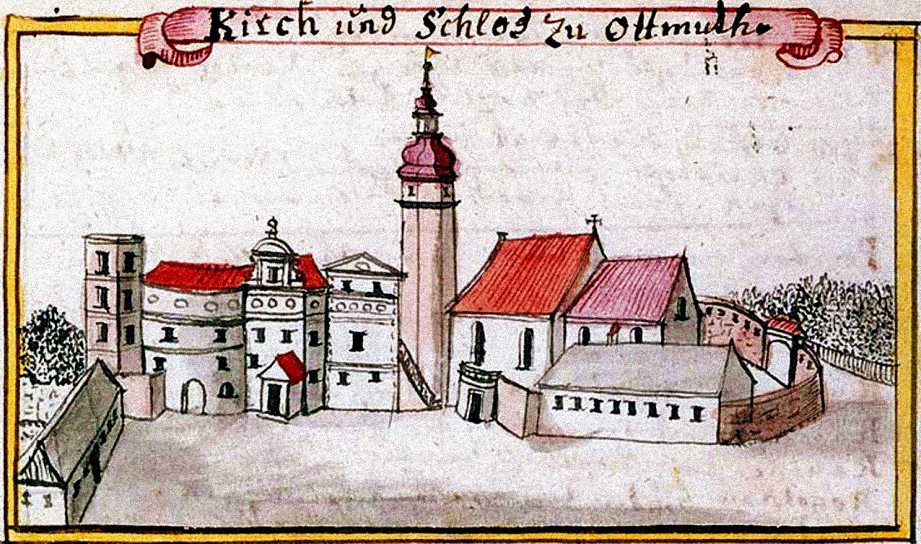 CASTLE AND CHURCH IN THE MIDDLE OF THE XVIII CENTURY, FRIEDRICH BERNHARD WERNER: "TOPOGRAPHIA SILESIAE" 1744-68
O
ne of rep­re­sen­ta­tives of the von Lar­isch fam­i­ly re­designed the res­i­dence in the Baroque style, and we can see the ef­fect of this trans­for­ma­tion in the sketch­es made by Si­le­sian draughts­man Frie­drich Bern­hard Wern­er (see above). Pre­sum­ably, how­ev­er, al­ready in the sec­ond half of the 18th cen­tu­ry the build­ing proved un­in­hab­it­able due to its poor tech­ni­cal con­di­tion and was aban­doned, and the ma­te­ri­al from its de­mo­li­tion was used, among oth­er things, to ren­o­vate the church stand­ing near­by. Af­ter 1771, the Ot­męt es­tate be­longed to Count Frie­drich von Pück­ler, who ran in­to fi­nan­cial dif­fi­cul­ties, so that at a bailiff auc­tion in 1799 Ernst Jo­achim von Stra­ch­witz (d. 1826) ac­quired it for 60,000 thalers. Sub­se­quent own­ers of the cas­tle were: from 1800 - Phil­ipp von Thun, and from 1815 - Jo­seph Frie­drich Mar­ti­ni.
THE RUINED CASTLE IN PHOTOS FROM 1929
A
f­ter 1839, Ot­męt be­longed to re­tired Prus­sian ma­jor Franz von Wyschet­z­ki (d. 1848), and then to his wid­ow Hen­ri­et­ta de do­mo Heythuy­sen and son Os­car. By this time the aban­doned cas­tle was a com­plete ru­in. In 1867 it was pur­chased (along with oth­er es­tates) by Baron von Thiele­man for 220,000 thalers, but just two years lat­er it be­came the owner­ship of Counts von Pück­ler. In 1929, then-own­er of Ot­męt Count von Spon­nek sold his lo­cal prop­er­ty to Czech in­dus­tri­al­ist Tomáš Ba­ta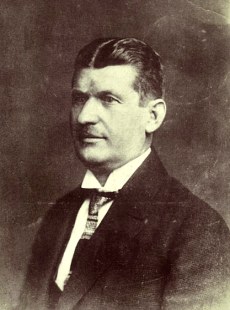 (founder of fa­mous Ba­ta shoe brand

, d. 1932). His son, al­so To­máš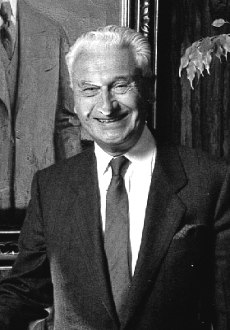 (d. 2008), was pre­sum­ably the last pre-war own­er of the ru­ins.
CASTLE RUINS IN THE 1930S
DESCRIPTION OF THE CASTLE
D
ue to the fact that ar­chae­o­log­i­cal in­ves­ti­ga­tions have nev­er been car­ried out here, lit­tle is known to­day about the ap­pear­ance of the cas­tle and its spa­tial lay­out at the time of the first own­ers. It prob­a­bly con­sist­ed of stone cur­tain wall erect­ed on an ir­reg­u­lar po­lyg­o­nal plan, a one-sto­ry main house stand­ing by the north­ern wall, a sec­ond south­ern build­ing, and a gate tow­er built in­to the south­east­ern cor­ner. De­fen­sive fea­tures of the cas­tle were strength­ened by a semi­cir­cu­lar ar­til­le­ry bas­tion pro­trud­ing to the west, open to the court­yard, as well as a main tow­er, square at the bot­tom and oc­tag­o­nal above, which was sold to the parish in 1732 and has been func­tion­ing as a church tow­er ev­er since.
PLAN OF THE CASTLE AND CHURCH: 1. GATE TOWER, 2. MAIN HOUSE, 3. SOUTH BUILDING, 4. ROUNDEL, 5. MAIN TOWER, 6. CHURCH
THE RUIN OF THE MAIN (NORTHERN) HOUSE
---
W
hat has sur­vived from the old cas­tle is the cur­tain wall with a semi­cir­cu­lar roun­del, relics of the north­ern house up to the height of the sec­ond floor, with frag­ments of a chim­ney and traces of bar­rel vaults in the base­ment, re­mains of the south­ern build­ing, as well as ru­ins of the gate tow­er and, of course, the for­mer cas­tle tow­er, now part of the Church of the Blessed Vir­gin Mary's As­sump­tion.
| | |
| --- | --- |
| | The area is en­closed. The east­ern wall with a gate tower can be seen from the site of the church, and the west­ern wall with a roun­del can be seen from the site of the park, which is un­for­tu­nate­ly very ne­glect­ed. The fence sur­round­ing the ru­ins is in very poor con­di­tion, al­low­ing ac­cess to the court­yard. How­ev­er, it could be il­le­gal. |
| | |
| --- | --- |
| | We need about half an hour to tour the cas­tle ruins from the out­side, in­clud­ing the church (al­so in­side). |
CASTLE RUINS IN OTMĘT, FROM TOP AND LEFT: A FRAGMENT OF THE SOUTH BUILDING,
THE WALL BY THE MAIN (NORTH) HOUSE, THE EAST WALL AS SEEN FROM THE SIDE OF THE CHURCH
---
T
he ru­in is sit­u­at­ed on the right bank of the Oder Riv­er, in the Ot­męt dis­trict, which was once an in­de­pen­dent set­tle­ment. Driv­ing from the cen­ter of Krap­kow­ice, about 600 me­ters be­hind the riv­er turn left in­to Pia­stow­ska Street lead­ing to­wards the church. The near­est train sta­tion is lo­cat­ed in the town of Go­go­lin (4 km).
| | |
| --- | --- |
| | There are some park­ing lots on Fran­cisz­ka Duszy Street: in front of the church and by the shop­ping pavil­ions. |
| | |
| --- | --- |
| | With the bikes, we can walk up to the cas­tle wall (be­ware of bro­ken glass in the park!) |
---
1. Z. Bandurska: Ruiny zamku w Otmęcie, PP Pracownie Konserwacji Zabytków 1980
2. L. Kajzer, J. Salm, S. Kołodziejski: Leksykon zamków w Polsce, Arkady 2001
3. A. Wagner: Murowane budowle obronne w Polsce X-XVIIw., Bellona 2019

CHURCH OF THE BLESSED VIRGIN MARY'S ASSUMPTION
RUINS OF THE KNIGHT'S CASTLE ARE HIDDEN JUST BEHIND IT
Castles nearby:
Krapkowice - Baroque castle from the 17th century, 2 km
Rogów Opolski - Renaissance castle from the 16th/17th centuries, 9 km
Moszna - eclectic palace (called a castle) from the 19th century, 18 km
Głogówek - Renaissance castle from the 16th century, 19 km
Prószków - Renaissance castle from the 16th century, 19 km
Chrzelice - 13th century castle of the Knights of St. John, redesigned, 21 km
Opole Górka - relics of a 14th-century ducal castle, 24 km
Opole - relics of a 13th-century ducal castle, 25 km
Strzelce Opolskie - ruins of a ducal castle from the 14th century, 27 km
Biała - Renaissance castle from the 16th century, 28 km
Kędzierzyn-Koźle - relics of a 14th-century ducal castle, 28 km
Ujazd - ruins of a 13th-century bishop's castle, 37 km
Prudnik - relics of a 13th century knight's castle, 38 km
Dąbrowa - Renaissance castle from the 17th century, 39 km
Niemodlin - ducal castle from the 13th-17th centuries, 40 km
Polska Cerkiew - Renaissance castle from the 17th century, 40 km
Łąka Prudnicka - ruins of a 15th-century ducal castle, 41 km

text: 2022
photographs: 2020
© Jacek Bednarek