RYBNICA

the Gothic castle ruins
THE BEST PRESERVED PART OF THE FORMER RYBNICA CASTLE IS ITS NORTHERN WALL
---
N
ot much is known about the ori­gins and func­tion­ing of the cas­tle in the Mid­dle Ages. The pre­vail­ing opin­ion among his­to­ri­ans is that the con­struc­tion of the brick strong­hold may have been com­mis­sioned in the 1360s by Em­per­or Char­les IV of Lux­em­burg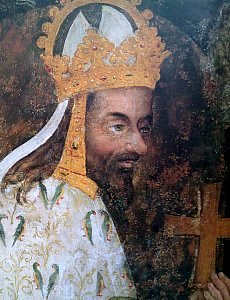 (d. 1378), who was to pay a short vis­it here in 1365. The vil­lage was then owned or leased by Ni­co­las von Reyb­nicz, a rep­re­sen­ta­tive of a Si­le­sian knight­ly fam­i­ly. Doc­u­ments from 1372 and 1373 men­tion broth­ers Hen­tschel, Con­rad, Hein­rich, Dip­rand and Thy­me von der Ryb­nicz as the own­ers of the whole or part of the lo­cal­i­ty, and the last known rep­re­sen­ta­tive of this fam­i­ly in Ryb­ni­ca was Ni­col von der Reyb­nicz, not­ed in 1423.
NORTH-WESTERN CORNER OF THE CASTLE, ON THE LEFT WE CAN SEE RELICS OF THE KITCHEN ALCOVE
Ac­cord­ing to one of the pop­u­lar leg­ends, the founder of the Ryb­ni­ca vil­lage was a cer­tain Ru­bin, a Po­mera­ni­an prince, who came to this area and, en­chant­ed by the beau­ty of the lo­cal land­scape, de­cid­ed to set­tle here per­ma­nent­ly. An­oth­er fa­ble says that in the 13th cen­tu­ry the Be­guine Sis­ters found­ed their con­gre­ga­tion in Ryb­ni­ca. Al­leged­ly, this fact has been con­firmed by the date 1234 en­graved on a stone in the cas­tle wall, dis­cov­ered in 1750 dur­ing ren­o­va­tion works. Un­for­tu­nate­ly, the stone was de­stroyed eight years lat­er.

HISTORICAL NAMES OF RYBNICA
Reib­nicz (1288), Ryb­nitz (1305),
Ri­be­nicz (1311), Rei­be­nicz (1369),
Reib­nicz (1393), Reib­nitz (1668),
Reim­nitz (1678), Reinnz (1726),
Reib­nitz (1726), Ryb­nik (1945)

PROBABLY THE OLDEST PRESERVED IMAGE OF THE RYBNICA CASTLE,
FRIEDRICH BERNHARD WERNER 'TOPOGRAPHIA SILESIAE 1744-68'
T
he old cas­tle was prob­a­bly cap­tured and de­stroyed by the Hus­sites in the 1420s. How­ev­er, it was soon re­built, or per­haps re-erect­ed, as ev­i­denced by the wall relics pre­served to this day, which date back to the 15th and 16th cen­turies. We do not know who owned the cas­tle at that time. It is pos­si­ble that its re­con­struc­tion was or­dered by Hans von Zedlitz alias von Reib­nitz, the own­er of the vil­lage in the sec­ond half of the 15th cen­tu­ry. In 1532 his grand­son Hans III sold the lo­cal es­tate to Chris­toph von Red­ern of Nie­lest­no. Since then, for o­ver two hun­dred years, the fate of the cas­tle and its in­hab­i­tants has re­mained un­known.
ENGRAVING SHOWING THE CASTLE AND GRANGE FROM THE SOUTH, 2ND HALF OF THE XVIII CENTURY
R
yb­ni­ca ap­peared in doc­u­ments again in 1756, when it be­came the prop­er­ty of the Je­le­nia Gó­ra mer­chant Georg Fried­rich Schmidt (d. 1757). New own­er com­mis­sioned some con­struc­tion work to mod­ern­ize the cas­tle, al­though its con­di­tion was cer­tain­ly very poor by that time and it was rather un­in­hab­it­able. Georg Fried­rich's wid­ow, Mar­ga­rethe Elis­a­beth de do­mo Gott­fried, passed the lo­cal es­tate to her sec­ond hus­band Chris­tian Be­ne­dict Kahl (d. 1769) in 1765. Five years lat­er it be­came the prop­er­ty of König­lis­che Stifts-Amt zu Sankt Jo­hann Foun­da­tion, and in 1786 it was pur­chased by Count Karl von Röder of Ska­ła. It was his ini­tia­tive to ren­o­vate the cas­tle again, prob­a­bly in or­der to adapt it to the needs of the manor func­tion­ing at the foot of the hill. In 1784 the land was tak­en o­ver by Got­tlieb Wil­helm von Bres­sler (d. 1814), the own­er of the Lau­ske es­tate in Sax­ony. His heirs kept the manor in Ryb­ni­ca un­til 1937, but they nev­er lived here per­ma­nent­ly, re­sid­ing in the men­tioned Lau­ske Palace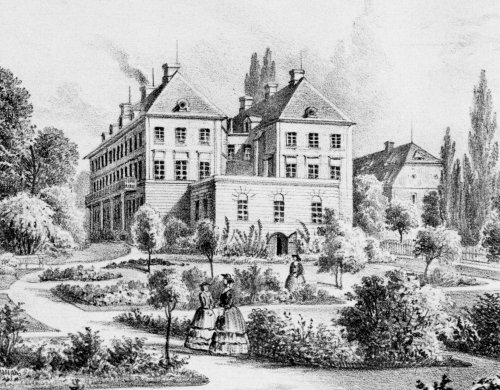 .
IN THE XIXTH CENTURY THE CASTLE WAS A RUIN
A
t the be­gin­ning of the 19th cen­tu­ry Ryb­ni­ca, with the vil­lages of Sta­ra Ka­mieni­ca and Ka­mie­ni­ca Ma­ła, formed a vast es­tate where the for­mer knight's seat was ini­tial­ly used as a dis­tillery and a sup­port fa­cil­i­ty for the near­by manor farm. How­ev­er, when new farm build­ings were erect­ed in 1816, the cas­tle be­came aban­doned and fell in­to ru­in. The last pre-war own­ers of the plot of land with the ru­ins were: the se­nior build­ing in­spec­tor Raut­en­berg (1937-39), and af­ter him Her­bert Sta­brin (1939-45), co-own­er of the Echt Storns­dor­fer-Bit­ter Fab­rik liqueur fac­to­ry, who built a house for him­self and his fam­i­ly right next to the cas­tle hill. Af­ter the war the ru­in re­mained with­out a host. Al­though it was for­mal­ly looked af­ter by the au­thor­i­ties of the Ryb­ni­ca Agro-In­dus­tri­al Com­plex, in fact they did noth­ing to pre­vent fur­ther degra­da­tion of its walls. As a re­sult, the site was quick­ly over­run by wild veg­e­ta­tion, the un­con­trolled growth of which led to fur­ther loss and dam­age.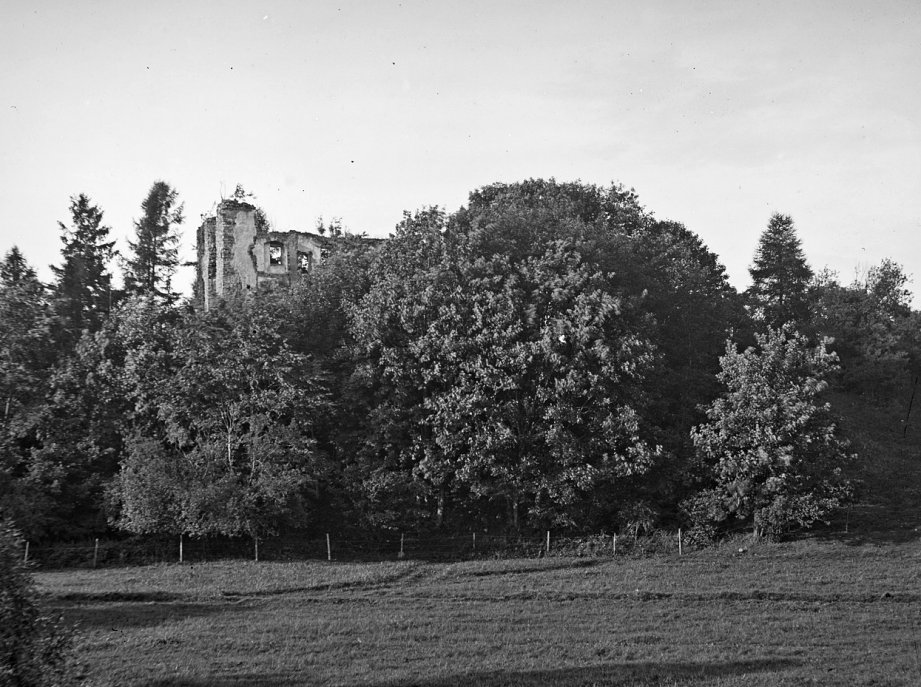 RUIN ON A 1930S PHOTOGRAPH
DESCRIPTION OF THE CASTLE
T
he look and lay­out of the me­dieval cas­tle is a mys­tery to us. As a re­sult of the re­con­struc­tion of the mid-15th cen­tu­ry, the main el­e­ment of its ar­chi­tec­ture be­came a three-storey house built of gran­ite rock, on a rect­an­gu­lar plan mea­sur­ing 15x25 me­ters. A kitchen al­cove ad­joined it to the north, and above it a liv­ing cham­ber heat­ed by the chim­ney. Pre­sum­ably, all the floors con­tained a nar­row cor­ri­dor, a stair­case and two or three rooms. From at least the 18th cen­tu­ry, the cas­tle had steep gabled roofs and its fa­cades were or­na­ment­ed with sgraf­fi­to type dec­o­ra­tion. The court­yard was closed from the south by a stone wall, and be­hind it stretched a small, one-hectare park. Noth­ing is known about the mys­te­ri­ous tow­er, por­trayed by an anony­mous artist in the 19th cen­tu­ry en­grav­ing shown be­low.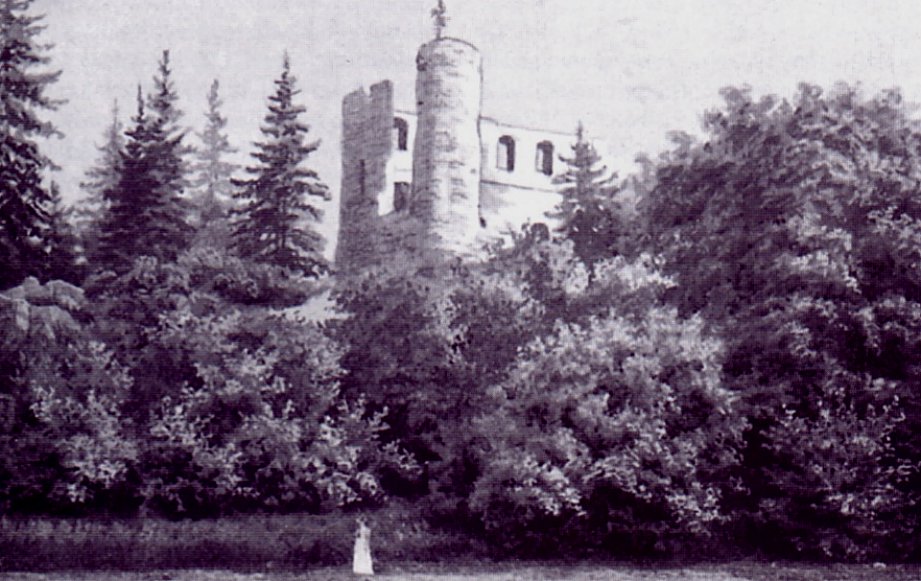 XIXTH CENTURY ENGRAVING WITH AN IMAGE OF THE CASTLE, THE FRAGMENT THAT LOOKS LIKE A TOWER IS EITHER THE RESULT OF OVERINTERPRETATION BY THE AUTHOR OF THIS ARTWORK, OR THE ENGRAVING HAS BEEN WRONGLY DESCRIBED
AND DEPICTS ANOTHER RUIN
PLAN OF THE RUINS BY MAŁGORZATA CHOROWSKA
---
O
n­ly the north­ern wall of the res­i­den­tial build­ing, a frag­ment of its west­ern cur­tain, relics of a rect­an­gu­lar al­cove, and buried cel­lars have sur­vived to the pre­sent day. In some win­dows, rem­nants of Re­nais­sance stone­work can still be seen, and in the wall - traces of ceil­ing beams. The cas­tle hill is dense­ly forest­ed, which makes the ru­ins dif­fi­cult to see from a dis­tance.
| | |
| --- | --- |
| | The ru­in is prob­a­bly a pri­vate prop­er­ty (no sig­nage), but it is ac­ces­si­ble. The on­ly lim­i­ta­tion is high thick­et grow­ing on the hill­side in spring and sum­mer. |
| | |
| --- | --- |
| | It will take no more than a quar­ter of an hour to see the ru­ins (not count­ing the walk­ing time). |
| | |
| --- | --- |
| | You can go to the cas­tle to­geth­er with your dog. |
| | |
| --- | --- |
| | Fly­ing a drone on­ly makes sense when the trees are de­void of leaves. |
CASTLE RUINS IN RYBNICA, RELICS OF AN ALCOVE
---
R
yb­ni­ca is lo­cat­ed about 8 km west of Je­le­nia Gó­ra, on the DK30 road lead­ing to Gry­fow Śląs­ki. At a dis­tance of 2.5 km from the ru­ins there is a rail­way sta­tion at which trains from Je­le­nia Gó­ra, Wro­cław and Zgo­rze­lec stop.
---
1. M. Chorowska: Rezydencje średniowieczne na Śląsku, OFPWW 2003
2. L. Kajzer, J. Salm, S. Kołodziejski: Leksykon zamków w Polsce, Arkady 2001
3. R. Łuczyński: Ruiny dwóch zamków, Sudety nr 11/2004
4. A. M. Rosiek: Siedziby rycerskie w księstwie świdnicko-jaworskim do końca XIV wieku, UJ 2010
5. A. Wagner: Murowane budowle obronne w Polsce X-XVIIw., Bellona 2019

POND AT THE FOOT OF THE CASTLE HILL, TO GET THERE FOLLOW THE ARROW
YOU CAN LEAVE YOUR CAR IN FRONT OF THE VIADUCT
Castles nearby:
Stara Kamienica - the ruins of knightly castle from the 14th-15th century, 4 km
Siedlęcin - the residential tower from the 14th century, 8 km
Czarne - the fortified manor house ftom the 16th century, 12 km
Chojnik - the ruins of ducal castle from the 14th century, 13 km
Dziwiszów - the fortified manor house from the 16th century, currently the palace, 13 km
Wleń - the ruins of ducal castle from the 12th/13th century, 19 km
Bukowiec - the fortified manor house from the 16th century, rebuilt, 22 km
text: 2022
photographs: 2019
© Jacek Bednarek