SIEDLĘCIN

the gothic residential tower
THE TOWER IN SIEDLĘCIN, VIEW FROM THE SOUTH
---
T
he characteristic Goth­ic tow­er in Sie­dlę­cin vil­lage has al­ready be­come a per­ma­nent fea­ture of the West­ern Sude­ten­land his­tor­i­cal ar­chi­tec­ture. Its ex­cel­lent con­di­tion and unique char­ac­ter of the wall paint­ings dec­o­rat­ing its in­te­ri­or make it one of the most rec­og­niz­able el­e­ments of the his­tor­i­cal lega­cy of Je­le­nia Gó­ra re­gion and its im­por­tant tourist at­trac­tion. De­spite the proven re­la­tion with the princes of Świd­ni­ca and Ja­wor, this don­jon is of­ten de­scribed as a knight's found­ation, which is not true. The founder and first own­er of the tower was un­doubt­ed­ly prince Hen­ry I of Ja­wor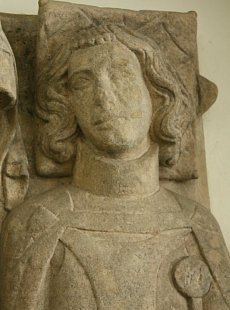 (d. 1346), who erect­ed it af­ter 1313, pre­sum­ably to con­trol the trade route lead­ing from Je­le­nia Góra to Wleń and Lwó­wek. Af­ter Hen­ry's death, Sie­dlę­cin be­came the prop­er­ty of his nephew, Bol­ko II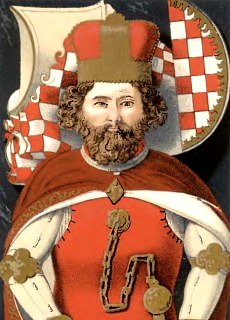 (d. 1368), and then came un­der the rule of Ag­niesz­ka Hab­s­burg (d. 1392), a wid­ow-duchess and life­long ruler of the Świd­ni­ca-Ja­wor State. The old­est sur­viv­ing ev­i­dence that the tow­er was hand­ed o­ver to pri­vate hands is lega­cy of Ag­niesz­ka, who at the be­gin­ning of her suc­ces­sion gave the right of low­er and high­er ju­ris­dic­tion in small and large Sie­dlę­cin to the knight Jen­chin von Red­ern, a courtier of prince Bol­ko II and the al­leged bur­grave of Wleń cas­tle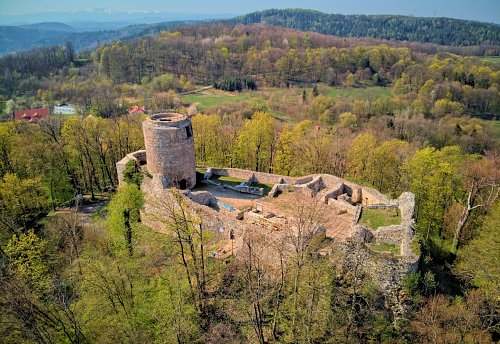 .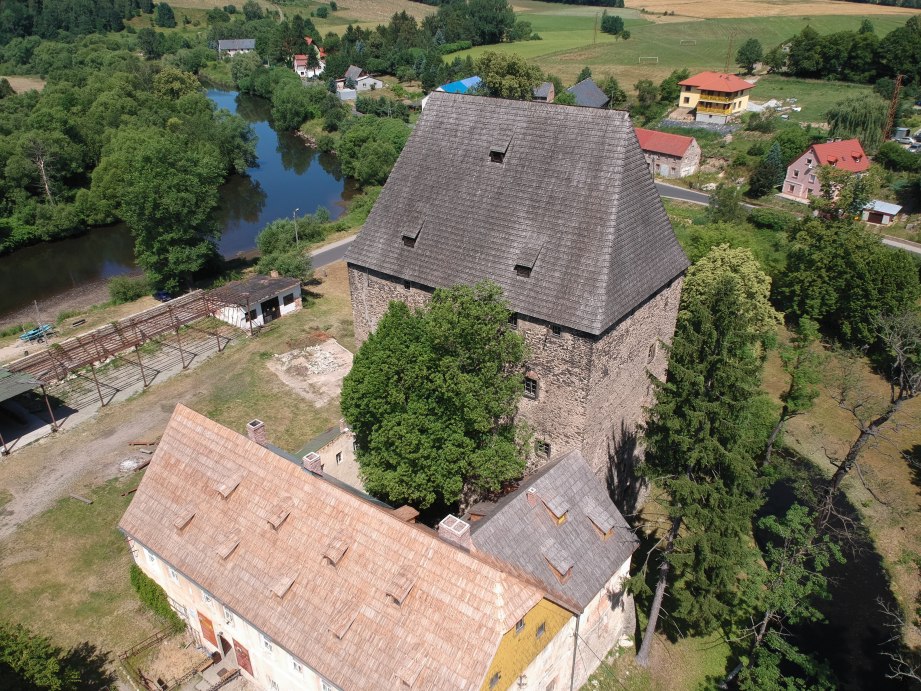 VIEW FROM THE SOUTHEAST, IN THE FOREGROUND A LATE BAROQUE MANSION FROM THE XVIII CENTURY
HISTORICAL NAMES OF SIEDLĘCIN
Rud­ger­sdorf (1305), Ru­di­ger­sdorf (1369)
Bo­ber­röhr­sdorf (1668), Bo­ber-Röhr­sdorf (1687)
Bo­bro­wi­ce (1945), Bo­ro­wi­ce (1945)
So­bię­cin (1946)

LATE BAROQUE MANOR HOUSE STANDS IN PLACE OF A MEDIEVAL GATE
A
t the end of the 14th cen­tu­ry the own­er of Sie­dlę­cin was Hans (Han­nos) von Red­ern, prob­a­bly Jen­chin's son. When he died, the vil­lage was hand­ed o­ver to his broth­er Hein­tze von Red­ern, court judge in Bo­le­sła­wiec. There is no cer­tain­ty whether the afore­men­tioned Hein­tze was the sole own­er of the cas­tle or he shared the rights to it with his broth­er Tris­tan. Af­ter 1409, the lord of Sie­dlę­cin was Hans von Nimptsch, fol­lowed by Strze­gom bur­grave Hasch­ke von Schel­len­dorff, who in 1437 sold the vil­lage to Han­nos We­sen and his suc­ces­sors for hered­i­tary pos­ses­sion, name­ly a farm­stead with mills, ponds and for­est and all the ad­ja­cent ar­eas. In 1450 or 1451, the es­tate was in­her­it­ed by broth­ers Nick­el, Han­nus and Joseph We­sen, the lat­ter of whom agreed that his share of es­tate should be paid in mon­ey. Nick­el and Jospeh had their parts for a year, af­ter which Nick­el could no longer main­tain the cas­tle. He first of­fered it to the Lieben­tals from Pod­gó­rzyn, who were not in­ter­est­ed in buy­ing it, so he sold it to his un­cle Han­nus Sle­gil (Hans von Zed­litz called Sle­gil). The trans­ac­tion took place in 1452. Two years lat­er broth­ers Hans and Adam von Zed­litz sold the cas­tle to Hein­cze von Nimptsch who in 1477 be­queathed it to his wife Hed­wig. With a short break, Sie­dlę­cin re­mained in the hands of von Nimptsch fam­i­ly un­til the 1620s.
SIEDLĘCIN ON AN PRINT BY FRIEDRICH BERNHARD WERNER FROM THE MIDDLE OF THE XVIII CENTURY
S
tart­ing from 1545, Georg von Sei­dlitz kept the es­tate as pledge or prop­er­ty, to sell it in 1561 to Hein­rich Nimptsch for hered­i­tary pos­ses­sion with rents, ju­ris­dic­tion, a pas­ture pond and rights. The tow­er burned down in 1575 in un­known cir­cum­stances, but was soon re­built. Some changes were made on this occasion: new win­dows were in­stal­led, blanks were bricked up on the top floor, and the en­tire build­ing re­ceived a new roof. In 1622 Fried­rich von Nimptsch sold the low­er part of vil­lage with the cas­tle to prince Georg Ru­dolph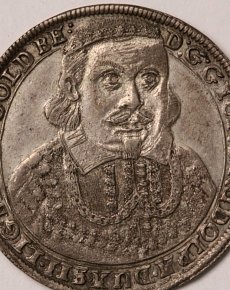 (d. 1653) for 62,000 thalers. The tow­er be­came the prince's prop­er­ty again, which cer­tain­ly in­flu­enced the change of its dec­o­ra­tion, made in the first half of the 17th cen­tu­ry on the ini­tia­tive of prince Georg and his nephew Chris­tian
(d. 1672), the lord of Sie­dlę­cin in years 1630-53. The next owner of the grange and the tower was Chris­toph Le­o­pold von Schaf­fgotsch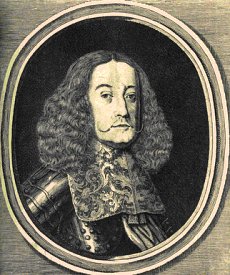 (d. 1703) and from then on, un­til the end of World War II, the es­tate re­mained in the hands of this no­ble fam­i­ly. The Schaf­fgotschs ex­tend­ed the manor build­ings stand­ing in the im­me­di­ate vicin­i­ty of the don­jon, which forced a par­tial liq­ui­da­tion of me­dieval moat, no longer rel­e­vant in the 18th cen­tu­ry. The tow­er it­self, how­ev­er, stopped its res­i­den­tial func­tion be­fore 1800, when it was adap­ta­ted to the gra­nary.
THE TOWER IN THE DRAWING BY R. DRESCHER, 1885
I
n 1887, the tax in­spec­tor from Je­le­nia Góra, Wil­helm Klose, made a sen­sa­tion­al dis­cov­ery, find­ing un­der a thick lay­er of plas­ter a me­dieval poly­chromy dec­o­rat­ing the walls of the room in the third storey, then mis­tak­en­ly in­ter­pret­ed as fres­cos de­pict­ing the French his­to­ry of Iwa­jn. De­spite this, the Goth­ic build­ing was not yet a tourist at­trac­tion at that time, as ev­i­denced by press re­ports on a stay in the vil­lage of Duchess Char­lotte von Sach­sen-Mei­nin­gen
, who vis­it­ed the lo­cal Evan­gel­i­cal parish in 1899, ig­nor­ing the tow­er and paint­ings dec­o­rat­ing it. The first ar­chae­o­log­i­cal works were car­ried out at the cas­tle in 1936, when, un­der the su­per­vi­sion of artist Jo­hann Dro­bek, the his­tor­i­cal fres­coes were re­paint­ed. As it lat­er turned out, the work was done incor­rect­ly, as a re­sult of which the sto­ry told through them was ini­tial­ly in­ter­pret­ed as a rep­re­sen­ta­tion of Cis­ter­cian Abbey Foun­da­tion in Krze­szów.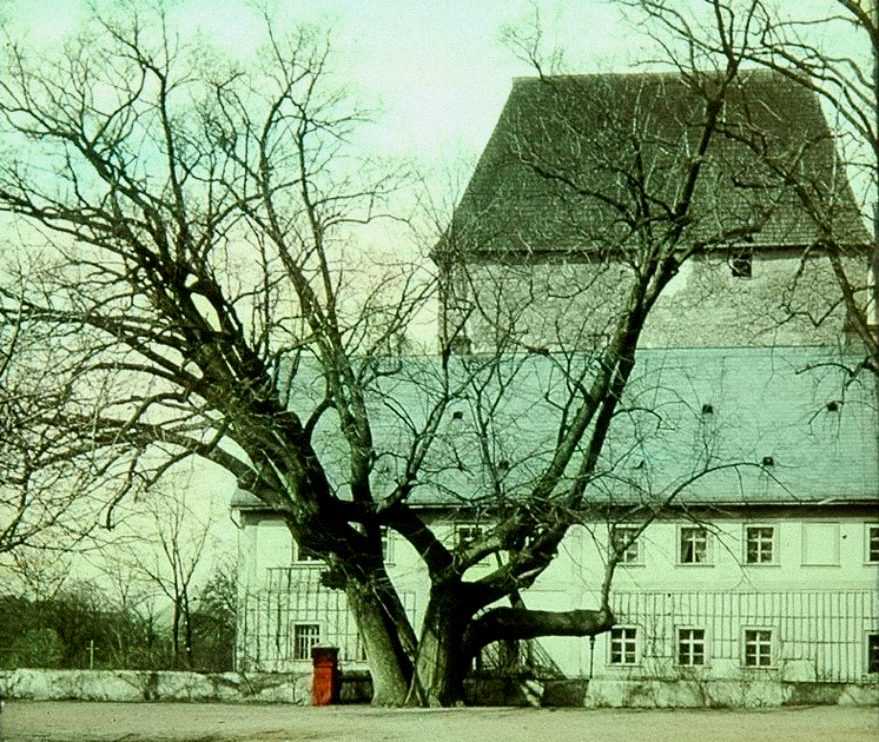 COLOURED PHOTOGRAPH FROM ABOUT 1890
D
ur­ing the Sec­ond World War, in the tow­er there was a store­house of col­lec­tions from the Wro­cław Mu­se­um of Crafts and An­cient His­to­ry, Botan­i­cal In­sti­tute of Uni­ver­si­ty of Wro­cław, as well as va­lu­able prints and ma­nu­scripts trans­ferred here from the von Schaf­fgotsch li­brary in Cie­pli­ce. In the sum­mer of 1945, these col­lec­tions were tak­en to mu­se­ums in cen­tral Poland and Wro­cław, and a tem­po­rary field hos­pi­tal was set up in a me­dieval don­jon. In the ear­ly 1950s the for­mer manor build­ings were adapt­ed to ac­com­mo­date farm­work­ers, and the tow­er was taken care of by the local tourist so­ci­ety. When, af­ter the fall of com­mu­nism, the build­ing was handed o­ver to the Sie­dlę­cin Friends So­ci­ety with the am­bi­tious goal of cre­at­ing here an Eu­rore­gion­al Cul­tur­al Cen­tre for Court and Knights. This in­ter­est­ing idea, how­ev­er, fad­ed away, which was main­ly due to a fire (1998). Since 2001 the tow­er has been owned by the Chu­dów Cas­tle Foun­da­tion.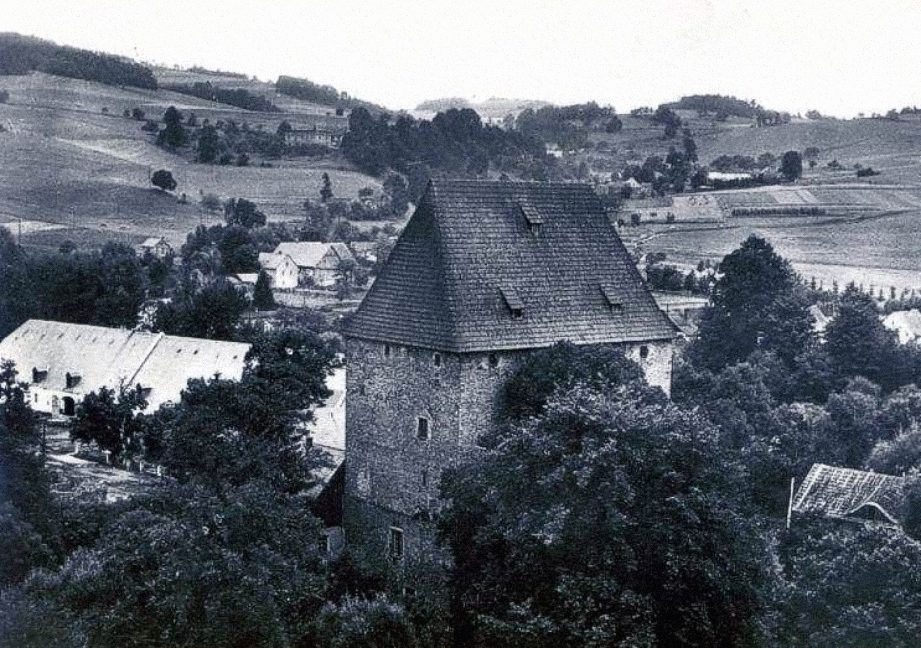 VIEW FROM THE NORTHEAST, 1930S
RESIDENTIAL TOWERS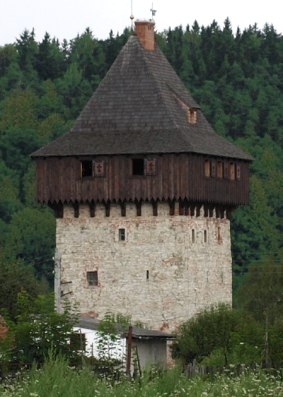 They first ap­peared in France in the 10th cen­tu­ry, where as a re­sult of the Nor­man in­va­sion, the for­ti­fi­cation pro­cess in­ten­si­fied. Ini­tial­ly, these build­ings were made of wood, most of­ten i.e. mot­te type, sur­round­ed by a trench and a pal­isade. Brick tow­ers in south­ern and west­ern Eu­ro­pe be­gan to be erect­ed in 12th cen­tu­ry. Their spa­tial ar­range­ment was quite sim­ple and usu­al­ly con­sist­ed of three or four storeys, cov­ered with wood­en ceil­ings. The com­mu­ni­ca­tion be­tween them was pro­vid­ed by ex­ter­nal stairs, and lat­er - by built-in stair­cas­es. The tow­ers were built by both rulers and rich knights. Their func­tion was not on­ly to en­sure se­cu­ri­ty, but al­so to em­pha­sise the high so­cial and prop­er­ty sta­tus of their found­ers.

In Silesia, the first residential towers were built in the 13th cen­tu­ry, first as ducal seats at the cas­tles in Wro­claw and in Opole (no longer ex­ist­ing to­day). About 30 tow­ers have sur­vived to our times in this region, among them Bie­strzy­ków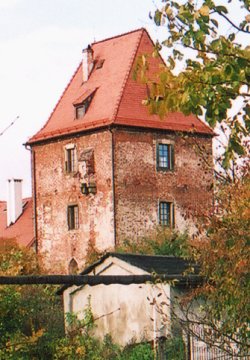 , Cie­pło­wo­dy, Świ­ny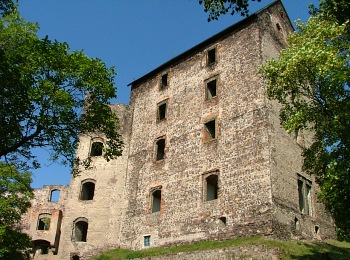 , Pa­stu­chów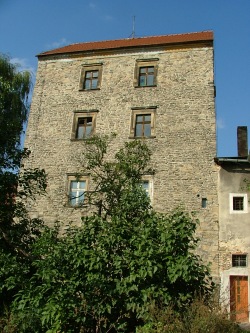 , Wit­ków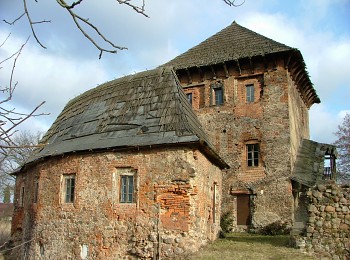 , Ra­ko­wi­ce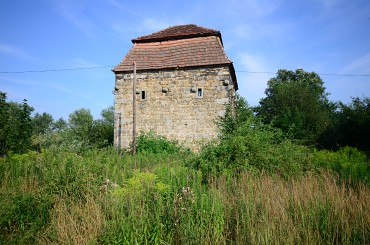 , Sę­dzi­szo­wa i Że­la­zno (on the pho­to).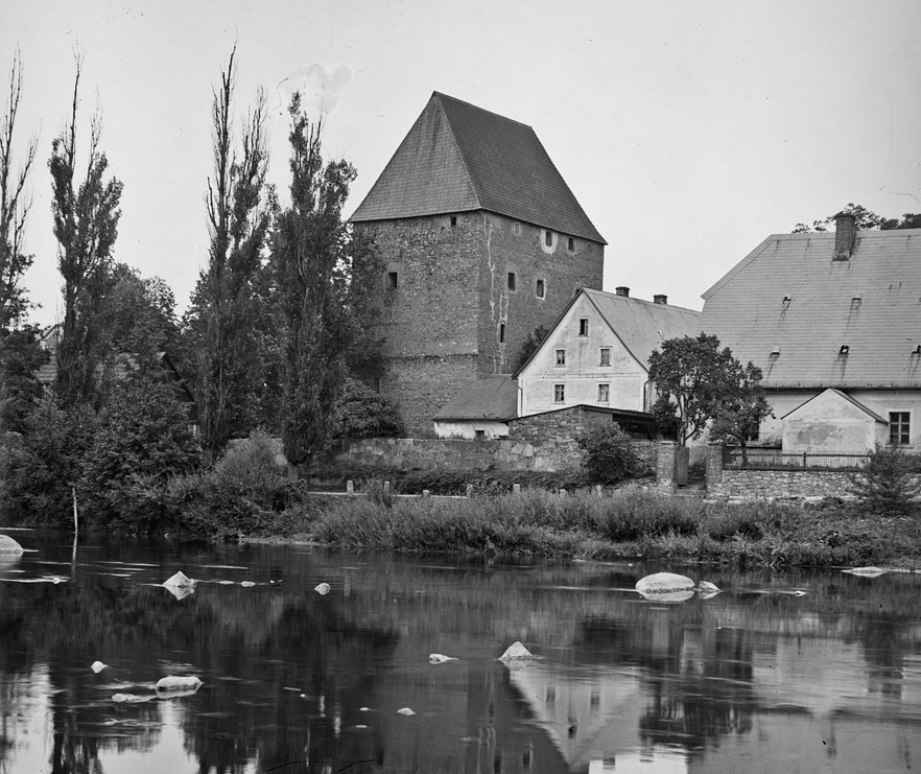 VIEW FROM THE WEST, THE 1930S
---
T
he tow­er was built on an mound and sur­round­ed by a moat fed by the Bóbr Riv­er. It was made of stone, on the plan of a rect­an­gle mea­sur­ing about 15x22 me­ters, what gave the build­ing the form of a cuboid. Its walls are 3 me­ters thick at ground lev­el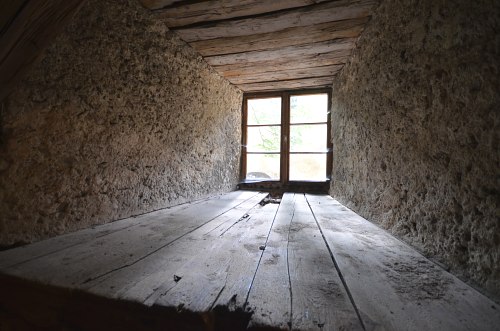 and de­creas­es pro­por­tion­al­ly with height. Ini­tial­ly, it was a four-storey build­ing with plat­form, raised af­ter 1575, so that the height of the tow­er reached 33 me­tres. Much ear­li­er, in the first half of the 15th cen­tu­ry, the mound has been raised, which caused the ground floor to be­come a cel­lar floor. At that time there was prob­a­bly al­ready a dou­ble sys­tem of for­ti­fi­ca­tions con­sist­ing of a horse­shoe-shaped wall clos­ing the space from the south and a cir­cuit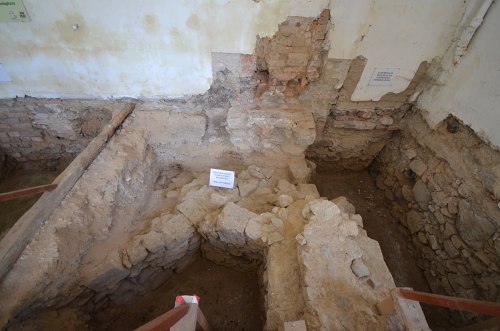 run­ning about 2.5 me­ters from the tow­er. Pre­sum­ably, in the 16th cen­tu­ry the manor house was added to the tow­er. It was giv­en cur­rent form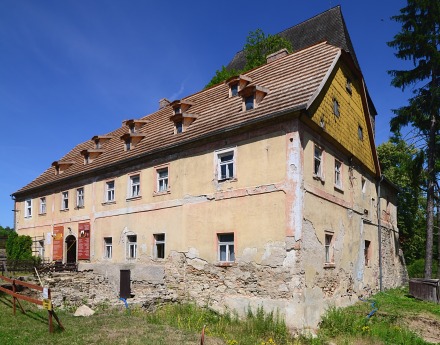 at the end of the 18th or at the be­gin­ning of the 19th cen­tu­ry, when the build­ing was raised by one floor and cov­ered with a dorm­er­shed roof. Also in the 18th cen­tu­ry, the wood­en bridge was re­placed by a stone bridge, 13 me­tres long and 2.5 me­tres wide, the re­mains of which are ex­posed in the south­ern part of the cas­tle.
T
he in­di­vid­u­al floors of the tow­er, with the ex­cep­tion of cel­lars, are sep­a­rat­ed from each oth­er by wood­en beam ceil­ings, and com­mu­ni­ca­tion be­tween them is en­sured by in­ter­nal stairs. Its lay­out is typ­i­cal for the me­dieval tra­di­tion of mil­i­tary ar­chi­tec­ture: util­i­ty ground floor, 2-3 res­i­den­tial floors and up­per mil­i­tary lev­el. The cel­lars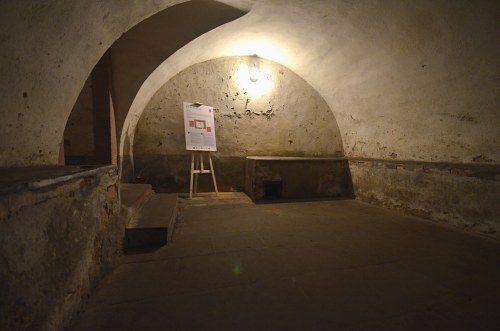 were orig­i­nal­ly al­so cov­ered with ceil­ings, and their con­tem­po­rary style is prob­a­bly the re­sult of 15th cen­tu­ry re­con­struc­tion. Cur­rent­ly, they con­sist of two bar­rel vault­ed cham­bers and a nar­row cor­ri­dor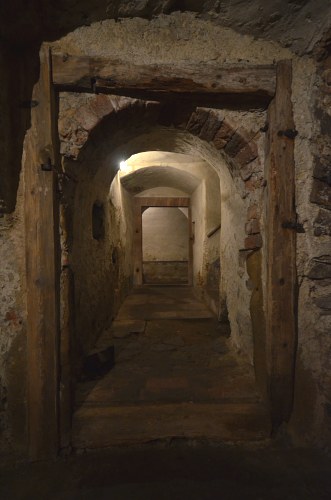 con­nect­ing them. These rooms were fin­ished with floors made of stone plates, more­over, the east­ern cham­ber was equipped with bench­es having a char­ac­ter­is­tic groove
, whose pur­pose could not be clear­ly de­fined.
| | |
| --- | --- |
| | |
CELLARS OF THE TOWER: 1. EASTERN CELLAR,
2. WESTERN CELLAR, 3. CORRIDOR, 4. STONE BENCH

GROUND FLOOR: 1. EASTERN CHAMBER, 2. WESTERN CHAMBER, 3. MEDIEVAL WALL PARTITIONS, 4. XVI CENTURY WALL PARTITION, 5. MEDIEVAL STAIRCASE, 6. CURRENT STAIRCASE
T
he two-cham­ber ground floor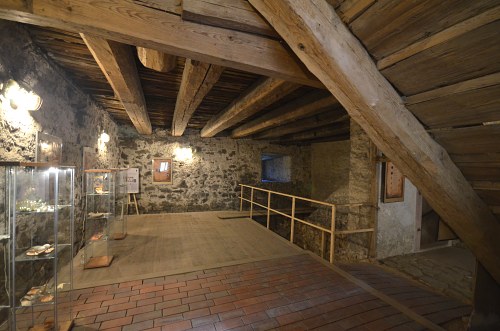 orig­i­nal­ly con­sist­ed of two or three cham­bers di­vid­ed by wood­en walls, and had no win­dows. This way leads the en­trance from the in­ner court­yard, dec­o­rat­ed with a sharp-arched Goth­ic por­tal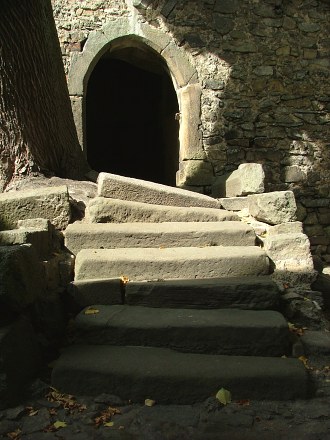 and se­cured with wrought-iron doors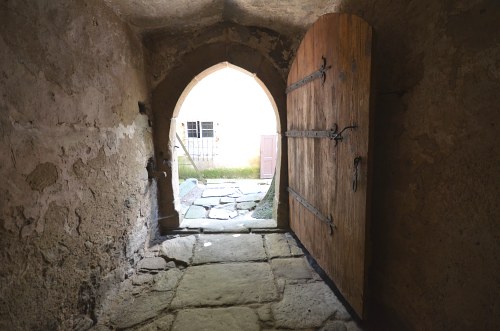 blocked by wood­en beams, prob­a­bly dat­ed to the sec­ond half of the 14th cen­tu­ry. The ex­ist­ing ground floor par­ti­tion wall does not come from the tow­er's con­struc­tion pe­ri­od and was prob­a­bly erect­ed dur­ing the ren­o­va­tion af­ter the fire of 1575, when weak­ened ceil­ings were re­in­forced on the low­er floors with ad­di­tion­al load-bear­ing struc­ture. At that time nar­row slit win­dows were re­placed by lar­ger win­dow open­ings. Com­mu­ni­ca­tion with the first floor was pro­vid­ed by a lad­der stair­case lo­cat­ed in front of the en­trance to the tow­er, which was lat­er re­placed by a stair­case run­ning by the south­ern wall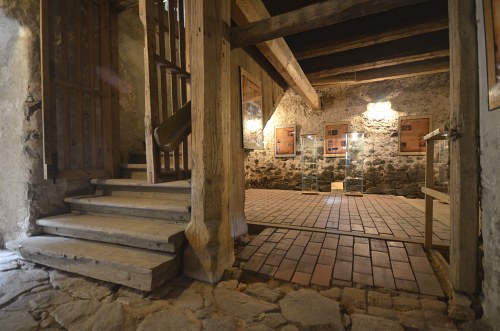 , to the left of the hall­way.
THE HALLWAY, ON THE RIGHT WE SEE THE STAIRCASE LEADING TO THE FIRST FLOOR
THE GROUND FLOOR EASTERN CHAMBER
T
he next three storeys had a res­i­den­tial char­ac­ter and the mid­dle one al­so had rep­re­sen­ta­tive func­tions. The first floor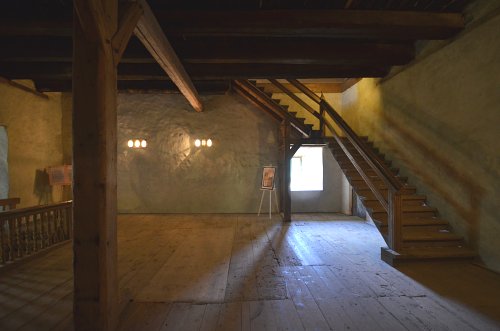 of the tow­er, cov­ered with a fir tree ceil­ing, con­sists of two rooms di­vid­ed by a wood­en wall erect­ed in 1532 and equipped with heat­ing de­vices com­ing from the same pe­ri­od: fire­place in the west room and a tiled stove in the east room. The la­trine bay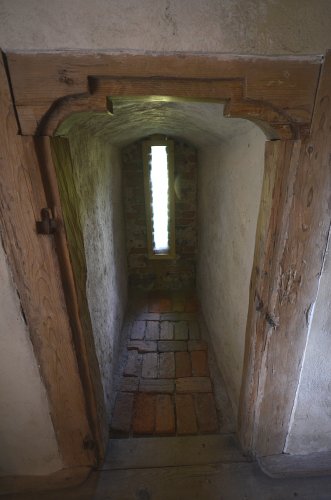 , fixed to the north­ern wall of the west­ern cham­ber, is prob­a­bly al­so the re­sult of con­struc­tion works car­ried out in the first half of the 16th cen­tu­ry, so it does not be­long to the me­die­val equip­ment of the tow­er. How­ever, the paint­ing de­pict­ing the Vir­gin Mary and Child, frag­ments of which were dis­cov­ered in the east room, has a me­dieval ori­gin, which may in­di­cate that this room served as the own­ers' chapel in the 15th cen­tu­ry.
| | |
| --- | --- |
| | |
| | |
| --- | --- |
| THE FIRST FLOOR: 1. EASTERN CHAMBER, 2. WESTERN CHAMBER, 3. FIREPLACE, 4. PARTITION WALL, 5. STAIRS LEADING TO THE GROUND FLOOR, 6. STAIRS LEADING TO THE 2ND FLOOR, 7. LATRINE BAY | THE SECOND FLOOR: 1.STAIRS LEADING TO THE 1ST FLOOR, 2. STAIRS LEADING TO THE 3RD FLOOR, 3. F. GREAT HALL, 4. F. WARM ROOM, 5. F. SANITARY ROOM, 6. SEDILIAS, 7. LATRINE BAYS |
T
he sec­ond floor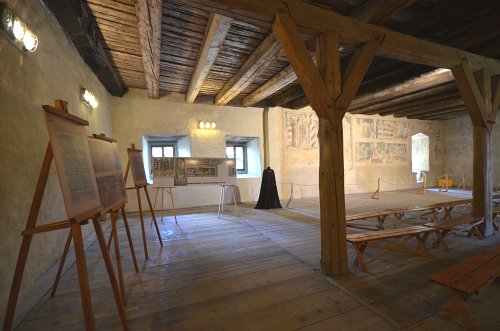 of the tow­er, now sin­gle space, used to be di­vid­ed in­to three rooms: The Great Hall, a liv­ing room, the so-called warm room, and a small san­i­tary room equipped with a stone uri­nal or a gut­ter for spilling waste. Rep­re­sen­ta­tive func­tions were per­formed by the Great Hall, which was a place of meet­ings, feasts and a guest cham­ber. Weapons were al­so stored there as an at­tribute of the knight­ly state or in case of at­tack. This cham­ber is equipped with larg­er win­dows with seat­ing places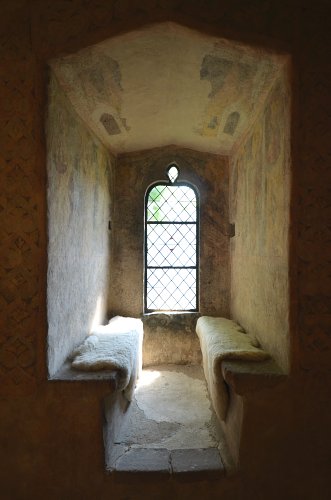 , the so-called sedil­ias, and wall paint­ings made in al sec­co tech­nique, de­pict­ing scenes of the knight's mo­tif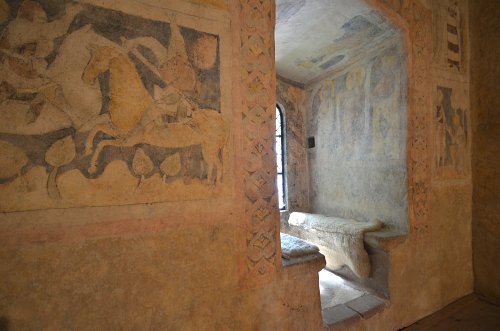 . The stair­case lead­ing to the Great Hall used to be in­stalled cen­tral­ly and looked di­rect­ly at the im­age of St. Chris­to­pher in the south­ern wall. They are cur­rent­ly lo­cat­ed in the north-west cor­ner of the build­ing. It is worth not­ing that a sig­nif­i­cant part of the ceil­ings
of this and ad­ja­cent floors was made of wood which was cut down in 1313 and 1314, i.e. at the time the tow­er was built by Prince Hen­ry I.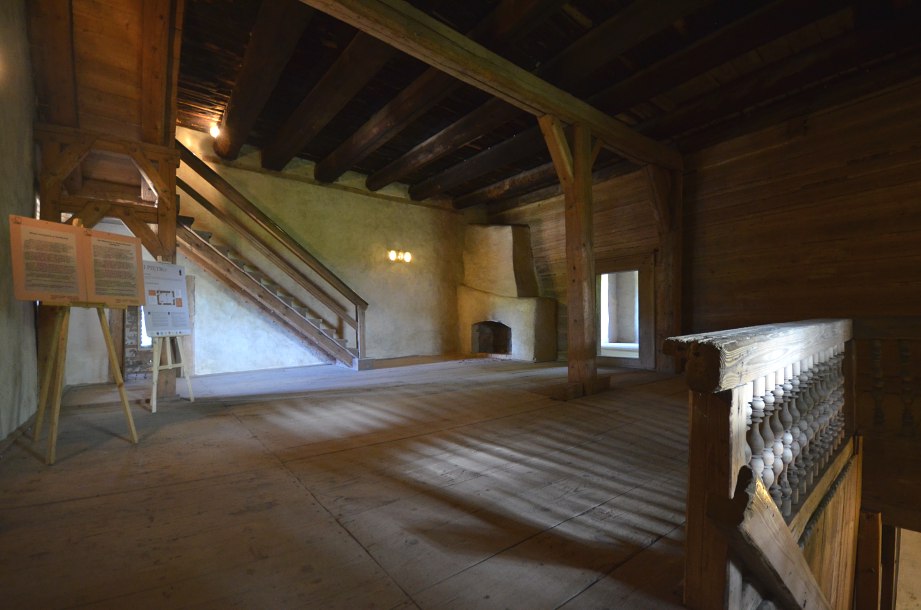 WESTER CHAMBER ON THE 1ST FLOOR: XVI-CENTURY WOODEN PARTITION WALL ON THE RIGHT
THE 2ND FLOOR OF THE TOWER WITH BEAUTIFUL POLYCHROME ON THE SOUTHERN WALL
T
he third floor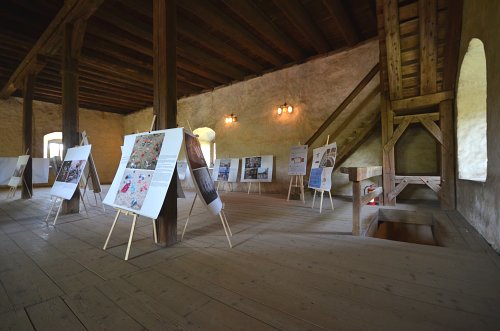 , now sin­gle-space, used to be di­vid­ed in­to sev­er­al sep­a­rate rooms where the pri­vate life of the cas­tle own­ers took place. This storey is high­er than the oth­ers, more­over, ef­fect of spa­cious­ness is in­ten­si­fied by the large amount of light en­ter­ing through six big win­dows. It may be that the walls are al­so dec­o­rat­ed here with beau­ti­ful po­ly­chromy hid­den un­der the plas­ter, but due to lack of funds for fur­ther re­search, this hy­poth­e­sis has not yet been con­firmed. The stairs lead­ing to both the sec­ond floor and the at­tic were made in the 16th cen­tu­ry, and their course does not cor­re­spond to the orig­i­nal 14th cen­tu­ry com­mu­ni­ca­tion sys­tem of this part of the tow­er. Al­though this room re­mains emp­ty to­day, it is worth look­ing at the plas­ter­work of its east­ern wall, where to the right of the win­dow there is an in­scrip­tion with Mar­tin 1644.
THE 3RD FLOOR OF THE TOWER
T
he last storey of the build­ing is the at­tic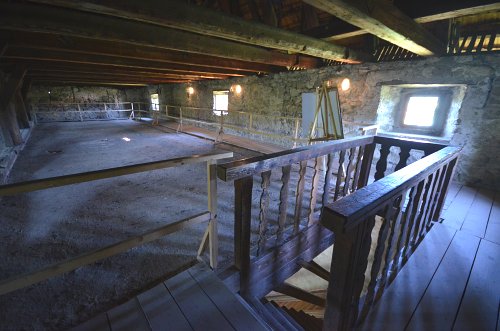 , whose cur­rent form was shaped in the 16th cen­tu­ry by de­vel­op­ment of a Goth­ic guard porch. Ear­li­er there was a de­fen­sive pave­ment about 1 me­ter wide, pro­tect­ed by a wall topped with a crenel­la­tion. Af­ter 1575, the mil­i­tary char­ac­ter of this floor was aban­doned, and af­ter the win­dows were in­stalled, it was adapt­ed to a ware­house. The at­tic was used as a ware­house un­til the end of the Sec­ond World War, and still in 1952 there was a turn­stile with a crane for trans­port­ing goods. The en­tire build­ing is cov­ered by a hip­ped fir and spruce roof
from 1576.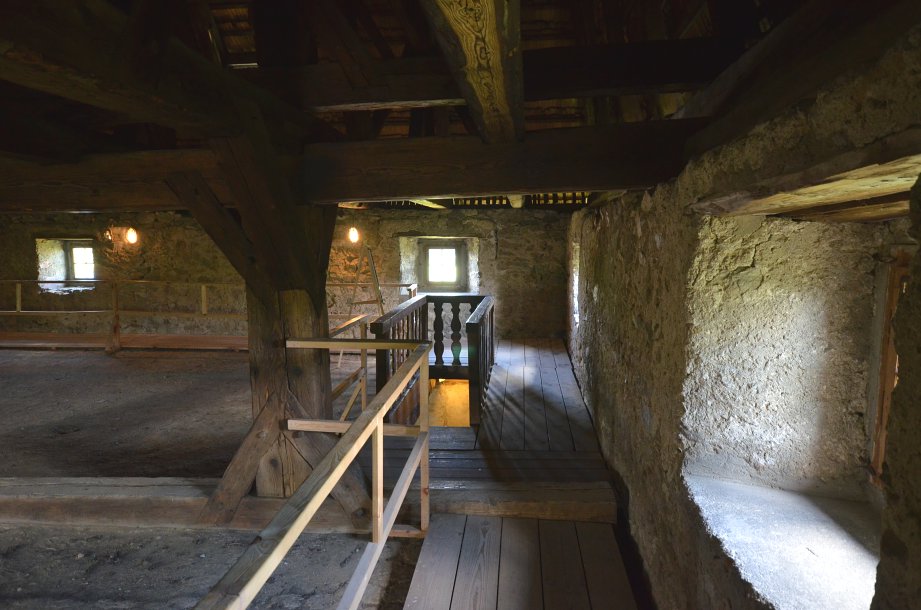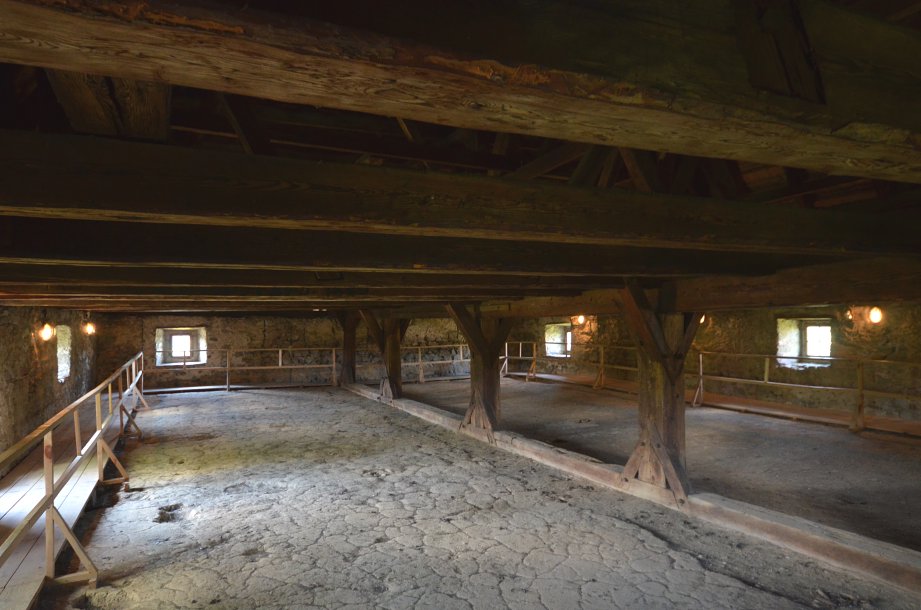 ---
T
he tow­er in Siedlęcin belongs to one of the best pre­served build­ings of this type in Poland and one of the most in­ter­est­ing in this part of Eu­rope. Its unique­ness is de­ter­mined pri­mar­i­ly by ex­cep­tion­al poly­chromes, al­though not on­ly - the build­ing has un­der­gone ex­ten­sive con­struc­tion work on­ly once in its en­tire his­to­ry, so it pre­sents an al­most orig­i­nal form giv­en to it 700 years ago. Af­ter a pe­ri­od of more than five decades of ne­glect, the tow­er has fi­nal­ly found a host, who is trying to main­tain the tech­ni­cal con­di­tion of the build­ing and aims to cre­ate a space full of au­then­tic his­tori­cism in­side it. Since 2001, the own­er of the tow­er has been the Chu­dów Cas­tle Foun­da­tion, which made it avail­able to the tourists, plac­ing in it a small ex­hi­bi­tion of ar­ti­facts
ex­ca­vat­ed dur­ing ar­chae­o­log­i­cal works. There is al­so a sou­venir and lit­er­a­ture shop in for­mer manor house. Un­for­tu­nate­ly, im­me­di­ate sur­round­ings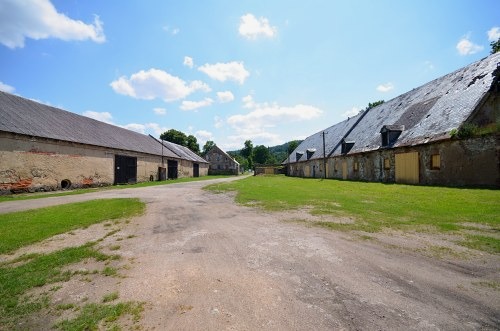 of the tow­er still re­mind us the pover­ty and hope­less­ness of the post-com­mu­nist province. Ru­ins of bar­racks, rusty han­gars, emp­ty ware­hous­es are the lo­cal re­al­i­ty, which hope­ful­ly will go away with time.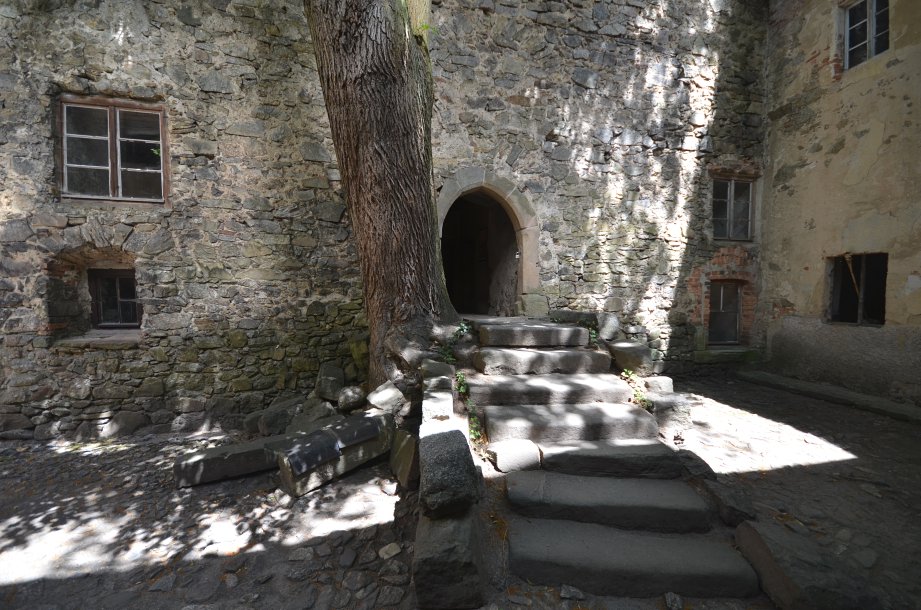 ENTRANCE TO THE TOWER, ON THE LEFT YOU CAN SEE THE HOLES FOR 700 YEARS OLD BEAMS
T
he main at­trac­tion of the tow­er are poly­chromes dec­o­rat­ing the walls of the Great Hall on the sec­ond floor. These are the old­est sec­u­lar wall scenes in Poland and the on­ly 'in situ' me­dieval paint­ings in the world show­ing the his­to­ry of the Knight of the Round Table - Sir Lan­ce­lot of the Lake. They were prob­a­bly made on the ini­tia­tive of Prince Hen­ry I in the years 1320-30 or by or­der of Bolko II in the 1340s, in al sec­co tech­nique by the art­ist who prob­a­bly came from Switzer­land. These poly­chromes oc­cu­py large frag­ments of the south and west walls of the tow­er with a to­tal area of 33 square me­ters. In ad­di­tion to arthuri­an scenes, the hall al­so con­tains paint­ings dat­ing back to around 1370, but nev­er com­plet­ed, with the coats of arms of Red­ern and Zed­litz, as well as sketch­es de­pict­ing a knight with a shield and lance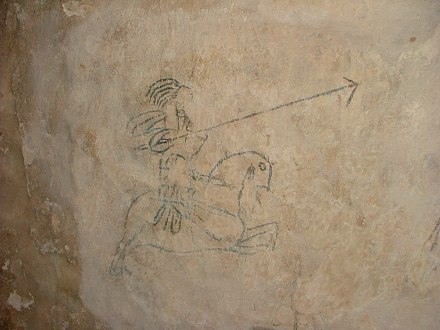 , in a hel­met with the von Red­ern fam­i­ly jew­el.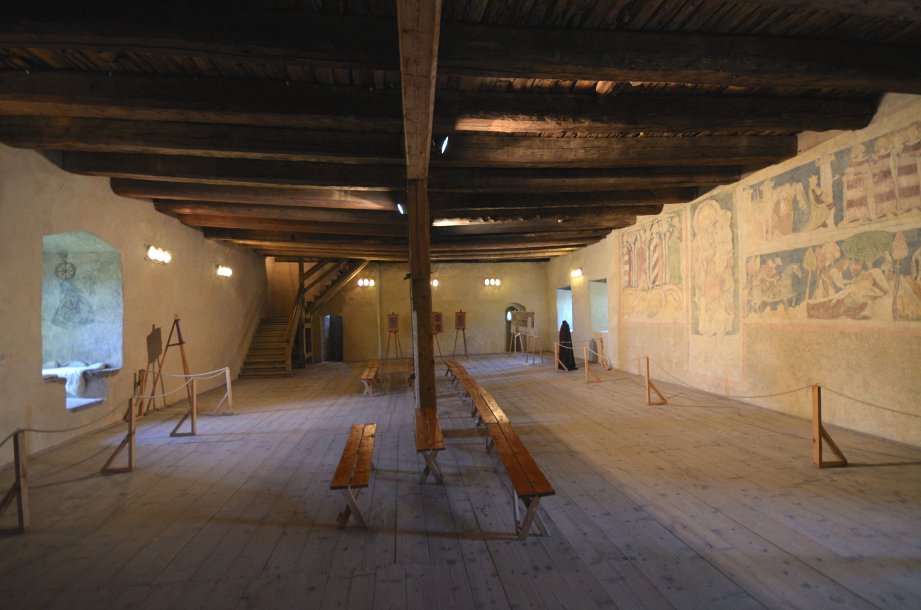 THE 2ND FLOOR OF THE TOWER, BY THE WINDOW YOU CAN SEE THE COAT OF ARMS OF VON REDERN FAMILY FROM CA. 1370
THE SOUTHERN WALL WITH 14TH CENTURY ARTHURIAN FRESCOES
T
he main part of the south­ern wall com­po­si­tion is the large im­age of St. Chris­to­pher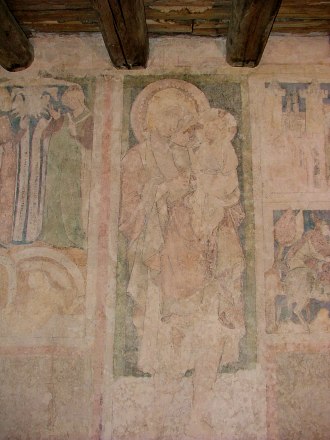 - the pa­tron of good death, sym­bol­iz­ing un­ques­tion­able fi­deli­ty to the Chris­tian faith, which should char­ac­ter­ize ev­ery knight. On its left is a rep­re­sen­ta­tion of two cou­ples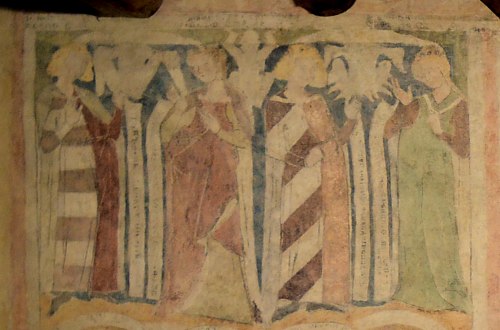 - the vir­tu­ous and the sin­ful (per­haps a knight with a vir­gin and a knight with a mar­ried wom­an), be­low which, from the four graves, fig­ures of the dead arise. The scenes to the right of the saint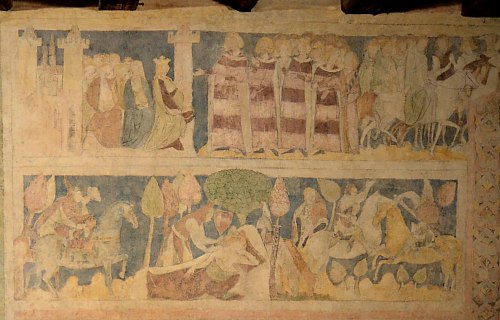 show leg­end of the most fa­mous knight of the Round Table - Lan­ce­lot from the Lake, or in fact two most im­por­tant per­iods of his life: the be­gin­ning of glo­ry and the fall. The bot­tom line of the fres­coes, with which we should start "read­ing" this sto­ry, is Lan­ce­lot's ex­pe­di­tion with his cousin Li­onel, dur­ing which they in­tend to prove that they de­serve to be called knights. Here we see sleep­ing Lan­ce­lot and Li­onel and a du­el be­tween Lan­ce­lot and Tar­quin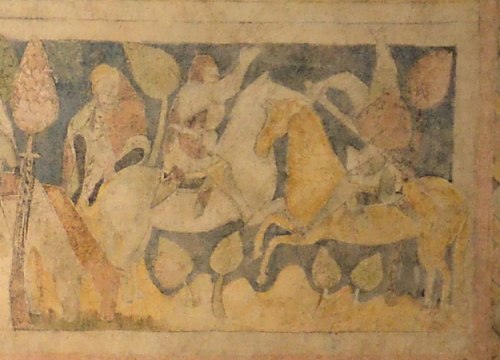 . The up­per line shows the sto­ry of Lan­ce­lot's sin­ful love for King Arthur's wife, Guin­e­vere. In the fol­low­ing scenes, like in a com­ic book, the char­ac­ters ap­pear suc­ces­sive­ly: beau­ti­ful Guin­e­vere sit­ting in the back­ground of Ca­me­lot Cas­tle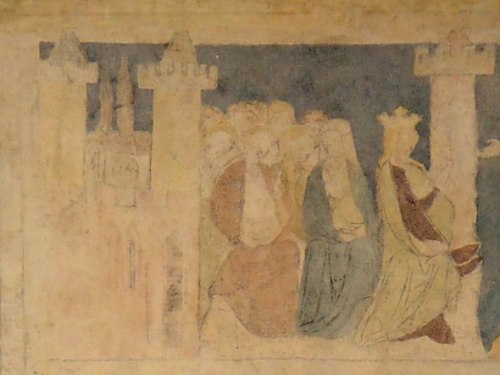 , telling the knights that she wants to go for a ride, Guin­e­vere on horse­back in the bo­som of na­ture, the hi­jack­ing by the vile Me­lea­gant
, Lan­ce­lot re­leas­ing the pris­on­ers, Lan­ce­lot falling in love with the Queen, and fi­nal­ly Lan­ce­lot and Guin­e­vere hold­ing hands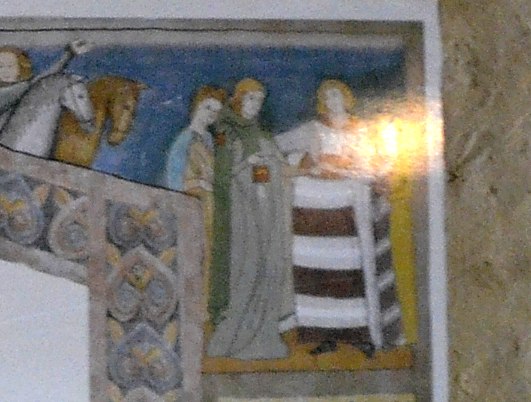 . The lovers' left hands in­ter­twin­ing in the em­brace are a sign that the re­la­tion­ship is sin­ful - the spous­es in me­dieval paint­ings al­ways hold their right hands.

SIEDLĘCIN POLYCHROMES: CURRENT STATE AND PROBABLE OUTLOOK IN THE XIV CENTURY
T
he fres­coes in the Great Hall have nev­er been com­plet­ed. The west­ern wall is dec­o­rat­ed on­ly with sketch­es with the im­age of the knights at­tack­ing each oth­er
, in­ter­pret­ed as a du­el be­tween Lan­ce­lot and Sa­gra­mour, and the scene where the kneel­ing Lan­ce­lot heals Ur­ry de Hon­gre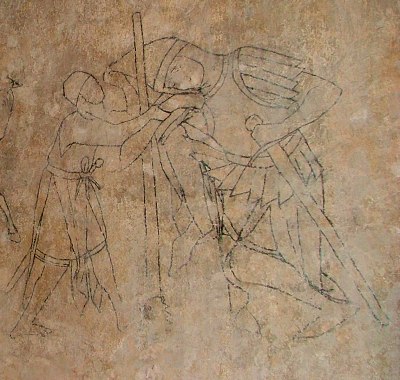 . It is not known why the wall paint­ing pro­ject was in­ter­rupt­ed. One can on­ly pre­sume that it hap­pened as a re­sult of the artist's or founder's death, or due to a lack of funds nec­es­sary to fi­nal­ize this very ex­pen­sive dec­o­ra­tion. Poly­chrom­ies from Sie­dlę­cin were ini­tial­ly per­ceived as the sto­ry of knight Iwa­jn or pre­sen­ta­tion of the foun­da­tion of Cis­ter­cian con­vent in Krze­szów. This sec­ond in­ter­pre­ta­tion was the re­sult of the un­for­tu­nate con­ser­va­tion of the fres­coes per­formed in the in­ter­war pe­ri­od by Jo­hann Dro­bek, who made many changes of paint. As a re­sult, a line of beau­ti­ful ladies in colour­ful dress­es be­came a pro­ces­sion of monks in dark habits, while scene where Guin­e­vere and Lancelot are hold­ing hands was trans­formed in­to the wel­com­ing of Prince Bol­ko by the ab­bot.
NORTHERN WALL ON THE 2ND FLOOR WITH LATRINE BAY AND WINDOW DECORATED WITH THE VON REDERN COAT OF ARMS
MEDIEVAL WINDOW WITH BENCHES IN THE SOUTH WALL OF THE TOWER
| | |
| --- | --- |
| | To visit the tower you need to buy a ticket. |
| | |
| --- | --- |
| | Private photography - free. The use of a flash is not per­mi­tted. |
| | |
| --- | --- |
| | A tour of the tower takes about 30 min­utes. |
| | |
| --- | --- |
| | Air­port Traf­fic Zone. When the zone isn't ac­tive, you are al­lowed to fly air­craft weigh­ing up to 900 g, to an al­ti­tude of up to 100 me­ters. |
---
S
iedlęcin is located about 5 ki­lo­me­tres north of Je­le­nia Gó­ra. The vil­la­ge can be re­ached by ci­ty bus li­ne no. 5 from Je­le­nia Gó­ra (a bus stop is clo­se to the farm buil­dings). The­re are al­so pic­tu­res­que hi­king and bi­king trails, among them an at­trac­ti­ve trail from the guest­hou­se Per­ła Za­cho­du (Turm­stein­bau­de). The to­wer stands at the ed­ge of the vil­la­ge, be­tween the church and the brid­ge on the Bóbr Ri­ver. (map of cas­tles in Lo­wer Si­le­sia Voi­vo­de­ship)
| | |
| --- | --- |
| | Bikes can only be left in an unguarded place in front of the manor house. |
---
1. D. Adamska: Siedlęcin, czyli "wieś Rudigera", Stowarzyszenie Wieża Książęca w Siedlęcinie 2016
2. M. Chorowska: Rezydencje średniowieczne na Śląsku, OFPWW 2003
3. M. Hislop: Jak czytać zamki. Krótki kurs wiedzy o fortyfikacjach, Arkady 2018
4. L. Kajzer, J. Salm, S. Kołodziejski: Leksykon zamków w Polsce, Arkady 2001
5. I. Łaborewicz: Piastowskie świadectwa, Sudety 2/2001
6. R. M. Łuczyński: Zamki, dwory i pałace w Sudetach, Wspólnota Akademicka 2008
7. P. Nocuń: Wieża książęca w Siedlęcinie..., Stowarzyszenie Wieża Książęca w Siedlęcinie 2016
8. A. M. Rosiek: Siedziby rycerskie w księstwie świdnicko-jaworskim..., Wydział Historyczny UJ 2010
9. M. Świeży: Zamki, twierdze, warownie, Foto Art 2002
10.M. Perzyński: Zamki, twierdze i pałace Dolnego Śląska i Opolszczyzny, 2006
11. A. Wagner: Murowane budowle obronne w Polsce X-XVIIw., Bellona 2019
THE RESIUDES OF MEDIEVAL MOAT
Castles nearby:
Rybnica - the ruin of castle from the 14th century, 8 km
Czarne - the Renaissance manor house from the 16th century, 9 km
Stara Kamienica - the ruin of knight's castle from the 16th century, 11 km
Dziwiszów - the noble castle from the 16th century, 14 km
Wleń - the ruin of prince's castle from the 12/13th century, 15 km
Chojnik - the ruin of prince's castle from the 14th century, 17 km
Bukowiec - the manor house from the 16th century, 20 km

---
In Siedlęcin the Church of St. Nicholas, first men­tioned in 1399, but its pre­sent form comes from the 16th cen­tu­ry. It is an ori­en­tat­ed, sin­gle-aisle build­ing with a nar­row­er two-span pres­bytery and a square tow­er to the west. At the en­trance to the tem­ple, 14th-cen­tu­ry Goth­ic sharp-edged por­tals with wood­en door fit­tings. In­te­ri­or de­sign is baroque, but rel­a­tive­ly mod­est. The most valu­able and old­est piece of equip­ment is a mys­ti­cal cru­ci­fix with a life-sized fig­ure of Christ, prob­a­bly made in a lo­cal work­shop around 1500. Al­so note­wor­thy are the poly­chromed al­tar from 1696, the 18th cen­tu­ry pipe or­gan and the wood­en, poly­chromed pul­pit dat­ing from the same pe­ri­od. Plas­tered ex­ter­nal fa­cades are dec­o­rat­ed with epi­taphs de­pict­ing the mar­ried cou­ple von Ni­etsch and the stat­ues of St. Flo­ri­an and Le­o­nard.
| | |
| --- | --- |
| | |
---
2 kilometers south of the tower, the for­mer tour­ist hos­tel, and now a guest­house named Per­ła Za­chodu (Jewel of the West), built in 1950 on the site of the Ger­man inn Turm­stein­baude, to which it refers in style. This build­ing, pic­turesque­ly sit­u­at­ed on the edge of a cliff, was very pop­u­lar among lo­cal res­i­dents at the be­gin­ning of its ex­is­tence. With time, how­ev­er, due to the pol­lu­tion of the Bóbr Riv­er, he was prac­ti­cal­ly not vis­it­ed. To­day, as the eco­log­i­cal sit­u­a­tion has im­proved, it has again be­come a des­ti­na­tion for nu­mer­ous ex­cur­sions.
| | |
| --- | --- |
| | |
| | |
| --- | --- |
| | |
---
The Pil­chow­ic­ka Dike on the Bóbr Riv­er was erect­ed near the road to Wleń, a few kilo­me­tres north of the tow­er. It is the largest stone dike in Poland, and the sec­ond largest in gen­er­al, small­er on­ly than So­li­na in Biesz­cza­dy Moun­tains. It was built be­tween 1902-14 by com­pa­ny B. Lie­bold & Co. AG to pro­tect the sur­round­ing area from flood­ing, and the scale of this in­vest­ment and its tech­ni­cal so­phis­ti­ca­tion made the open­ing cer­e­mo­ny hon­oured by Em­per­or Wil­helm II him­self. The height of the dike is 62 me­ters and the length of its top is 270 me­ters. The con­struc­tion of the dike re­sult­ed in a pic­turesque lake of 240 he­cta­res with a ca­pac­i­ty of 50 mil­lion cu­bic me­ters.
text: 2020
photographs: 2013, 2019, 2020
© Jacek Bednarek