WLEŃ

ruin of the ducal castle
RUINS OF WLEŃ CASTLE, VIEW FROM THE SOUTH
---
W
leń is one of the old­est cas­tles in the ter­ri­to­ry of con­tem­po­rary Poland, al­though its ori­gins re­main a mys­tery to us. Ac­cord­ing to some his­to­ri­ans, it was erect­ed by one of the princes, Bo­le­sław the Tall (d. 1201) or Miesz­ko I the Tan­gle­foot (d. 1211), who came to the area ac­com­pa­nied by im­pe­ri­al troops to re­gain the hered­i­tary ter­ri­to­ries lost by their fa­ther, La­dis­laus the Ex­ile. Ac­cord­ing to an­oth­er the­o­ry, the cas­tle rep­re­sents the build­ing ini­tia­tive of Duke Hen­ry I the Beard­ed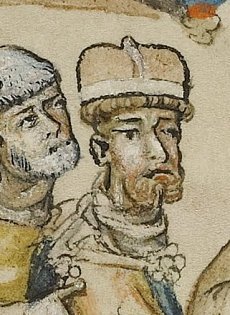 (d. 1238), ruler of Si­le­sia af­ter 1201.
THE WAY TO THE CASTLE: IN THE LEFT PHOTO YOU CAN SEE THE BRIDGE LEADING FROM THE PALACE TO THE GARDEN,
IN THE RIGHT - ONE OF THE GATES TO THE GARDEN
T
he ori­gins of the set­tle­ment on the cas­tle hill go back even fur­ther, since as ear­ly as the end of the 10th cen­tu­ry Duke Bo­le­sław the Brave (d. 1025) es­tab­lished the bish­opric of Wro­cław, and with it - strong­holds on the Bóbr and Kwi­sa riv­ers to pro­tect his ter­ri­to­ry from the south and west. One such for­ti­fied set­tle­ment was Wleń, first men­tioned as ca­strum Va­lan in 1155 in a bull by Pope Ha­drian IV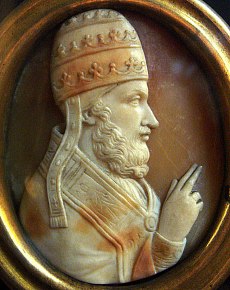 to house the cas­tel­lan. The cas­tel­lany of Wleń rep­re­sent­ed the ba­sic ad­min­is­tra­tive unit of the ear­ly Pol­ish state, and the for­ti­fied cas­tle, in ad­di­tion to its ad­min­is­tra­tive func­tions and se­cur­ing the bor­ders, prob­a­bly al­so served to pro­tect gold and oth­er valu­able met­al mines near­by.
STONES PLACED ON THE EAST SIDE OF CASTLE HILL TO MARK THE BORDER BETWEEN CASTLE GROUNDS AND TOWN PROPERTY,
1ST HALF OF THE XIII CENTURY, ORIGIN: A. ŁUCZAK "ZNAKI GRANICZNE Z OKOLIC WLENIA"
HISTORICAL NAMES OF THE CASTLE
Castrum Valan (1155), Len (1206), Wlan (1217),
Wlen (1227), Lehen (1277), Lehn (1371), Hedwigsburg (colloquially),
Lahnhaus (from the 16th century, as well as Lehnhaus, Laeunhaus),
Zamek Lenno (1945), Wleński Zamek (1947), Wleński Gródek (since 1947)
RECONSTRUCTION OF THE CASTLE FROM THE XIII CENTURY ACCORDING TO C. BUSKO AND J. SALM
T
he pro­cess of trans­form­ing the wood­en strong­hold in­to a stone cas­tle be­gan in the late 12th or at the turn of the 12th and 13th cen­turies. Pre­sum­ably, a Ro­ma­nesque dwel­ling house was the first to be built, fol­lowed by a chapel, a stone perime­ter wall and a berg­fried. These changes, as al­ready men­tioned, were ini­ti­at­ed by ei­ther Miesz­ko I, his broth­er Bo­le­sław the Tall, or on­ly by Bo­le­sław's son - Hen­ry the Beard­ed. Dur­ing the reign of the lat­ter, his wife Hed­wig von An­dechs (d. 1243), lat­er a saint of the Ca­tholic Church, was a fre­quent vis­i­tor to Wleń.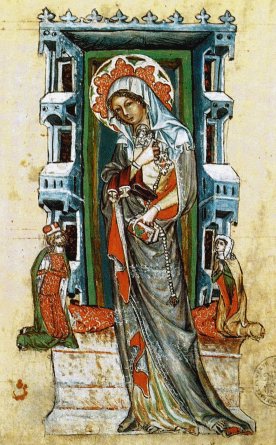 Hed­wig von An­dechs (b. be­fore 1180) was the daugh­ter of Duke Ber­thold IV of Me­ra­nia
(d. 1204) and Ag­nes von Roch­litz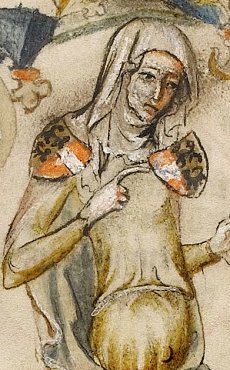 of the Wet­tin dy­na­sty (d. 1195). At the age of 12, she mar­ried Hen­ry I (the Beard­ed), Duke of Si­le­sia. The wed­ding cer­e­mo­ny prob­a­bly took place at the fam­i­ly's An­ders Cas­tle in Ba­va­ria, and the size of the dowry paid by the bride's fa­ther to Hen­ry equaled 30,000 sil­ver coins.

Hed­wig was very re­li­gious. At the age of ca. 30 (af­ter giv­ing birth to sev­en chil­dren), she took a vow of chasti­ty. Her com­mit­ment to the faith and her love of the mass­es made the say­ing pop­u­lar among her con­tem­po­ra­ries: una mis­sa not est con­tenta ducis­sa (one mass will not sat­is­fy a duchess). In or­der to "be clos­er to God", Hed­wig wore a habit, slept on hard bed­ding, and of­ten went bare­foot, re­port­ed­ly even dur­ing win­ter. She found­ed two hos­pi­tals, a dozen church­es and two mo­nas­ter­ies, in­clud­ing the Cis­ter­cian mo­na­stery in Trzeb­ni­ca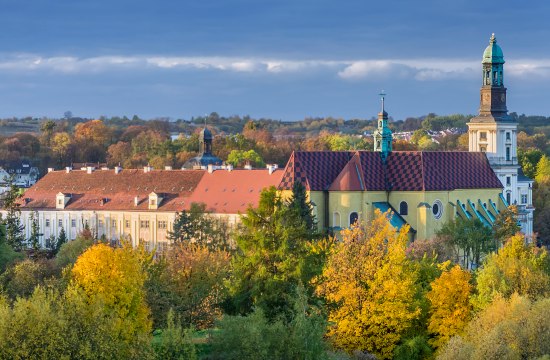 , where she was buried af­ter her death.

In 1267, Pope Cle­ment IV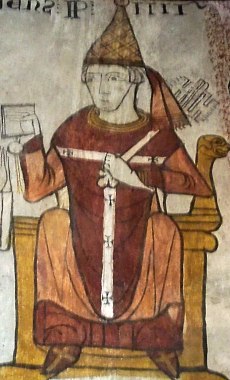 de­clared Hed­wig a saint. To­day she is con­sid­ered the pa­tron saint of Pol­and and all of Si­le­sia, as well as of mar­ried cou­ples and Chris­tian fam­i­lies. More than 100 church­es named af­ter her were built in the for­mer Prus­sia, among them St. Hed­wig's Cathe­dral in Ber­lin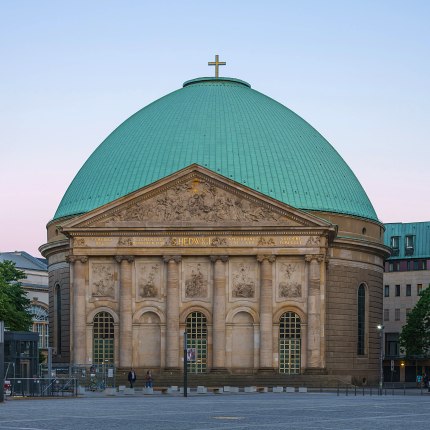 .
WEDDING OF HENRY THE BEARDED WITH HEDWIG, A XIV CENTURY MINIATURE
C
on­struc­tion work on the cas­tle was con­tin­ued by Hen­ry the Pi­ous

(d. 1241 at the Bat­tle of Leg­ni­ca), and then by his son, Bo­le­sław II the Horned (d. 1278), who de­mol­ished the old tow­er and erect­ed a cylin­dri­cal berg­fried in its place (some his­to­ri­ans, how­ev­er, are of the opin­ion that the old­er tow­er col­lapsed spon­ta­neous­ly). Per­haps it was in this new tow­er that Bo­le­sław im­pris­oned Bish­op Tho­mas of Wro­cław for some time in 1256, in an at­tempt to force con­ces­sions from him on the mat­ter of church tax­es. Al­so held as a pris­on­er in Wleń was 14-year-old Hen­ry IV Pro­bus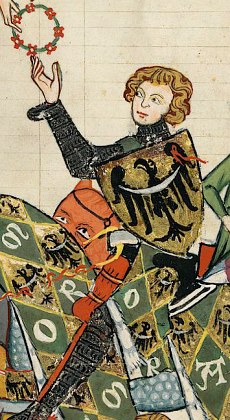 (1272), Duke of Wro­cław, who was ab­duct­ed and then im­pris­oned in the cas­tle tow­er.
VIEW OF THE RUINS FROM THE SOUTH, IN THE FOREGROUND WE CAN SEE LOWER PARTS OF THE HEXAGONAL TOWER DEMOLISHED BY BOLESŁAW THE HORNED, AND ABOVE IT A CYLINDRICAL BERGFRIED (TOWER OF LAST DEFENSE)
A
f­ter the di­vi­sion of Si­le­sia, which took place as late as in the 13th cen­tu­ry, the strong­hold no longer per­formed im­por­tant stra­te­gic and po­lit­i­cal func­tions, be­com­ing sim­ply a lo­cal seat of the knight­ly fam­i­lies who leased it. The first known by name us­er of the ducal cas­tle was cas­tel­lan Ma­ciej (do­mi­nus Ma­thyas de Wlen cas­tel­la­nus), men­tioned as a wit­ness on a doc­u­ment is­sued by the duke of Lwó­wek Ber­nard on Ju­ly 13, 1281. In 1349 a cer­tain Kon­rad de Cze­de­licz, castel­lan of Wleń, was men­tioned, who do­nat­ed a pound of sil­ver to ca­pel­lam in monte apud Bea­ta Vir­ginem ante cas­trum Len (chapel on the cas­tle hill). Af­ter him, Ber­nard and Ni­cho­las de Cze­de­licz (Kon­rad's sons?) leased the strong­hold from Duke Bol­ko II of Świd­ni­ca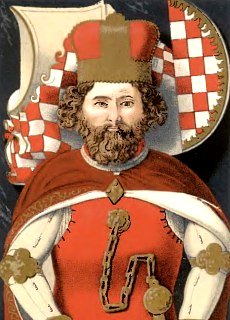 (d. 1368).
IN THE TOWER OF WLEŃ CASTLE
A
f­ter Duke Bol­ko's death in 1368, the afore­men­tioned de Cze­de­licz (von Zedl­itz) broth­ers bought the right to a hered­i­tary fief, along with lands and in­come be­long­ing to it, from the Duke's wid­ow, Ag­nes of Hab­s­burg (d. 1392). How­ev­er, as ear­ly as 1371 they sold the prop­er­ty to Ni­cho­las Bolz (Bol­cze) of Ci­sy and his rel­a­tive named Cler­ic. Six years lat­er, the cas­tle, in­clud­ing the towns of Wleń and Świe­rza­wa, be­came the prop­er­ty of Thi­mo von Kol­ditz (Kol­dicz), gov­er­nor of Wro­cław, who paid 53,000 Pra­gue gro­schen for it, and pledged to cov­er the cost of its mod­ern­iza­tion, val­ued at 7,200 gro­schen. This in­for­ma­tion rep­re­sents the old­est men­tion in the his­to­ry of Wleń of con­struc­tion work car­ried out here, which, ac­cord­ing to the same doc­u­ment, was com­mis­sioned to builders from Wro­cław.
NEGLECTED COURTYARD AND CRACKED TOWER IN 2005
CASTLE COURTYARD AND TOWER AFTER REVITALIZATION, 2022
I
n 1391 the then lord of the Wleń cas­tle, an un­known rep­re­sen­ta­tive of the von Ke­the­licz fam­i­ly, sold it to Jon von Red­ern (Yo­ne von Red­dern de Lehn). Af­ter him, the es­tate was in­her­it­ed by Jo­han­nes de Red­ern, and lat­er by Tris­tram von Red­ern, who is cred­it­ed with suc­cess­ful­ly de­fend­ing the strong­hold against the Hus­site in­va­sion on May 26, 1428. In 1460 or 1463, King Ji­ří z Kun­štá­tu a Po­dě­brad of Bo­he­mia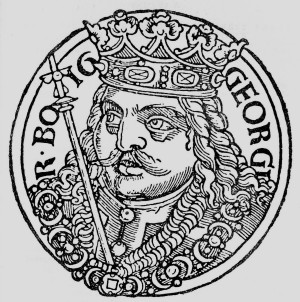 re­moved Mar­tin von Red­ern from Wleń, and then gave his prop­er­ty to Wen­ces­las von Warnss­dorf. Just two years lat­er, the lat­ter ced­ed the cas­tle to Hans von Zed­litz, known as Roch­litz (d. 1485), a sup­port­er of the king, who pledged to do­nate 200 guil­ders to mod­ern­ize its for­ti­fi­ca­tions. How­ev­er, the new lord of Wleń turned out to be a com­mon rob­ber who at­tacked trav­el­ers and mer­chants, and some­times even loot­ed res­i­dents of neigh­bor­ing towns and vil­lages. His crim­i­nal ac­tiv­i­ties were on­ly end­ed by a puni­tive ex­pe­di­tion or­ga­nized in 1478 by King Mat­thias Corv­i­nus of Hun­gary
. Al­though the Hun­gar­i­an troops did not suc­ceed in cap­tur­ing the strong­hold at the time, their pres­ence cer­tain­ly made an im­pres­sion on Hans von Zed­litz, forc­ing him to obey the law from then on.
| | |
| --- | --- |
| | |
RUINS OF RESIDENTIAL TOWER AND PALACE IN THE EASTERN PART OF THE COURTYARD, CONDITION IN 2005 AND IN 2022
I
n 1506 Hein­rich von Re­ichen­bach, called Heller, bought the cas­tle from Cas­par von Zed­litz, pay­ing 800 Hun­gar­i­an guil­ders for it, plus an ad­di­tion­al 400 guil­ders to cov­er the pre­vi­ous own­er's debts. In 1527 the lord of Wleń was Hans Dip­pold von Burg­haus, a high of­fi­cial of the Duke of Zię­bi­ce, and in 1530 - Mel­chior von Ho­hberg and his chil­dren. Six years lat­er, the ne­glect­ed strong­hold passed in­to the hands of Chris­toph von Red­ern, who pre­sum­ably re­paired and mod­ern­ized it, as ev­i­denced by a rec­ord doc­u­ment­ing his re­ceipt of a promise from King Fer­di­nand I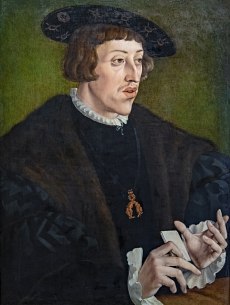 to do­nate 300 guil­ders to strength­en the fort­ress. On von Red­ern's ini­tia­tive, a peas­ant set­tle­ment called Wleń­ski Gró­dek was es­tab­lished near the cas­tle, per­haps as a re­sult of his de­sire to raise the val­ue of the land, for which the own­er had been look­ing for a buy­er for some time.
REMAINS OF LATE MEDIEVAL FORTIFICATIONS IN THE NORTHERN PART OF THE CASTLE
T
hree years lat­er, Botho Balthasar Schoff of Cz­er­ni­ca, known as Got­sche (d. 1564), be­came the own­er of Wleń, who, de­spite re­ceiv­ing an im­pe­ri­al sub­sidy of 600 guil­ders to re­pair the cas­tle, ne­glect­ed it and led it to ru­in. Af­ter Botho's death, the strong­hold was tak­en o­ver by his son-in-law, im­pe­ri­al of­fi­cial Se­bas­tian von Zed­litz-Neu­kirch (d. be­fore 1607), who soon be­gan its ma­jor re­con­struc­tion, for which he paid out of his own pock­et 1843 thalers, 34 grosch­en and 16 hal­ers. The most spec­tac­u­lar part of this in­vest­ment turned out to be the con­struc­tion of a 2157-me­ter-long oak pipe­line sup­ply­ing drink­ing wa­ter from the slopes of Nest Hill to the grange, bath­house, dis­tillery, court­yard and to two large stone troughs in front of the cas­tle (in two days a large num­ber of peo­ple laid the pipeline with 500 pipes be­fore De­cem­ber 24). De­fen­sive walls, the main tow­er and the palace, hence­forth topped by a tur­ret with a clock, were al­so raised. As part of the re­con­struc­tion, all the ed­i­fices re­ceived fur­nish­ings and dec­o­ra­tions as re­quired by the Re­nais­sance era.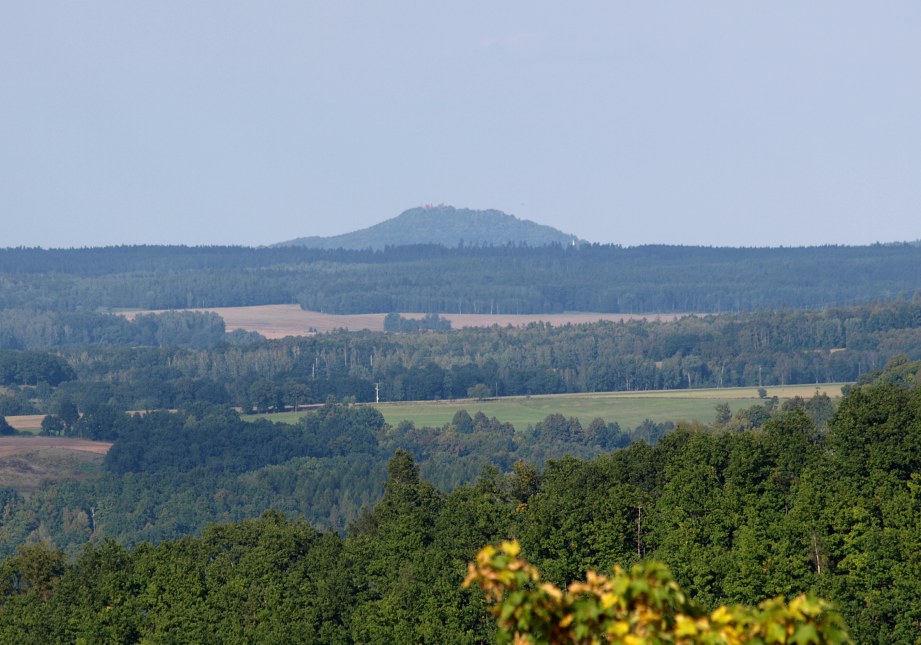 A GOOD VIEW OF GRODZIEC MOUNTAIN WITH CASTLE RUINS 20 KM AWAY FROM THE WLEŃ CASTLE TOWER
LOOKING SOUTH WE CAN SEE PEAKS OF THE KARKONOSZE MOUNTAINS (ABOUT 35 KM)
From May 4 to 12, 1574, a the­o­log­i­cal dis­pu­ta­tion about orig­i­nal sin and hu­man free will was held at Se­bas­tian von Zed­litz's cas­tle in Wleń. It was at­tend­ed by, among oth­ers: He­brew lec­tur­er at the Uni­ver­si­ty of Frank­furt Ja­cob Co­le­rus
, Georg Pät­zold from Pro­bosz­czów, In­spec­tor Til­le­sius from Je­le­nia Gó­ra, Pe­ter Gro­mann from Czer­ni­ca, Ge­org Wil­lers from Li­pa and Mi­chael von Sta­be­nau, cas­tle pas­tor from Wleń (all of whom rep­re­sent­ed a mod­er­ate fac­tion of Pro­tes­tantism), and their op­po­nent - Wit­ten­berg Uni­ver­si­ty pro­fes­sor and or­tho­dox Croa­t­ian the­olo­gian Mat­thias Fla­cius (Fran­ko­vić)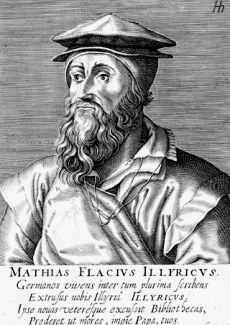 called Il­lyri­cus. De­spite the fact that the dis­pu­ta­tion last­ed as long as eight days, it was not com­plet­ed (so it was con­tin­ued lat­er at the res­i­dence of Baron von Schaff­gotsch in Czer­ni­ca).

This event was com­ment­ed on through­out Si­le­sia and pre­sum­ably had a huge im­pact on the de­ci­sion made by lords of these lands to choose Lu­the­ra­nism in its milder form as the of­fi­cial re­li­gion.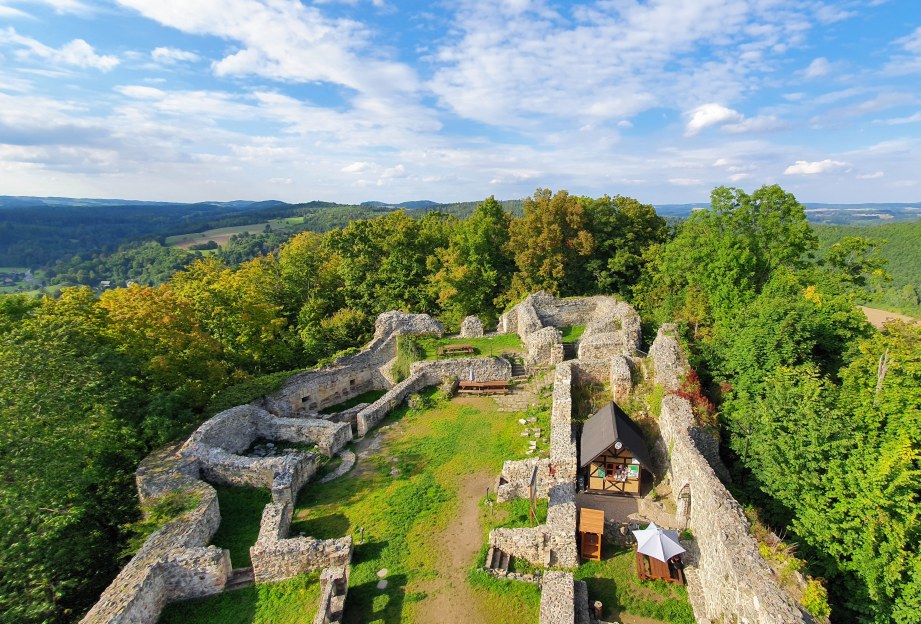 VIEW FROM THE CASTLE TOWER TO THE COURTYARD
I
n 1581 Se­bas­tian von Zed­litz-Neu­kirch sold the cas­tle to Se­bas­tian von Schaff­gotsch of Choj­nik. Af­ter Schaff­gotsch's death in 1595, the es­tate passed to his broth­er Cas­par (d. 1618), who, how­ev­er, just three years lat­er, due to debts, was forced to sell it to Kon­rad von Zed­litz auf Wie­sen­thal (d. 1632), re­mem­bered by the res­i­dents of Wleń as an op­pres­sor and ex­ploiter. Von Zed­litz dras­ti­cal­ly in­creased tax­es, forced crafts­men to pro­vide free ser­vices to the cas­tle, and mer­chants - to de­liv­er free prod­ucts. But those, who crit­i­cized him or op­posed his de­ci­sions (in­clud­ing the may­or), he cap­tured and im­pris­oned in cas­tle dun­geons.
RECONSTRUCTION OF THE CASTLE FROM THE MID XVII CENTURY ON A POSTCARD FROM THE EARLY XX CENTURY
I
n 1632 the es­tate was in­her­it­ed by Kon­rad's son, Fabi­an von Zed­litz, who turned out to be the last own­er of the cas­tle be­fore its de­struc­tion. Be­fore that, how­ev­er, the Thir­ty Years' War (1618-48) broke out, dur­ing which the strong­hold - as a con­ve­nient ob­ser­va­tion point and valu­able de­fen­sive po­si­tion - was at­tacked as many as five times by Im­pe­ri­al and Swedish troops. Af­ter its last siege (28 Ju­ly - 6 Sep­tem­ber 1646), which end­ed in a suc­cess­ful re­cap­ture from Swedish hands, Gen­er­al Rai­mon­do Count de Mon­te­cuc­co­li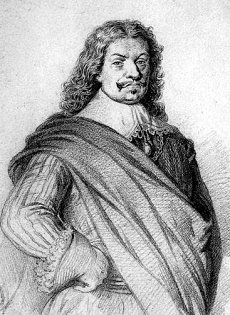 (d. 1680) or­dered the cas­tle to be blown up. His com­mand was car­ried out on Sep­tem­ber 7, 1646: pow­er­ful ex­plo­sions then de­mol­ished the for­mer prince­ly seat and turned it in­to a ru­in.
WLEŃSKI GRÓDEK IN AN ENGRAVING BY FRIEDRICH BERNHARD WERNER, "TOPOGRAPHIA SILESIAE 1744-68"
ON TOP OF THE HILL THE CASTLE RUIN, BELOW IT A BAROQUE MANSION BUILT IN THE 1750S
T
he next own­er of the Wleń es­tate was a colo­nel in the French army, Adam von Koul­has (d. 1663), who bought it in 1653. How­ev­er, he did not take the trou­ble to re­build the old cas­tle, but erect­ed a Baroque man­sion near­by, more com­fort­able and bet­ter suit­ed to the re­quire­ments of the time. In ad­di­tion, just be­fore his death, von Koul­has found­ed the Church of St. Hed­wig of Si­le­sia, lo­cat­ed at the foot of the cas­tle ru­ins, for the con­struc­tion of which re­mains of the old ducal chapel were used. He al­so es­tab­lished a land­scape gar­den and a French-style park on the cas­tle hill with a to­tal area of about 10 hec­tares. Af­ter Adam, the es­tate be­came the hered­i­tary prop­er­ty of his wid­ow, An­na Ur­su­la de do­mo Deb­schütz und Neu­kem­nitz, and then their son Le­opold Ru­dolph.
CASTLE RUIN, BAROQUE MANSION AND ST. HEDWIG OF SILESIA CHURCH ON A POSTCARD FROM THE 1930S
MANOR FARM BUILDINGS, PRESENT STATE
I
n 1728 Wleńs­ki Gródek passed in­to the own­er­ship of An­dreas Wil­helm von Grün­feld (d. 1765) and his wife Ju­lia­ne von Un­ruh (d. 1761). The new land­lord, as a per­son of deep faith, re­stored Pro­tes­tant ser­vices in the town, and in 1751 erect­ed an Evan­gel­i­cal house of prayer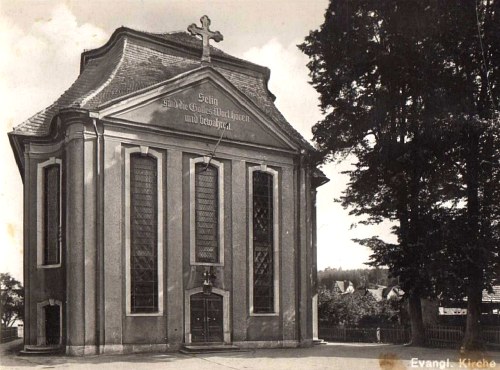 . At the time, the dev­as­tat­ing Sev­en Years' War was in prog­ress, dur­ing which Aus­tri­an (1753) and Prus­sian (1759) troops camped in the manor and in the vil­lage. When An­dreas von Grün­feld died, his body was buried in a beau­ti­ful­ly dec­o­rat­ed stone cof­fin in the chapel of St. Hed­wig of Si­le­sia Church at the foot of the cas­tle ru­ins. The es­tate passed on to his son Frie­drich Wil­helm (d. 1780), ad­min­is­tra­tor of the Lwó­wek-Bo­le­sła­wiec dis­trict, mar­ried to Phil­lip­pine Fried­er­icke de do­mo von Gers­dorf (d. 1793). The next and last of the von Grün­feld fam­i­ly to own Wleń­ski Gró­dek were Frie­drich Wil­helm's son, Frie­drich Got­thard (d. 1804), and his wid­ow Char­lot­te Au­gu­ste von Richt­hofen de do­mo Lesch­ko­witz (d. 1841?).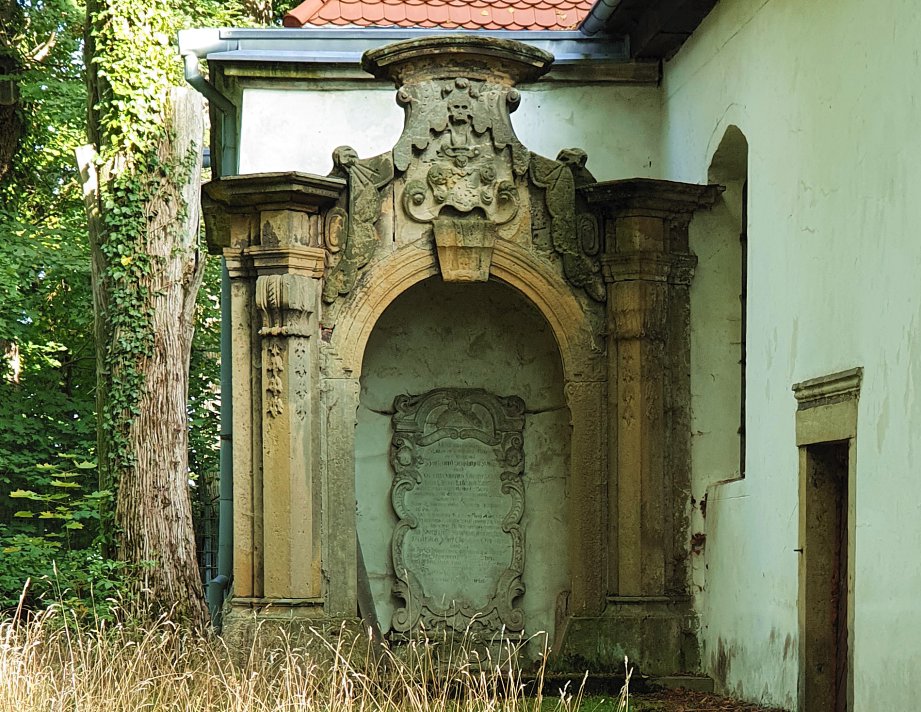 NORTH CHAPEL OF THE ST. HEDWIG OF SILESIA CHURCH WITH THE TOMBSTONE OF ANDREAS VON GRÜNFELD
E
ar­li­er, how­ev­er, on Au­gust 18, 1813, a bat­tle broke out in Wleń be­tween Gen­er­al Kai­sa­rov's Rus­sian troops and Gen­er­al Car­lo Zuc­chi's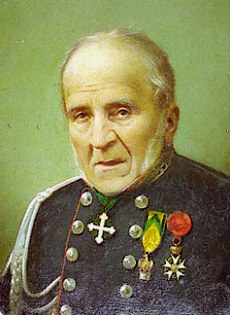 Ital­ian bri­gade, as a re­sult of which the town burst in­to flames. The same day Na­po­le­on's units seized the manor house in Wleń­ski Gró­dek, and es­tab­lished field quar­ters there. They were soon joined by Mar­shal Èti­enne Mac­don­ald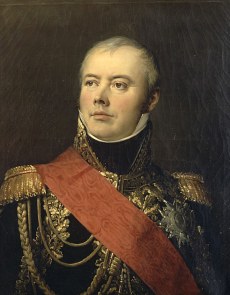 him­self, who from the top of the old cas­tle tow­er (still an ex­cel­lent van­tage point) de­vel­oped his war plans. By the way, it is al­so worth men­tion­ing the vis­it to Wleń by U.S. am­bas­sador in Ber­lin and lat­er U.S. pres­i­dent John Quin­cy Adams
(1800), who ap­par­ent­ly liked the cas­tle ru­ins very much, since he called them the most ro­man­tic of all, and the views of­fered by the tow­er - some of the most beau­ti­ful he had yet seen. Even more high-pro­file was the vis­it at the cas­tle of Prince Wil­helm of Prus­sia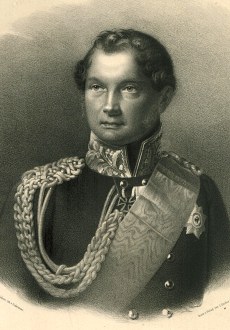 in Oc­to­ber 1824, on his 29th birth­day.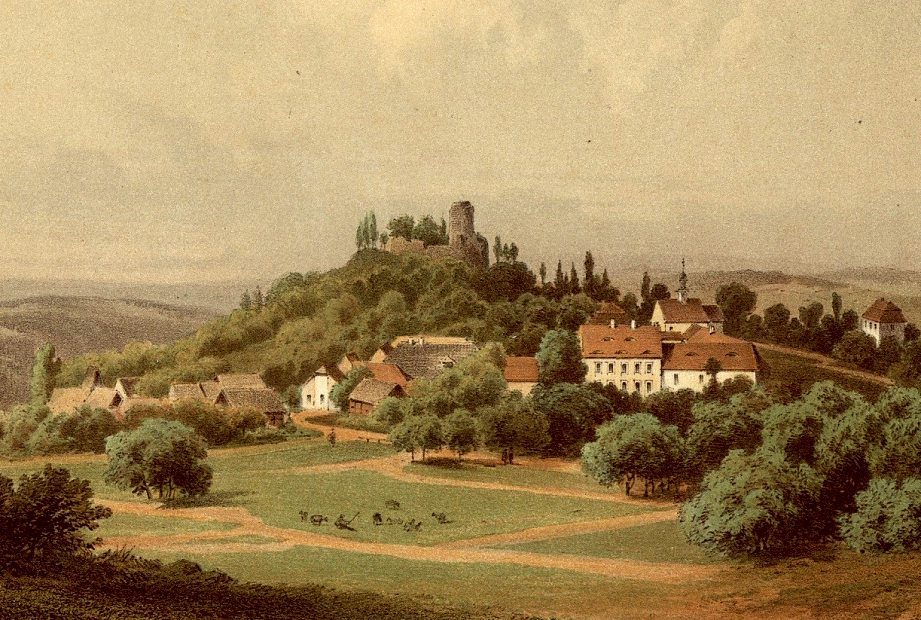 WLEŃSKI GRÓDEK ON ALEXANDER DUNCKER'S LITHOGRAPH FROM 1868
COLORED POSTCARD FROM AROUND 1920
A
f­ter Got­thard von Grün­feld's death, the of­fi­cial draw of lots gave the Lahn­haus­burg do­main to his nephew Max­i­m­il­ian von Haug­witz. How­ev­er, he soon drowned in the Oder Riv­er, and as a con­se­quence his broth­er Wilh­lem (d. 1842) in­her­it­ed from him, but when he died child­less as well, their step­broth­er Hein­rich von Haug­witz, mar­ried to Marie Au­gus­tine von Biern­ing, be­came the own­er of the es­tate. From then on, un­til the end of World War II, the Re­nais­sance man­sion and cas­tle ru­in re­mained in the hands of this no­ble fam­i­ly. At that time, the ru­ins stood aban­doned and ne­glect­ed to the point that trees grew in the court­yard, and the walls be­gan to crum­ble and crack. It was not un­til 1907, af­ter the tow­er had par­tial­ly col­lapsed, that the lo­cal au­thor­i­ties al­lo­cat­ed grants for emer­gen­cy re­sto­ra­tion work, which was com­plet­ed be­fore the out­break of World War I. Lat­er, the cas­tle was even opened to the pub­lic for a fee of 50 pfen­nigs (rough­ly equiv­a­lent to 10 eu­ro to­day).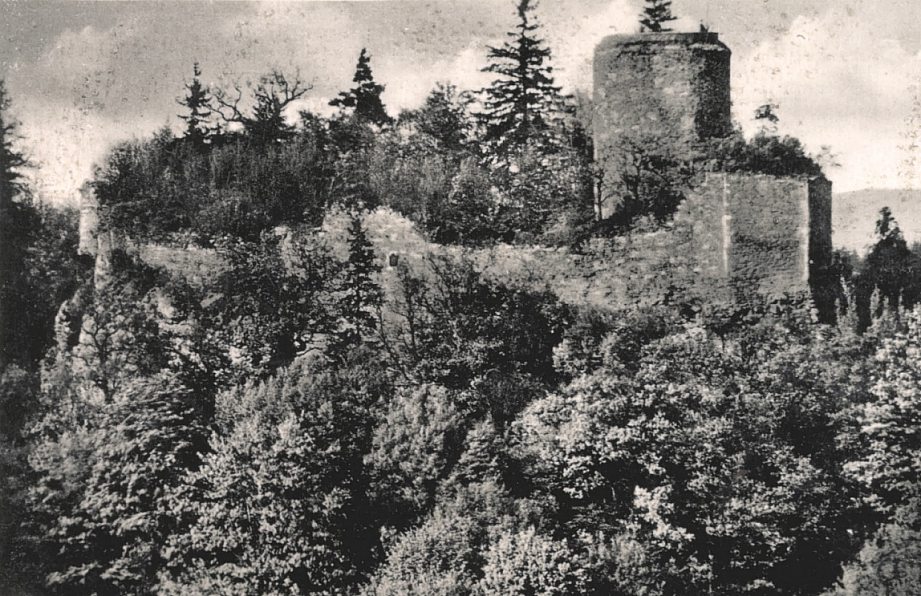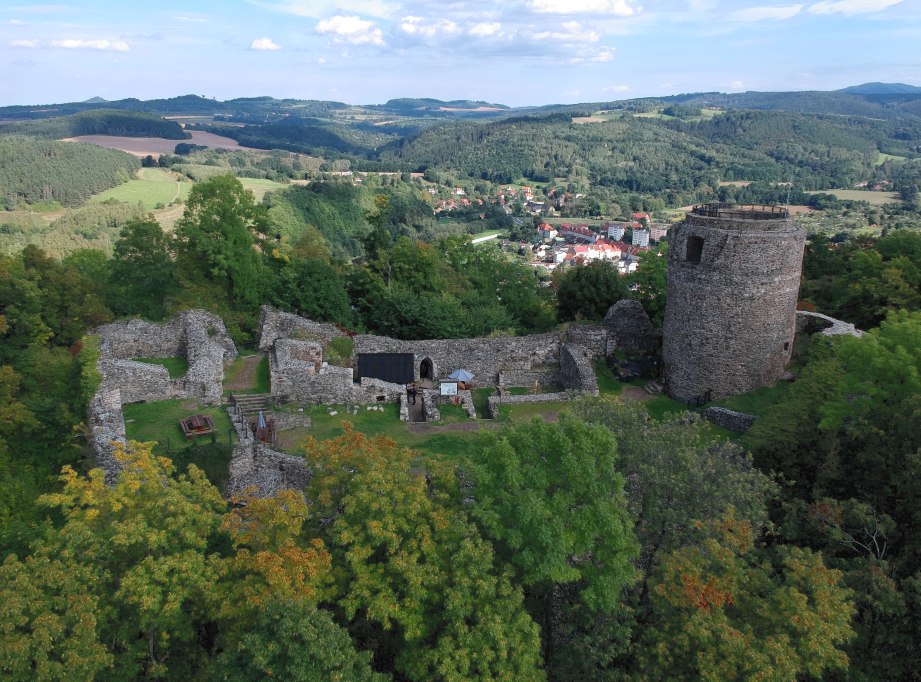 VIEW OF THE RUINS FROM THE WEST, STATE IN THE 1920S AND NOW
A
f­ter the end of World War II, Pol­ish au­thor­i­ties con­tin­ued res­cue work on the cas­tle, and in 1988-94 ar­chae­o­log­i­cal re­search was car­ried out here, which, among oth­ers, re­sult­ed in the re­moval of de­bris ly­ing in the court­yard af­ter the Thir­ty Years' War and the ex­po­sure of me­die­val build­ings. How­ev­er, a con­struc­tion dis­as­ter in April 2006 could not be pre­vent­ed, as a re­sult of which a huge sec­tion of the south­west wall col­lapsed, threat­en­ing sta­bil­i­ty of the rest of the cas­tle in­clud­ing the tow­er. Three years lat­er, the wall has been re­con­struct­ed, and the ru­in - af­ter re­vi­tal­iza­tion - re­opened for tour­ists.
WESTERN CURTAIN WALL BEFORE COLLAPSE (LEFT, 2005) AND AFTER RECONSTRUCTION (2022)
BELOW PHOTO TAKEN BEFORE RECONSTRUCTION (2008)
A to­tal of about 2,500 ar­ti­facts dat­ing back to the time when the cas­tle was in use (i.e. be­fore 1646) were dis­cov­ered dur­ing ar­chae­o­log­i­cal re­search car­ried out in the ru­ins of Wleń Cas­tle in 2010. The largest part of them con­sists of pot­tery shells and com­mon nails, fol­lowed by frag­ments of Goth­ic, Re­nais­sance and Baroque stove tiles, iron hooks, fit­tings, spear­heads, stained glass, glass beads and clay gam­bling balls. A very valu­able find turned out to be, pre­sum­ably dat­ing from the 16th cen­tu­ry, a one-sid­ed disc-shaped amulet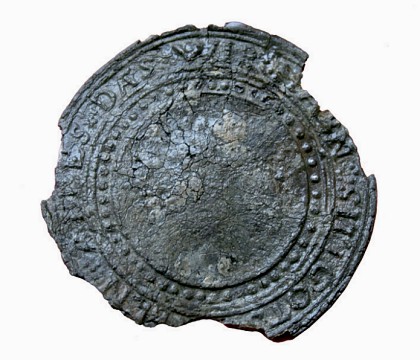 with in­scrip­tion DEN ALLES DAS WIR HASN SIT GOTS (ev­ery­thing we hate is god­less), as well as a sil­ver Czech coin, whose poor con­di­tion makes it im­pos­si­ble, un­for­tu­nate­ly, to de­ter­mine the ex­act pe­ri­od in which it was mint­ed.
EARLY BAROQUE STOVE TILES FOUND AT THE CASTLE
G. JAWORSKI, K. MARCINKIEWICZ, J. PIEKALSKI, S. SIEMIANOWSKA "BADANIA NA ZAMKU WLEŃ..."
DESCRIPTION OF THE CASTLE
T
he ear­li­est cas­tle con­sist­ed of a Ro­ma­nesque dwel­ling house (prob­a­bly of tow­er type) and a de­fen­sive wall sur­round­ing it. This house was built at the west­ern sec­tion of the wall, on a quadri­lat­er­al plan mea­sur­ing 7 x 10 me­ters. Pink sand­stone blocks and small stone slates were used as the ma­te­ri­al for its con­struc­tion. The in­te­ri­or of this small ed­i­fice was il­lu­mi­nat­ed by slit win­dows lo­cat­ed in the west­ern wall, and ac­cess was pro­vid­ed by a wide en­trance door lo­cat­ed in the east­ern wall.
WEST WALL OF THE ROMANESQUE HOUSE
RECONSTRUCTION OF A ROMANESQUE CASTLE, ORIGIN: CASTLE WLEŃ
P
re­sum­ably, a small chapel con­sist­ing of a square nave (5.8x5.8 me­ters), a tiny chan­cel and a se­mi­cir­cu­lar apse was erect­ed next to the dwel­ling house in the ear­ly 13th cen­tu­ry. Sand­stone slate and stone blocks were used in its con­struc­tion - its aus­tere en­trance por­tal, de­void of dec­o­ra­tion, was al­so made of sand­stone. Plas­ter with mo­tifs paint­ed in blue, red and white cov­ered the walls of the tem­ple, while lime­stone screed served as its floor. Around the same time, at the south­ern part of the court­yard stood the Ro­ma­nesque bergfried - a hex­ag­o­nal tow­er of last de­fense with a di­am­e­ter of about 10 me­ters (on­ly its south­ern sec­tion, con­sist­ing of four walls, has sur­vived to this day). The afore­men­tioned build­ings: dwel­ling house, chapel and berg­fried, as well as the sur­round­ing stone wall, con­sti­tut­ed the up­per cas­tle at the be­gin­ning of the 13th cen­tu­ry.
REMAINS OF A ROMANESQUE CHAPEL
CASTLE IN THE FIRST HALF OF THE XIII CENTURY, ORIGIN: ZAMEK WLEŃ
I
n the late 13th or ear­ly 14th cen­tu­ry, a stone tow­er (pre­sum­ably res­i­den­tial) was erect­ed near the en­trance gate, ca. 6x7 me­ters square in plan, with a vault­ed cham­ber in the ground floor. The hexag­o­nal berg­fired (which had pos­si­bly cracked or col­lapsed ear­li­er) was al­so de­mol­ished, and re­placed with a cy­lin­dri­cal tow­er at least 17 me­ters high, with walls up to 3 me­ters thick. The orig­i­nal en­trance to the new tow­er was sit­u­at­ed at a height of 11 me­ters, and to­day it is even two me­ters high­er.
CYLINDRICAL TOWER OF THE LAST DEFENSE, AT THE BOTTOM OF THE PICTURE WE CAN SEE REMAINS OF AN OLDER HEXAGONAL TOWER
P
rob­a­bly still in the 14th cen­tu­ry, a tra­pe­zoidal-plan build­ing was erect­ed be­tween the quad­ran­gu­lar tow­er and the Ro­ma­ne­sque house. The afore­men­tioned Ro­ma­ne­sque house was al­so re­built (in the opin­ion of some his­to­ri­ans, it was the old­est sec­u­lar ed­i­fice in Poland), where the wood­en ceil­ings were re­placed with a bar­rel vault, and the in­te­ri­ors re­ceived hy­po­caust heat­ing. Soon af­ter, a rep­re­sen­ta­tive func­tion at the cas­tle was tak­en o­ver by a palace 32 me­ters long and 7.5 me­ters wide, built along the east­ern cur­tain wall be­tween the cylin­dri­cal tow­er and the quad­ran­gu­lar tow­er. It was a three-sto­ry ed­i­fice with liv­ing quar­ters and ducal halls on the sec­ond floor, and stor­age cham­bers on the top floor. Com­mu­ni­ca­tion be­tween sto­reys was pro­vid­ed by a cy­lin­dri­cal stair­case lo­cat­ed in the north­east­ern part of the build­ing.
THE SUPPOSED APPEARANCE OF THE UPPER CASTLE IN THE XV CENTURY AND THE REMAINS OF ITS BUILDINGS IN THE COURTYARD:
1. ROMANESQUE HOUSE, 2. CHAPEL, 3. TOWER OF LAST DEFENSE, 4. RESIDENTIAL TOWER, 5. TRAPEZOIDAL PLAN EDIFICE,
6. PALACE, 7. KINDERSTUBE, 8. KITCHEN, 9. MIDDLE CASTLE
A
t ap­prox­i­mate­ly the same time, a small square-plan build­ing called Kin­der­stube (chil­dren's hall) was erect­ed in the west­ern part of the court­yard, and next to it a kitchen (prob­a­bly as a half-tim­bered struc­ture), of which a stone gut­ter for the dis­pos­al of waste re­mains, as well as traces of stone and clay ovens. In 1567 year a pipe­line was built to sup­ply the cas­tle with wa­ter, and a tur­ret with a clock and 24-hour di­al was at­tached to the palace. In ad­di­tion, the main tow­er re­ceived a su­per­struc­ture, which in­creased its height to 48 me­ters.
DOUBLE WINDOW OF THE FORMER KINDERSTUBE
VIEW OF RUINED COURTYARD BUILDINGS FROM THE NORTH SIDE
T
he mid­dle cas­tle for­ti­fi­ca­tions, con­sist­ing of a perime­ter wall and tow­ers
, are be­lieved to date from the 15th cen­tu­ry. They re­placed tim­ber and earth ram­parts dat­ing back to the 10th-12th cen­turies. The ac­cess from low­er cas­tle to mid­dle cas­tle led along the west­ern slope of the hill through a for­ti­fied gate neck. By anal­o­gy, we can as­sume that a farm­yard per­formed an eco­nom­ic func­tion, so it cer­tain­ly in­clud­ed dwel­ling build­ings for cas­tle ser­vants, coach hous­es, craft cham­bers, as well as - men­tioned in writ­ten sources - sta­bles, a bak­ery, a cart shed, a bath­house, a brew­ery and a gra­nary.
PLAN OF THE LATE MEDIEVAL CASTLE: 1. UPPER CASTLE, 2. MIDDLE CASTLE, 3. FARMYARD, 4. GATE NECK
AERIAL VIEW OF THE UPPER CASTLE
---
T
he cas­tle ru­ins are lo­cat­ed on top of a moun­tain about 360 me­ters above sea lev­el, in the area of the maple-leaf for­est pre­serve. Full pe­rime­ter of the out­er stone walls has sur­vived (the west­ern part is a re­con­struc­tion af­ter the 2006 col­lapse), as well as the tow­er, which of­fers a pic­tures­que view of the town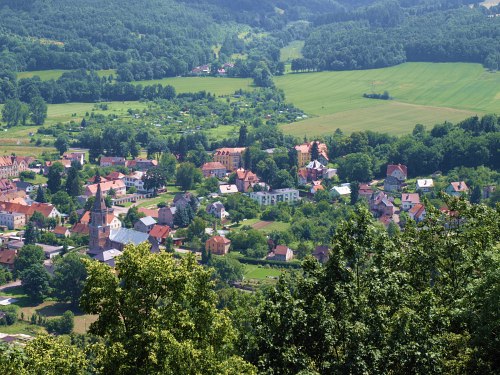 , the dis­tant Kar­ko­no­sze Moun­tains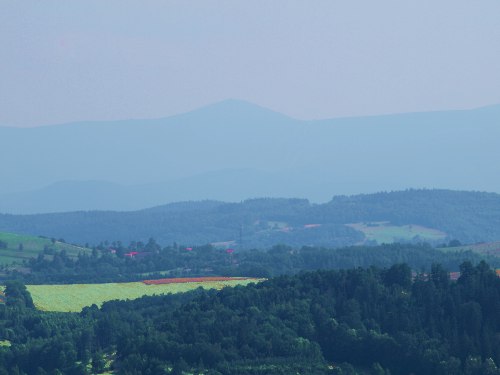 , the Jiz­era Moun­tains and the Ka­cza­wskie Moun­tains and Foot­hills. All the build­ings in the court­yard have sur­vived on­ly to the height of the first sto­ry.
VIEW FROM THE CASTLE TOWER OVER THE BÓBR VALLEY AND THE TOWN OF WLEŃ...
...AND THE KARKONOSZE MOUNTAIN RANGE
| | |
| --- | --- |
| | Ad­mis­sion to the cas­tle is paid (prices not high). |
| | |
| --- | --- |
| | The tour is un­guid­ed, so it is on­ly up to us how long it lasts. In­clud­ing the cas­tle park, view­ing (from the out­side) the church and the man­sion, a vis­it to the cas­tle should not take more than 1 hour. |
| | |
| --- | --- |
| | Dogs are wel­come. |
| | |
| --- | --- |
| | There are no re­stric­tions on recre­ation­al fly­ing in the area. |
AT THE GATE AND ON THE WAY TO THE VIEWING TERRACE
CASTLE COURTYARD, VIEW FROM THE NORTH
O
n the eastern slope of the Cas­tle Moun­tain stret­ches a Baroque gar­den, es­tab­lished in the 17th cen­tu­ry by Adam von Koul­haus and now on­ly slight­ly pre­served. There are three en­trances lead­ing to it: a gate on the side of the ru­ins, an or­na­men­tal Baroque gate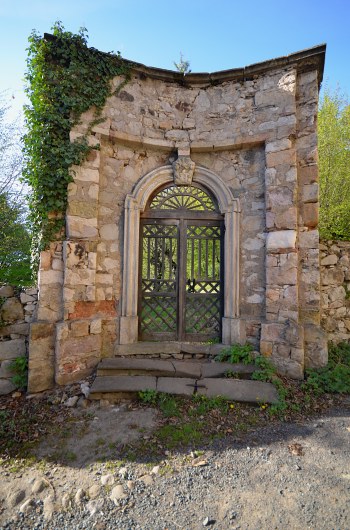 on the side of the vil­lage - well vis­i­ble from the main road, and an ar­cad­ed bridge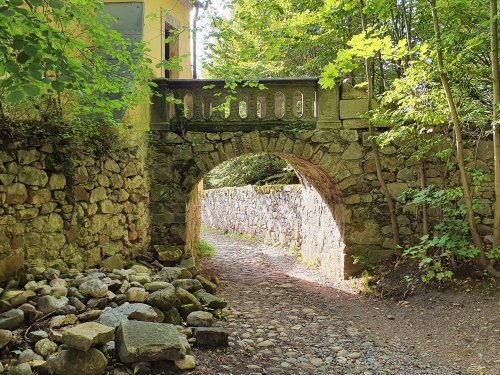 con­nect­ed di­rect­ly to the man­sion, un­der which you pass when walk­ing to the cas­tle ru­ins.
AN ARCADED BRIDGE CONNECTING THE MANSION TO THE GARDEN
REMAINS OF A BAROQUE FOUNTAIN
A
d­ja­cent to the gar­den is a ne­glect­ed land­scape park of 8 ha, es­tab­lished in the ear­ly 19th cen­tu­ry by Frie­drich Got­thard von Grün­feld or his wife Char­lotte Au­guste. Mag­nif­i­cent old yew trees grow there, as well as beech­es, horn­beams, oaks, pines and tulip trees. In the cen­tral ax­is of the park, a few dozen me­ters north of the cas­tle ru­ins, we can see alone mar­ble obe­lisk, erect­ed by Char­lotte Au­guste von Grün­feld in mem­o­ry of her hus­band, who died in 1804. Cur­rent­ly it is just an emp­ty, dec­o­ra­tion-free prism. Years ago, how­ev­er, it was or­na­ment­ed with mar­ble re­liefs, an el­e­gant ba­lu­strade and a glam­orous sculp­ture of a guar­dian spir­it hold­ing a torch and the von Grün­feld fam­i­ly's coat of arms.
OBELISK ON AN OLD POSTCARD AND TODAY
A
bout 100 me­ters south of the cas­tle stands a small 17th-cen­tu­ry church of St. Hed­wig of Si­le­sia. It was built us­ing walls of an old­er Goth­ic tem­ple that had pre­vi­ous­ly stood on the site. In the sec­ond half of the 18th cen­tu­ry, the then own­ers of the manor, An­dre­as Wil­helm von Grün­feld (d. 1765) and his wife Ju­lia­ne von Un­ruh (d. 1761), ar­ranged the fam­i­ly mau­so­leum here. To­day the church is not open to tour­ists, but ser­vices are held there (on Sun­days and hol­i­days). It can be viewed on­ly from the out­side: note the foun­da­tion plaque with the von Koul­has fam­i­ly coat of arms car­touche em­bed­ded above the main en­trance, the north­ern chapel with the tomb­stone of An­dreas von Grün­feld, and the me­dieval small chapel lo­cat­ed in the out­er wall. St. Hed­wig of Si­le­sia church stands to the right of the path lead­ing from the vil­lage to the cas­tle ru­ins (just be­hind the man­sion).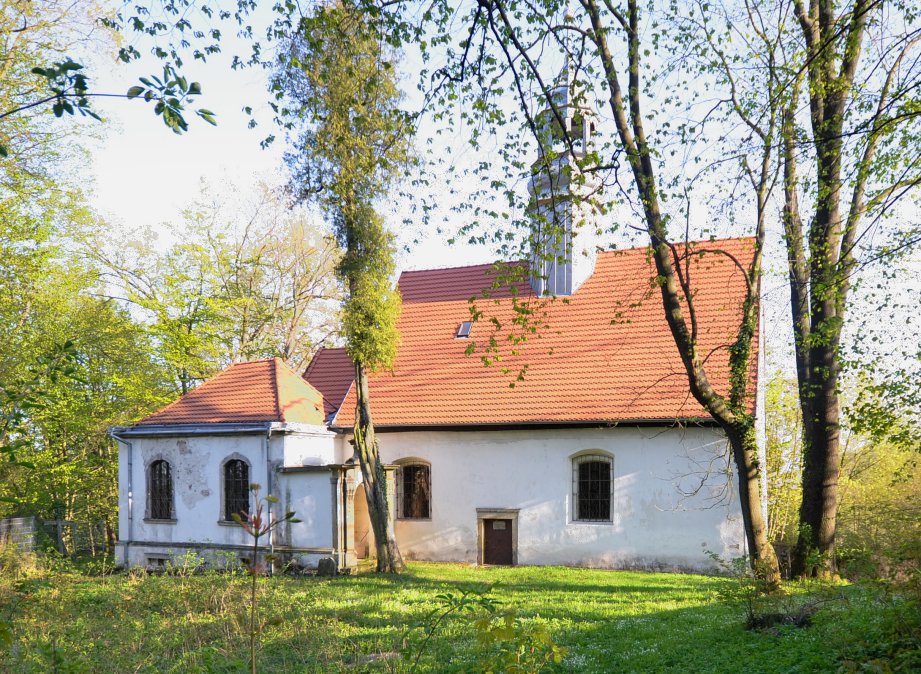 | | |
| --- | --- |
| | |
THE CHURCH OF ST. HEDWIG OF SLLESIA, IN THE PHOTOS BELOW WE CAN SEE A MEDIEVAL CHAPEL
AND THE FOUNDATION PLAQUE OF THE VON KOULHAS FAMILY
A
d­ja­cent to the church is a Baroque man­sion, built in the mid-17th cen­tu­ry by French army colonel Adam von Koul­has short­ly af­ter the cas­tle had been blown up by im­pe­ri­al troops. The ed­i­fice was sit­u­at­ed on the south­ern, gen­tle slope of Cas­tle Moun­tain and com­plete­ly stripped of de­fen­sive fea­tures. Cur­rent­ly, the man­sion com­plex hous­es a guest­house (in for­mer out­build­ing and brew­ery) and a charm­ing cafe (Ca­fe Len­no).
BAROQUE MANSION, MAIN ENTRANCE
VIEW OF THE MANOR FARM BUILDINGS
INTERIOR OF THE SECOND FLOOR DURING RENOVATION (2013)
---
W
leń is a small town lo­cat­ed about 20 km north of Je­le­nia Gó­ra. The cas­tle ris­es on a hill above the town, in the area of Łup­ki vil­lage. Ad­dress: Łup­ki 53.
| | |
| --- | --- |
| | We park the car by the road, near the man­sion, and then walk along a nar­row path pass­ing the re­mains of baroque gar­den (on the left), the man­sion (on the right), and then a church (on the right), be­hind which is a pre­serve with cas­tle ru­ins. |
| | |
| --- | --- |
| | Bi­cy­cles can be brought in­to the court­yard. |
---
1. M. Chorowska: Rezydencje średniowieczne na Śląsku, OFPWW 2003
2. M. Chorowska, P. Duma, M. Furmanek, M. Legut-Pintal, A. Łu­czak, J. Pie­kal­ski: Wleń jako miej­sce cen­tral­ne, Ar­che­olo­gia Hi­sto­ri­ca Po­lo­na tom 24, 2016
3. M. Chorowska: Zamek jako rezydencja książęca na Dolnym Śląsku...
4. M. Goliński: Dzieje zamku Wleń, UW 2017
5. G. Jaworski, K. Marcinkiewicz, J. Piekalski, S. Sie­mia­now­ska: Ba­da­nia zam­ku Wleń, Ślą­skie Spra­wo­zda­nia Ar­che­olo­gicz­ne tom 54, 2012
6. U. Junkier: Historische Nachrischten von der Burg Lehnhaus, C. W. J. Krahn 1825
7. L. Kajzer, J. Salm, S. Kołodziejski: Leksykon zamków w Polsce, Arkady 2001
8. J. Lamparska: Tajemnice, zamki, podziemia, Asia Press 1999
9. A. Łuczak, J. Piekalski: Rekonstrukcja form osadniczych na Górze Zamkowej, UW 2017
10.R. Łuczyński: Zamki, dwory i pałace w Sudetach, SWA 2008
11.K. R. Mazurski: O głośnej dyskusji teologicznej na Śląsku, Słowo i Myśli 2/1995
12.H. Ogonowski: Miasto i gmina Wleń, Oficyna Wydawnicza ATUT 2012
13.A. Wagner: Murowane budowle obronne w Polsce X-XVIIw., Bellona 2019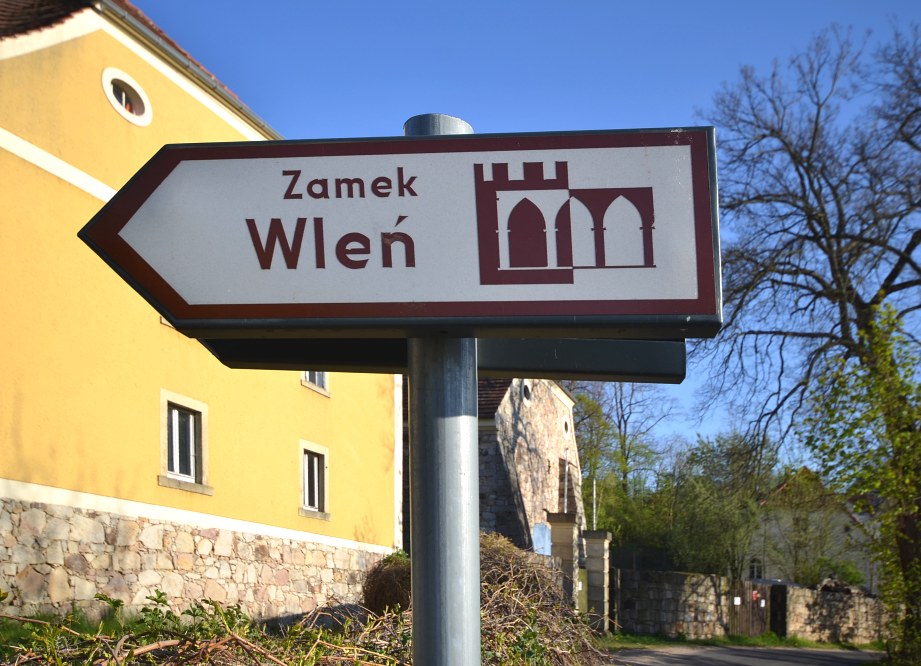 Castles nearby:
Siedlęcin - residential tower from the 14th century, 15 km
Płakowice - Renaissance castle from the 16th century, 18 km
Dziwiszów - Renaissance castle from the 16th century, 19 km
Rakowice Wielkie - two residential towers from the 15th/16th century, 19 km
Radłówka - castle ruins from the 16th century, 20 km
Sędziszowa - residential tower from the 14th/15th century, 22 km
Czarne - Renaissance defensive mansion from the 16th century, 24 km
Proszówka - ruins of Gothic castle Gryf from the 13th century, 24 km
Rybnica - Gothic castle ruin from the 14th century, 24 km
Stara Kamienica - castle ruin from the 16th century, 26 km
Stara Kraśnica - ruins of 16th century defensive manor house, 26 km
Rząsiny - relics of Podskale Castle from the 13th century, 28 km
Chojnik - ruins of ducal castle from the 14th century, 30 km
Gościszów - ruins of ducal castle from the 13th century, 30 km

text: 2023
photographs: 2005, 2008, 2013, 2020, 2022
© Jacek Bednarek