ŻMIGRÓD

Late Gothic residential tower
RUIN OF BAROQUE PALACE WITH XVI-CENTURY RESIDENTIAL TOWER
---
T
he old­est sur­viv­ing his­tor­i­cal ref­er­ence to Zu­ni­grod set­tle­ment comes from a bull is­sued by Pope Hadri­an IV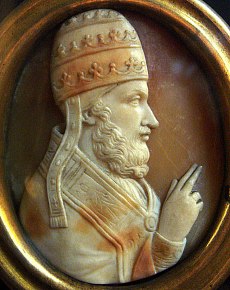 for the Bish­opric of Wro­cław in 1155, but there is no in­for­ma­tion in it about the cas­tle. It was first men­tioned in doc­u­ments at the end of the 13th cen­tu­ry, when a cer­tain Geb­hard owned or leased it. The wood­en cas­tle may have been erect­ed by the Wro­cław princes Bo­le­sław Ro­gat­ka (d. 1278) or Hen­ryk III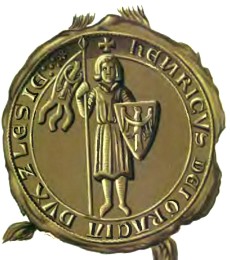 (d. 1266). It prob­a­bly served as a bor­der watch­tow­er and cus­toms cham­ber on the trade route lead­ing from Wro­cław to Poz­nań, and fur­ther to Po­me­ra­nia. In the vicin­i­ty of the cas­tle in 1253 Prince Hen­ryk III lo­cat­ed the town.
FRONT ELEVATION OF THE PALACE
I
n 1296 Żmi­gród was in­cor­po­rat­ed in­to the Duchy of Gło­gów, and in 1312, af­ter the di­vi­sion of the state be­tween the sons of Hen­ryk III (d. 1309), it be­came part of the Ole­śni­ca prin­ci­pal­i­ty ruled by Kon­rad I (d. 1366). Pre­sum­ably, it was this sov­er­eign or his son Kon­rad II (d. 1403) who, on the site of the wood­en cas­tle, among the marsh­es and flood­plains of the Ba­rycz Riv­er, erect­ed a new strong­hold, with a tow­er and an oval stone wall.
The Ger­man name of the town, Tra­chen­berg, can be lit­er­al­ly trans­lat­ed as Drag­on Moun­tain. The Pol­ish name - Żmi­gród - that is, the town of the viper, and in Old Pol­ish - the town of the drag­on, means more or less the same thing. The town's coat of arms refers to it, de­pict­ing a tow­er through which a drag­on pass­es with its head fac­ing back and its front paw raised.
PALACE RUIN, VIEW FROM SOUTH AND EAST
A
f­ter the death of the last Pi­ast of Ole­śni­ca, Kon­rad X, in 1492, Żmi­gród be­came the prop­er­ty of the Czech King Vla­di­slav II. Jag­el­lon­ský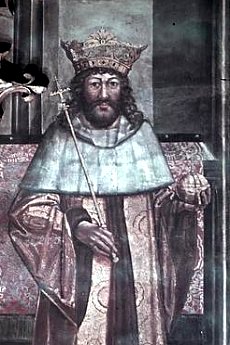 (d. 1516), who gave it, with Mi­licz and the sur­round­ing lands, on lease to the roy­al coun­sel­lor Si­gis­munt von Kurt­zbach
(d. 1513). Then, the es­tate was in­her­it­ed by his son Hein­rich von Kurt­zbach (d. 1533), and then by his grand­son Wil­helm (d. 1567), who around 1560 erect­ed a res­i­den­tial tow­er, which is now the old­est sur­viv­ing part of the 16th-cen­tu­ry man­sion.
PLAN OF TRACHENBERG FORTRESS DRAWN BY MATTHÄUS MERIAN IN 1660
W
hen Wil­helm von Kurt­zbach died, Żmi­gród came in­to pos­ses­sion of his son Hein­rich (d. 1618), who sold it in 1592 for 192,000 thalers to Adam von Schaff­gotsch (d. 1603). Adam's cousin, Cas­par von Schaff­gotsch (d. 1618) be­came the next hold­er of the town, fol­lowed by Cas­par's nephew, cav­al­ry gen­er­al Hans Ul­rich von Schaff­gotsch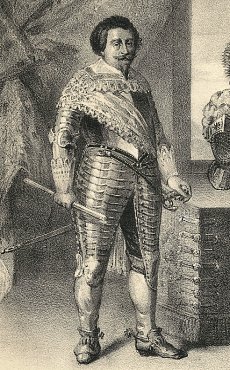 (d. 1635), owner of cas­tles Choj­nik
and Grodzt­wo in Ka­mien­na Gó­ra
. In 1635 Hans was ar­rest­ed for high trea­son (and soon ex­e­cut­ed), and his es­tates, among them Żmi­gród, came un­der state ad­min­is­tra­tion. Short­ly there­after (1642), the cas­tle was cap­tured by Swedish troops, who were sta­tioned there un­til 1650, us­ing it as a base for fur­ther con­quests of Si­le­sia. At that time the Swedes ex­tend­ed the Goth­ic tow­er by one sto­ry - from then on it is called the Swedish tow­er.
THE TOWN AND THE PALACE IN FRIEDRICH BERNHARD WERNER'S ENGRAVINGS FROM THE MIDDLE OF THE XVIII CENTURY
E
ven be­fore the Swedes en­tered Żmi­gród, Em­per­or Fer­di­nand III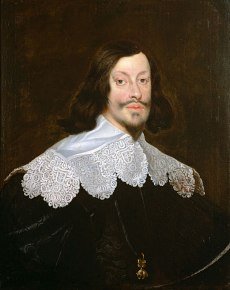 hand­ed o­ver the Tra­chen­berg es­tate to Aus­tri­an Field Mar­shal, Count Mel­chior von Hat­zfeldt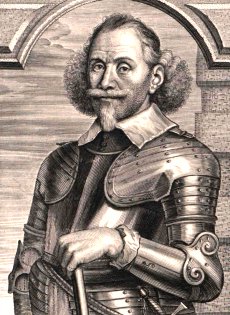 (d. 1658), who erect­ed half-tim­bered build­ings with­in the cas­tle. Af­ter his death in 1658 the prop­er­ty passed in­to the hands of his broth­er Her­mann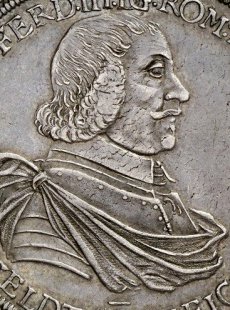 (d. 1677) and sis­ter Lu­cia (d. 1670), and then - by court de­ci­sion - it was in­her­it­ed by Hein­rich von Hat­zfeldt, son of Her­mann and Ma­ria Ka­tha­ri­na de do­mo von Dal­berg. Short­ly there­after, Hein­rich built the St. George's palace chapel, de­signed by Ital­ian ar­chi­tects Car­lo and Do­me­ni­co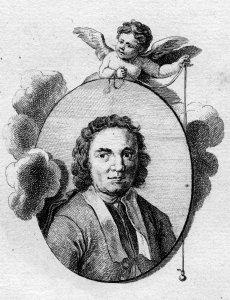 Ros­si. Its con­struc­tion was com­plet­ed in 1683, the same year its founder died.
RUIN OF THE PALACE CHAPEL (IN BACKGROUND) FOUNDED BY HEINRICH VON HATZFELDT
PHOTO SHOWING THE INTERIOR OF THE CHAPEL BEFORE ITS DESTRUCTION
H
ein­rich's son, Franz von Hat­zfeldt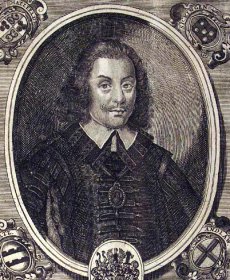 (d. 1738) in 1708 be­gan a ma­jor trans­for­ma­tion of the cas­tle in­to a Bar­oque palace, built ac­cord­ing to a plan by im­pe­ri­al mas­ter builder Chris­to­pher Hack­n­er. The new res­i­dence con­sist­ed of three wings cov­ered by a man­sard roof with a tur­ret, and its in­te­ri­ors housed a mag­nif­i­cent ball­room, the prince's chan­cellery and liv­ing rooms, whose decor was not in­fe­ri­or to the most el­e­gant aris­to­crat­ic hous­es in Si­le­sia. Franz's son, Franz Phi­lipp Ad­rian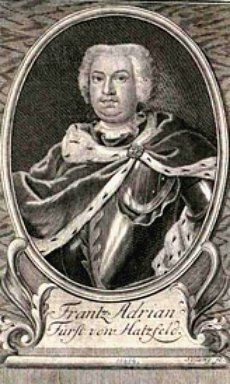 (d. 1779), who ti­tled him­self Prince of the Re­ich (Fürst von Hatzfeldt-Gle­ichen-Tra­chen­berg), mar­ried Prin­cess Bern­hardi­na Ma­rie The­re­se Char­lot­te von Schön­born (d. 1780) in 1763, a rep­re­sen­ta­tive of an in­flu­en­tial fam­i­ly fa­mous for its great wealth and lav­ish res­i­dences. The mar­riage be­came the im­pe­tus for an­oth­er ex­pan­sion of the palace. In 1762-65, so the French ar­chi­tect Isi­dor Ga­ne­va­le and Carl Gott­hard Lang­hans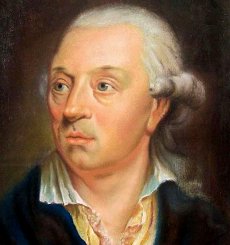 (cre­ator of the Bran­den­burg Gate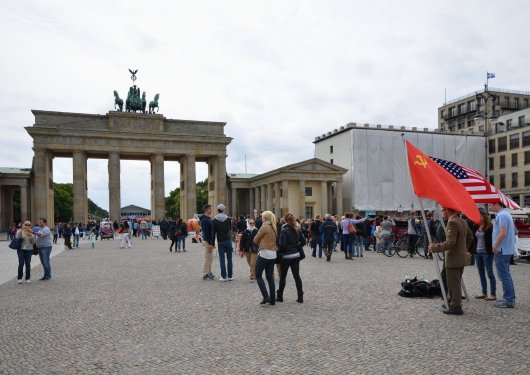 in Berlin), erect­ed a mag­nif­i­cent south wing, mea­sur­ing 96 me­ters in length.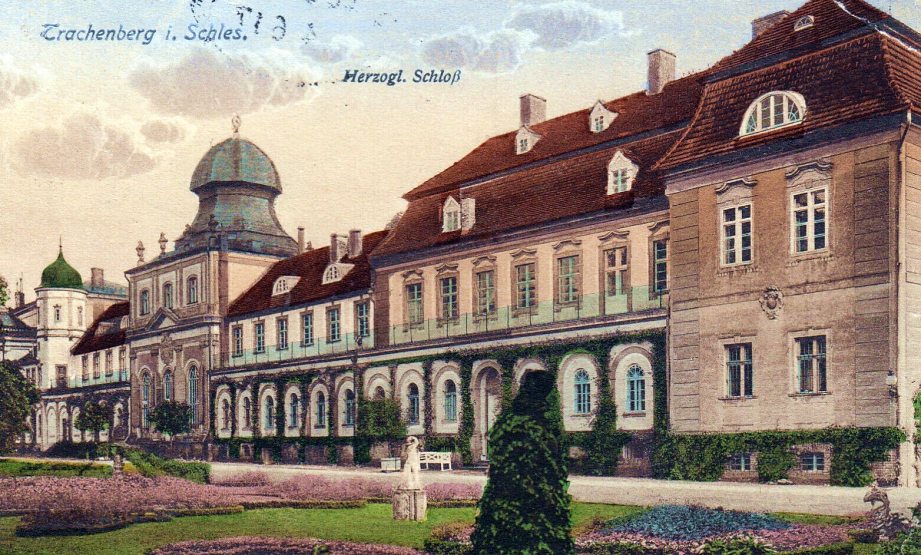 MAGNIFICENT SOUTH WING BUILT BY FRANZ PHILLIP VON HATZFELDT IN 1762-65
THIS WING WAS DEMOLISHED IN THE 1970S, AND IN ITS PLACE AN OPENWORK STRUCTURE WAS ERECTED
P
rince Franz Philipp Adri­an von Hatz­feldt owned vast es­tates in­clud­ing the towns of Żmi­gród and Pru­si­ce, as well as 40 vil­lages, 29 manors, large ar­eas of for­est and sev­er­al lakes. His wealth, how­ev­er, did not pro­tect him from ar­rest by the Rus­sians, who im­pris­oned him in the To­ruń fort­ress in 1758 and re­leased on­ly two years lat­er af­ter they had re­ceived a ran­som. Franz Philipp's son, Karl Franz Ca­je­tan, died of tu­ber­cu­lo­sis at the age of just 21. With his heir­less death in 1794, the Żmi­gród fam­i­ly line of the Dukes von Hatz­feldt ex­pired, and its es­tate be­came the sub­ject of lengthy lit­i­ga­tion be­tween the Schön­born fam­i­ly and Re­ich Count Franz Lud­wig von Hatz­feldt-Wer­ther-Schön­stein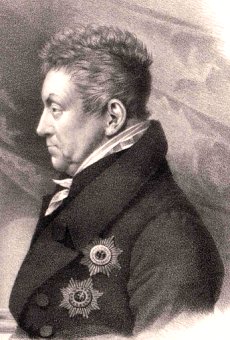 (d. 1827). Even­tu­al­ly the law­suit o­ver the in­her­i­tance was won by Count von Hatz­feld and he took it o­ver in 1802.
LITHOGRAPHY BY FERDINAND PAZELT FROM THE MID 19TH CENTURY
PALACE AND TOWER ON A POSTCARD FROM THE EARLY 20TH CENTURY
In Ju­ly 1813, Żmi­gród host­ed i.a. Rus­sian Tsar Alex­an­der I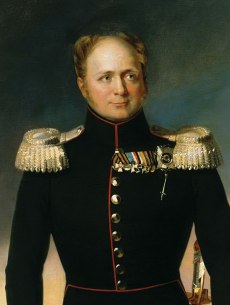 , King Frie­drich Wil­helm III of Prus­sia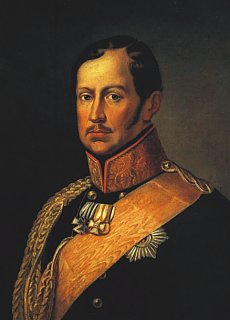 , the heir to the Swedish throne Karl Jo­han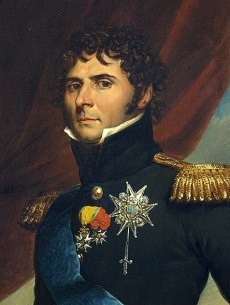 and En­glish en­voy Lord William Cart­hart. They met here to joint­ly set up a plan to de­feat Na­po­leon Bo­na­par­te, which even­tu­al­ly took the form of a six-point doc­u­ment called the Tra­chen­berg Pro­to­koll. It was solemn­ly signed in the Great Hall of the Żmi­gród palace.

The Żmi­gród Agree­ment was in­stru­men­tal in de­feat­ing French troops at the Bat­tle of Leip­zig in Oc­to­ber 1813 and the sub­se­quent down­fall of Na­po­leon Bo­na­par­te.

It is in­ter­est­ing to note that dur­ing the monar­chs' stay in Żmi­gród its then own­er, Franz Lud­wig von Hatz­feld, had to leave the res­i­dence due to ill­ness, and for the du­ra­tion of his ab­sence the guests were looked af­ter by his wife, Prin­cess Frie­de­ri­ke Ka­ro­line von Hatz­feld de do­mo von Schlu­nen­burg-Kehn­ert (d. 1832).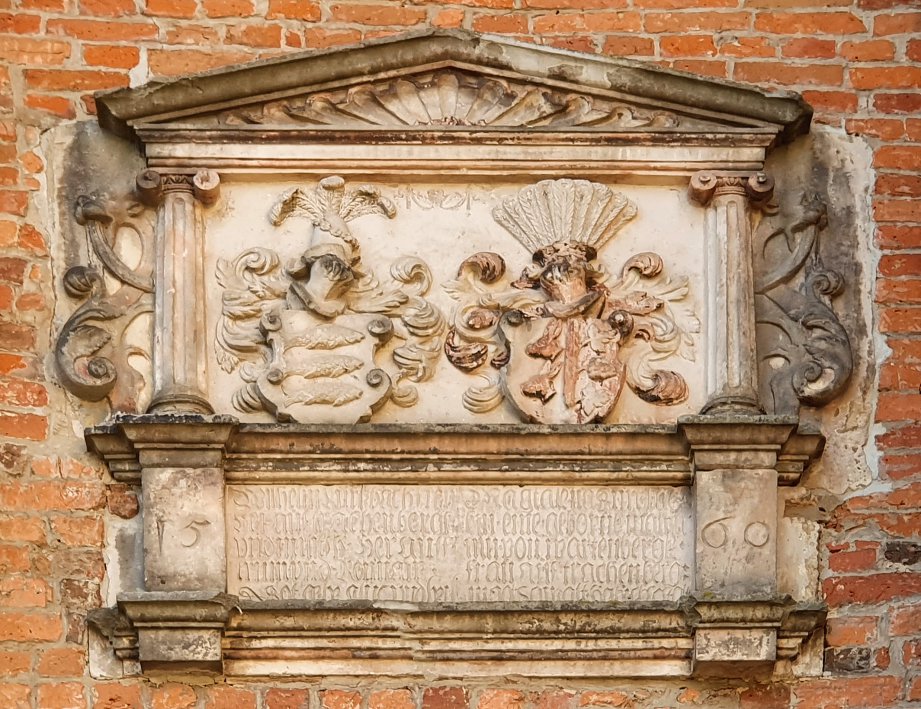 COAT OF ARMS CARTOUCHE OF THE VON KURTZBACH FAMILY WITH THE DATE OF CONSTRUCTION OF THE TOWER (1560)
COAT OF ARMS CARTOUCHE OF THE VON HATZFELDT FAMILY ON THE PALACE FACADE
I
n 1827, Lud­wig von Hatzfeld died of pneu­mo­nia. His heir was Her­mann I An­ton Fürst von Hatz­feldt Her­zog von Tra­chen­berg (d. 1874), a mem­ber of the Or­der of Mal­ta and an po­lit­i­cal ac­tivist. Sub­se­quent­ly, the Żmi­gród es­tate passed to the son of Her­mann and Marie de do­mo von Nimptsch (d. 1897), Her­mann II Fürst von Hatz­feldt Her­zog von Tra­chen­berg
(d. 1933). Short­ly af­ter tak­ing o­ver the palace, Her­mann II built a res­i­den­tial wing and gave its façade a Neo-Re­nais­sance dé­cor. The last pre-war own­er of the large Si­le­sian do­main was Her­mann III Fürst von Hatz­feldt-Tra­chen­berg (d. 1959), son of Her­mann II and Na­tal­ie de do­mo von Benck­en­dorff (1931). Al­though he planned to re­build the man­sion as well, these plans were thwart­ed by the out­break of World War II.
INTERIORS OF THE ŻMIGRÓD PALACE DURING THE LIFETIME OF HERMANN II VON HATZFELDT (1920S)
A
n­tic­i­pat­ing the de­feat of Ger­many, as ear­ly as Au­gust 1944 Her­mann III trans­port­ed the most valu­able fur­nish­ings of the palace to his an­ces­tral cas­tle of Crot­torf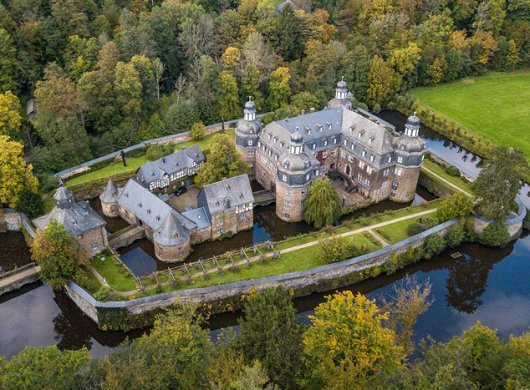 in Rhine­land-Pa­la­ti­nate. How­ev­er, he and his fam­i­ly did not leave Żmi­gród un­til Jan­uary 20, 1945, and (he) nev­er re­turned here again. Three days lat­er, So­vi­et ar­mored troops took o­ver the town, and al­though the palace was not yet de­stroyed at the time, it turned in­to a ru­in soon by fire, which the So­vi­ets set up out of sheer re­venge or on­ly for fun. From then on, the ru­in stood aban­doned and in­creas­ing­ly ne­glect­ed, and in the 1970s its south­ern wing was de­mol­ished due to the threat of col­lapse. It was not un­til 2007-2012, thanks to EU funds, that re­mains of the palace un­der­went re­sto­ra­tion, the tow­er was ren­o­vat­ed, and the palace park was re­vi­tal­ized.
PALACE FACADE BEFORE (2002) AND AFTER (2021) REVITALIZATION
In Septem­ber 2008, Hu­ber­ta von Hatz­feldt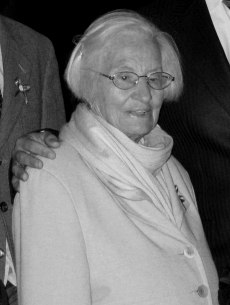 (d. 2014), then the 93-year-old daugh­ter of the last pre-war own­er of the palace, Her­mann III Fürst von Hatz­feldt-Tra­chen­berg, at­tend­ed the cel­e­bra­tions mark­ing the com­ple­tion of the first stage of the park-palace com­plex's re­vi­tal­iza­tion. Dur­ing her stay in Żmi­gród, she was ac­com­pa­nied by her fam­i­ly: nephew Se­ba­stian von Hatz­feldt
, sis­ter-in-law, Duchess So­phie von Hatz­feldt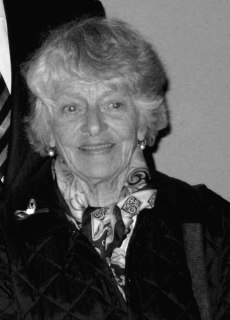 (d. 2013) and their chil­dren.
ELEVATION OF THE EAST WING AS SEEN FROM THE TERRACE IN THE TOWER
DESCRIPTION OF THE CASTLE
T
he me­dieval cas­tle was lo­cat­ed among the marsh­es and flood­plains of the Ba­rycz Riv­er. It con­sist­ed of some build­ings sur­round­ed by an oval-shaped wall and a moat, as well as a quadri­lat­er­al tow­er in the north­ern part and a gate tow­er in­te­grat­ed in­to the south­ern seg­ment of the walls. Pre­sum­ably, the cas­tle build­ings were erect­ed in a half-tim­bered con­struc­tion. No rem­nants of this foun­da­tion have sur­vived to the pre­sent day.
PLAN OF THE MEDIEVAL CASTLE ON THE BACKGROUND OF THE BAROQUE PALACE
KURT BIMLER: "DIE SCHLESISCHEN MASSIVEN WEHRBAUTEN", 1942
PLAN OF THE ŻMIGRÓD PALACE: 1. TOWER, 2. NORTH WING, 3. CHAPEL, 4. EAST WING,
5. SOUTH WING (NOT EXISTING), 6. PALACE COURTYARD, 7. OAK - VETERAN TREE
T
he stone and brick tow­er, which still ex­ists to­day, was erect­ed in 1560 on the ini­tia­tive of Wil­helm von Kurtzbach, as we are re­mind­ed by a plaque em­bed­ded in its fa­cade de­pict­ing the Kurtzbach fam­i­ly coat of arms and the date of com­ple­tion. Cur­rent­ly, it is a four-sto­ry quad­ran­gu­lar build­ing with a spi­ral stair­case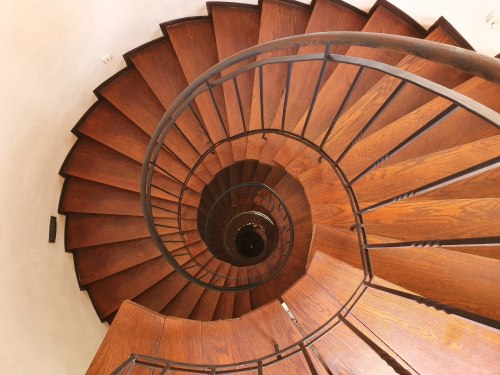 , al­though it orig­i­nal­ly had on­ly two sto­ries. The next floors were built by the Swedes (in 1642) and by the then-own­er Friedrich Her­mann I von Hatzfeldt (in 1837). Prince von Hatzfeldt al­so added the afore­men­tioned stair­case, and re­placed the hipped roof with a flat roof and a pseu­do-Goth­ic crenel­la­tion
.
TOWER IN 1800 ON LEISNER'S ENGRAVING
COPPERPLATE ENGRAVING BY FRIEDRICH GOTTLOB ENDLER, 1803
T
he tow­er was built on a quadri­lat­er­al plan with sides of 10.4x10.8 me­ters. It has a sin­gle-space lay­out, i.e. each floor is oc­cu­pied by on­ly one large room (the ex­cep­tion is the apart­ment on the third floor). Its base­ment and ground floor are cov­ered with bar­rel vaults, while the up­per floors have wood­en ceil­ings. The aus­tere brick fa­cades of the tow­er are en­riched with dec­o­ra­tive slen­der blends, the afore­men­tioned coat of arms and com­mem­o­ra­tive plaque.
| | |
| --- | --- |
| | |
---
U
n­til re­cent­ly, both the palace and the ad­ja­cent park were aban­doned and ne­glect­ed. It wasn't un­til 2007-2012 that the park and the palace ru­ins were re­vi­tal­ized at a cost of 2 mil­lion eu­ros, and the tow­er was ren­o­vat­ed. The re­vi­tal­iza­tion in­clud­ed the con­struc­tion of a mas­sive truss sup­port­ing the front wall, the restora­tion of the fa­cade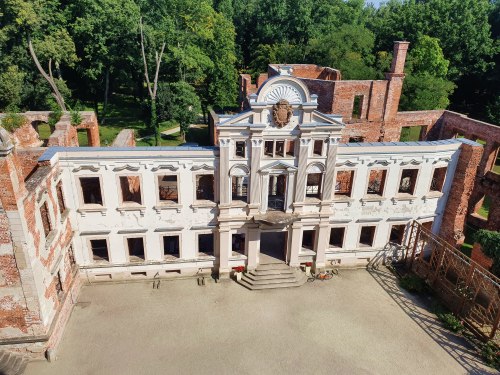 , the con­struc­tion of wood­en com­mu­ni­ca­tion plat­forms and a met­al struc­ture in place of the south wing (de­mol­ished in the 1970s). Pre­served ar­chi­tec­tural de­tails were al­so ex­posed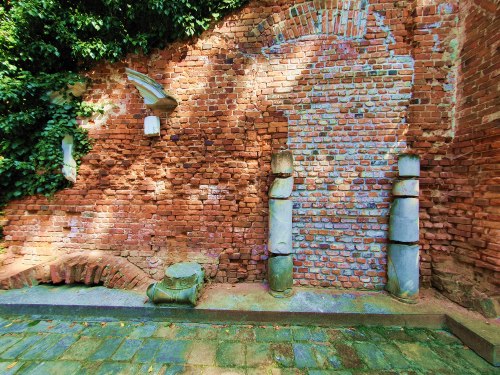 , and old pho­tographs de­pict­ing the ap­pear­ance of in­di­vid­u­al rooms, cham­bers and cor­ri­dors be­fore their de­struc­tion were placed on the sur­viv­ing walls of the palace.
TRUSS HOLDS UP FRONT WALL OF PALACE FROM COLLAPSE
T
he Goth­ic tow­er, af­ter ma­jor ren­o­va­tion, has be­come a tour­ist at­trac­tion and a venue for lo­cal cul­tur­al ini­tia­tives. One can vis­it all its floors: the base­ment, where a small his­tor­i­cal ex­hi­bi­tion has been placed, a con­fer­ence room on the first floor, a the­ater stage on the sec­ond floor, a ho­tel suite above, and an open view­ing ter­race. The ground floor of the build­ing is oc­cu­pied by the Tour­ist In­for­ma­tion Cen­ter.
TOWER CELLARS: HISTORICAL EXHIBITION
FIRST FLOOR OF THE TOWER: CONFERENCE ROOM
SECOND FLOOR OF THE TOWER: THEATER STAGE
THIRD FLOOR OF THE TOWER: HOTEL SUITE
T
he palace park is a com­bi­na­tion of an 18th-cen­tu­ry ge­o­met­ric gar­den and an En­glish-style land­scape park. In the past, a lin­den and chest­nut av­enue 1.5 kilo­me­ters long led to it from the town cen­ter. To­day it is dom­i­nat­ed by na­tive de­cid­u­ous species: oaks, beech­es, wil­lows, horn­beams, ash trees and red chest­nut trees, in­clud­ing the mon­u­men­tal Mel­chior pe­dun­cu­late oak and a sev­er­al-hun­dred-year-old ex­am­ple of an ex­ten­sive yew tree. Of par­tic­u­lar note, how­ev­er, are the orig­i­nal catal­pa trees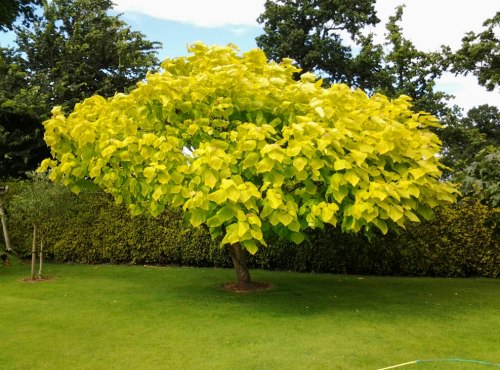 grow­ing in the park, known as cigar trees (UK) or In­di­an bean trees (USA).
DRIED CATALPA SHELLS TAKEN FROM THE ŻMIGRÓD PARK
T
he core of the park's com­po­si­tion con­sists of the palace ru­in and the tow­er, an is­land with two bridges, a park pavil­ion and a treil­lage, and a pic­nic clear­ing with a pier and a boat dock on the bank of one of the three pic­turesque ponds. It is com­ple­ment­ed by sculp­tures, an an­tique iron flag­pole and an 18th-cen­tu­ry or­angery (which un­for­tu­nate­ly re­mains in ru­ins).
| | |
| --- | --- |
| | Admission to the tower - paid. Ad­mis­sion to the park and the palace - free. |
| | |
| --- | --- |
| | Dogs in the park should be kept on a leash. |
| | |
| --- | --- |
| | It will take us at least 1.5-2 h to visit the in­ter­ior of the tow­er, walk through the ru­ins and tour the park. |
| | |
| --- | --- |
| | No restrictions for re­cre­atio­nal flights. |
VIEWING TERRACE ON THE TOP OF THE TOWER
NORTHERN PART OF THE RUINS
---
T
he palace and park com­plex is lo­cat­ed in the north­ern part of the town, on Par­ko­wa Street. It is 1.7 kilo­me­ters from the rail­way sta­tion to the ru­ins of the palace.
| | |
| --- | --- |
| | Free park­ing lot on Par­ko­wa Street. |
| | |
| --- | --- |
| | It is al­lowed to ride a bi­cy­cle around the park. |
PARKING LOT AT THE ENTRANCE TO THE PARK
Castles nearby:
Sułów - relics of a ducal castle from the 14th century, 22 km
Milicz - ruins of a ducal castle from the 14th/15th century, 30 km
Wołów - a ducal castle from the 14th century, rebuilt, 31 km
Uraz - ruins of a knight's castle from the 13th/14th century, 35 km
Góra - relics of a castle from the 14th/15th century, 38 km
Czernina - ruins of a nobleman's castle from the 15th-17th centuries, 40 km
Rydzyna - a baroque castle from the 15th-17th centuries, 41 km
Wojnowice - a renaissance castle from the 16th century, 48 km
Twardogóra - a fortified manor house from the 16th century, now a palace, 50 km

text: 2022
photographs: 2002, 2011, 2021
© Jacek Bednarek