WAŁBRZYCH

Książ castle
VIEW OF THE CASTLE FROM THE EAST, IN THE FOREGROUND, STATUES OF ARTEMIS AND APOLLO
AND ONE OF THE LIONS GUARDING THE ENTRANCE TO THE COURT OF HONOR
---
T
he Fürsten­berg strong­hold is be­lieved to have been erect­ed around 1290 by Prince Bol­ko of Świd­ni­ca-Ja­wor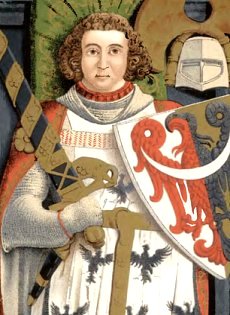 (d. 1301) to pro­tect the trade route lead­ing from Prague to Si­le­sia. It may have been built on the site of an old­er set­tle­ment, de­stroyed in the 1260s by troops of Czech King Pře­mysl Ota­kar II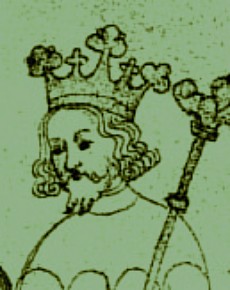 . The po­lit­i­cal and mil­i­tary sig­nif­i­cance of the cas­tle in­creased at the end of the 13th cen­tu­ry, when Bol­ko moved his court here from Lwó­wek Ślą­ski, and from then un­til 1392 Fürst­en­berg served as one of the two most im­por­tant cen­ters of ducal pow­er in the re­gion, along with Świd­ni­ca.
EASTERN ELEVATION OF THE CASTLE AT BEGINNING OF THE XX CENTURY
HISTORICAL NAMES OF THE CASTLE
1168 - castrum Fürstenstein, 1209 - Vorstinburg
1337 - Fürstenberg, 1346 - Furstinberg
1367 - Fürstinsteyn, 1515 - Fürstenstain
XIXth century - Fürstenstein, 1945 - Księżno, Książno
after 1947 - Książ
VIEW OF THE CASTLE FROM THE SOUTH
I
n the 14th cen­tu­ry, the stronghold was one of the links in the de­fense sys­tem of the duchy's bor­ders, which in­clud­ed cas­tles in Ci­sy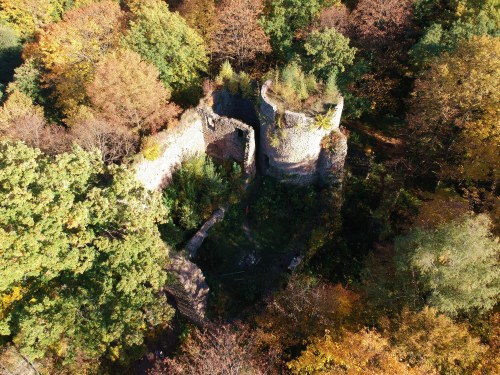 , Czar­ny Bór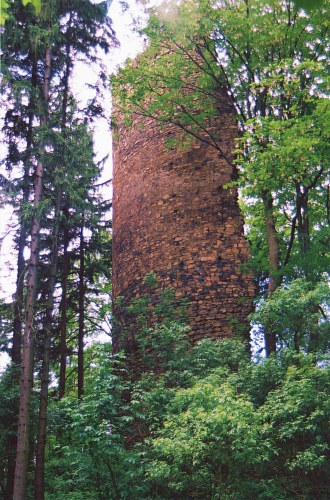 , Za­gó­rze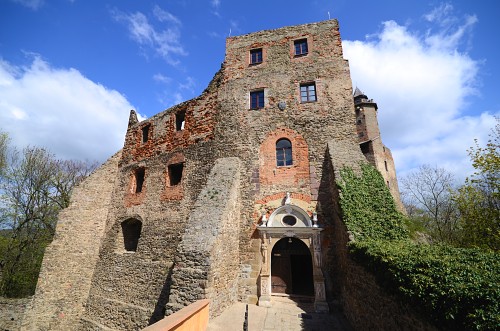 , Cho­cianów, Ryb­ni­ca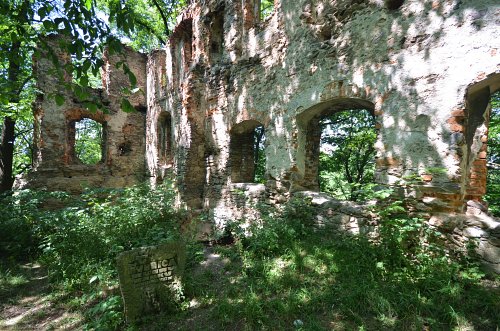 , Wleń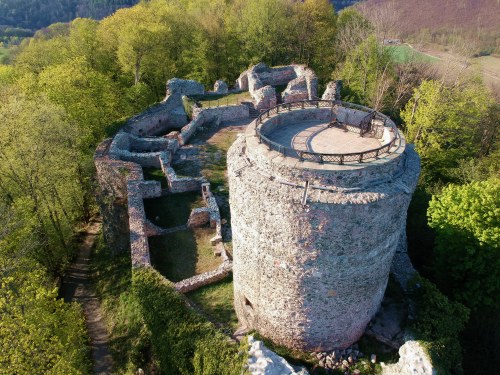 and Ka­mien­nna Gó­ra
. It was ex­pand­ed to some ex­tent by the next ruler of these lands, Bol­ko II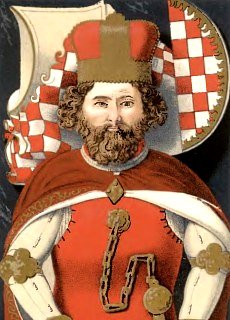 , but the scope of this ex­pan­sion re­mains un­known to us. Af­ter Bol­ko's heir­less death in 1368, Książ came un­der the rule of King Charles IV of Lux­em­bourg of Bo­he­mia
(d. 1378), with the stip­u­la­tion that the duke's wid­ow, Ag­nes von Hab­sburg, would reign there un­til her death. When Agnes died in 1392, the Czech king gave the cas­tle as a fief to the Si­le­sian knights. Among oth­ers, from 1401 it was leased by Jan of Cho­tě­míc (d. af­ter 1442), then by his son, Jan the Younger (d. 1447), and then by Jan's el­dest daugh­ter, who brought Książ as a fief to her hus­band Her­man Czet­tritz (d. 1454). Dur­ing the Hus­site wars Czet­tritz took ad­van­tage of the po­lit­i­cal tur­moil to en­gage in rob­bery, for which he was cursed by the bish­op of Wro­cław.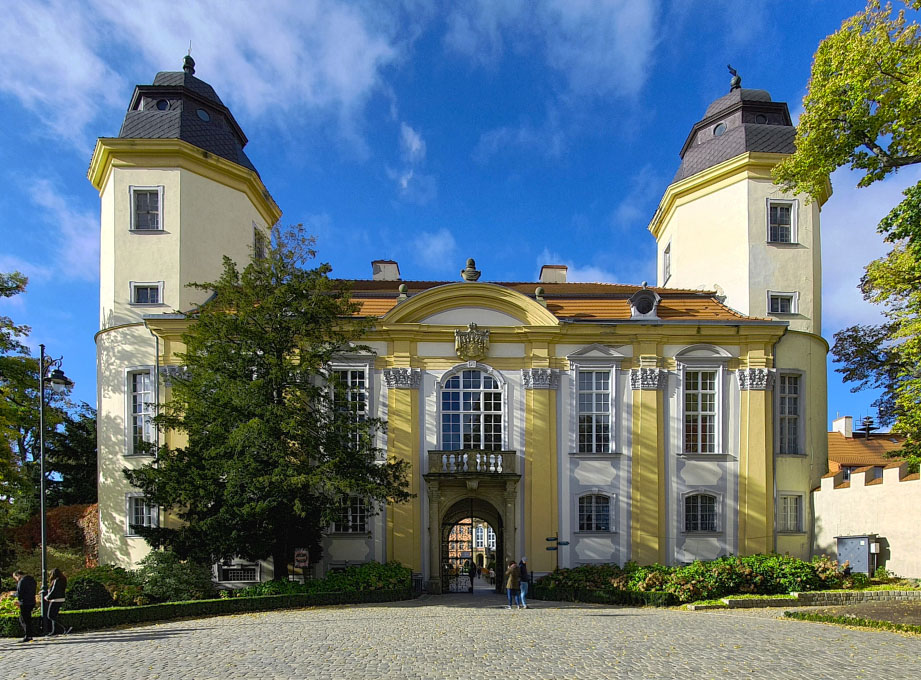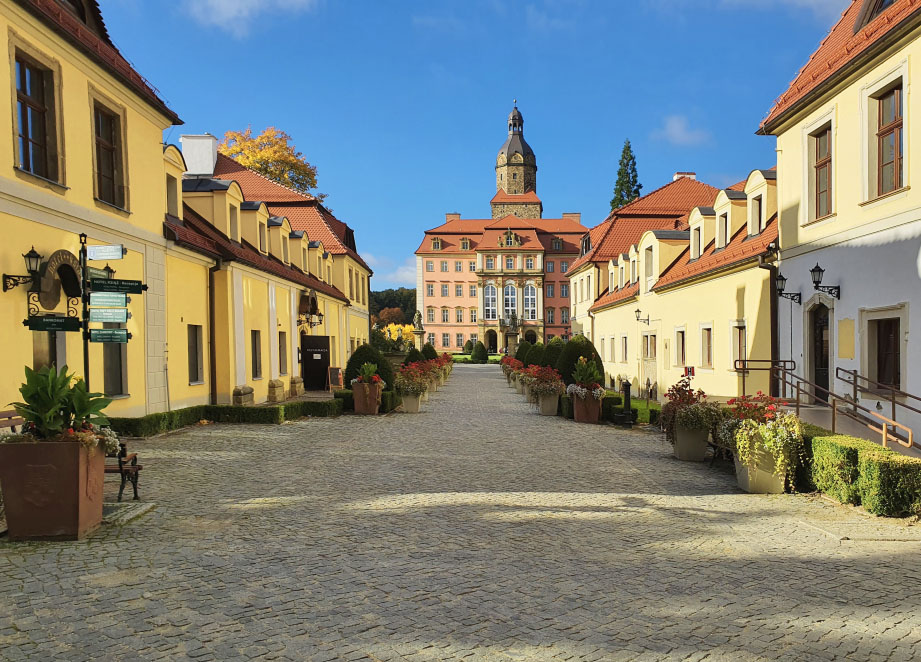 GATE BUILDING AND OUTHOUSES AT THE LOWER CASTLE
A
f­ter Her­man Czet­tritz's death, Książ came un­der the ad­min­is­tra­tion of his son Hans Czet­tritz. In 1463, prob­a­bly by force, the cas­tle was seized by King Jiří z Kun­štá­tu a Po­dě­brad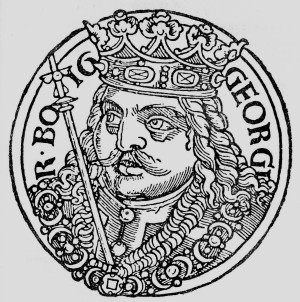 (d. 1471), who set­tled there one of his of­fi­cers named Birk von Nas­si­del. The lat­ter soon sold or leased the cas­tle to broth­ers Nick­las and Hans von Schel­len­dorf, who, as sup­port­ers of the Bo­hemi­an kings in 1477, suc­cess­ful­ly com­mand­ed its de­fense dur­ing the siege by the Hun­gar­ian army of Matthias Cor­vi­nus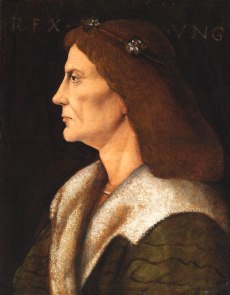 and al­lied mer­ce­nary troops paid by the city of Wro­cław. How­ev­er, the Hun­gar­ians did not con­quer Książ un­til 1482. Al­ready un­der their rule, on the ini­tia­tive of the then star­ost Ge­org von Stein (d. 1497), the strong­hold was ex­pand­ed (1483-90). A south­ern Re­nais­sance wing, called Mat­thias' Wing in hon­or of the Hun­gar­ian ruler, was built then.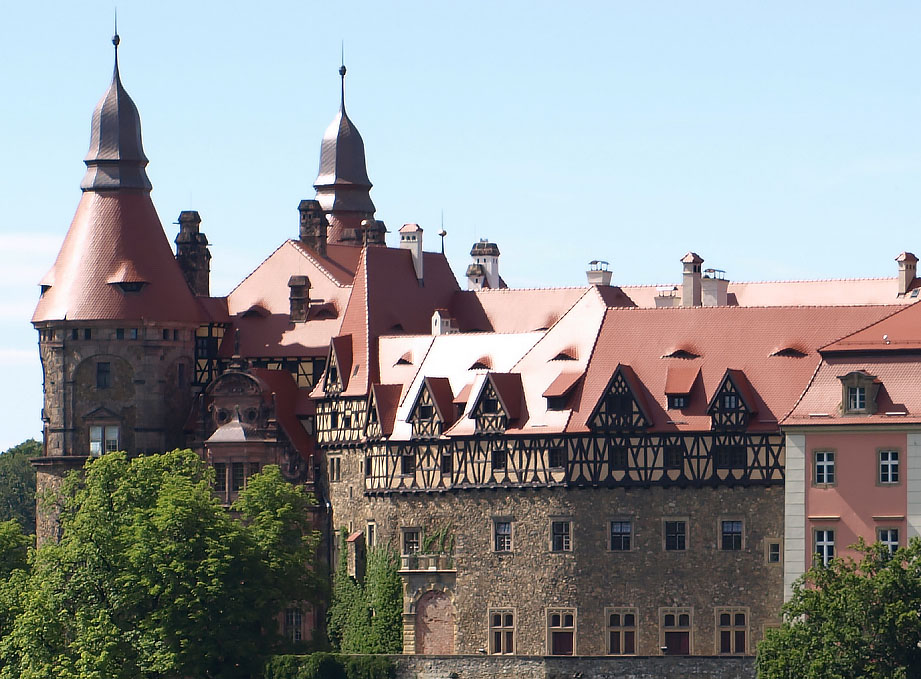 A FRAGMENT OF THE SOUTH ELEVATION OF THE CASTLE, THE UNPLASTERED PART WITH A HALF-TIMBERED ATTIC IS THE MATTHIAS WING
The 14th-cen­tu­ry cas­tle con­sist­ed of two res­i­den­tial wings and a low tow­er in the up­per part, while its low­er part con­sist­ed of a gate­house, two se­mi-cylin­dri­cal tow­ers and de­fen­sive walls with ram­parts and a moat. From the old­est pe­ri­od of its ex­is­tence comes the south­ern part of the pre­sent com­plex with the so-called Long House, where cra­dle vaults have been pre­served, as well as the Goth­ic main tow­er, nowa­days about sev­en­teen me­ters high­er than it was orig­i­nal­ly.
PLAN OF THE MEDIEVAL CASTLE (BLACK COLOR) AGAINST THE BACKGROUND OF THE LATER BUILDINGS
UNNAMED COURTYARD FORMED DURING THE 20TH CENTURY EXPANSION OF THE CASTLE,
ON THE LEFT WE CAN SEE WALLS FROM THE 13TH CENTURY, ON THE RIGHT HOUSING FROM THE 20TH CENTURY
IN THE LOWER PART OF THE PHOTO, PROBABLY THE REMAINS OF A MEDIEVAL BRIDGE LEADING TO THE CASTLE
A
f­ter the death of Matthias Corv­i­nus in 1491, Książ passed in­to the hands of the Czech king Vladislav II Jag­el­lon­ský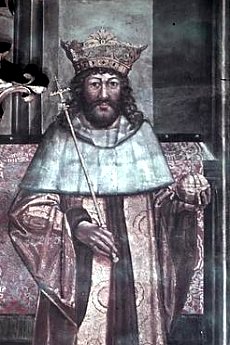 (d. 1516), on whose be­half it was ad­min­is­tered by a cer­tain Hans Vol­ger. In 1497 the cas­tle, for 600,000 Prague grosh­es, be­came the pri­vate prop­er­ty of Chan­cel­lor Jo­hann von Schel­len­berg (d. 1508). Jo­hann's son and heir, Georg von Schel­len­berg (d. 1526) made a trans­ac­tion with Pe­ter von Haug­witz in 1503, giv­ing him these lands in ex­change for Głubczyce. Five years lat­er the es­tate was in­her­it­ed by Jo­hann von Haug­witz, but as ear­ly as 1509 he sold it, along with the cas­tles of Ro­gowiec, Ra­dos­no and the town of Świebodz­ice, to an of­fi­cial of the Duke of Świd­ni­ca, Con­rad I von Hoberg of Roz­to­ka (d. 1520), al­so for 600,000 Prague grosh­es. From then on, for more than 430 years, Książ served as the head­quar­ters of the von Hoberg (Hochberg) fam­i­ly, one of the rich­est and most in­flu­en­tial Sile­sian and lat­er Ger­man fam­i­lies.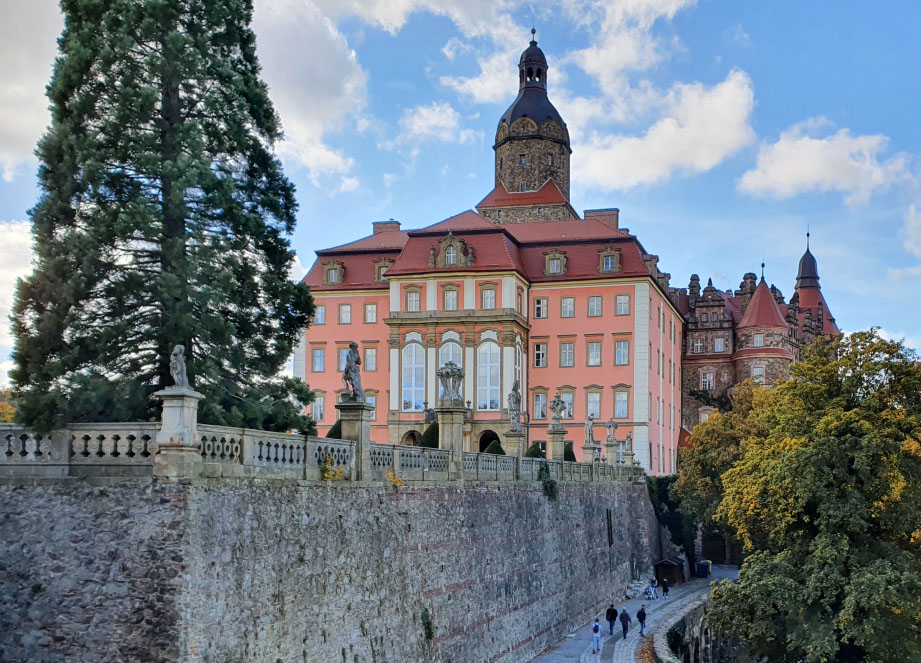 VIEW OF THE CASTLE FROM THE NORTHEAST
C
on­rad's son Christoph von Hoberg (d. 1535) in­creased the fam­i­ly es­tate with the me­dieval fortress of Grod­no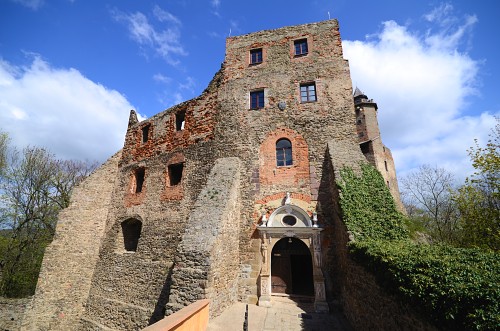 and be­gan the first ma­jor re­con­struc­tion of Książ Cas­tle, which was con­tin­ued by his son Con­rad II von Hoberg (d. 1565). His grand­son, Con­rad III von Hoberg (d. 1613), af­ter pay­ing off his fief debts of 72,000 thalers, re­ceived Książ from Em­per­or Rudolph II Hab­s­burg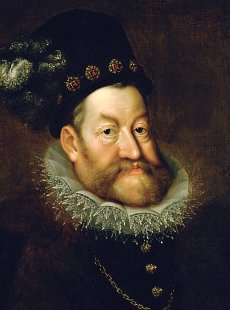 in 1605 as a free hered­i­tary prop­er­ty. From that pe­ri­od comes the first de­scrip­tion of the cas­tle pre­pared by the im­pe­ri­al com­mis­sion. We learn from it that the up­per cas­tle con­sist­ed of a square tow­er with two clocks, to which ad­joined a two-winged palace with a guest room and bed­room. The farm­yard housed sta­bles, a brew­ery, a black­smith shop, a coop­er's house and two baths. In the south­ern part, by walls, stood a cir­cu­lar tow­er with a prison dun­geon.
Just be­fore his death in 1613, Con­rad III or­dered six can­nons for a to­tal of 173 thalers, 17 pen­nies and 6 fenigs. He spent his old age alone, fo­cus­ing on his the­o­log­i­cal stud­ies and nat­u­ral sci­ences.
KSIĄŻ IN 1694 BY E. ZIVIER
SIMILAR VIEW, PRESENT DAY SHAPE
VON HOCHBERG
A no­ble fam­i­ly ar­rived from Meis­sen at the end of the 13th cen­tu­ry, first men­tioned - still as von Ho­berg - in Si­le­sian doc­u­ments from 1290. In the 15th cen­tu­ry, it di­vid­ed in­to lines: the no­ble line from Do­brocin near Dzier­żo­niów, the ba­ro­nial line from Bu­czek (ex­tinct), the count line from Książ near Wał­brzych and from Roz­to­ka near Ja­wor. From the count line arose the ducal line of Książ and Pszczy­na, whose full name is Fürst von Pless, Re­ichs­graf von Hoch­berg, Frei­herr Fürsten­stein. From the 17th cen­tu­ry on­ward, al­most all Hoch­berg male de­scen­dants were named Hans Hein­rich.
COAT OF ARMS CARTOUCHE OF THE HOCHBERG VON PLESS FAMILY AT THE ENTRANCE TO KSIĄŻ CASTLE
VON HOCHBERG ESTATES IN SILESIA, 1717
D
ur­ing the Thir­ty Years' War (1618-48), the cas­tle was cap­tured, plun­dered and dev­as­tat­ed sev­er­al times by Sax­on, Swedish and Im­pe­ri­al troops. For a time it served as the head­quar­ters of Im­pe­ri­al Gen­er­al Al­brecht von Wal­len­stein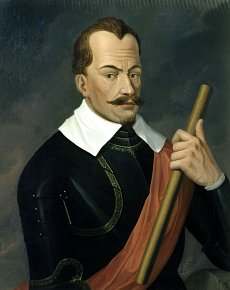 (d. 1634). Af­ter the end of that war (1648), Hans Hein­rich I
(d. 1671) de­mol­ished part of the cas­tle for­ti­fi­ca­tions, re­plac­ing them with French-style gar­den ter­races. Hans Hein­rich I re­ceived the ti­tle of baron in 1650 and hered­i­tary count in 1666, and in March 1683 the fam­i­ly was in­clud­ed in the hon­or­able cir­cle of counts of the Ger­man Re­ich. The first own­er of Książ to boast such a high so­cial rank was Hans Hein­rich II (d. 1698). Dur­ing his time, in­te­ri­ors and fa­cades of the cas­tle were giv­en Baroque decor.
VIEW OF THE CASTLE FROM THE SOUTH, 1719
EASTERN ELEVATION, FRIEDRICH BERNHARD WERNER "SCENOGRAPHIA URBIUM SILESIAE"
I
n 1718-34 Ernst Ma­xi­mi­lian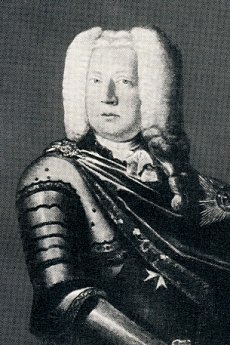 (d. 1742) trans­formed Książ in­to a mag­nif­i­cent aris­to­crat­ic palace res­i­dence. Un­der the su­per­vi­sion of promi­nent ar­chi­tects and ar­tists, a five-sto­ry ed­i­fice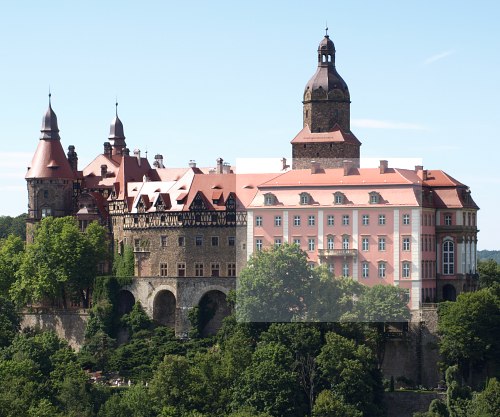 was built in the south­ern part of the cas­tle, as well as a four-sto­ry build­ing in its east­ern part, whose cen­tral place
was oc­cu­pied by a mag­nif­i­cent cham­ber known as Max­i­m­il­ian Hall. In ad­di­tion to this largest, most promi­nent cham­ber, Książ al­so re­ceived oth­er beau­ti­ful­ly dec­o­rat­ed in­te­ri­ors: Con­rad Hall, White Sa­lon, Green Sa­lon, Chi­nese Sa­lon, Bar­oque Sa­lon, Games Sa­lon and a rep­re­sen­ta­tive hall with mar­ble stair­case. The first ma­jor re­con­struc­tion of the cas­tle in­clud­ed the cre­ation of Court­yard of Hon­or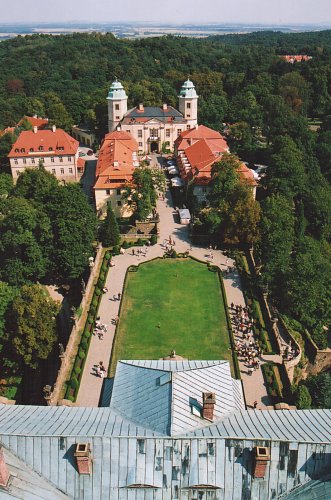 and an en­trance ax­is with a gate­house, a se­ries of out­build­ings and a bridge flanked by sculp­tures of li­ons hold­ing coat-of-arms car­touch­es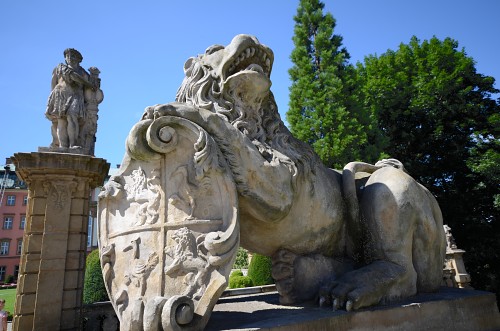 , as well as lan­terns and stat­ues styl­ized as al­le­gor­i­cal fig­ures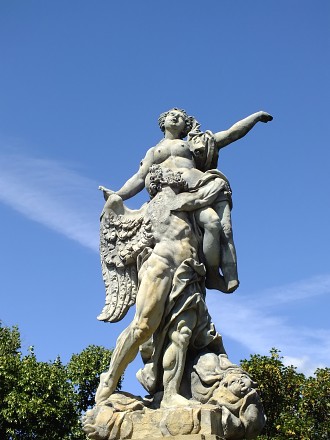 . On Pop­lar Hill a sum­mer pavil­ion was built, which in the 19th cen­tu­ry be­came the fam­i­ly mau­so­leum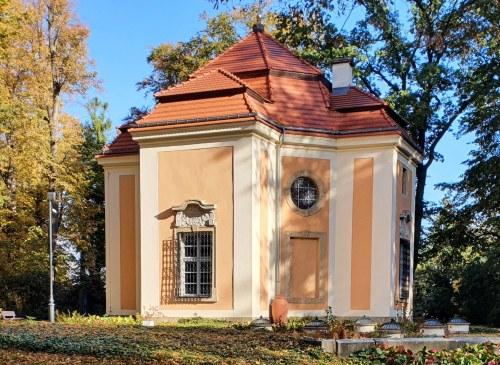 .
Ernst Max­i­m­il­ian was the first own­er of Książ, called von Hoch­berg. He added the phrase "ch" to his sur­name af­ter find­ing in­for­ma­tion in me­die­val doc­u­ments that would in­di­cate that such a spelling was used among the old­est rep­re­sen­ta­tives of the fam­i­ly.
KSIĄŻ AFTER THE FIRST MAJOR RECONSTRUCTION, FRIEDRICH BERNHARD WERNER "TOPOGRAPHIA SEU COMPENDIUM SILESIAE 1744-68"
W
hen Ernst Max­i­m­il­ian von Hochberg died, the es­tate was in­her­it­ed by Hein­rich Lud­wig, fol­lowed by Hans Hein­rich IV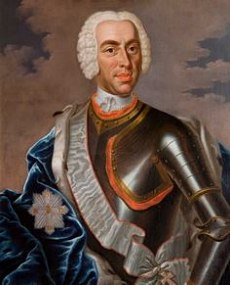 (d. 1758), and his son Hans Hein­rich V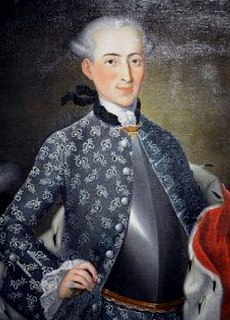 (d. 1782), who, by roy­al act of 1772, ob­tained for Książ the sta­tus of Fi­dei­ko­mis mean­ing the priv­i­lege of al­ways be­ing in­her­it­ed by the old­est male heir. Hans Hein­rich VI
(d. 1833) made some changes to the de­sign of the res­i­dence and its vicin­i­ty, in­clud­ing erect­ing ru­ins of a ro­man­tic cas­tle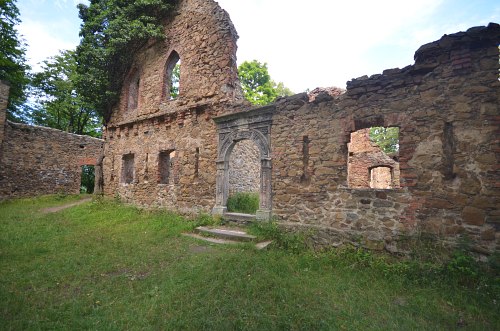 on a hill on the op­po­site side of Peł­czy­ca stream, where he placed a sum­mer inn and a gallery ex­hibit­ing fam­i­ly mem­o­ra­bil­ia. In the court­yard of Alte Burg, fam­i­ly cel­e­bra­tions and even "knight­ly con­tests" were held, among them a cer­e­mo­ni­al tour­na­ment or­ga­nized in 1800 on the oc­ca­sion of the vis­it to Książ of King Friedrich Wil­helm III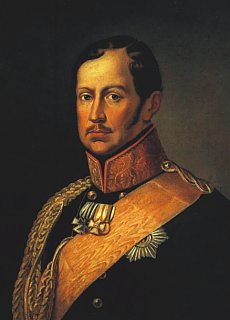 and his wife Luize Au­guste von Meck­len­burg-Stre­litz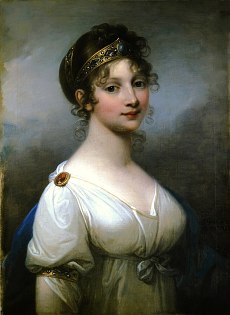 .
VIEW OF THE CASTLE FROM THE RUINS OF ALTE BURG, G. D. BERGER 1796
PANORAMA OF THE CASTLE FROM THE NORTH, FRIEDRICH GOTTLOB ENDLER 1808
T
hanks to the mar­riage of Hein­rich VI to Anna Emi­lie von An­halt Ko­then-Pless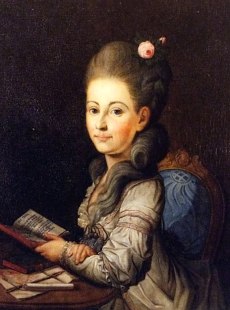 (d. 1830), the Hochberg es­tate in­creased to in­clude the Duchy of Pszczy­na, and the fam­i­ly line soon as­sumed the ti­tle of Dukes of Hochberg von Pless. While Hein­rich VI and An­na's son Hans Hein­rich X
(d. 1855) led the trans­for­ma­tion of the ma­jo­rate in­to Freie Standesh­errsachaft Fursten­stein and took a part in the po­lit­i­cal life of the Ger­man state, his wife Ida de do­mo von Ste­chow-Kotzen (d. 1843) was ac­tive as an or­ga­niz­er of char­i­ta­ble ac­tions aimed at im­prov­ing liv­ing con­di­tions of the lo­cal pop­u­la­tion. In her hon­or, the Ida-Stif­tung Foun­da­tion was es­tab­lished in the 1850s, with char­i­ty as its pri­ma­ry goal.
KSIĄŻ AS SEEN FROM A VANTAGE POINT ON THE OTHER SIDE OF THE PEŁCZNICA RAVINE, CARL THEODOR MATTIS 1827
VIEW FROM SOUTHEAST, 1839
A
f­ter Hein­rich X's death, the Pszczy­na and Książ es­tates were tak­en o­ver by Hans Hein­rich XI
(d. 1907), cav­al­ry gen­er­al and Im­pe­ri­al Grand Hunter, con­sid­ered the most re­mark­able fig­ure in the his­to­ry of the von Hochberg fam­i­ly. Mar­ried twice, first to Ma­rie von Kleist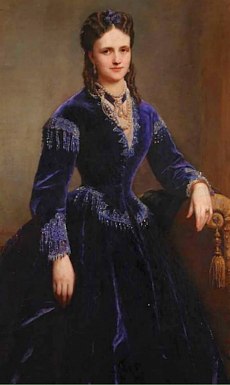 (d. 1883) and lat­er to Mathilde Ur­su­la zu Dohna-Schlo­bit­ten auf Kan­then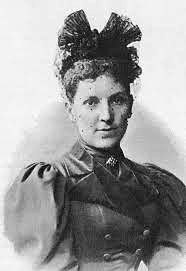 (d. 1943), he de­vot­ed most of his life to pur­su­ing his three pas­sions: pol­i­tics, hunt­ing and char­i­ty. As Grand Hunter, he pop­u­lar­ized the use of hunt­ing horn and pub­lished a col­lec­tion of all known hunt­ing sig­nals. Much more in­ter­est­ing than vain and cru­el hunt­ing was the prince's char­i­ta­ble ac­tiv­i­ty. On his ini­tia­tive, schools and kinder­gartens were es­tab­lished for em­ploy­ees of the prince­ly mines and their chil­dren, pen­sion in­sur­ance was or­ga­nized, and li­braries were fund­ed. In ad­di­tion, start­ing in 1900, ev­ery em­ploy­ee who had been in the duke's ser­vice for at least 25 years, re­ceived a sil­ver watch with a ded­i­ca­tion (transl.): For 25 years of faith­ful ser­vice, Prince von Pless. The em­ploy­ee could choose whether to re­ceive the gift or its equiv­a­lent in cash.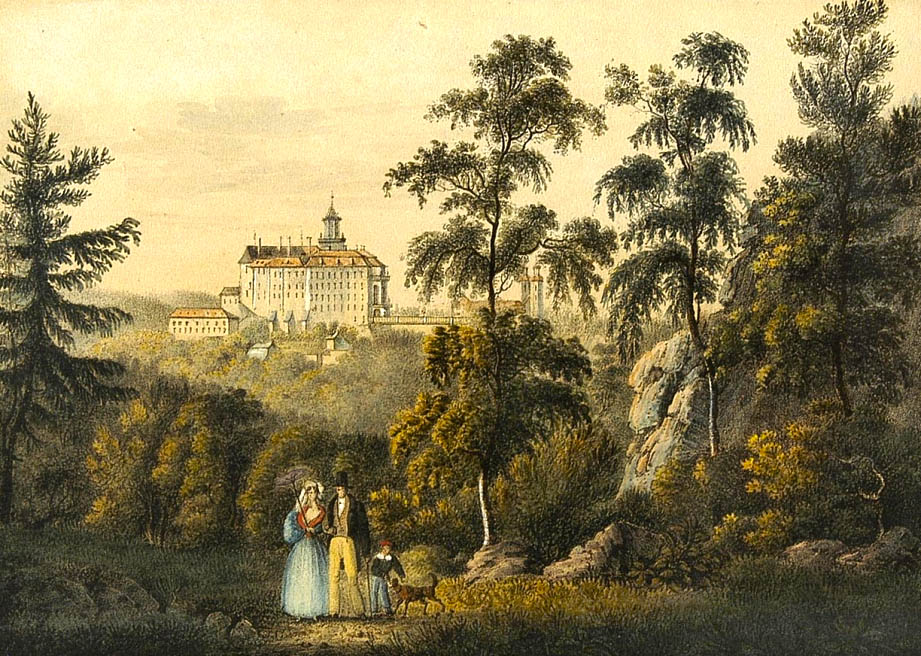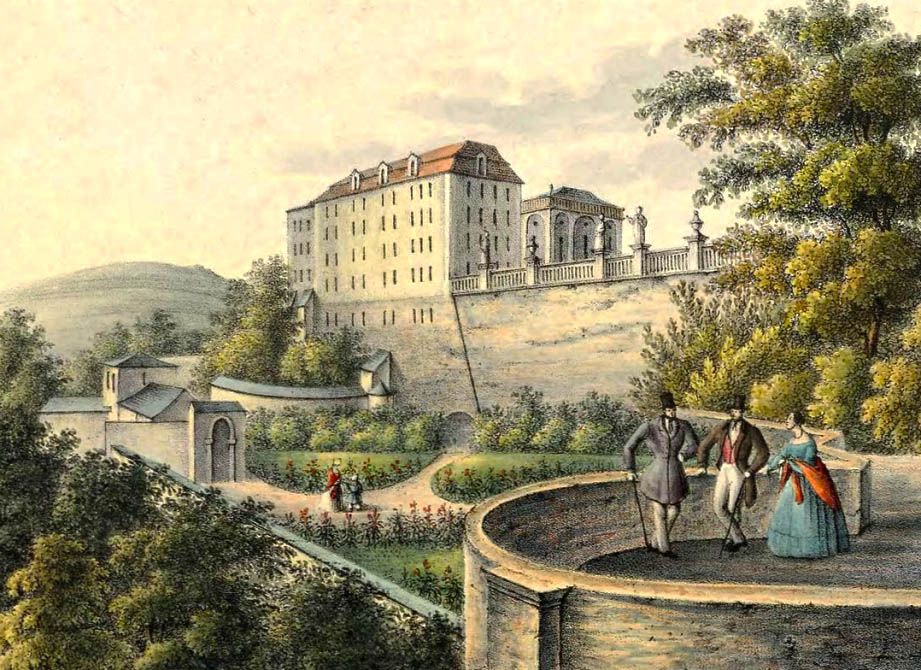 LITHOGRAPHS BY CARL THEODOR MATTIS FROM THE 1ST HALF OF THE XIXTH CENTURY
In the sec­ond half of the 19th cen­tu­ry, the von Hochbergs be­longed to the gi­ants of Ger­man fi­nance, rank­ing third in Ger­many and sev­enth in Eu­rope in terms of wealth. Their very high so­cial sta­tus and per­son­al ties with the most in­flu­en­tial peo­ple on the Eu­ro­pean con­ti­nent meant that cas­tle of­ten host­ed the aris­toc­ra­cy's elite, rulers and great politi­cians. Among those who came here were Ger­man Em­per­ors Wil­helm I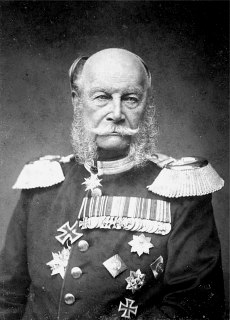 and Wil­helm II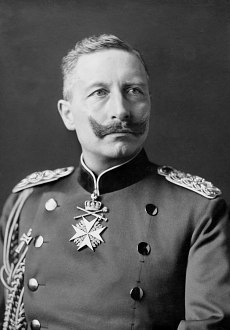 , Tsar Niko­lai I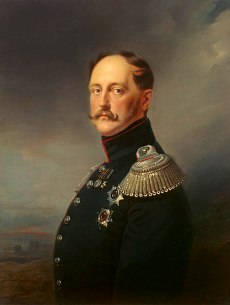 with his wife Alexan­dra Fe­dorov­na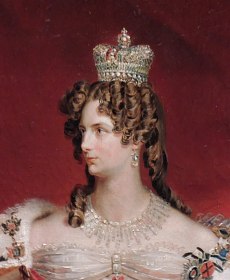 , Em­per­or Franz Joseph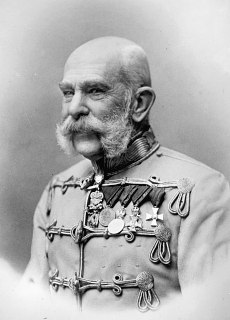 , suc­ces­sor to the Aus­tri­an throne Carl I Hab­s­burg
, and fu­ture Pres­i­dent of the Unit­ed States of Amer­i­ca John Quin­cy Adams
, Win­ston Chur­chill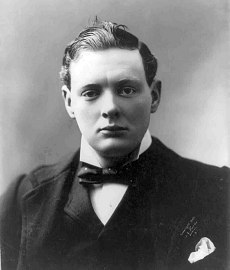 , Rus­sian princes Boris Vladimirirovich Ro­manov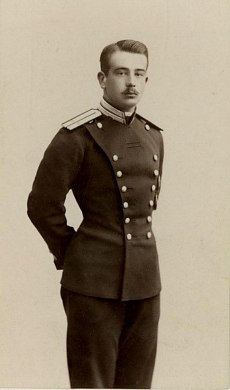 and Mikhail Ro­manov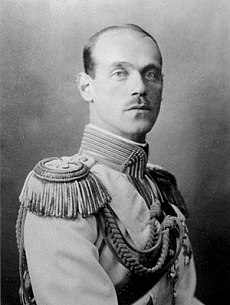 , the ex­ot­ic Cooh-Be­har sir Nri­pen­dra Na­ra­yan Bhup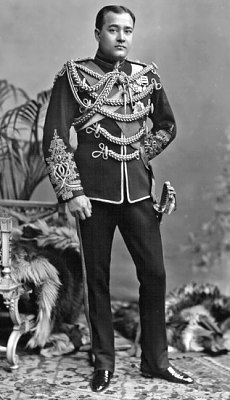 with his son, and many oth­er less­er-known kings and princes from all o­ver Eu­rope.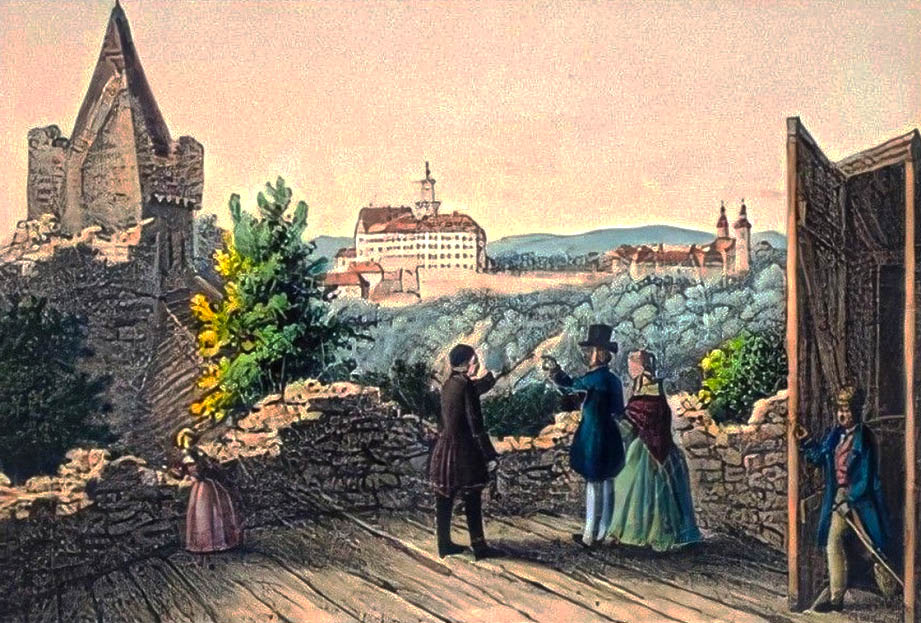 KSIĄŻ CASTLE SEEN FROM THE TOWER OF ALTE BURG, GRAPHIC BY THEODORE SACHSE FROM THE MID-XIXTH CENTURY
LITHOGRAPH BY ERNST WILHELM KNIPPEL FROM 1850, ON THE LEFT WE CAN SEE THE RUINS OF ALTE BURG
I
n 1891, 30-year-old Hans Hein­rich XV von Hoch­berg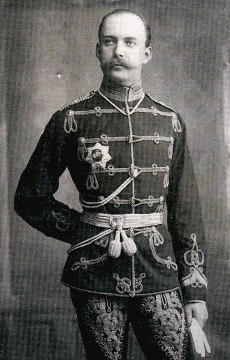 (d. 1938) mar­ried 18-year-old Ma­ry The­re­se Corn­wal­lis West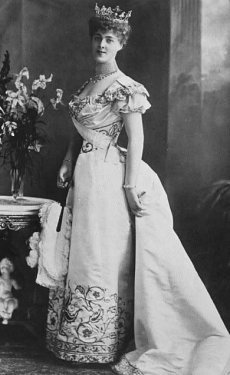 , known as Dai­sy. Their wed­ding, held on De­cem­ber 8 at St. Mar­ga­ret's Church in West­min­ster, be­came Lon­don's main so­cial event, with Queen Vic­to­ria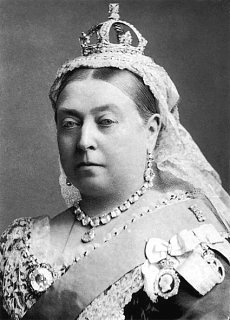 her­self giv­ing her bless­ing to the young cou­ple. Soon af­ter re­turn­ing from their Paris hon­ey­moon, Hein­rich and Dai­sy trav­eled to Pszczy­na, which, how­ev­er, did not ap­peal to the young duchess, and from there it was not un­til Ju­ly of the fol­low­ing year that they ar­rived in Książ. Un­like the Bar­oque res­i­dence in Pszczy­na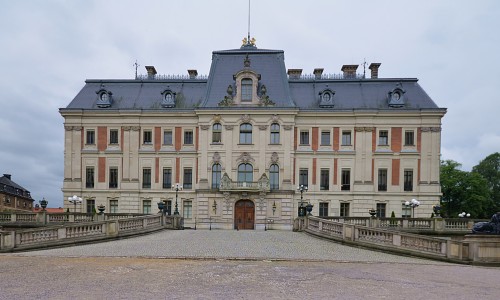 , the Hoch­berg fam­i­ly seat and its sur­round­ings de­light­ed Dai­sy, which she ex­pressed in her di­aries: The Książ Cas­tle is beau­ti­ful­ly sit­u­at­ed: it crowns a pine-cov­ered rock at an el­e­va­tion of o­ver 200 feet and dom­i­nates a vast coun­try­side with forests, lakes and wide stretch­es of plains that pale in com­par­i­son to the dis­tant Si­le­sian moun­tains.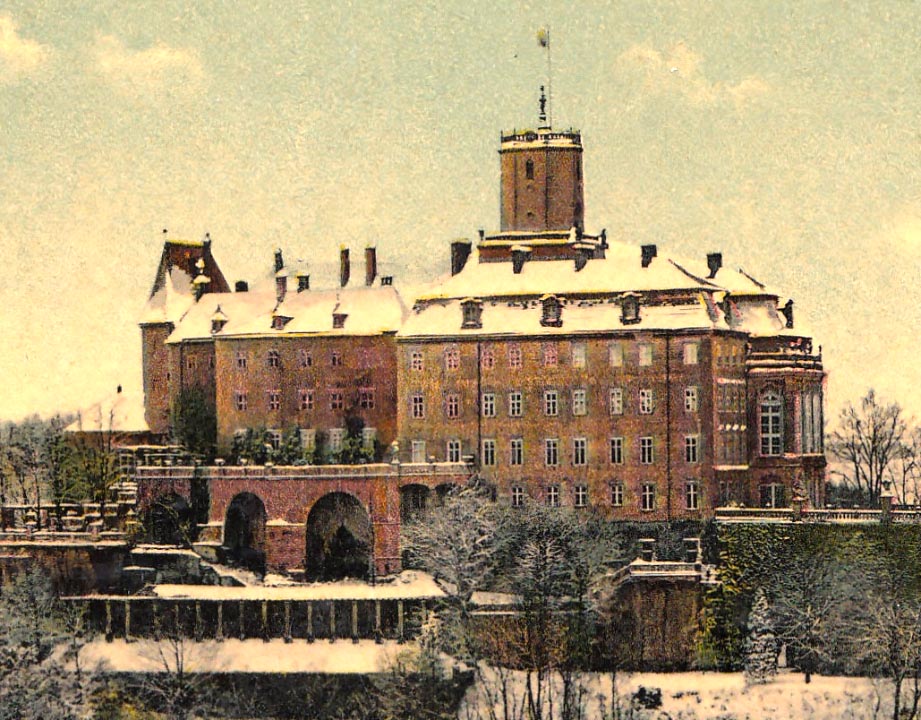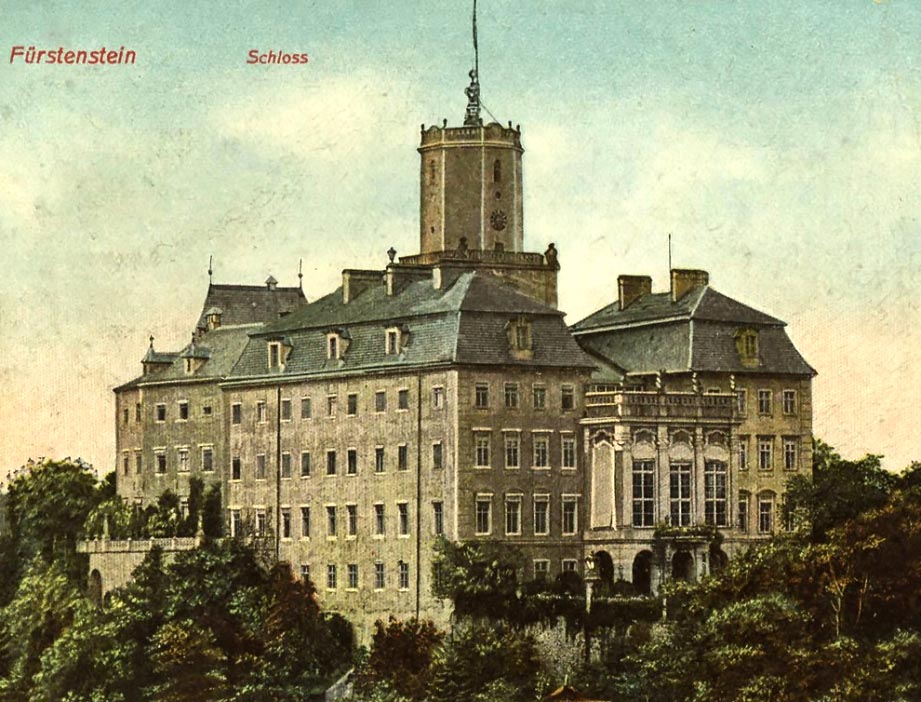 VIEWS OF KSIĄŻ CASTLE ON POSTCARDS FROM THE EARLY 20TH CENTURY
DAISY
Mary There­sa Olivia Corn­wal­lis-West, known as Dai­sy, was born in 1873 at Ruthin Cas­tle in Wales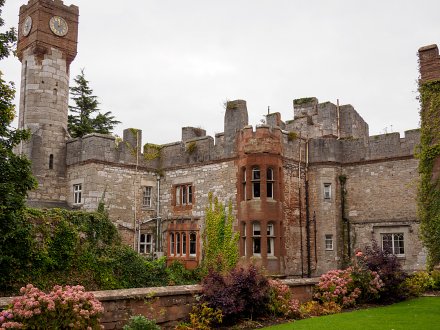 to a rel­a­tive­ly in­di­gent but well-known fam­i­ly. En­glish queens de­scend­ed from her an­ces­tors, and her broth­er was the step­fa­ther of Win­ston Chur­chill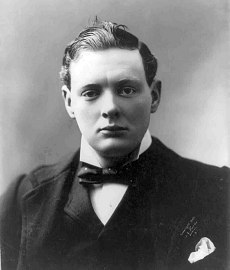 . From her pret­ty moth­er Ma­ry Ade­lai­de Fitz­pa­trick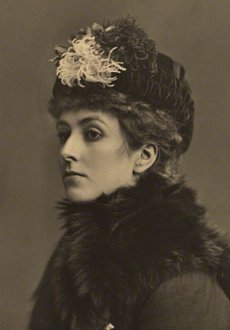 , known as Pat­sy, Ma­ry There­sa in­her­it­ed a beau­ty that caused many wealthy men from all o­ver Eu­rope to vie for her fa­vor. She met Hans Hein­rich XV at a ball in Lon­don, and al­though he did not ini­tial­ly make a great im­pres­sion on her, she even­tu­al­ly ac­cept­ed his pro­pos­al fol­low­ing stren­u­ous ef­forts by her im­me­di­ate fam­i­ly. Cer­tain­ly her de­ci­sion was in­flu­enced by her fu­ture hus­band's wealth and promis­es of a lav­ish life.

In ear­ly years of their re­la­tion­ship, the mar­riage was go­ing well - Hein­rich ful­filled his wife's ev­ery whim, al­low­ing her to spend mon­ey on ex­pen­sive trips, ex­clu­sive clothes and cost­ly jew­els. How­ev­er, the idyll did not last long, and as the three sons grew up, the mu­tu­al dis­taste of the prince­ly cou­ple grew. Daisy couldn't get used to the strict rules of the Prus­sian courts. She claimed bit­ter­ly that in Ger­many even flow­ers had to grow and bloom ac­cord­ing to a set key. She hat­ed ser­vants in stylish em­broi­dered liv­ery, court of­fi­cials in servile pos­es, dozens of table ser­vice and the per­pet­u­al pres­ence of but­lers on du­ty day and night, stand­ing at her bed­room door, ready at her beck.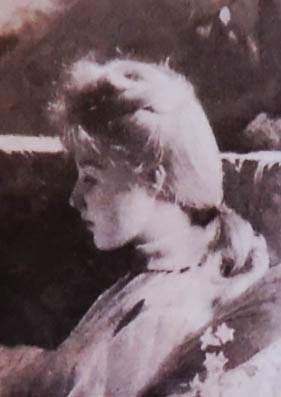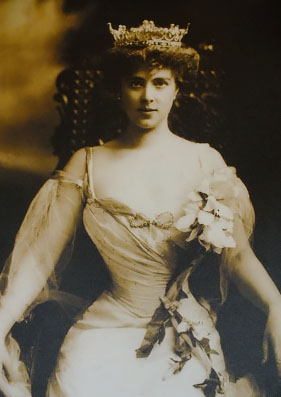 Daisy was for­bid­den to as­so­ci­ate with peo­ple po­si­tioned much low­er in the so­cial hi­er­ar­chy, as it was ab­so­lute­ly nicht fürstlich. Her trav­els, even the short ones, were ac­com­pa­nied by an en­tourage con­sist­ing of a la­dy of the court, a sec­re­tary, a couri­er and sev­er­al ser­vants. De­spite the pro­hi­bi­tions and re­stric­tions de­ter­mined by her high so­cial po­si­tion, Ma­ria The­re­sa kept in touch with the artis­tic world far from the aris­to­crat­ic sa­lons, cor­re­spond­ing with, among oth­ers, the writ­ers Ber­nard Shaw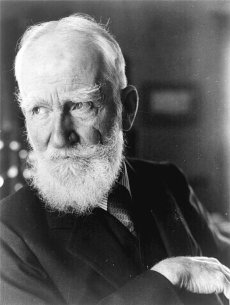 and Os­car Wilde
. The duchess's em­pa­thet­ic char­ac­ter re­sult­ed in her char­i­ta­ble ac­tiv­i­ties, the ben­e­fi­cia­ries of which were not on­ly em­ploy­ees of the prince­ly works and res­i­dents of Wał­brzych, but al­so Ger­man sol­diers, whom she cared for as a vol­un­teer dur­ing World War I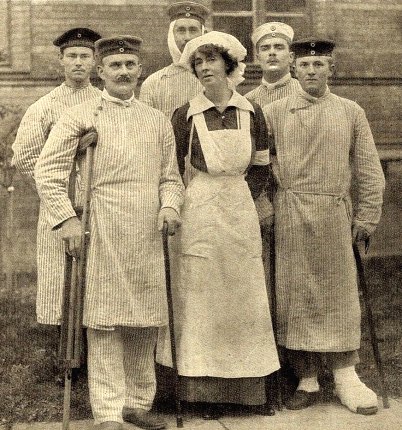 .

Bad times for Daisy and her per­son­al and fi­nan­cial sit­u­a­tion came with the out­break of war in 1914. Sus­pect­ed of spy­ing for Eng­land, in­ti­mate re­la­tions with Kai­ser Wil­helm II and caus­ing the sui­cide death of Prince Adolf von Meck­len­burg-Stren­litz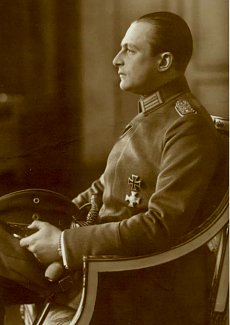 , she al­so had to deal with the breakup of her own mar­riage and the death of her youngest son. Fol­low­ing her di­vorce from Hans Hein­rich XV, she set­tled in Książ, and af­ter the Na­zis oc­cu­pied the cas­tle in 1940, she moved to a park vil­la in Wał­brzych, where she spent the last years of her life
strug­gling with lone­li­ness and se­vere ill­ness. Dai­sy died of a heart at­tack on June 29, 1943, the day af­ter her 70th birth­day. She was buried in the fam­i­ly tomb, but just be­fore the end of the war, for fear that her grave would be pro­faned by So­vi­et sol­diers and loot­ers, the cof­fin was buried in an uniden­ti­fied place some­where in the grounds of the cas­tle's park.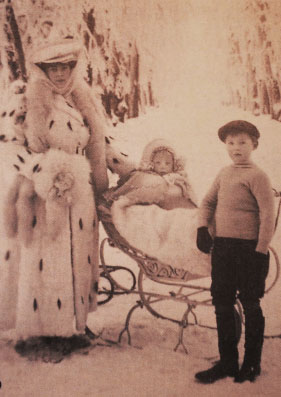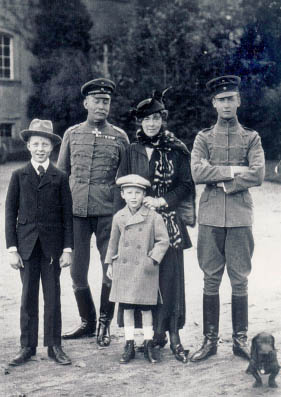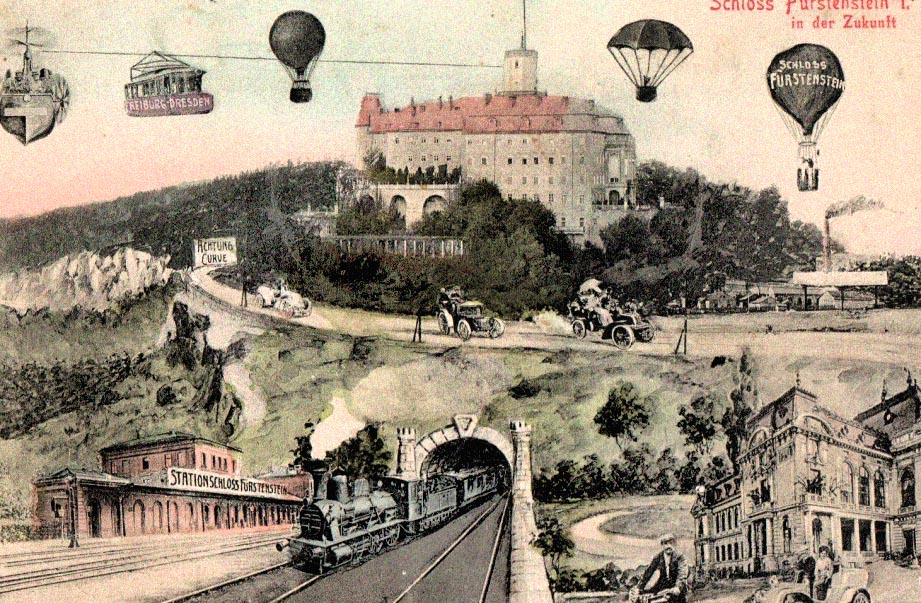 KSIĄŻ - VISION OF THE FUTURE, POSTCARD FROM 1906
I
n Septem­ber 1906, great ma­neu­vers of the Ger­man army were held in Si­le­sia, in which Kai­ser Wil­helm II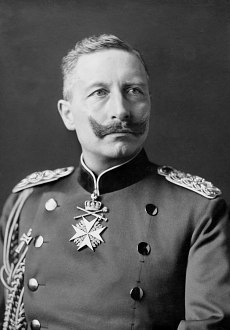 him­self took part. On the oc­ca­sion he vis­it­ed sev­er­al land­ed es­tates, among them Książ. He was ac­com­pa­nied, among oth­ers, by his sis­ter So­phie von Ho­hen­zol­lern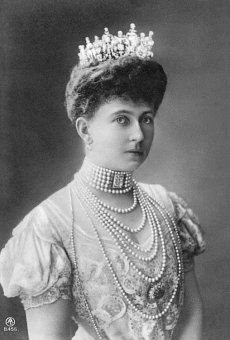 - the fu­ture queen of Greece, the heir to the Ro­ma­ni­an throne Ma­rie Alex­an­dra Vic­to­ria von Sach­sen-Cob­urg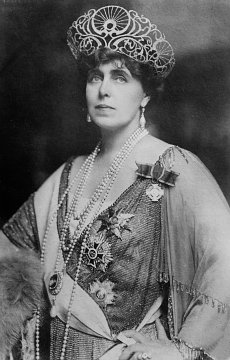 , pres­i­dent of Si­le­sia Ro­bert von Zed­litz-Trutzsch­ler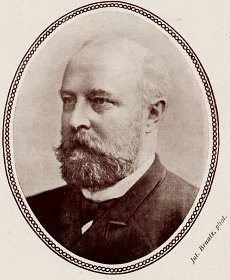 and many high-rank­ing mil­i­tary com­man­ders from Eng­land and Ger­many. Be­ing in close re­la­tions with von Hoch­bergs, Kai­ser Wil­helm re­peat­ed­ly vis­it­ed their head­quar­ters in Książ, where he al­ways brought a large en­tourage with him, which did not mat­ter be­cause Książ was the size of a town. Kaiz­er and his en­tourage al­ways got a whole wing for them­selves. I, of course, greet­ed him at the door, the in­vit­ed com­pa­ny gath­ered in the hall in two rows: the wom­en on one side and the men on the oth­er, as in the Bible - sheep and goats. Kaiz­er greet­ed ev­ery­one grate­ful­ly or rough­ly, de­pend­ing on who it was, and went straight to his rooms. He ate break­fast in his room and on­ly went down­stairs for lunch and din­ner. I hat­ed these meals. The eti­quette dur­ing the em­per­or's vis­it was ex­treme­ly oner­ous.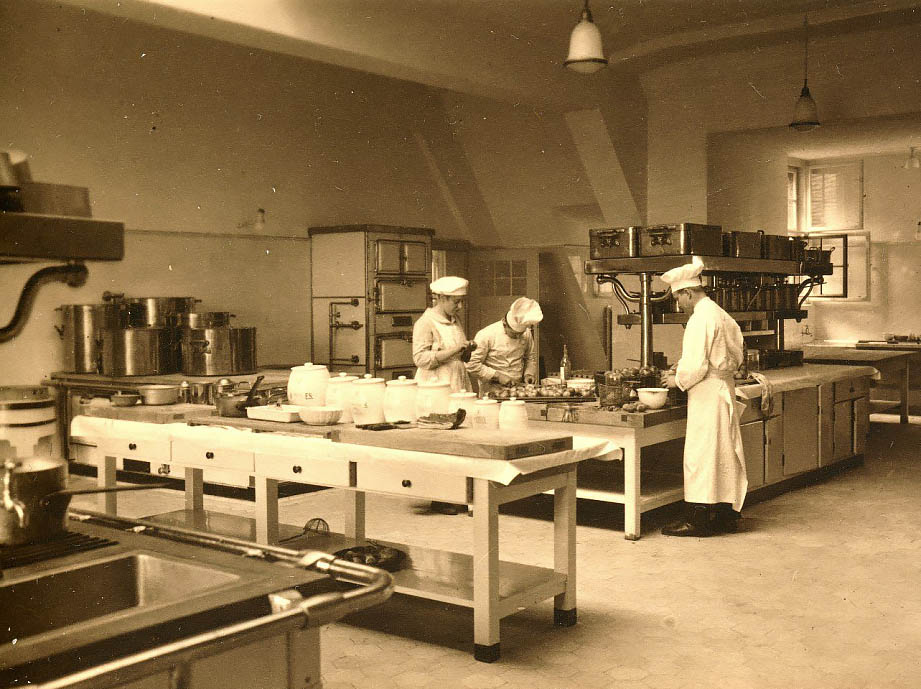 IN THE CASTLE KITCHEN, 1920S
HOCHBERGS' STEWARD ON THE ROAD FROM THE CASTLE STUD, 1920S
At the be­gin­ning of the 20th cen­tu­ry, the Hoch­berg von Pless fam­i­ly be­longed to one of the rich­est in Eu­rope. The prop­er­ty of Hans Hen­rich XV in­clud­ed 16 land­ed es­tates in Low­er Si­le­sia with a to­tal val­ue of the then 64 mil­lion marks and an area of 13,000 hec­tares, three coal mines, as well as two plants pro­duc­ing ben­zol and am­mo­nia, a cok­ing plant and a large con­struc­tion com­pa­ny. An even larg­er for­tune, es­ti­mat­ed at 95 mil­lion marks, was lo­cat­ed in Up­per Si­le­sia, part­ly with­in the Pol­ish state. It in­clud­ed farms and forests cov­er­ing 42,000 hectares, nine coal mines, two pow­er plants, a ce­ment plant, four brick­yards, two saw­mills, three dis­til­le­ries, two quar­ries, a tan­nery and two brew­eries. The von Hoch­bergs owned grand pal­aces in Książ and Pszczy­na, the re­sort of Bad Salz­brunn (Szcza­wno-Zdrój), as well as ur­ban res­i­dences in Ber­lin, Wro­cław, Mu­nich and Lon­don.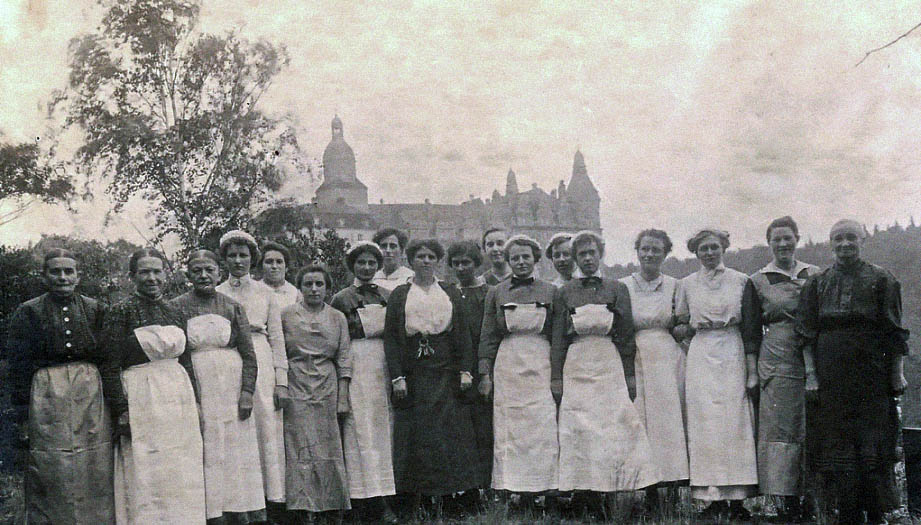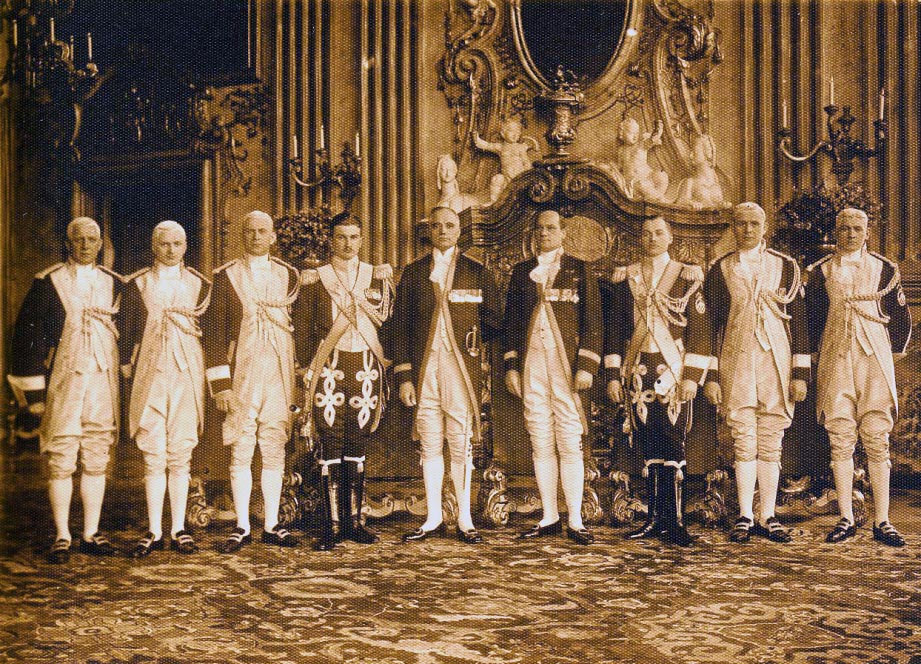 LOWER (MAIDS, WASHERWOMEN, DISHWASHERS, DOMESTIC HELP) AND MIDDLE (BUTLERS) SERVANTS
AT THE VON HOCHBERG CASTLE IN KSIĄŻ
WIFE AND DAUGHTER OF LOUIS HARDOUIN - HEAD COOK OF THE HOCHBERGS
PHOTO TAKEN IN FRONT OF THE MAIN ENTRANCE TO THE CASTLE
I
n 1908 Hans Hein­rich XV be­gan a large-scale re­con­struc­tion of the cas­tle. As a re­sult, the res­i­dence re­ceived a north wing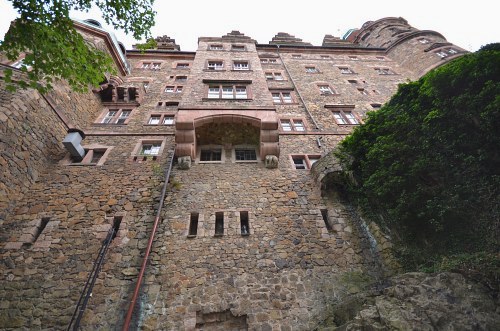 and a mon­u­men­tal Neo-Re­nais­sance west wing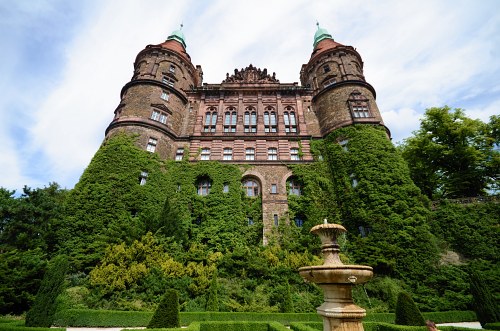 , flanked by two cylin­dri­cal tow­ers: the south­ern one known as George Tow­er and the north­ern White Tow­er. The me­die­val tow­er was topped by a spher­i­cal hel­met with a lan­tern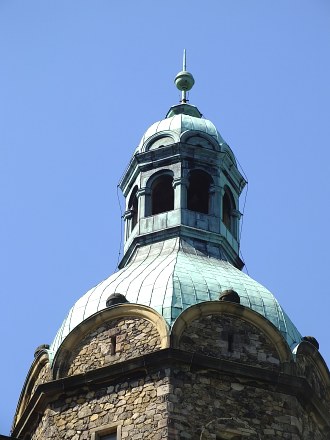 , bring­ing its height to 47 me­ters. The old cas­tle ter­races were re­con­struct­ed, and new ones were built and dec­o­rat­ed with small ar­chi­tec­ture: foun­tains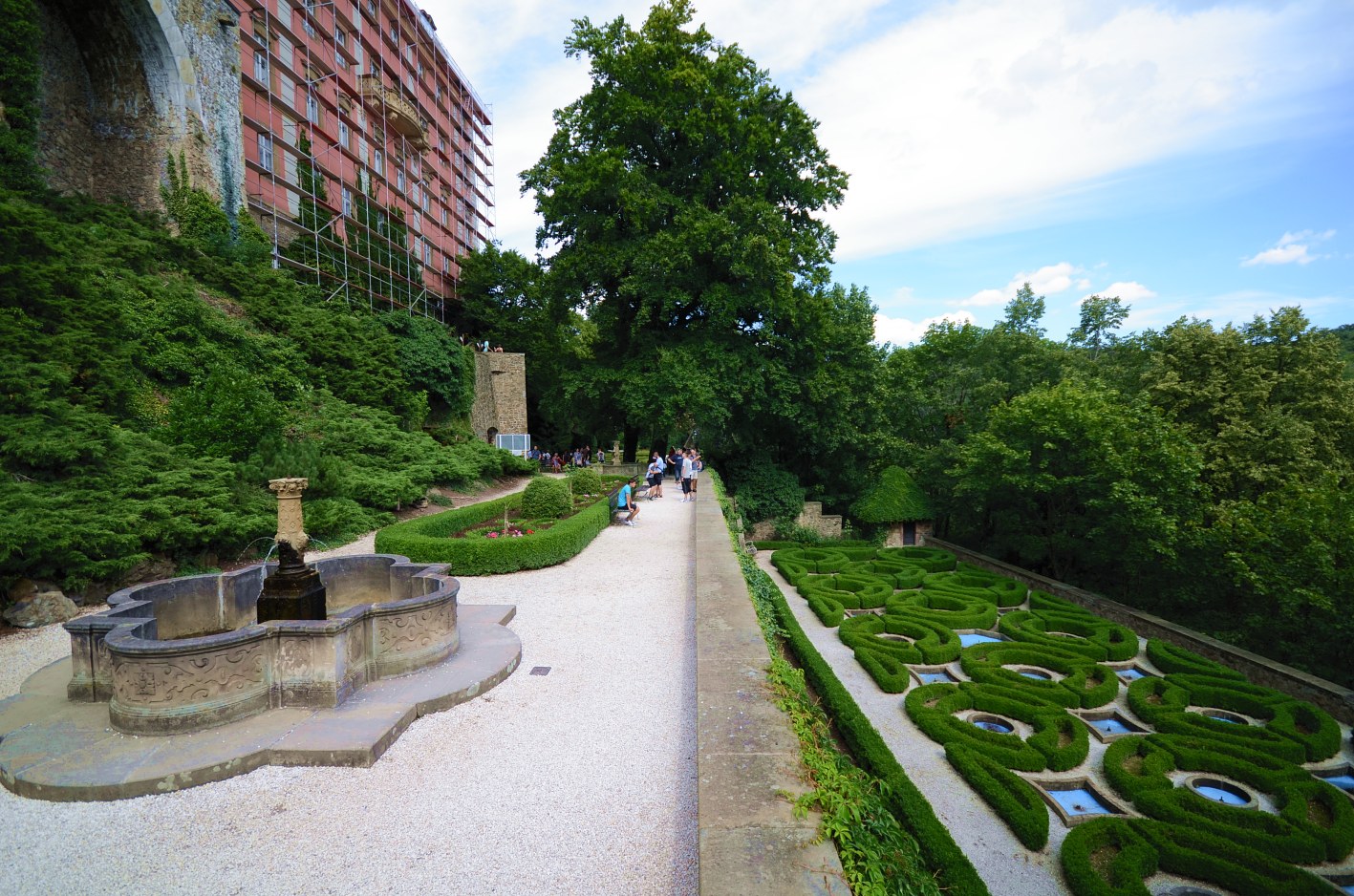 , open­work gaze­bos and beau­ti­ful ba­lu­strades. The own­ers' res­i­den­tial apart­ments and the im­me­di­ate sur­round­ings of the res­i­dence re­ceived a new de­sign. In the new north­ern wing, dec­o­ra­tion of a huge 300-square-me­ter cham­ber be­gan (but was nev­er com­plet­ed). The cas­tle gained elec­tric­i­ty and plumb­ing, as well as a cin­e­ma room lo­cat­ed on the site of the for­mer cas­tle chapel.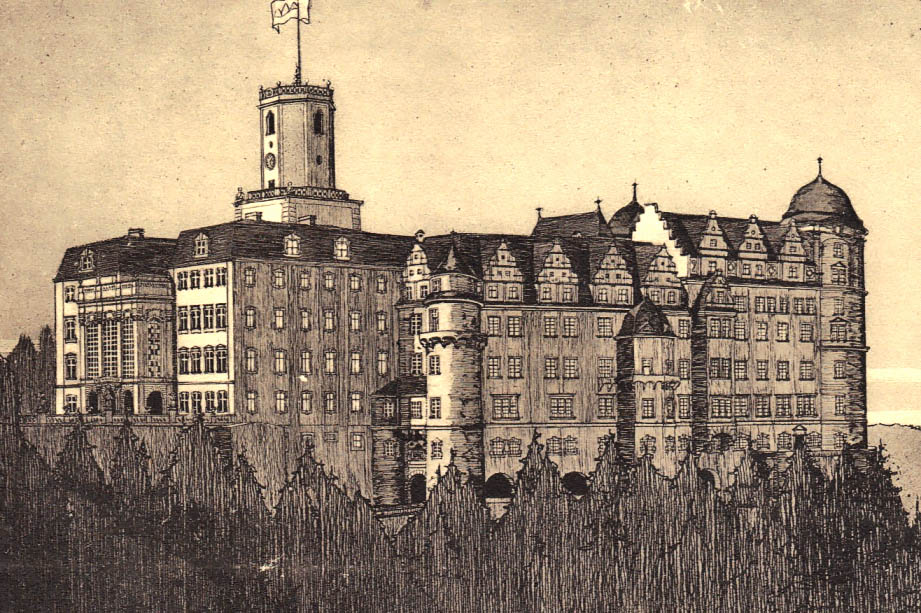 ONE OF THE GRAPHICS DEPICTING THE APPEARANCE OF THE CASTLE AFTER THE EXPANSION (THIS VERSION WAS NOT REALISED)
T
he to­tal cost of this in­vest­ment con­sumed the enor­mous sum of 8 mil­lion marks, ex­ceed­ing the planned bud­get by as much as 10 times. Hans Hein­rich XV's de­ci­sion to ex­pand the cas­tle was met with crit­i­cism from his wife, in whose opin­ion it seemed an un­nec­es­sary and over­ly ex­pen­sive pro­ject: My hus­band came up with the crazy idea of en­larg­ing and par­tial­ly re­build­ing Książ. [...] When the work be­gan, Hans was told that even when a hun­dred peo­ple were work­ing all the time, it would not be com­plet­ed any soon­er than in six to sev­en years. In Au­gust 1914, the re­con­struc­tion was al­most com­plet­ed. It was a mill­stone around my hus­band's neck from when it be­gan. I nev­er liked the idea and had a bad feel­ing about it.
Hans Hein­rich XV spoke Pol­ish quite well and, like oth­er Ger­man mag­nates of Si­le­sia, read­i­ly ac­knowl­edged his kin­ship with the Piast dy­nasty. Once, when he was play­ing bridge with the fa­mous Pol­ish painter Woj­ciech Kos­sak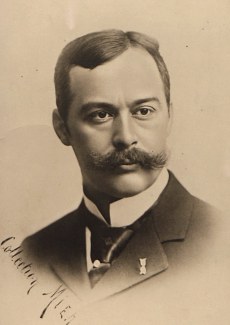 , he point­ed out to the artist in pure Pol­ish that he had played bad­ly. When the as­ton­ished Kos­sak (who some­times vis­it­ed the Hoch­bergs) asked the aris­to­crat how he knew Pol­ish, he heard: Af­ter all, I am the Piast!
SECOND GREAT RECONSTRUCTION OF THE KSIĄŻ CASTLE, 1908-22
SONS OF HANS HEINRICH XV AND DAISY
Hans Heinrich XVII, called Han­sel, was the el­dest son of Dai­sy and Hans Hein­rich XV. He was born in 1900 in Ber­lin. His fa­ther pre­pared him to be his suc­ces­sor, so he placed great em­pha­sis on son's care­ful up­bring­ing and the best ed­u­ca­tion. Hans XVII knew sev­er­al lan­guages; he com­mu­ni­cat­ed with his moth­er in En­glish, spoke Ger­man and Pol­ish with his fa­ther, and of­ten con­versed in French with his teach­er. At the age of 16, he fought in World War I, re­ceiv­ing the Iron Cross First Class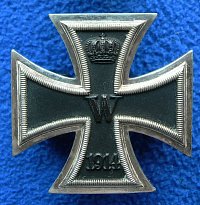 . Hans lat­er stud­ied in Ber­lin, where he earned a doc­tor­ate in law. In 1924 he mar­ried Ma­rie Ka­the­ri­ne von Schön­born-Wie­sent­heid
(d. 1994), a Ba­var­i­an aris­to­crat four years old­er than him­self, and set­tled in Pszczy­na, where he gained ex­pe­ri­ence in ad­min­is­ter­ing the von Hoch­berg es­tate.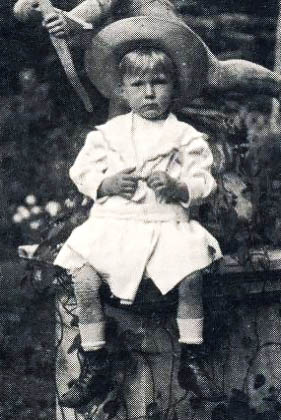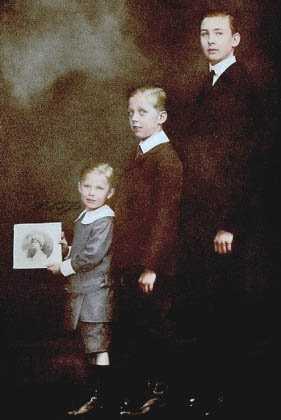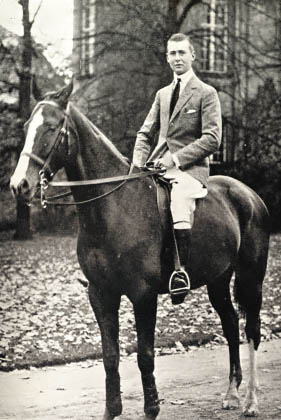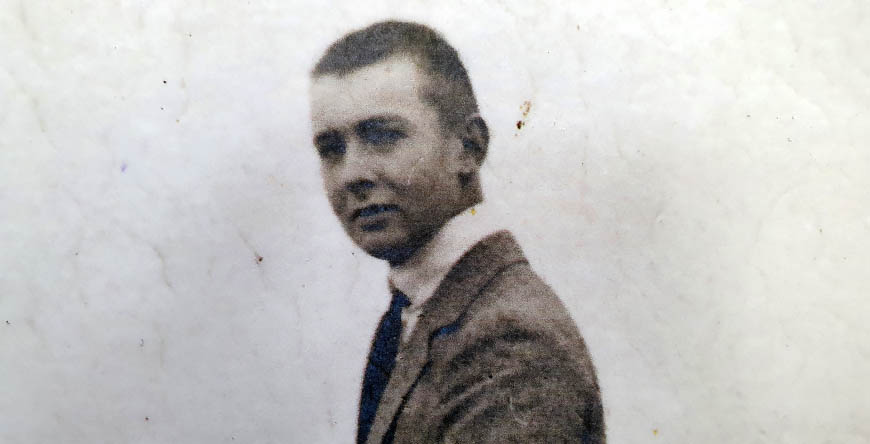 Dur­ing the Third Si­le­sian Up­ris­ing, he com­mand­ed a group of Ger­man vol­un­teers fight­ing Pol­ish in­sur­gents. In 1938 he went to Eng­land, where he was in­terned as a rep­re­sen­ta­tive of an en­e­my state af­ter the war broke out. He was re­leased on­ly af­ter three years, fol­low­ing the in­ter­ven­tion of his un­cle Win­ston Chur­chill, and even ac­cept­ed in­to the British Army, where he served as a lieu­tenant. Dur­ing one of the air raids on Lon­don, Hans lost al­most all of his pos­ses­sions and from then on, as a res­i­dent of Brighton, he led a rel­a­tive­ly mod­est life as Mr. Hen­ry Pless work­ing in the wood and con­struc­tion in­dus­tries. In 1952, he di­vorced and six years lat­er mar­ried Ma­ry Eli­za­beth Min­chin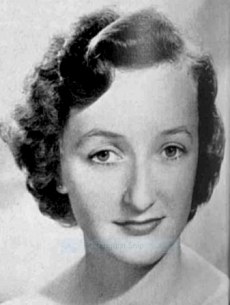 (d. 2019). This mar­riage al­so end­ed in di­vorce. Hans Hein­rich did not main­tain re­la­tions with his broth­er Alex­an­der, whom he ac­cused of de­priv­ing him of his right­ful prop­er­ty. He died child­less in 1984.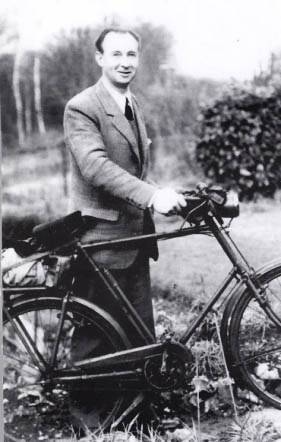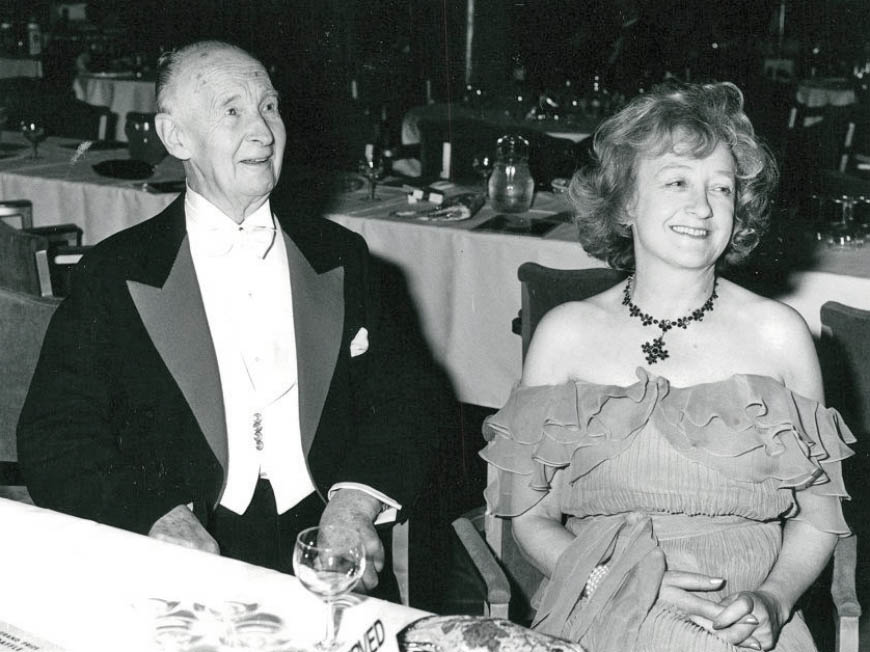 ---
Daisy's sec­ond most se­nior son, Alexan­der Frie­drich, nick­named Lex­el, was born in Lon­don in 1905. He joined SA in the ear­ly 1930s, and soon af­ter Hit­ler's rise to pow­er, he be­came com­man­der of a paramil­i­tary unit used main­ly for cer­e­mo­ni­al pur­pos­es. In 1934 Lex­el was ex­pelled from SA and left for Poland, where he set­tled per­ma­nent­ly as Alek­san­der Pszczyń­ski. In Sep­tem­ber 1939 he em­i­grat­ed to France and on to Eng­land, tak­ing with him his wid­owed sis­ter-in-law Klo­tyl­da and her chil­dren. There he joined the Pol­ish army, where, as a lieu­tenant, he fought at Mon­te Cas­si­no, and be­fore that was for a time in the per­son­al guard of Pol­ish Gen­er­al Wła­dy­sław Si­kor­ski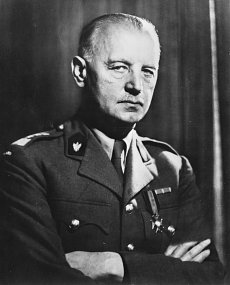 (de­spite his Nazi back­ground!?). Af­ter the war, Alex­an­der set­tled in Mal­lor­ca, where he es­tab­lished a land­ed es­tate rem­i­nis­cent of Książ. Fol­low­ing the death of his broth­er Hans Hein­rich in Jan­uary 1984, he be­came the tit­u­lar Duke of Pszczy­na. A few weeks lat­er, he died.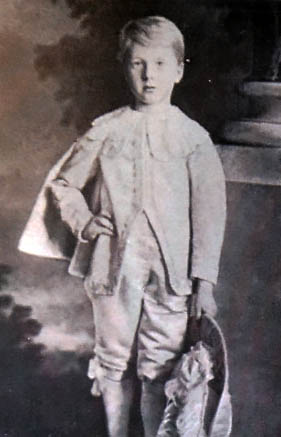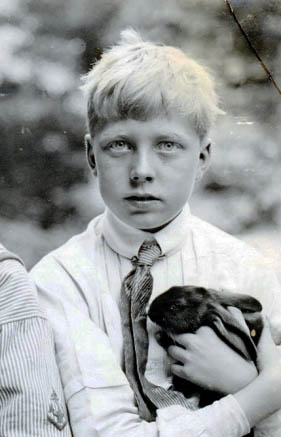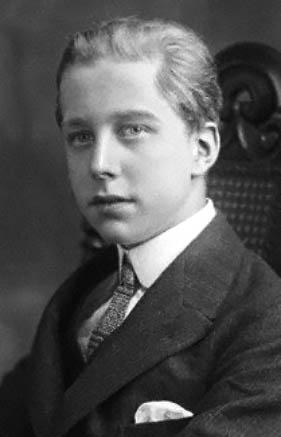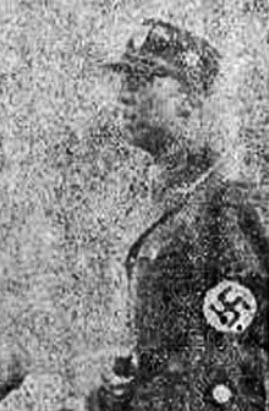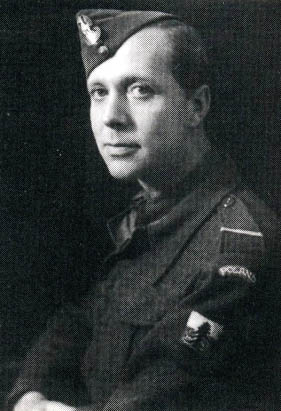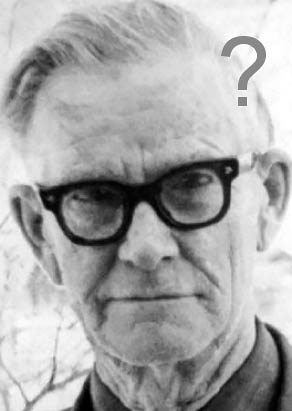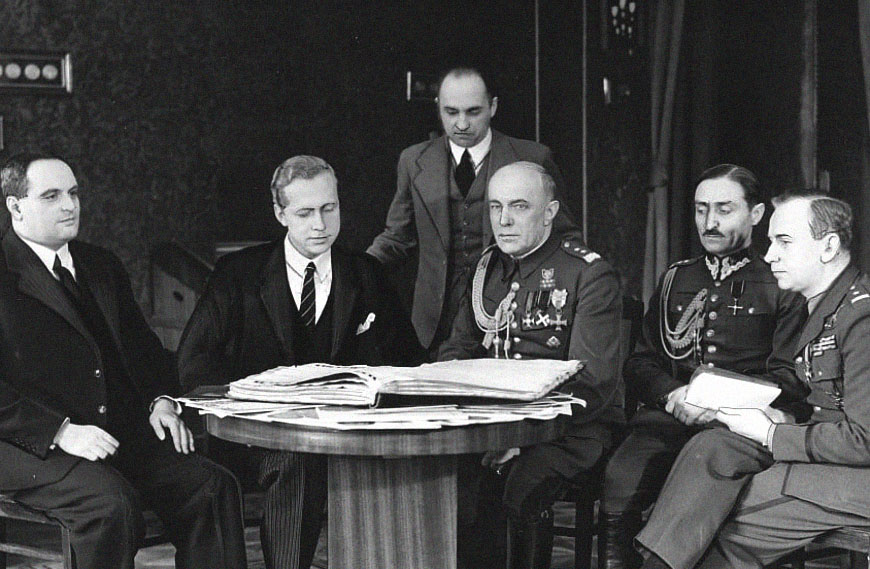 Alexan­der nev­er mar­ried. His spouse was in­deed sup­posed to be Prin­cess Ile­ana
, but due to a ho­mo­sex­u­al scan­dal, the Ro­ma­ni­an roy­al fam­i­ly broke off the en­gage­ment. Pri­or to that, Alex­an­der had many close re­la­tion­ships with men em­ployed at Książ, in­clud­ing a much old­er butch­er, wait­ers, and young min­ers from near­by Wał­brzych. At the time, any ho­mo­sex­u­al ac­tiv­i­ty was il­le­gal in Ger­many and pros­e­cut­ed by law, and Lex­el re­ceived a two-month prison sen­tence. The prince­ly fam­i­ly did not ac­cept the ver­dict and an ap­peal was filed. How­ev­er, be­fore the ap­pel­late court be­gan the tri­al, the main wit­ness, the butch­er who se­duced Alex­an­der, com­mit­ted sui­cide in prison. The case was there­fore dropped due to lack of ev­i­dence. Ho­mo­sex­u­al­i­ty al­leged­ly was al­so the rea­son for Alex­an­der's ex­pul­sion from SA.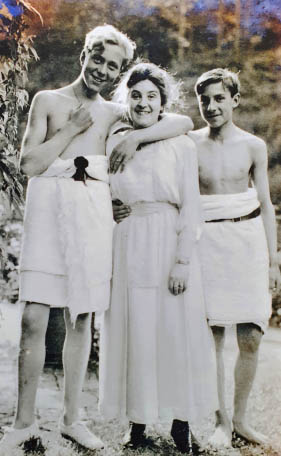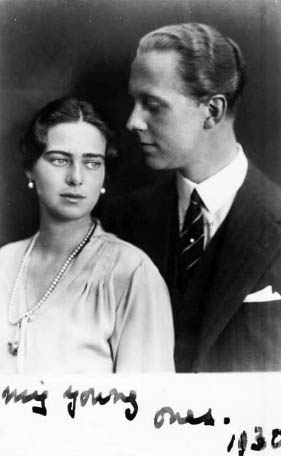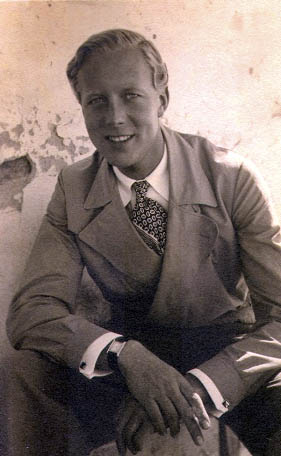 ---
In 1910, the youngest son of Daisy and Hans Hein­rich XV was born in Ber­lin and named Bolko. In the late 1920s he fell in­to an af­fair with his fa­ther's sec­ond wife, Clo­til­de Sil­via y Gon­za­les de Can­damo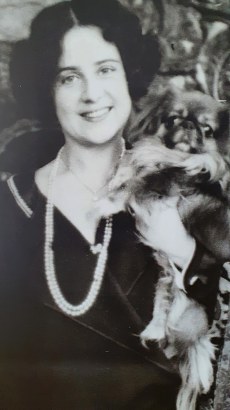 (d. 1978), twelve years old­er than him, with whom he (pre­sum­ably) had two il­le­git­i­mate chil­dren, Be­atri­ce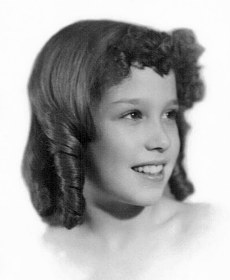 (d. 2021) and Con­rad
(d. 1934). This re­la­tion­ship turned out to be a ma­jor moral scan­dal, lead­ing to the di­vorce of Clo­til­de and Hans Hein­rich, and then to the mar­riage of the Span­ish wom­an to Bol­ko, to which the lat­ter was forced by his hu­mil­i­at­ed fa­ther. Al­ready af­ter the wed­ding, Hed­wig, called Gio­ia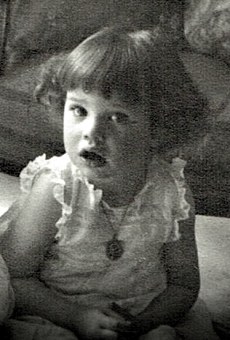 , and Prince Bol­ko VI Hoch­berg von Pless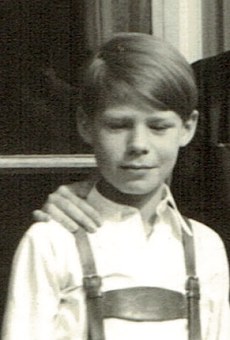 (d. 2022) were born.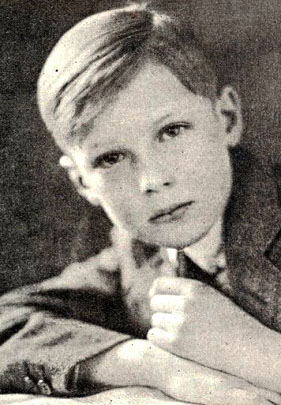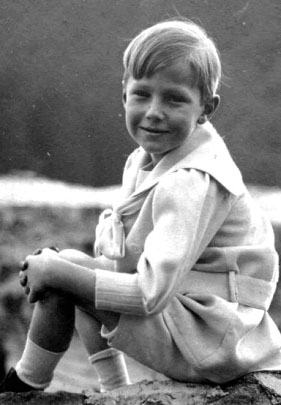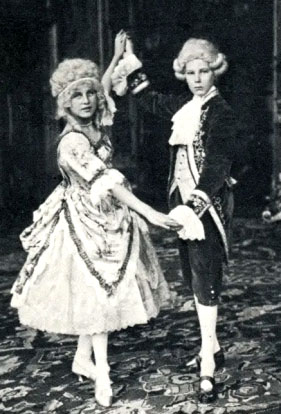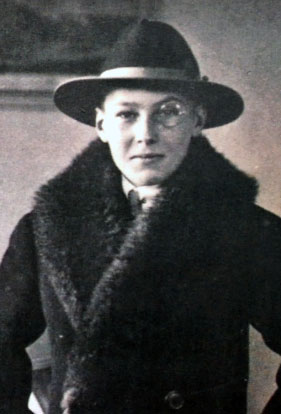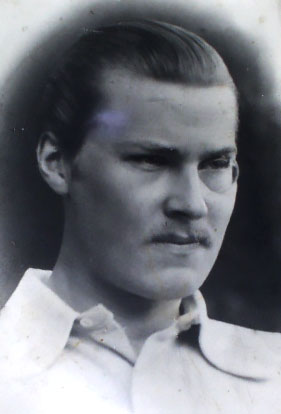 In April 1936, Bolko was ar­rest­ed by Ge­sta­po. He was soon re­leased, prob­a­bly thanks to his fa­ther's in­ter­ces­sion with Jo­a­chim von Rib­ben­trop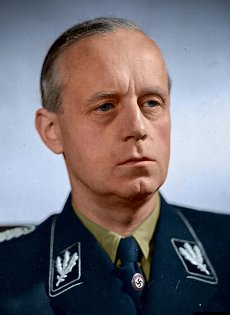 him­self, but two months lat­er he died in un­ex­plained cir­cum­stances. It is like­ly that he was not tor­tured in prison, but he was de­prived of ac­cess to me­di­cine there, which may have been the im­me­di­ate cause of his death.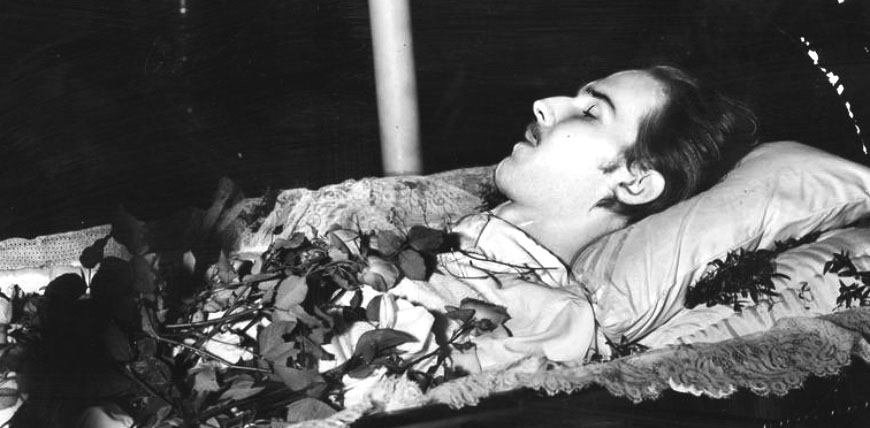 ---
In Fe­bru­ary 1893, Daisy's first-born daugh­ter was giv­en birth. How­ev­er, she died two weeks lat­er with­out liv­ing to see her bap­tism.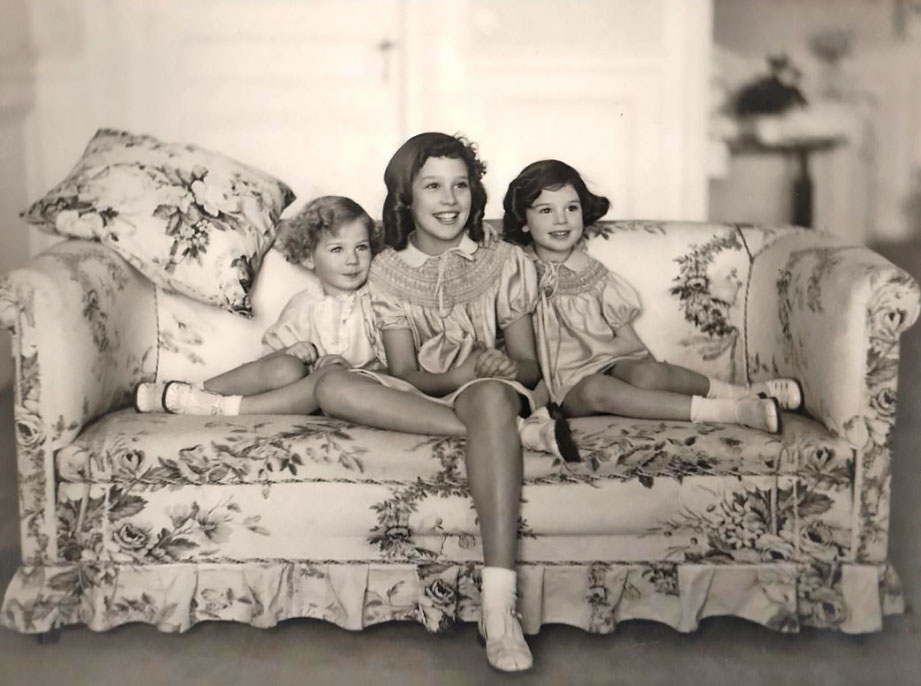 DUCHESS DAISY'S GRANDCHILDREN, FROM LEFT: BOLKO VI, BEATRICE (OFFICIALLY DAUGHTER OF HANS HEINRICH XV), HEDWIG
BEATRICE (IN THE MIDDLE) WAS THE LAST DESCENDANT OF THE VON HOCHBERG FAMILY BORN IN KSIĄŻ
BOLKO, BEATRICE AND HEDWIG IN A PHOTOGRAPH FROM THE 1940S
| | | |
| --- | --- | --- |
| BOLKO VI (D. 2022) | BEATRICE (D. 2021) | HEDWIG |
T
he col­lapse of the world econ­o­my caused by World War I, geopo­lit­i­cal changes in Cen­tral Eu­rope, and the lav­ish lifestyle of Hans Hein­rich XV and his fam­i­ly be­came the cause of the of the von Hoch­berg's de­cline of the eco­nom­ic pow­er. The sym­bol­ic episode high­light­ing this pro­cess was un­doubt­ed­ly the di­vorce of Hans and Dai­sy in 1922 and the prince's em­i­gra­tion to France. To eke out the bud­get a bit, Dai­sy de­cid­ed to open the cas­tle to gen­er­al pub­lic, which was hence­forth vis­it­ed by tens of thou­sands of peo­ple a year. The break­down of the coal and steel mar­ket caused the von Hoch­bergs to run in­to tax debts in the 1930s, as a con­se­quence of which the Pszczy­na ma­jo­rate was liq­ui­dat­ed by the Pol­ish Sejm in 1937, and large tracts of the prince­ly forests and arable land were tak­en o­ver by the Pol­ish state for debt. Książ cas­tle was al­so hand­ed o­ver to the Third Re­ich for debt, which hap­pened in 1944, after Daisy's death.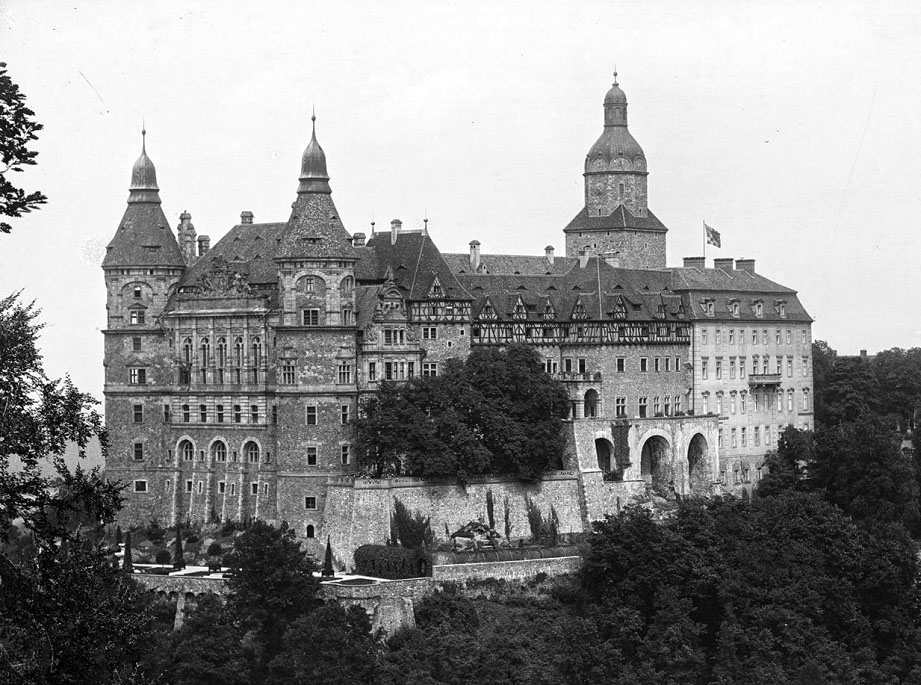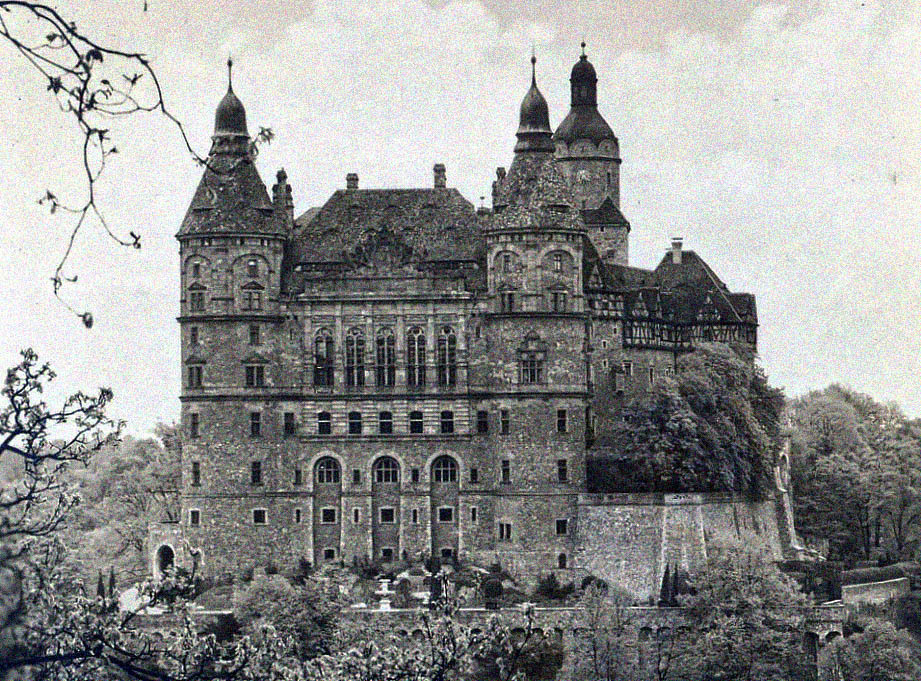 T
he Duchess moved out of the cas­tle as ear­ly as 1940, which the Nazi au­thor­i­ties forced her to do. The rea­son for the Na­zis' dis­like of Dai­sy was not on­ly her En­glish back­ground, but al­so the choic­es of her two sons, who took part in the war by fight­ing in the Pol­ish and En­glish armed forces. In the ear­ly 1940s, the cas­tle housed ad­min­is­tra­tion of the Ger­man rail­roads, and col­lec­tions of the Roy­al Prus­sian Li­brary of Ber­lin were al­so stored here. In 1943, Todt's or­ga­ni­za­tion be­gan re­mod­el­ing in­te­ri­ors of the cas­tle for use as a mil­i­tary base, pos­si­bly one of Adolf Hi­tler's quar­ters. The con­struc­tion works, car­ried out us­ing slave la­bor of pris­on­ers from Gross-Rosen con­cen­tra­tion camp, is re­ferred to as the third great re­con­struc­tion of the cas­tle. As a re­sult, most of the in­te­ri­or dec­o­ra­tive el­e­ments were de­stroyed, and cham­bers and cor­ri­dors were giv­en an as­cetic, al­most bar­racks-like char­ac­ter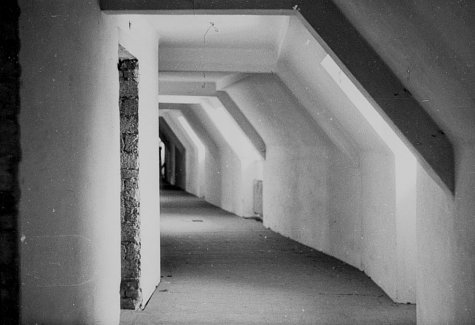 . A huge el­e­va­tor shaft 40 me­ters deep was dug in the Court of Hon­or, and tun­nels and an un­der­ground shel­ter were ex­ca­vat­ed un­der the cas­tle.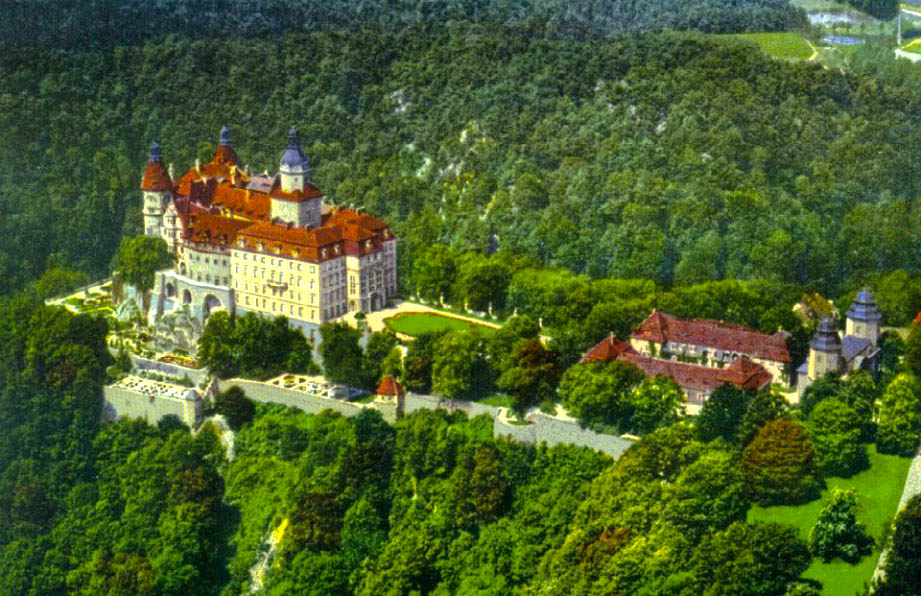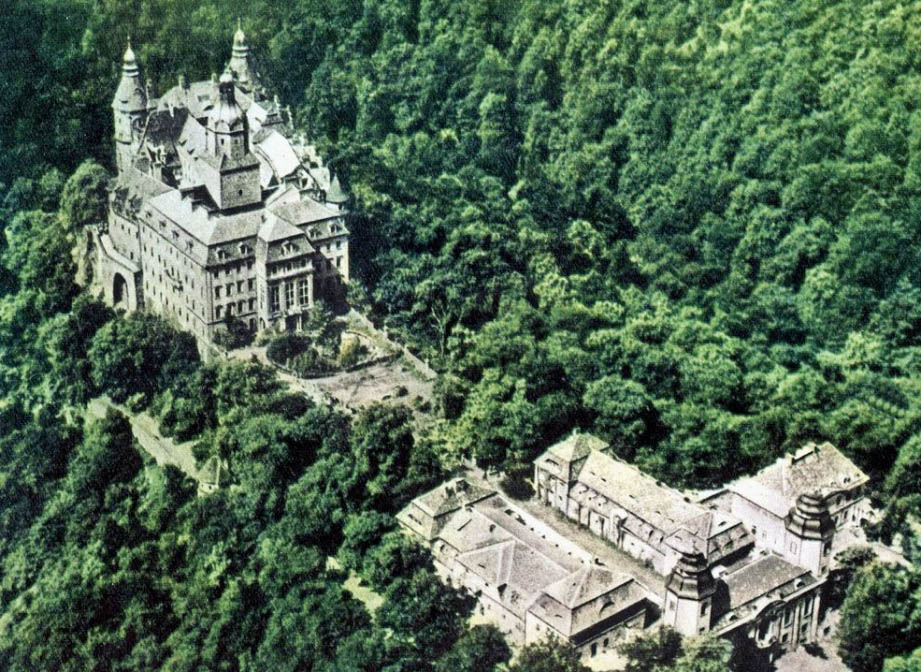 BIRD'S-EYE VIEW OF THE CASTLE IN PHOTOS FROM THE 1930S (ABOVE) AND 1950S,
IN A POST-WAR PHOTOGRAPH, YOU CAN SEE A HUGE HOLE DUG BY THE NAZIS IN THE COURT OF HONOR
RIESE
In 1943, on the or­ders of NS­DAP gauleit­er Karl Han­ke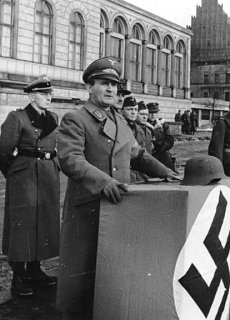 , the cas­tle and ad­ja­cent ar­eas were sur­round­ed by barbed wire and a cor­don of guards. About a thou­sand work­ers from the paramil­i­tary Todt's or­ga­ni­za­tion were soon brought here to be­gin re­build­ing Książ in­to the new Re­ich Chan­cellery. O­ver time, the num­ber of peo­ple em­ployed rose to three thou­sand, and all the prepara­to­ry work was planned un­til 1950. The op­er­a­tion was car­ried out as part of the Rie­se cam­paign, and the com­plex in Książ was giv­en the code name Bra­bant 1. Per­haps Hi­tler's head­quar­ters was to be es­tab­lished here to pro­tect him not on­ly from bomber raids, but al­so from atom­ic weap­ons. For this pur­pose, a net­work of cor­ri­dors and cham­bers was carved in­to the rock on which the cas­tle stands, which by the end of the war had reached a length of al­most 900 me­ters and a depth of up to 50 me­ters. In the Court of Hon­or, near the rep­re­sen­ta­tive en­trance to the res­i­dence, a shaft with an el­e­va­tor for trans­port­ing cars was carved. There were al­so plans to pro­vide a rail­road to Książ, which, ac­cord­ing to some wit­ness­es, was at least par­tial­ly re­al­ized.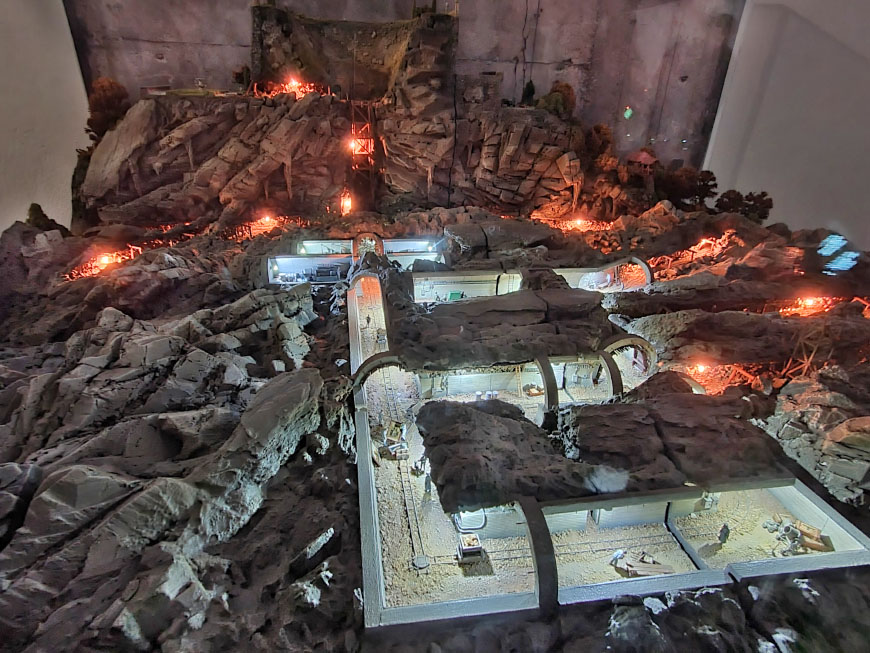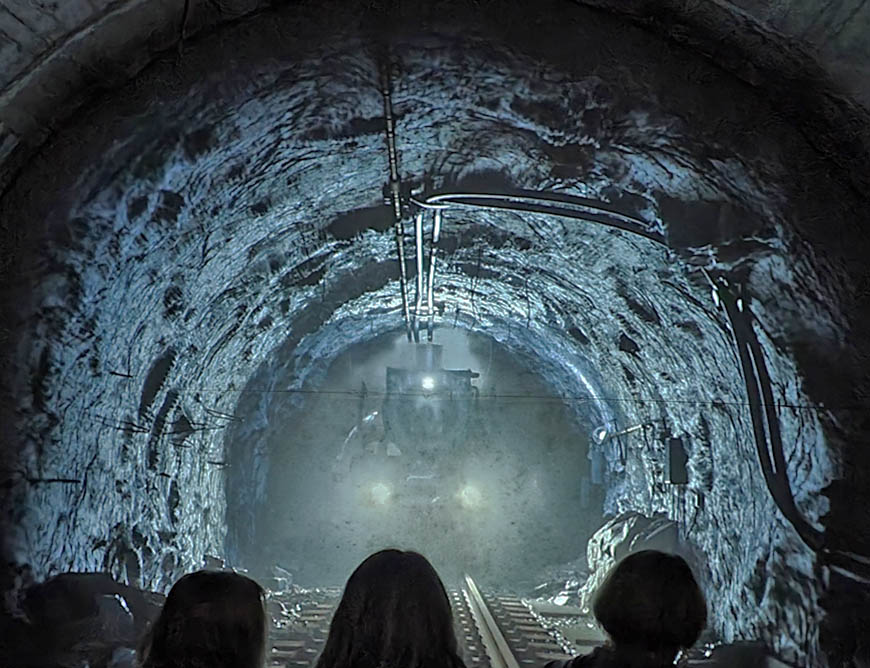 Ac­cord­ing to oth­er the­o­ries, news of the Führer's quar­ters be­ing or­ga­nized here was just wool o­ver the eyes, and in fact Książ was to serve as the com­mand cen­ter for a com­plex of un­der­ground fac­to­ries and a re­search fa­cil­i­ty on new types of weapons. East Prus­sia's Gau­leit­er Erich Koch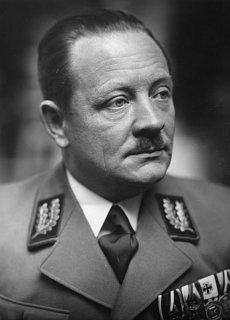 men­tioned that Hi­tler, in Go­er­ing's pres­ence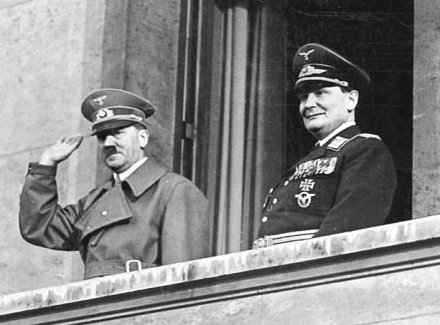 , boast­ed about his ex­per­i­ments on a new type of bac­te­ri­o­log­i­cal weapon. In ad­di­tion, Goeb­bels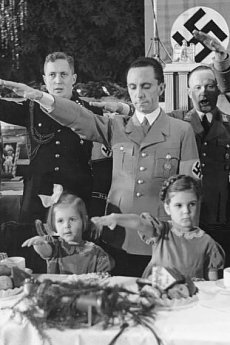 and Him­mler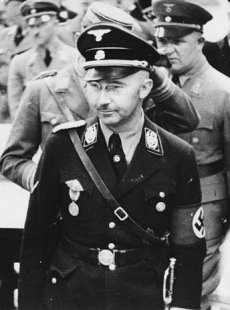 al­leged­ly dis­cussed ki­lo­me­ters of mul­ti-sto­ry dun­geons where re­search on bac­te­ri­o­log­i­cal and high-fre­quen­cy elec­tron­ic weap­ons would be car­ried out. They in­tend­ed to use it to cause epi­demics dec­i­mat­ing not on­ly en­e­my sol­diers, but al­so the civil­ian pop­u­la­tion, and at si­mul­ta­ne­ous­ly breed vac­cines to pro­tect Ger­mans from the re­sult­ing dis­eases.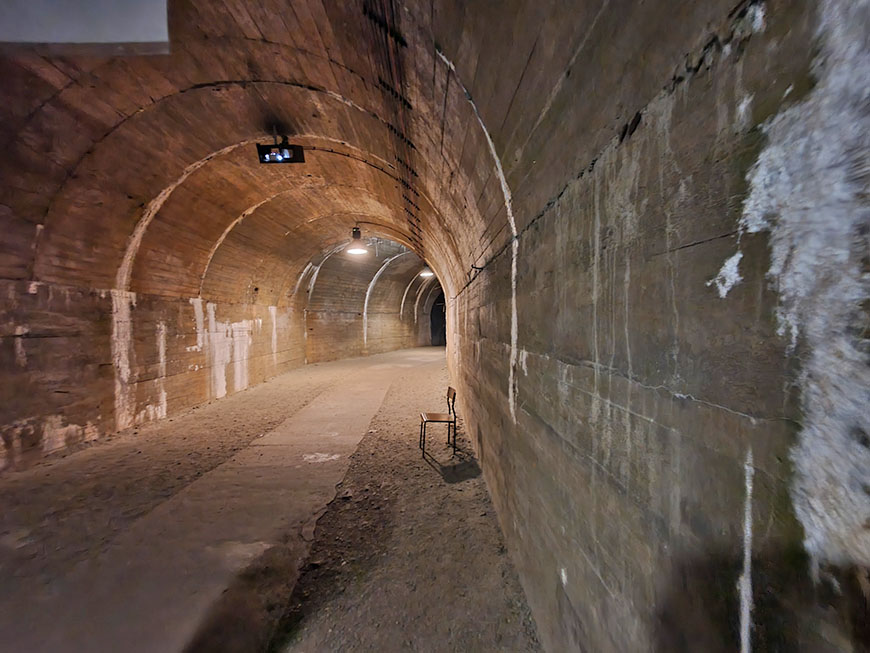 Be­fore the ar­rival of So­vi­ets, the un­der­ground pas­sages were mined. As late as 1947, some sec­tions of tun­nels were still ac­ces­si­ble to the pub­lic, but soon af­ter­wards en­trances to them were buried. To­day they arouse great ex­cite­ment. Some trea­sure hun­ters be­lieve that the cor­ri­dors hide bank de­posits, works of art or valu­ables loot­ed by the Na­zis in Si­le­sia, and per­haps even Am­ber Cham­ber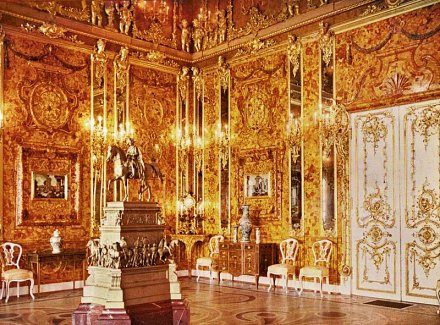 , which has been sought for decades, is lo­cat­ed here.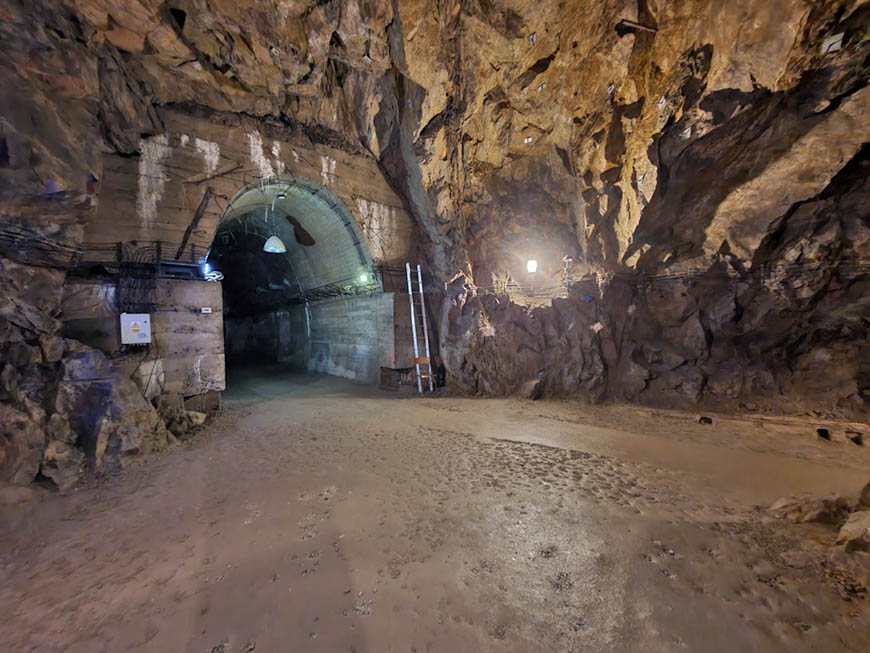 T
odt's or­ga­ni­za­tion left the cas­tle in a hur­ry in the spring of 1945 with­out com­plet­ing the works, the ex­tent of which turned out to be much greater than orig­i­nal­ly planned. On­ly a day af­ter the Ger­mans had evac­u­at­ed, So­vi­et troops en­tered Książ and oc­cu­pied it un­til Au­gust 1946. At that time, the Rus­sians trans­port­ed the valu­able col­lec­tion of the Hoch­berg Li­brary of some 64,000 vol­umes from here deep in­to the USSR. They al­so dev­as­tat­ed the en­tire cas­tle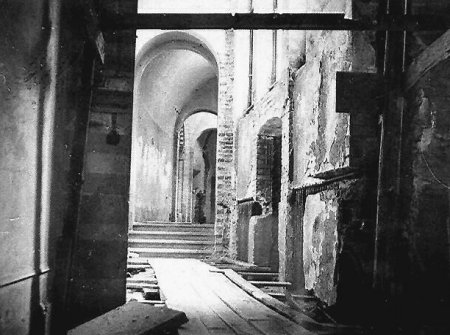 , which in their eyes rep­re­sent­ed a sym­bol of the Ger­man lega­cy that was hos­tile to them in terms of class and na­tion­al­i­ty. Their prey al­so was Al­te Burg, burned by So­vi­ets on May 19, 1945.
DEVASTATED CASTLE IN A PHOTOGRAPH FROM THE 1950S
A
f­ter the So­vi­ets left, the cas­tle stood vir­tu­al­ly un­guard­ed, which was ea­ger­ly ex­ploit­ed by loot­ers of all sorts, tak­ing from it ev­ery­thing that had any ma­te­ri­al val­ue. Press re­leas­es from those days men­tion ven­dors ex­hibit­ing unique relics of Chi­nese art and old coins, un­doubt­ed­ly com­ing from Książ, at lo­cal fairs. First con­ser­va­tion work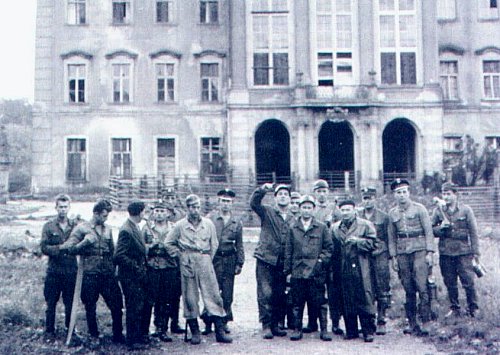 on the cas­tle start­ed in 1956. Two years lat­er Książ re­ceived mon­u­ment sta­tus, and in 1960 the dem­i­ning of un­der­ground cor­ri­dors and their pen­e­tra­tion be­gan. Since then, a suc­ces­sive ren­o­va­tion of the res­i­dence has been car­ried out: its ad­min­is­tra­tor se­cures the walls and roof fram­ing, re­stores floors, doors and win­dow wood­work, and la­bo­ri­ous­ly brings back rooms to a state at least par­tial­ly re­flect­ing the spir­it of the Hoch­berg's res­i­dence from be­fore World War II.
KSIĄŻ IN THE 1970S AND TODAY
---
K
siąż, be­sides the Teu­ton­ic Cas­tle in Mal­bork and Roy­al Cas­tle in Kra­ków, is one of Poland's largest his­tor­i­cal res­i­dences. It is sit­u­at­ed on a high rocky cliff and sur­round­ed by a deep ravine on three sides, dom­i­nat­ing ma­jes­ti­cal­ly o­ver the whole area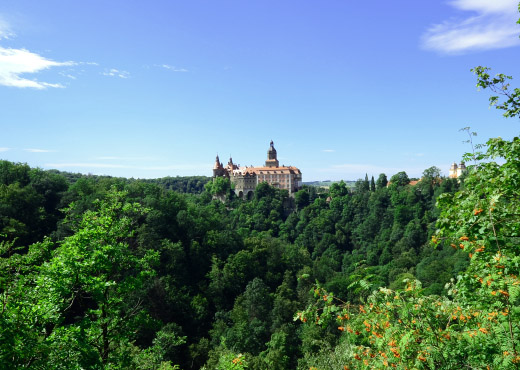 and mak­ing a tru­ly fairy-tale im­pres­sion. Thanks to sys­tem­at­ic res­tora­tion, the once dev­as­tat­ed build­ing has re­gained much of its splen­dor, al­low­ing us to imag­ine what it looked like dur­ing the von Hoch­berg fam­i­ly's hey­day, when crowned heads and great po­liti­cians vis­it­ed it. Nowa­days it is home to: a mu­se­um, a con­fer­ence cen­ter, a res­tau­rant and a ho­tel.
BEAUTIFUL BAROQUE GATE ON HOCHBERG FAMILY AVENUE
CASTLE OUTBUILDINGS AND MAIN GATE, VIEW FROM THE SIDE OF THE COURT OF HONOR
T
he cas­tle ex­hibits rep­re­sen­ta­tive cham­bers and res­i­den­tial apart­ments, ce­ram­ics and por­ce­lain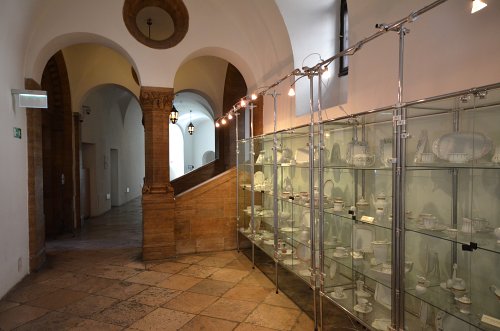 , as well as tem­po­rary ex­po­si­tions. The res­i­dence has about 400 rooms with a to­tal vol­ume of 125,000 cu­bic me­ters, of which on­ly a part up to the height of the 4th floor is in use to­day. A great at­trac­tion seems to be the view­ing ter­race on the main tow­er
, from where the im­me­di­ate sur­round­ings with the Baroque bai­ley and mul­ti-lev­el cas­tle ter­races, as well as the stal­lion stud look pic­turesque­ly. Look­ing east, in a more dis­tant per­spec­tive, we can see the out­line of Ślę­ża moun­tain, and a lit­tle fur­ther south we spot So­wie Moun­tains (Owl Moun­tains).
RESTORED CASTLE CORRIDORS
T
he most rep­re­sen­ta­tive cham­ber of the cas­tle is the two-sto­ry Max­i­m­il­ian Hall, named af­ter Ernst Max­i­m­il­ian von Hoch­berg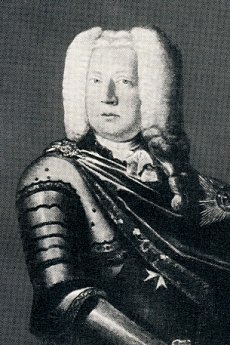 , dur­ing whose reign the east­ern part of the res­i­dence was built and dec­o­rat­ed (1718-34). The cham­ber is sur­round­ed by twelve stuc­co columns, and the main dec­o­ra­tive mo­tif in it are two mar­ble fire­places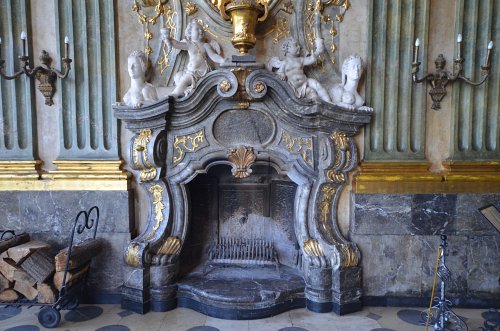 set sym­met­ri­cal­ly against each oth­er, or­na­ment­ed with vas­es and sculp­tures of mytho­log­i­cal fig­ures, as well as mir­rors hang­ing above them to dis­perse the light en­ter­ing the room. The walls are lined with ar­ti­fi­cial mar­ble and dec­o­rat­ed with bas-re­liefs de­pict­ing mytho­log­i­cal scenes. The west wall of the cham­ber fea­tures three small bal­conies, which were for­mer­ly used for the court or­ches­tra.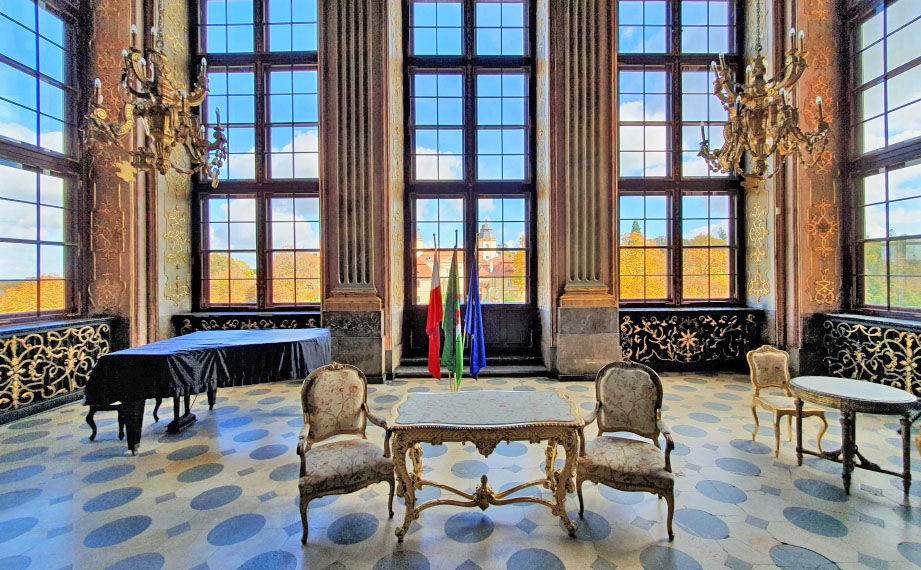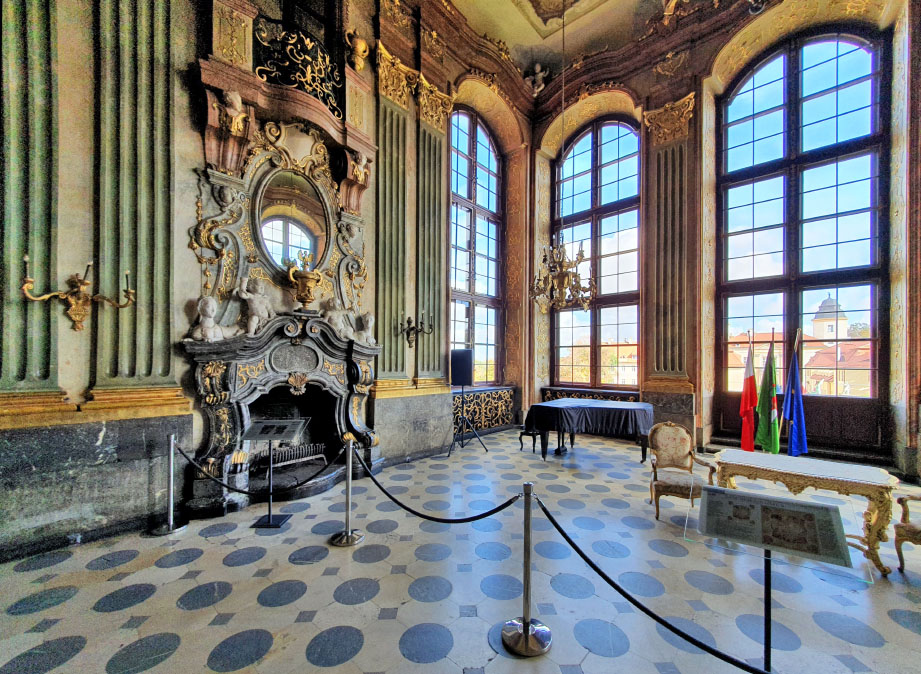 T
he cen­tral part of the ceil­ing is dec­o­rat­ed by a Baroque pla­fond with a beau­ti­ful paint­ing by An­ton Fe­lix Schef­fler the­mat­i­cal­ly re­fer­ring to Greek mythol­o­gy. It de­picts Pe­ga­sus and Pal­las Athena sur­round­ed by nine mus­es - guar­dians of sci­ence and art. The mag­nif­i­cent chan­de­liers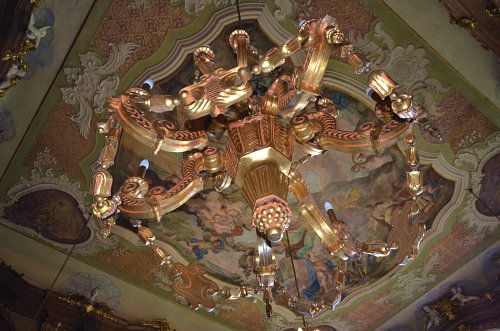 and clink­ers were carved from lin­den wood and then gild­ed, and the cham­ber's floor is made of two-col­ored mar­ble. In the past, Max­i­m­il­ian Hall was used to host im­por­tant guests: aris­to­crats, po­liti­cians, ar­tists. It was al­so used for balls and ma­jor fam­i­ly cel­e­bra­tions.
MAXIMILIAN HALL - THE PLAFOND
A
d­ja­cent to the Max­i­m­il­ian Hall to the north is the late Baroque Green Sa­lon. In the past, this room was dec­o­rat­ed with por­traits of an­ces­tors and al­le­gor­i­cal paint­ings, but to­day the on­ly orig­i­nal el­e­ment here re­mains the red mar­ble Baroque fire­place with a car­touche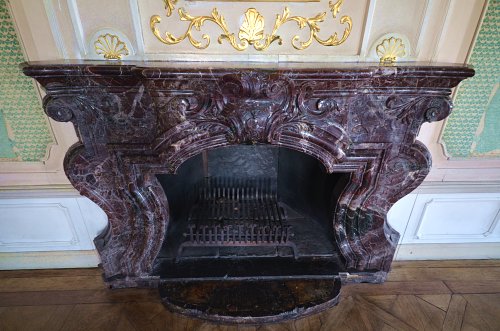 . Ad­join­ing the Max­i­m­il­ian Room to the south is the White Sa­lon, for­mer­ly called the Red Sa­lon from red drapes lin­ing the walls, de­stroyed at the end of World War II. Al­though the fur­ni­ture ex­hib­it­ed here was the prop­er­ty of Dai­sy von Pless, it is not orig­i­nal cas­tle fur­nish­ings. They were brought to Książ from the Grand Ho­tel in Szczaw­no Zdrój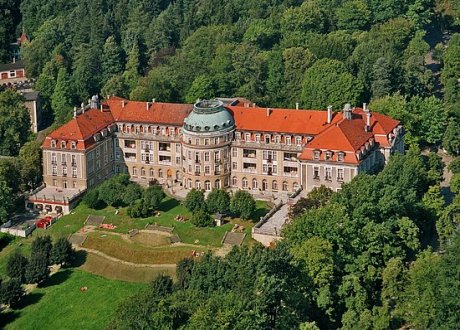 , which be­longed to the von Hoch­bergs.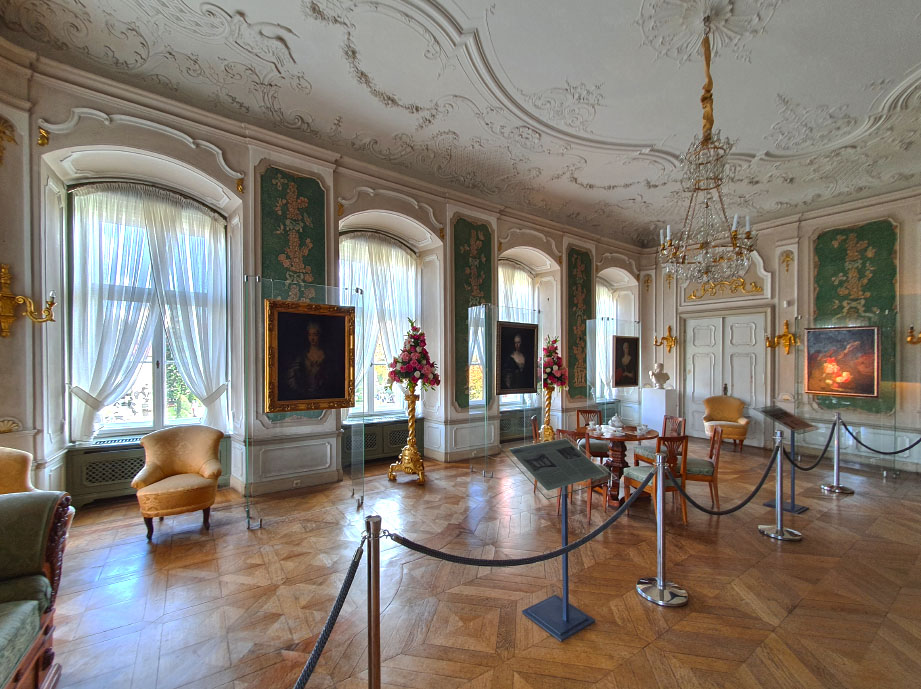 T
hen we en­ter the Chi­nese Sa­lon, whose name de­rives from the con­tem­po­rary wall-cov­er­ing fab­rics de­pict­ing the mo­tifs of birds and cher­ry blos­som trees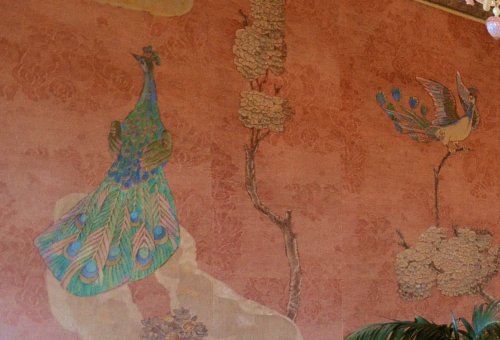 pop­u­lar in Ori­en­tal art. Our at­ten­tion is drawn here to a mar­ble fire­place and fur­ni­ture rep­re­sent­ing three styles in art: clas­si­cism, em­pire and neo-Ro­co­co. From Chi­nese Sa­lon we go to the Game Room, whose most valu­able fur­nish­ings are mar­que­try and in­laid fur­ni­ture. Ad­ja­cent to the west is the Ital­ian Sa­lon cov­ered with an 18th-cen­tu­ry pla­fond
with mytho­log­i­cal themes. Years ago, the sa­lon's walls were dec­o­rat­ed with por­traits of mem­bers of the von Hoch­berg fam­i­ly, but now they are cov­ered with con­tem­po­rary linen fab­ric. The fur­ni­ture, how­ev­er, is his­toric, in­clud­ing a table with a mar­ble top, a 19th-cen­tu­ry arm­chair with pe­tit point up­hol­stery and an 18th-cen­tu­ry oak chest.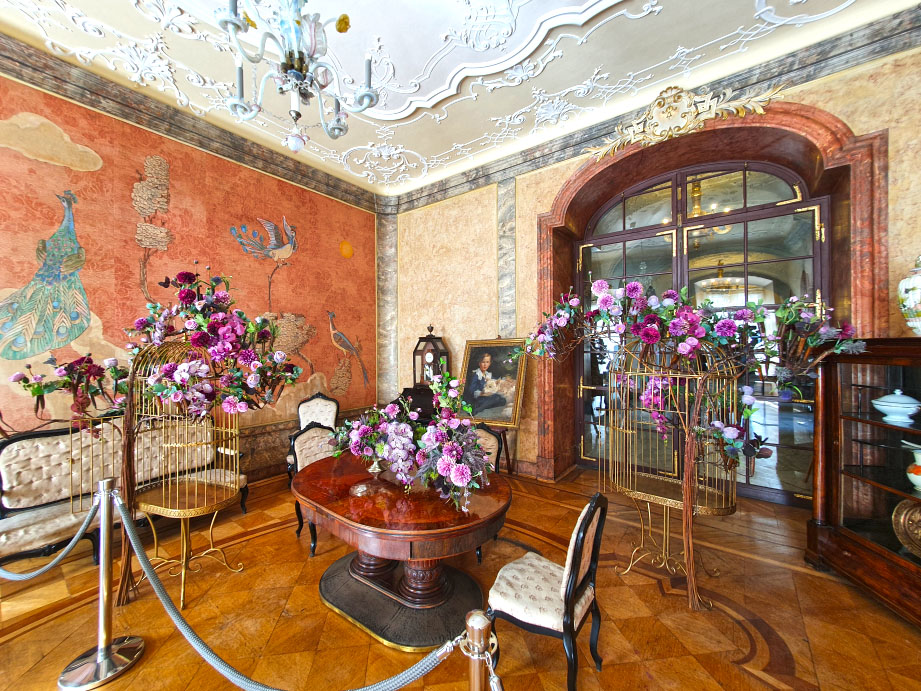 T
he sec­ond floor of the res­i­dence is oc­cu­pied by the Duchess' Rooms: Bed­room and Mu­sic Sa­lon, and the Duke's Apart­ments, which ex­tend al­most the en­tire length of the cas­tle in its north­ern part. These in­clude Bed­room of Hein­rich XI, Dres­den Lounge, the neo-clas­si­cal Study, and the Gold Room, lo­cat­ed above the baroque Max­i­m­il­ian Hall, which was cre­at­ed dur­ing a 20th-cen­tu­ry ex­ten­sion of the cas­tle. In this cham­ber, at­ten­tion is drawn to mech­a­nisms hid­den in the floor that al­low the chan­de­liers hung in the Max­i­m­il­ian Hall to be low­ered for main­te­nance and clean­ing. All the rooms in this part of the cas­tle have been re­con­struct­ed vir­tu­al­ly from scratch, and their fur­nish­ings dif­fer sig­nif­i­cant­ly from those found be­fore the out­break of World War II.
ONE OF DAISY'S APARTMENTS IN THE EARLY 20TH CENTURY
A
d­ja­cent to the Gold Room to the south is the Gro­dziec Room, where the ma­jor dec­o­ra­tive mo­tifs are paint­ed views of Gro­dziec Cas­tle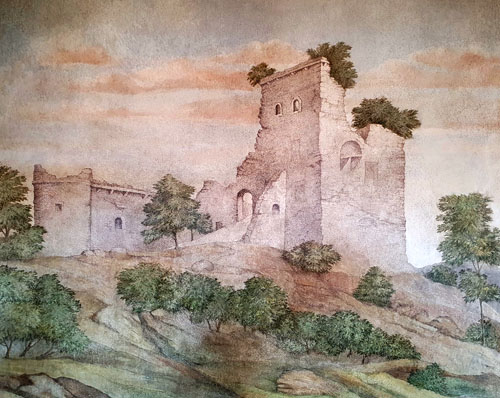 be­fore its re­con­struc­tion (Gro­dziec al­so be­longed to the Hoch­bergs in the 19th cen­tu­ry). In the Re­nais­sance wing we visit the Fire­place Room, which years ago was the largest and most lav­ish din­ing room, de­light­ing its guests with a mag­nif­i­cent Baroque ceil­ing. This ceil­ing sur­vived World War II, but was lat­er dis­man­tled and tak­en to the cas­tle in No­wy Wi­śnicz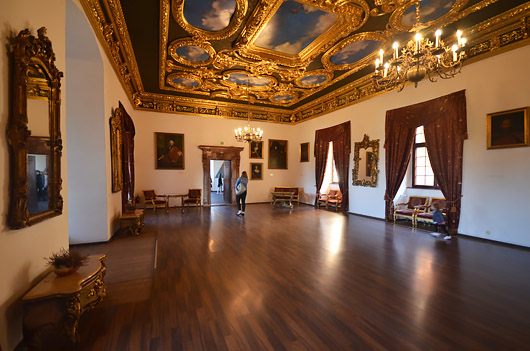 , and to­day on­ly the carved fire­place
re­mains of the orig­i­nal dec­o­ra­tion here. Then we move on to the huge Ball­room in the west wing, which, how­ev­er, was nev­er com­plet­ed due to the Hoch­bergs' fi­nan­cial prob­lems. Dur­ing the Na­zi era, this room was low­ered and trans­formed in the neo­clas­si­cal style typ­i­cal of Third Re­ich ar­chi­tec­ture.
FIREPLACE ROOM IN THE 1930S AND TODAY
T
he cas­tle's old­est cham­bers are clus­tered around the so-called Black Court­yard. Of these, the most el­e­gant was the 16th-cen­tu­ry Con­rad Hall, which be­fore the last world war im­pressed with its rich fur­nish­ings and splen­did Baroque decor. To­day its dé­cor re­mains aus­tere, while artis­tic ex­pe­ri­ences are pro­vid­ed here by a gallery of beau­ti­ful paint­ings.
CONRAD HALL BEFORE THE SECOND WORLD WAR AND TODAY
F
rom the Con­rad Hall a pas­sage leads to the Re­nais­sance Hunt­ing Hall and fur­ther to the Knights' Hall, be­lieved to have been built in 1580. It orig­i­nal­ly served as an ar­mory and lat­er as a place where the Hoch­bergs kept their rich col­lec­tions of blades and ar­mors. To­day, this cham­ber re­mains emp­ty, and its main dec­o­ra­tive mo­tif is a poly­chrome with a plant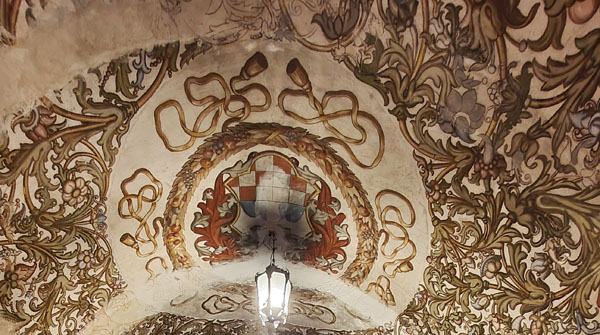 . Late Goth­ic ori­gins are al­so found in the Curved Hall, for­mer­ly cov­ered by a mag­nif­i­cent vault with rich paint­ed dec­o­ra­tion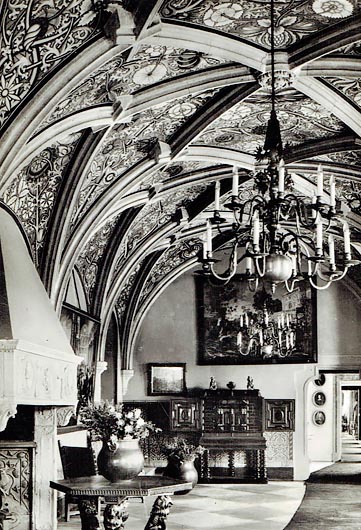 , which was dis­man­tled by the Ger­mans in the 1940s and thrown o­ver the cas­tle walls in­to the Peł­czni­ca ravine.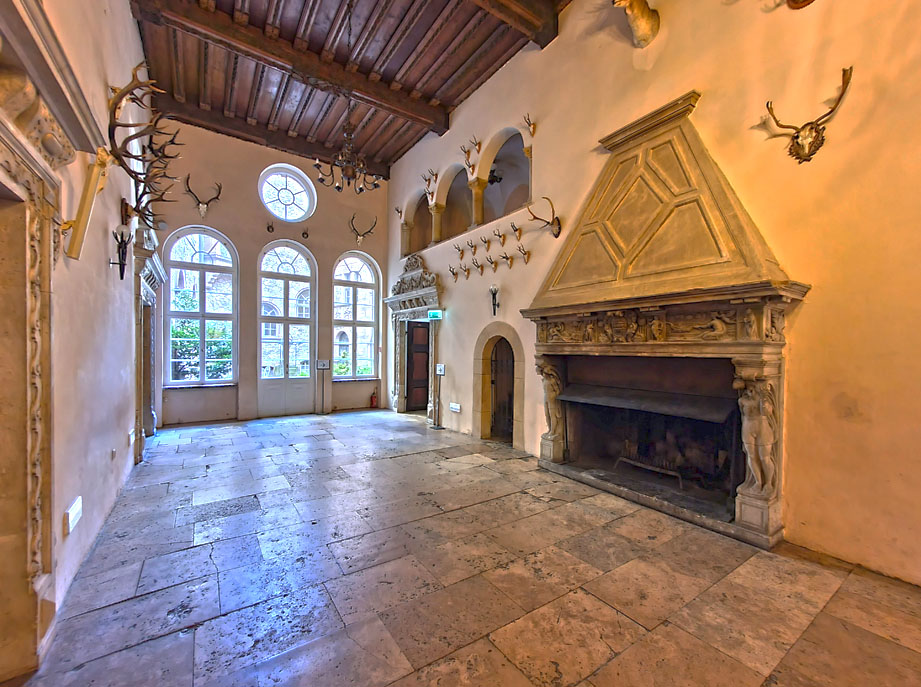 T
he build­ing is sur­round­ed by twelve mul­ti-lev­el French-style ter­races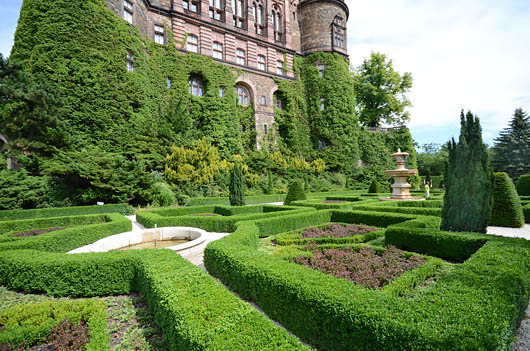 , which were ar­ranged on the site of me­dieval cas­tle for­ti­fi­ca­tions. Be­fore World War II, they were plant­ed twice a year us­ing 20,000 plants com­ing main­ly from the prince­ly crops and the palm house in Lu­bie­chów. To the east and south of the cas­tle stretch­es a 125-hec­tare park with a for­mer gar­den pav­il­ion built in 1734 and trans­formed in the 19th cen­tu­ry in­to the von Hoch­berg fam­i­ly mau­soleum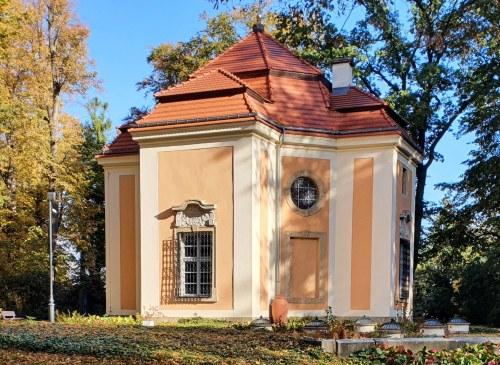 . The pic­turesque park com­plex is criss­crossed by two walk­ing av­enues, along which stand old lin­den and chest­nut trees. At the Hoch­berg Fam­i­ly Av­enue we can ad­mire a mag­nif­i­cent neo-Baroque gate flanked by sculp­tures of two sphinx­es hold­ing ves­sels full of flow­ers and fruits.
PANORAMA OF THE CASTLE FROM THE "TOMB OF THE GIANT" VANTAGE POINT
| | |
| --- | --- |
| | Ad­mis­sion to the cas­tle is paid - the price in­cludes au­dio­book ren­tal. We can en­ter the park and the Court of Hon­or free of charge. For the un­der­ground tourist route you need to buy a sep­a­rate tick­et or a com­bined tick­et: cas­tle + un­der­ground route. |
| | |
| --- | --- |
| | Cas­tle tour with­out a guide (or­ga­nized groups are guid­ed on re­quest). It took us about 2 hours to see all the rooms. A tour of the cas­tle's un­der­ground takes about 40 min­utes (with a guide). |
| | |
| --- | --- |
| | Pho­tog­ra­phy for per­son­al use - free of charge |
| | |
| --- | --- |
| | No pets al­lowed in the cas­tle. |
| | |
| --- | --- |
| | Hand­i­capped park­ing is lo­cat­ed just out­side the gate­house, next to the ho­tel park­ing lot. Most of the cas­tle's rooms (though not all) are ac­ces­si­ble to peo­ple with mo­bil­i­ty dis­abil­i­ties. Tours are avail­able with an au­dio­gu­ide set us­ing sign lan­guage. |
BLACK COURTYARD (LEFT), UNNAMED COURTYARD (RIGHT)
---
K
siąż is lo­cat­ed in the north­ern part of Wał­brzych, very close to the town of Świe­bo­dzi­ce. Pub­lic bus line 8 from Wał­brzych runs to the cas­tle. Those trav­el­ing by rail should get off at the Świe­bo­dzi­ce sta­tion, then head south­west.
| | |
| --- | --- |
| | There are two large park­ing lots at the cas­tle: the main one (no ad­dress, en­trance from Wro­cław­ska Street, 900 m from the cas­tle) and the park­ing lot at the stud farm (Pia­stów Ślą­skich Street, 700 m from the cas­tle). Price ­ ca. 4,5 €/day in 2022. |
| | |
| --- | --- |
| | Bi­cy­cles can be brought in­to the Court of Hon­or. Bi­cy­cle racks have been in­stalled in front of the gate build­ing, near the tick­et of­fices. |
---
1. M. Chorowska: Rezydencje średniowieczne na Śląsku, OFPWW 2003
2. D. Hochberg von Pless: Taniec na wulkanie 1873-1918, Arcana 2015
3. I. Kowalski: Dolnośląskie podróże z historią śladami ludzi niezwykłych, Fundacja Frankonia 2016
4. K. Jankowski, K. Kułaga: Zamek Książ, VIA NOVA 2001
5. L. Kajzer, J. Salm, S. Kołodziejski: Leksykon zamków w Polsce, Arkady 2001
6. J. Lamparska: Tajemnicze podziemia, ASIA Press 2000
7. R. M. Łuczyński: Zamki i pałace Dolnego Śląska, OWPW 1997
8. R. M. Łuczyński: Zamki, dwory i pałace w Sudetach, Wspólnota Akademicka 2008
9. M. Perzyński: Zamki, twierdze i pałace Dolnego Śląska i Opolszczyzny, WDW 2006
10. M. Świeży: Zamki, twierdze, warownie, Foto Art 2002
11. A. Wagner: Murowane budowle obronne w Polsce X-XVIIw., Bellona 2019
GETTING UP (VERY) EARLY IN THE MORNING...YOU DON'T HAVE TO WORRY ABOUT A FREE PARKING SPACE :-)
Castles nearby:
Wałbrzych - ruins of Stary Książ castle, 3 km
Cieszów - ruins of Ducal castle Cisy from the 13th/14th century, 7 km (on foot, by bike), 12 km (by car)
Wałbrzych - relics of Nowy Dwór castle from the 14th century, 16 km
Świdnica - 15th century city fortifications and castle relics, 18 km
Czarny Bór - ruins of Ducal castle from the 14th century, 19 km
Zagórze Śląskie - ruins of Ducal castle from the 14th century, 19 km
Kłaczyna - castle relics from the 15th century, 20 km
Bagieniec - Renaissance castle from the 16th century, ruined, 21 km
Grzędy - relics of Konradów castle from the 14th century, 23 km
Piotrowice Świdnickie - fortified mansion from the 16th century, 24 km
Grzmiąca - ruins of Ducal castle from the 13th century, 25 km
Pastuchów - residential tower from the 15th/16th century, 25 km
Rybnica Leśna - ruins of Radosno castle from the 14th century, 25 km
Wierzbna - fortified mansion from the 15th century, rebuilt into a palace, ruined, 25 km
Bolków - ruins of Ducal castle from the 13th century, 27 km
Panków - castle ruins from the 15th century, 27 km
Kamienna Góra - Kreppelhof castle ruins from the 16th century, 27 km
Świny - ruins of a knight's castle from the 14th century, 29 km

---
The Książ Stal­lion Stud, es­tab­lished in the 19th cen­tu­ry on the site of a for­mer manor farm. Af­ter re­con­struc­tion, it served as cas­tle sta­bles un­til the 1930s, with about 80 car­riage hors­es and 30 draft hors­es. In 1935 the Ger­man state took it o­ver and af­ter a re­or­ga­ni­za­tion in 1939 es­tab­lished the Fürsten­stein Stal­lion Stud. Af­ter World War II, ef­forts were made to re­store the breed­ing of Si­le­sian stal­lions in the Stud, and since 1997 a stud for mares has al­so been op­er­at­ing here.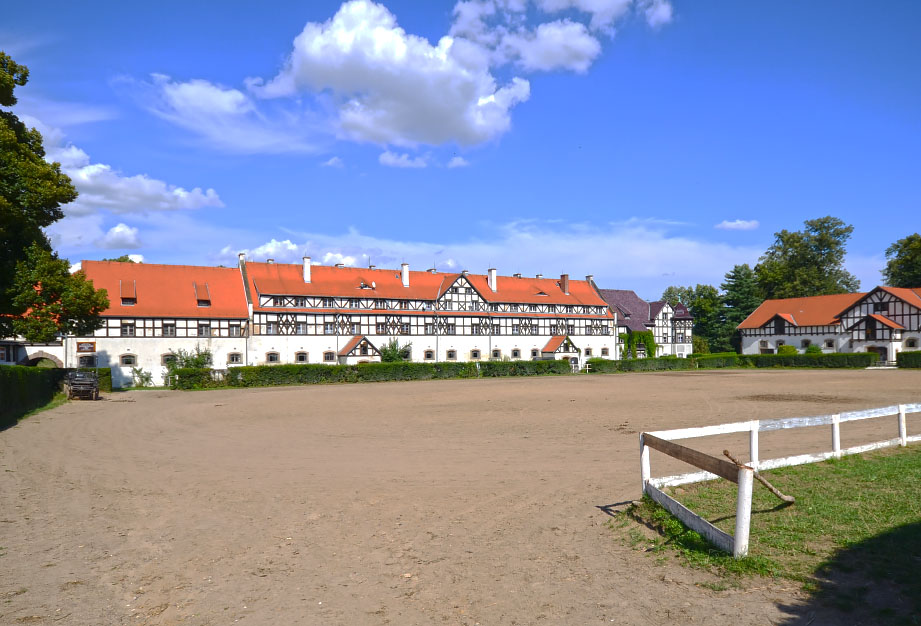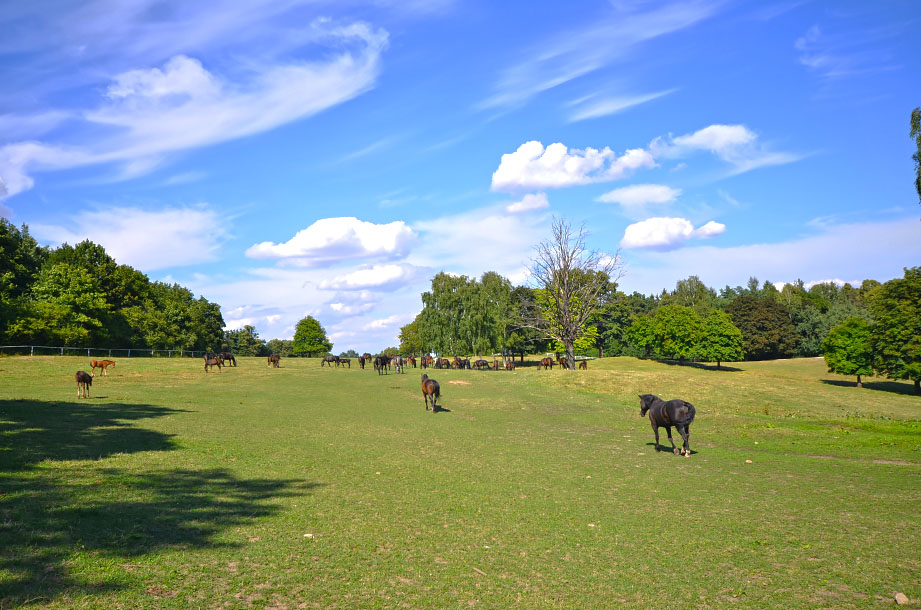 Cur­rent­ly, the place be­longs to the Stal­lion Stud in Sier­aków, be­ing the on­ly Pol­ish cen­ter for hors­es of the Si­le­sian breed. The stud con­sists of four wings im­i­tat­ing a for­ti­fied low­er town, a car­riage house and an in­door rid­ing are­na made of larch wood, con­sid­ered one of the most beau­ti­ful in Eu­rope. Cur­rent­ly, it is home to about 100 stal­lions and 40 brood­mares of the Si­le­sian, thor­ough­bred En­glish, Gre­ater Pol­ish, Less­er Pol­ish, En­glish-Ara­bi­an and cold-blood­ed breeds. The fa­cil­i­ty is open to vis­i­tors, who can en­ter the sta­bles, tour the rid­ing are­na and the ex­hi­bi­tion of old car­riages, and en­joy one of the many op­tions for rid­ing in the sad­dle or car­riage.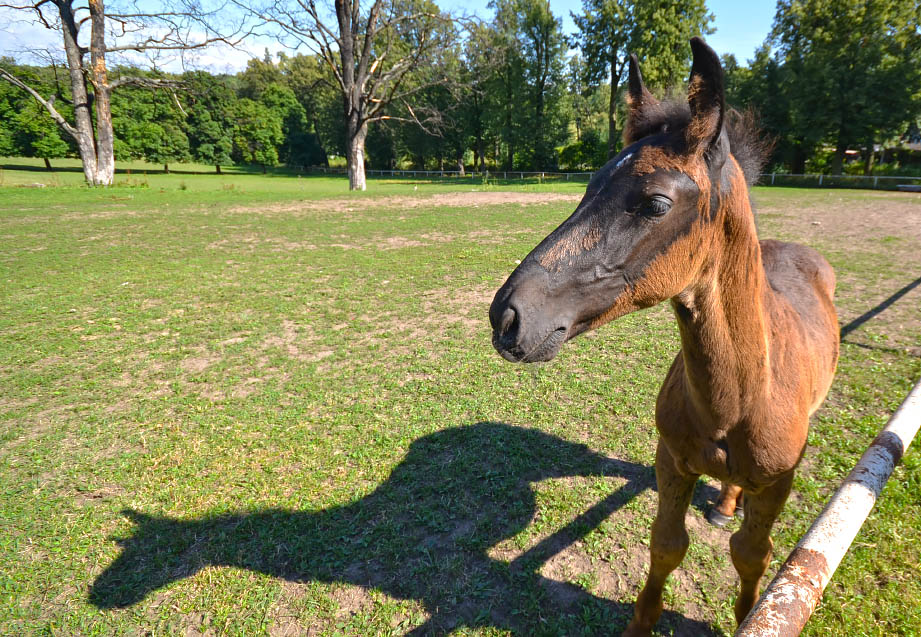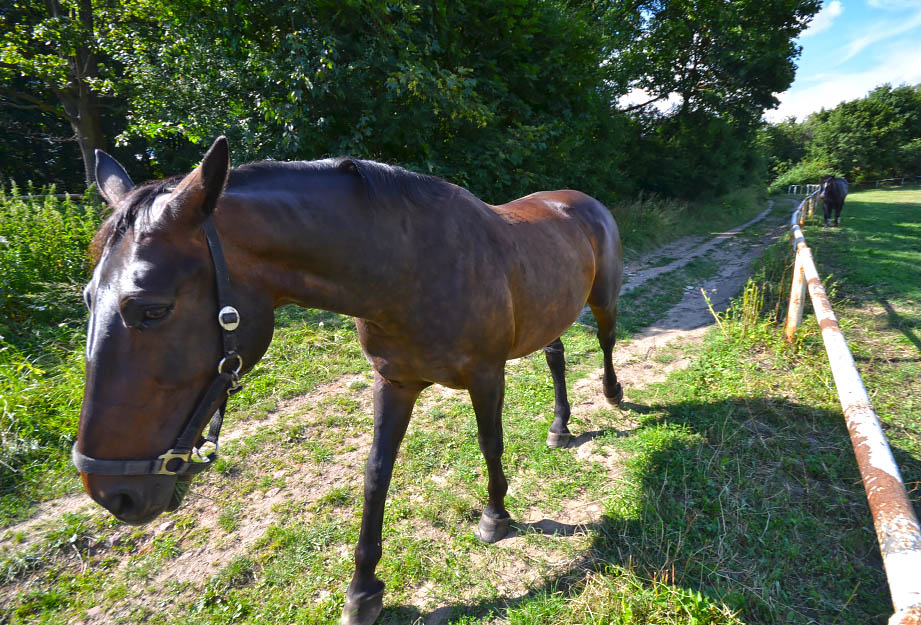 ---
The Lu­biechows­ka Palm House was built in 1911-13 by Hans Hein­rich XV for Dai­sy at a cost of the then 7 mil­lion marks. About 250 species of plants na­tive to warm ge­o­graph­i­cal zones grow here, in­clud­ing bam­boos, ole­an­ders, dra­cae­nas, var­i­ous species of cac­ti and cit­rus bush­es, as well as date palms and vines that re­mem­ber times of the von Hoch­bergs. Its in­te­ri­or walls were cov­ered with vol­canic tuff from Et­na, which was brought here at the spe­cial re­quest of Hans Hein­rich in an amount fill­ing sev­en rail­road wag­ons!
Next to the palm house is a Ja­pa­nese gar­den, a rosar­i­um and a fruit and veg­etable gar­den. There is al­so the on­ly per­ma­nent ex­hi­bi­tion of bon­sai in Poland. Ad­dress: Wał­brzych, 158 Wro­cław­ska Street.
---
The Old Mine Sci­ence and Art Cen­ter is lo­cat­ed in the west­ern part of Wał­brzych, which means it is quite far from Książ cas­tle. De­spite this, it is worth a vis­it. It is a mu­se­um es­tab­lished in 2014 on the site of the closed Ju­lia coal mine, list­ed on the Eu­ro­pean Route of In­dus­tri­al Her­itage. The main at­trac­tion here is the Mu­se­um of In­dus­try and Tech­nol­o­gy, which pro­vides ac­cess to some of the for­mer mine's fa­cil­i­ties, in­clud­ing the hoist­ing ma­chin­ery build­ing, the shaft tow­ers, the chain chang­ing room, me­chan­i­cal work­shops, as well as the un­der­ground tun­nel and ex­hi­bi­tions of min­ers' cos­tumes and equip­ment.
The Old Mine al­so hous­es a Con­tem­po­rary Art Gal­lery and an open-air ex­hi­bi­tion of his­toric min­ing ma­chin­ery com­po­nents. Ad­dress: Wał­brzych, 29 Pio­tra Wy­soc­kie­go Street.
text: 2023
photos: 2013, 2017, 2022
© Jacek Bednarek