PIOTRKÓW TRYBUNALSKI

the royal castle
THE ROYAL CASTLE IN PIOTRKÓW TRYBUNALSKI, VIEW FROM THE SOUTH
---
N
o doc­u­ments have sur­vived to the pre­sent day that would clear­ly in­di­cate the ex­is­tence of a me­dieval roy­al seat in Piotr­ków. How­ev­er, we can learn from oth­er sources that per­haps in still wood­en cas­trum Pyotr­kow knight­ly con­gre­ga­tions were held, king Wła­dy­sław Ja­gieł­ło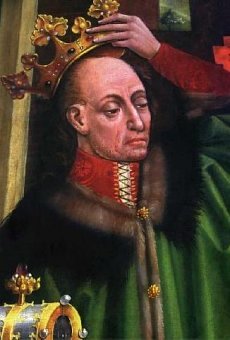 (d. 1434) is­sued roy­al acts, and the Teu­ton­ic cap­tives were kept. Where­as in 1469 the Czech deputies pre­sum­ably of­fered here the roy­al crown to Wła­dy­sław
(d. 1516), the son of Ca­si­mir Ja­giel­loń­czyk, as a re­ward for the help given by Poles in the war against the Hun­gar­i­an king Ma­ciej Kor­win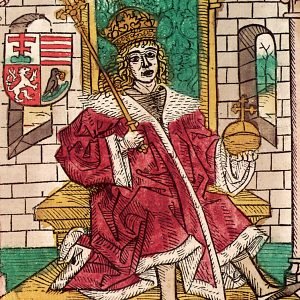 . The old­est sur­viv­ing source mes­sage re­fer­ring di­rect­ly to the roy­al res­i­dence is a note dat­ed 1487, in­form­ing about the do­na­tion of 2 cetnars of lead, which was giv­en by trea­sur­er to the ten­ant Do­bie­sław from Ku­roz­wę­ki of Po­raj coat of arms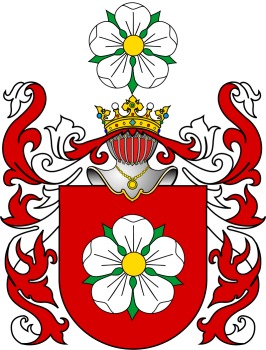 (d. 1496) for ren­o­va­tion the win­dows in the cas­tle. This note, as well as all pre­vi­ous re­la­tions, prove the func­tion­ing of some res­i­dence with­in the bor­ders or in the vicin­i­ty of Piotr­ków. How­ev­er, both its lo­ca­tion and ar­chi­tec­tural form re­main un­known, al­though it was prob­a­bly a rel­a­tive small ob­ject, used for short stays of the kings.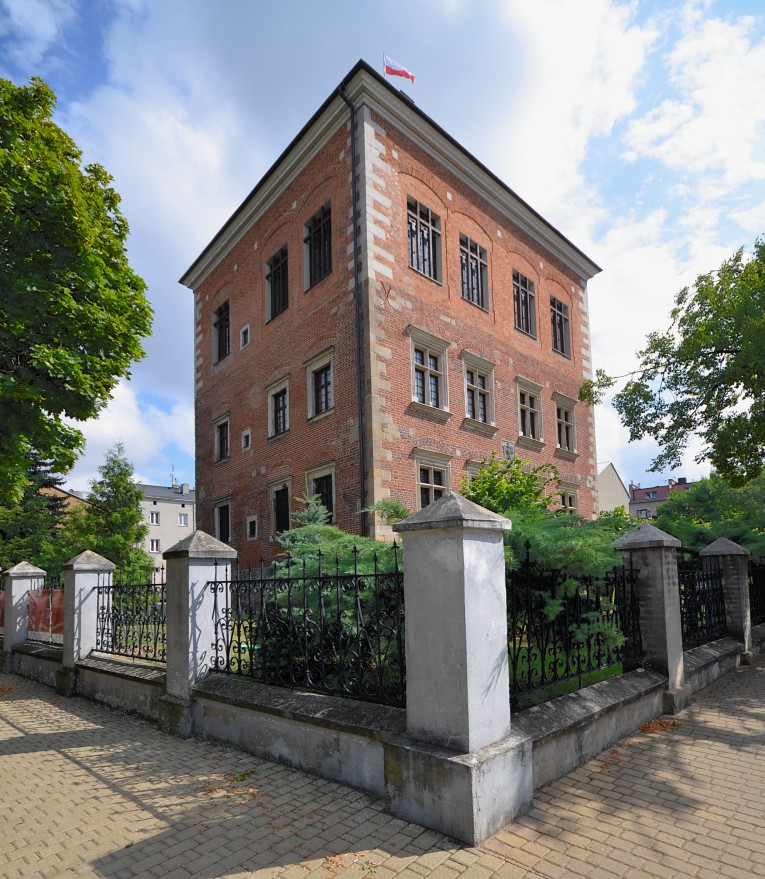 VIEW OF THE CASTLE FROM THE CROSSING OF ZAMKOWY SQUARE AND ZAMKOWA STREET
The cen­tral lo­ca­tion of Piotr­ków, on the bor­der­land of the prov­inces of Ma­ło­pol­ska and Wiel­ko­pol­ska, caused that al­ready in the first half of the 13th cen­tu­ry the first con­gre­ga­tions of knights of the Łę­czy­ca prov­ince and the ducal courts were or­ga­nized there. These tra­di­tions were con­tin­ued in the times of polish king Wła­dy­sław Ło­kie­tek
(d. 1333), un­der whose lead­er­ship the con­gress­es of the land fam­i­lies were held here. It is like­ly that the vil­lage was grant­ed town rights. Af­ter the re­uni­fi­ca­tion of the Pol­ish lands, dur­ing the reign of the last two Piasts, Piotr­ków de­vel­oped in­ten­sive­ly, was sur­round­ed by a de­fen­sive wall, and its eco­nom­ic sig­nif­i­cance in re­la­tion to neigh­bour­ing ur­ban cen­tres be­came dom­i­nant. Dur­ing the life of Ca­si­mir the Great the town was the seat of the no­ble courts: the land courts and the town coun­cils, which dur­ing the reign of king Wła­dy­sław Ja­gieł­ło be­came the na­tion­al con­gress­es, where priv­i­leges were is­sued and con­fed­er­a­tions were es­tab­lished. The first Gen­er­al Sejm in Piotr­ków took place in 1444 and was main­ly fo­cused on Wła­dy­sław III's in­volve­ment in the war with Turkey. In the fol­low­ing years, new rulers of Poland were elect­ed here, con­sti­tu­tions were es­tab­lished, no­ble and roy­al priv­i­leges were grant­ed and abol­ished, tax­es were im­posed, and even the prices of some prod­ucts were set.

Pi­otrków lost its sta­tus as the Sejm town with the sign­ing of the Lub­lin Union be­tween Poland and Lithua­nia in 1569, as a re­sult of which - due to its more con­ve­nient lo­ca­tion - the par­lia­ment was moved to War­saw. Due to good ac­ces­si­bil­i­ty and a large num­ber of beds, the town was bur­dened with oth­er tasks, be­com­ing from 1578 the seat of the Crown Tri­bunal for the re­gions of Wiel­ko­pol­ska, Ma­zow­sze, Ku­ja­wy and Roy­al Prus­sia. How­ev­er, the ses­sions of the tri­bunals were usu­al­ly held then not in the cas­tle but in the town hall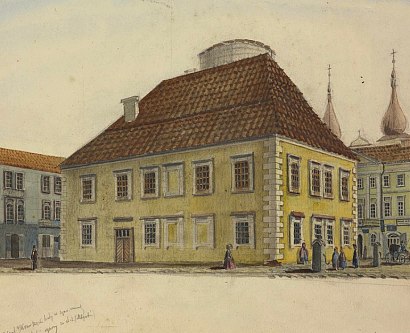 .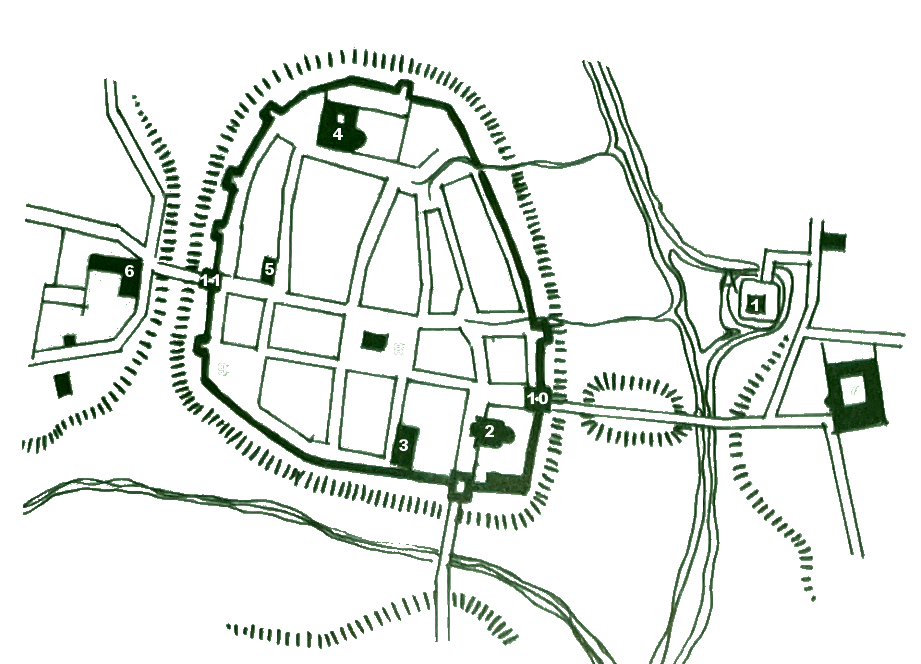 HISTORICAL PLAN OF THE TOWN PIOTRKÓW: 1. ROYAL CASTLE, 2. PARISH CHURCH OF ST. JACOB, 3. JESUIT ORDER MONASTERY,
4. DOMINICAN MONASTERY, 5. DOMINICAN MONASTERY (FEMALE), 6. BERNARDINE MONASTERY, 7. FRANCISCAN MONASTERY,
8. TOWN SQUARE, 9. DEFENSIVE WALLS, 10. WOLBÓRZ GATE, 11. SIERADZ GATE
W
ith de­vel­op­ment of the town's par­lia­men­tary func­tions, the ex­pec­ta­tions of the ruler and roy­al of­fi­cials re­gard­ing the stan­dard of stay have changed. In the new re­al­i­ty, the ex­ist­ing form of the build­ing did not meet the needs of the roy­al court, so the nat­u­ral ten­den­cy was to build a com­fort­able palace, which in ad­di­tion to its res­i­den­tial func­tion was to be a cen­ter of roy­al pow­er. Thus, Zyg­munt I Sta­ry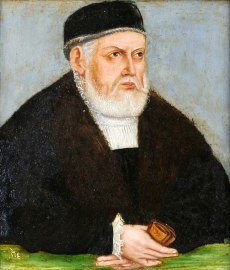 (d. 1548) com­mis­sioned to erect a new Tur­ris In Mod­um Ar­cis which would meet the re­quire­ments of the Grand Crown Sejm. He as­signed the con­struc­tion work to Be­ne­dict, prob­a­bly com­ing from Up­per Hun­gary, who was al­so act­ing as a roy­al ar­chi­tect in Cra­cow and San­do­mierz. From archives dat­ed 1511, doc­u­ment­ing the pay­ment 10 flor­ins by the Crown Chan­cel­lor Krzysz­tof Szy­dło­wiec­ki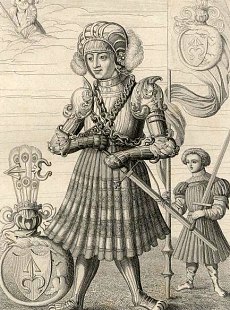 , it can be as­sumed that or­ga­ni­za­tion of the roy­al in­vest­ment start­ed that year. The main con­struc­tion work on the three-storey tow­er build­ing prob­a­bly last­ed un­til 1519, and cer­tain­ly not longer than 1521, when the pri­vate mass cel­e­brat­ed for the king in his apart­ment was men­tioned. Dur­ing his reign, Zyg­munt Sta­ry vis­it­ed Piotr­ków at least 16 times, but it should be not­ed that the palace was gen­er­al­ly used by the ruler on­ly for a few weeks a year, dur­ing the ses­sions of the Sejm.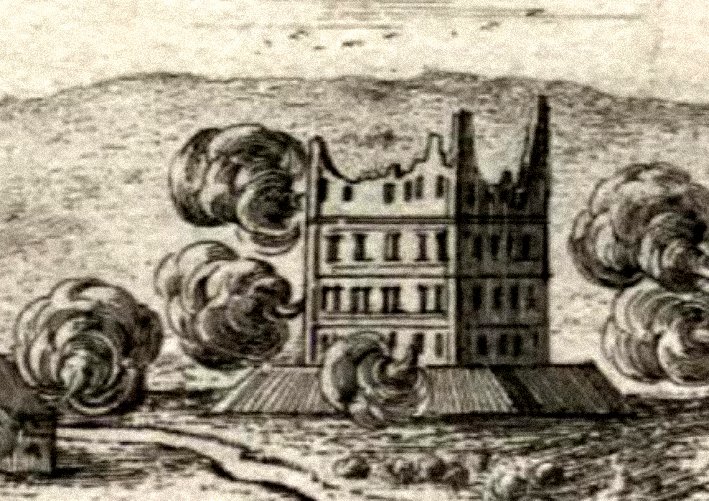 BURNING CASTLE IN E. DAHLBERG'S FIGURE FROM THE WORK BY S. PUFENDORF DE REBUS A CAROLO GUSTAVO GESTIS, 1656
ON THE RIGHT, THE NO LONGER EXISTING FRANCISCAN MONASTERY
A
fter the death of Zyg­munt Sta­ry, the Piotr­ków tow­er lost its func­tion as a roy­al res­i­dence, al­though Queen Bo­na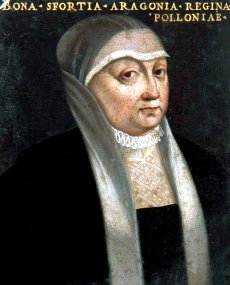 (d. 1557) was still here for some time. Al­so Zyg­munt Au­gust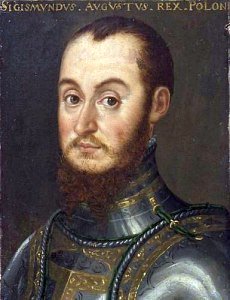 (d. 1572) was not in­ter­est­ed in adapt­ing the build­ing to his own needs and dur­ing his stays at the Sejm he chose a more pri­vate manor house in the sub­urb of Bu­gaj. Thus, in the sec­ond half of the 16th cen­tu­ry, the build­ing be­came on­ly the place of Sejm's meet­ings, and when it was moved to War­saw in 1567, the tow­er was des­ig­nat­ed as the seat of the starosts. In 1588 the starost of Piotr­ków was An­drzej Ze­brzy­dow­ski of Rad­wan coat of arms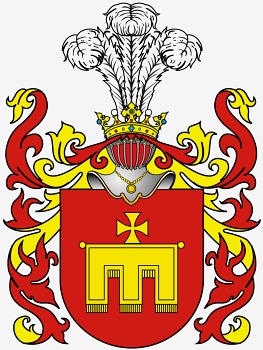 , who died that year. The com­pe­tences of his of­fice in­clud­ed judg­ing cas­es con­cern­ing the so-called four mu­nic­i­pal ar­ti­cles. A re­minder of those times are the 16th cen­tu­ry names en­graved by de­fen­dants on the walls of the low­est floor of the cas­tle, among them Mi­ko­łaj Od­rzy­wol­ski 1581, Roch Sie­ra­kow­ski 1565 etc.
NAMES AND DATES ENGRAVED BY PRISONERS OF PIOTRKÓW CASTLE
M
arginal­i­sa­tion of po­lit­i­cal func­tion of the tow­er and col­lapse of pres­tige of the for­mer roy­al res­i­dence have been re­flect­ed in ex­pens­es in­curred for its main­te­nance, which have been sig­nif­i­cant­ly re­duced. As a re­sult, as ear­ly as 1611 the build­ing was very ne­glect­ed, which is in­di­cat­ed by a frag­ment of the vet­ting: the moat was flood­ed with sludge, the pal­isade was al­most en­tire­ly over­thrown, and on­ly ru­ins of the for­mer gate re­main. How­ev­er, the re­al de­struc­tion was caused dur­ing the wars with Swe­den, es­pe­cial­ly the siege of 1657, when the cas­tle was first com­plete­ly robbed by the Swedes and then burnt down by Pol­ish army of Ste­fan Czar­nec­ki. Its re­con­struc­tion was un­der­tak­en by the starost of Piotr­ków, Mi­chał War­szyc­ki of Ab­dank coat of arms
(d. 1697), who in the years 1668-71 es­tab­lished a new di­vi­sion of in­te­ri­ors with Baroque dec­o­ra­tion and new fire­places. He also plas­tered the walls and cov­ered the build­ing with a tent roof. How­ev­er, the works car­ried out on War­szyc­ki's ini­tia­tive did not in­clude the re­con­struc­tion of the Re­nais­sance at­tic nor the sur­round­ing for­ti­fi­ca­tions, so in the sec­ond half of 17th cen­tu­ry the cas­tle fi­nal­ly lost its mil­i­tary sig­nif­i­cance.
CASTLE IN PIOTRKÓW TRYBUNALSKI, "KŁOSY" 1868
TOWER ON POLKOWSKI'S ENGRAVING, "TYGODNIK ILUSTROWANY"
THE MOST IMPORTANT EVENTS AND LEGAL ACTS ESTABLISHED IN PIOTRKÓW
- the Grand Teutonic Master Henrik von Plauen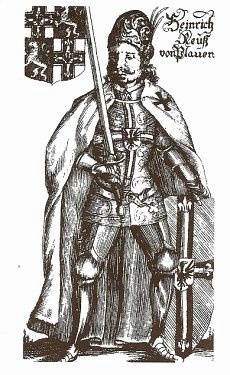 pays homage to Ka­zi­mierz Ja­giel­loń­czyk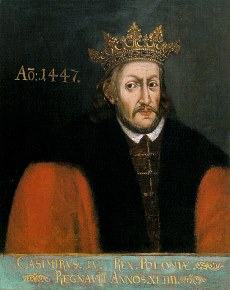 , 1469
- adoption of Constitution, 1493
- enactment of the so-called Piotrków privilege limiting the economic basis of town development, we­ake­ning the rights of towns­men and ty­ing pe­asants to the land, 1496
- limitation of royal power: no consent for the king to use the crown property on his own, 1503/4
- reduction in the price of spices and liquors, 1524
- resolution prohibiting the purchasing of landed property by townspeople, 1538
- conflict between king Zygmunt August and the nobility regarding his marriage to Bar­ba­ra Ra­dzi­wił­łów­na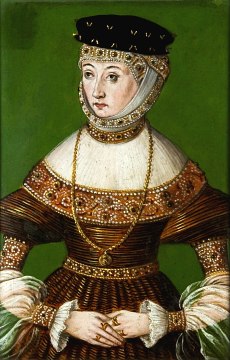 , 1548
- proposal of the Protestant nobility to establish a Polish national church independent from the Po­pe, 1555
- deep tax reform (increasing taxes paid by the nobility and the church, fiscal relief for pe­asant sta­te) and mi­li­ta­ry (esta­blish­ing ru­les for fi­nan­cing the ar­my), 1562/63
- monetary reform to set the exchange rate of a foreign currency in relation to its own, 1567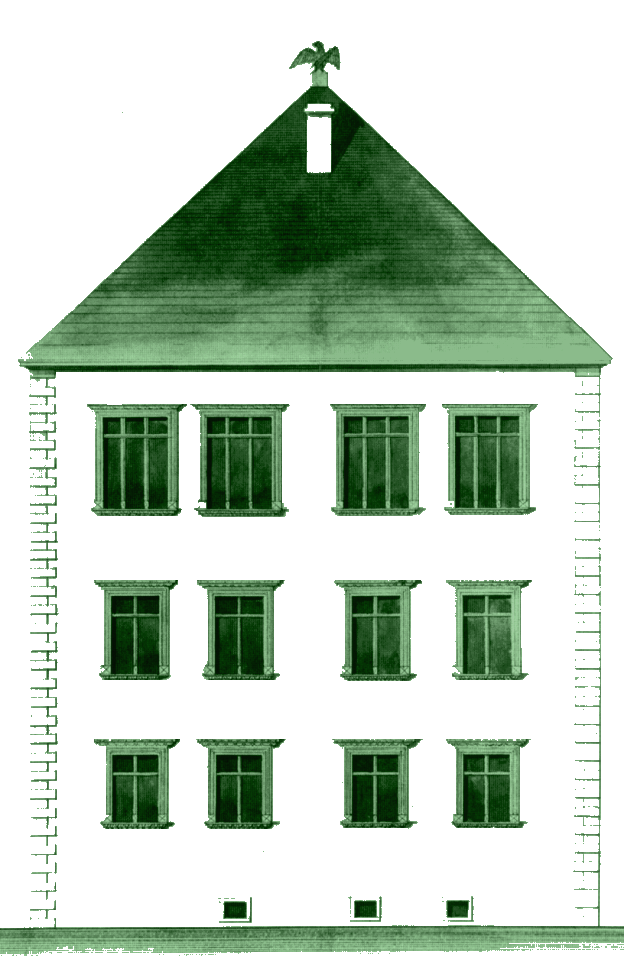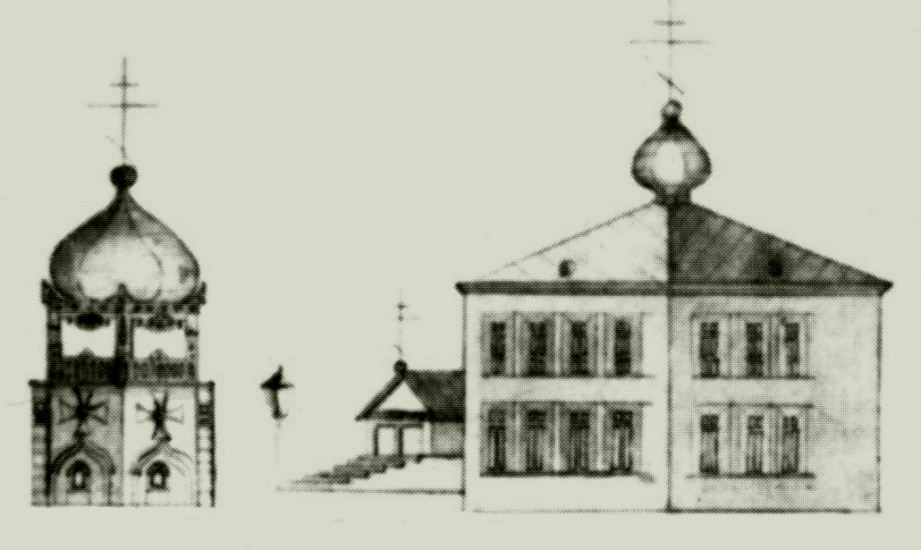 THE TOWER ON XIX-CENTURY DRAWINGS, BELOW WE CAN SEE A SKETCH SHOWING THE APPEARANCE OF THE TOWER
AFTER CONVERSION INTO AN ORTHODOX CHURCH
D
ue to in­creas­ing neg­li­gence, in the 18th cen­tu­ry the build­ing fell in­to a worse and worse con­di­tion. Af­ter the liq­ui­da­tion of Pol­ish of­fices by oc­cu­py­ing Prus­sian ad­min­is­tra­tion, ware­hous­es were set up here. When in 1865 a fire de­stroyed the en­tire east­ern dis­trict of the town, the dam­aged build­ing was hand­ed o­ver to Rus­sian troops sta­tioned in Piotr­ków. Fol­low­ing the de­ci­sion of the lo­cal au­thor­i­ties, the high­est storey of the cas­tle was de­mol­ished, as well as cor­nices and win­dow sills and Re­nais­sance por­tals were re­moved. The pre­served in­te­ri­ors have been ren­o­vat­ed and then the up­per floors were adapt­ed for an ar­moury and a mil­i­tary of­fice, and the cel­lars for a bak­ery. Be­tween them, a gar­ri­son church was set up on the ground floor, whose pres­ence in this place was em­pha­sized by a new roof with a char­ac­ter­is­tic church dome. Af­ter Poland re­gained its in­de­pen­dence, the buil­ding was hand­ed o­ver to the town' s di­vi­sion of the Sight­see­ing So­ci­ety, and then, af­ter car­ry­ing out nec­es­sary ren­o­va­tion and adap­ta­tion works, it served as the seat of the lo­cal mu­se­um. The cas­tle sur­vived the Sec­ond World War with­out any dam­age and al­ready in 1947 the Re­gion­al Mon­u­ment Con­ser­va­tor de­cid­ed to re­store its Re­nais­sance fea­tures. The main con­struc­tion works were car­ried out here in 1963-72 and re­sult­ed in, among oth­er things, re­con­struc­tion of the sec­ond floor of the build­ing.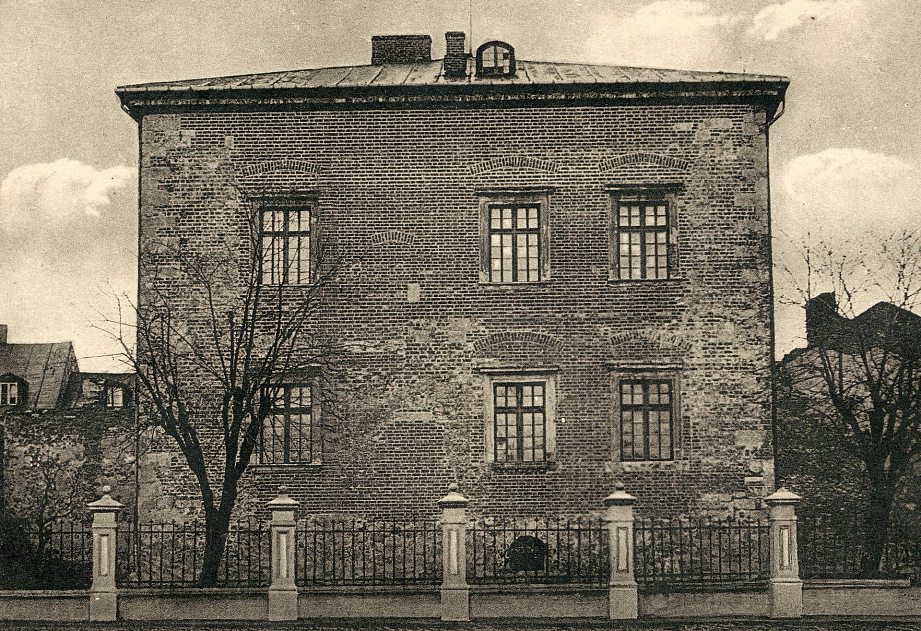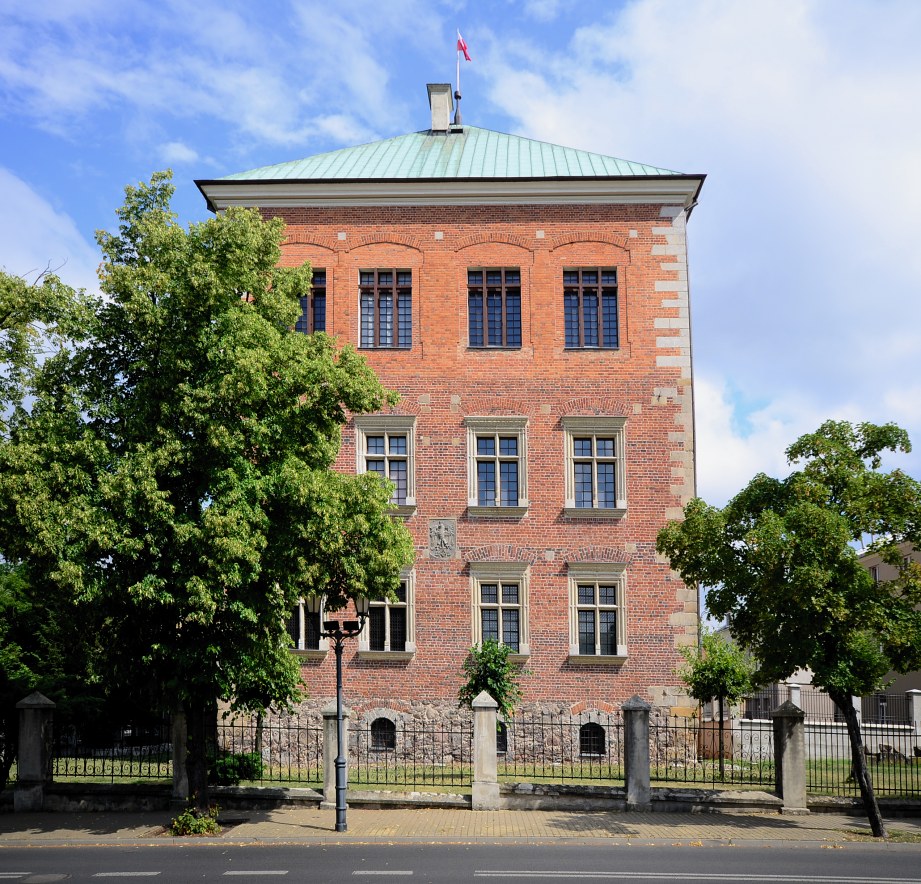 CASTLE IN THE INTERWAR PERIOD AND AT PRESENT: HIGHER - WESTERN ELEVATION, LOWER - VIEW FROM THE SOUTH
DESCRIPTION OF THE CASTLE
T
he roy­al tow­er was erect­ed on the east­ern pe­riph­eries of the town, on a mound, and was sur­round­ed by a moat sup­plied by the wa­ters of Stra­wa Riv­er, whose bed sep­a­rat­ed the cas­tle from the town. The term "cas­tle" has a sym­bol­ic mean­ing in this case and is of­ten ques­tioned. Apart from the ex­ter­nal de­fence sys­tems such as a pal­isade or a moat men­tioned above, the tow­er did not have ev­i­dent mil­i­tary fea­tures and from the very be­gin­ning its pur­pose was to re­alise the ruler's res­i­den­tial and rep­re­sen­ta­tive am­bi­tions rather than to pro­vide a strate­gic ad­van­tage in case of armed con­flicts. The Goth­ic-Re­nais­sance tow­er palace was raised above the sur­round­ing area to the height of three storeys with the ground floor, which was built with a sol­id wall made of er­at­ic stones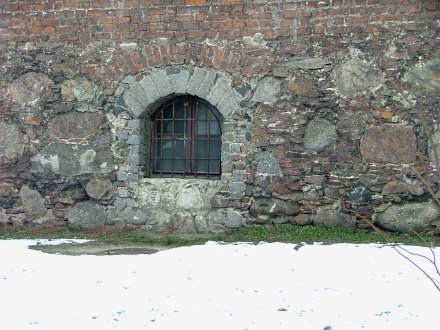 . The build­ing was de­signed on a rect­an­gu­lar plan with sides of about 18.5x20 me­ters, longer sides fac­ing south and north. The walls are di­ver­si­fied by win­dow frames made of lime­stone with dec­o­ra­tion re­fer­ring to ar­chi­tec­tural de­tails of the roy­al cas­tle in Cra­cow. The char­ac­ter­is­tic fea­ture of win­dows is that start­ing from the ground floor their size in­creas­es with the height of the build­ing.
ZABYTKOWE ODRZWIA I PORTALE OKIENNE ZA ZAMKU W PIOTRKOWIE, TYGODNIK ILUSTROWANY 1864
T
he lack of win­dows in the out­er­most ax­es of the north­ern and east­ern el­e­va­tions in­di­cates a stair­case situ­ated here, and their ab­sence in the cen­tral part of west­ern el­e­va­tion re­sults from the la­trine bays orig­i­nal­ly placed there. The front walls are de­void of dec­o­ra­tions, on­ly in the strip be­tween the ground floor and the first floor of the south­ern wall a stone car­touche with an im­age of the Jagiel­loni­an Ea­gle
was placed in the in­ter­war pe­ri­od. The main en­trance to the tow­er is lo­cat­ed at east­ern cor­ner and is sur­round­ed by an ar­cad­ed sand­stone por­tal. It is as­sumed that the build­ing was orig­i­nal­ly cov­ered with a gable roof, per­haps dec­o­rat­ed with a Re­nais­sance at­tic. In the 16th cen­tu­ry, the roy­al res­i­dence was sur­round­ed by wood­en build­ings or a half-tim­bered struc­ture, in which the roy­al court could re­side and meet­ings of the Se­jm took place.
GROUND FLOOR PLAN ACCORDING TO TERESA JAKIMOWICZ
I
n all storeys of the tow­er a di­vi­sion in­to three rooms formed by cross­ing of two walls at right an­gles was used. In this way, two west­ern cham­bers on each floor got a square plan, and a large cham­ber on the east­ern side re­ceived a plan of a rect­an­gle. The two low­est storeys of the cas­tle were in­tend­ed to per­form tasks sup­port­ing its res­i­den­tial and ad­min­is­tra­tive func­tions. In vault­ed cel­lars the trea­sury and archives were kept, and some­times the de­tainees were al­so im­pris­oned there. On the ground floor, which, like all the oth­er floors, was cov­ered with a wood­en ceil­ing, the apart­ment of the cham­ber­lain, the court of­fi­cial re­spon­si­ble for per­son­al safe­ty of the king, was ar­ranged. Above them there were the king's pri­vate rooms with a large cham­ber called Pa­la­tium Stu­bam Su­pe­ri­orem, while the high­est lev­el was oc­cu­pied by the main pa­rade hall. All above­ground floors of the tow­er had a repet­i­tive lay­out. Ver­ti­cal com­mu­ni­ca­tion was car­ried out by a vault­ed stair­case lo­cat­ed in the north­east­ern cor­ner of the build­ing, open­ing to huge cham­bers on each lev­el. It is worth men­tion­ing that the top floor of the tow­er was de­mol­ished by Rus­sians in the nine­teenth cen­tu­ry, and cur­rent­ly ex­ist­ing is a re­con­struc­tion made af­ter World War II.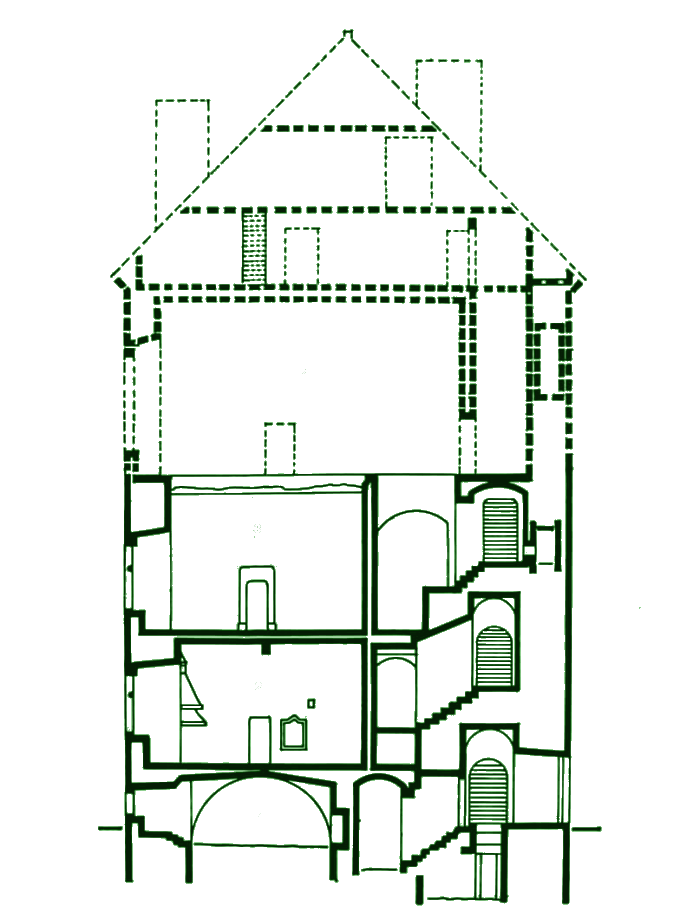 TOWER CROSS-SECTION ACCORDING TO TERESA JAKIMOWICZ: 1 . BASEMENTS, 2. CHAMBERLAIN'S SUITES,
3. ROYAL APARTMENTS, 4. REPRESENTATIVE HALL
---
T
he bar­rel vaults of the cel­lars and Baroque lin­tels on the first floor with the coat of arms of Michał War­szyc­ki have been pre­served un­til to­day. Mod­est frag­ments of red mar­ble floor­ing have al­so sur­vived, as well as part of the rich­ly or­na­ment­ed stone­ma­son­ry of win­dow frames
and por­tals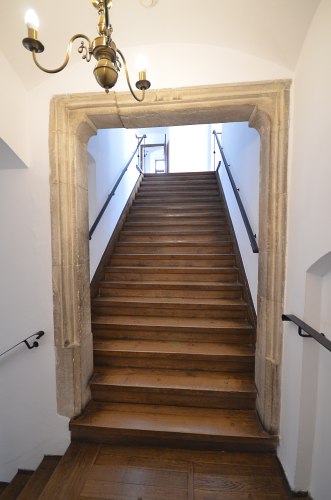 in the door­ways lead­ing from hall­way to roy­al cham­bers. On the walls we can al­so see rem­nants of 16th cen­tu­ry paint­ings and plas­ters, per­haps still re­mem­ber­ing the times of roy­al se­jms. At pre­sent, the cas­tle hous­es the Mu­se­um with per­ma­nent ex­hi­bi­tion cov­er­ing is­sues from the fields of ar­chae­ol­o­gy, ethnog­ra­phy, his­to­ry, mil­i­taria and art. Apart from arte­facts doc­u­ment­ing the pre­his­to­ry of Piotr­ków's land, a re­con­struc­tion of a 19th cen­tu­ry coun­try home­stead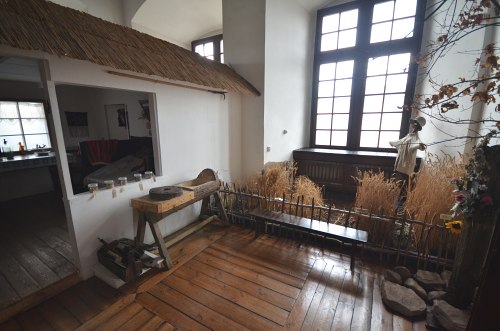 and an ex­hi­bi­tion of Re­nais­sance and Baroque in­te­ri­ors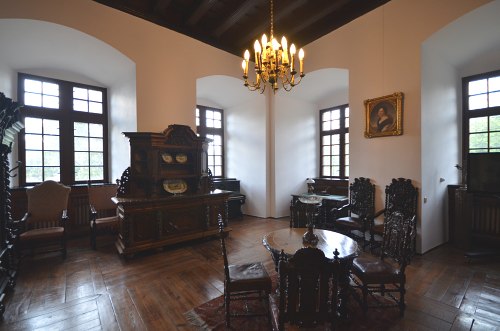 with a col­lec­tion of Gdańsk fur­ni­ture are avail­able on the floors of the tow­er.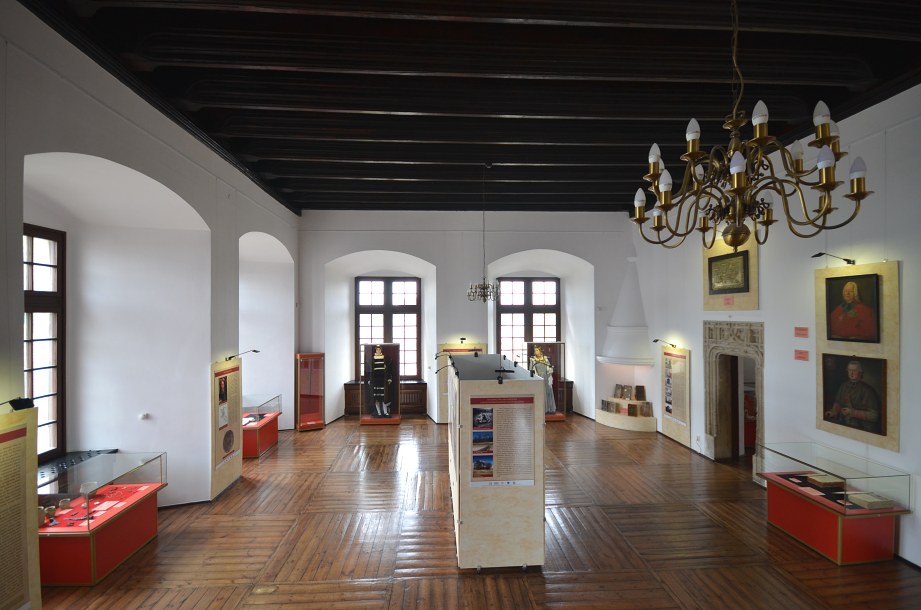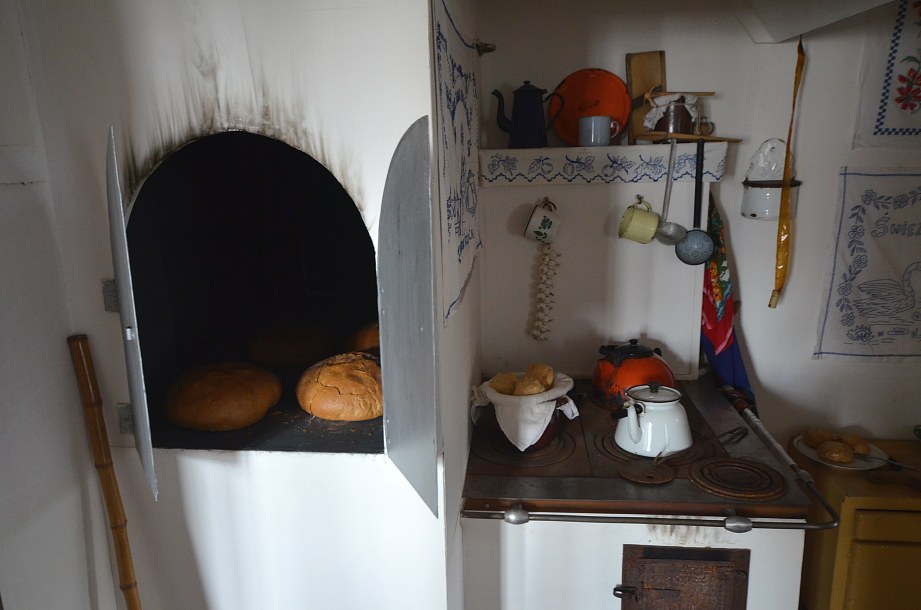 T
he Mu­se­um al­so has a rich col­lec­tion of old weapons, of which the old­est swords are par­tic­u­lar­ly note­wor­thy (in­clud­ing Teu­ton­ic Knights' sword from the be­gin­ning of XIV cen­tu­ry and the short sword used in ex­e­cu­tions), scythes used dur­ing the Koś­ciusz­ko In­sur­rec­tion and oth­er nine­teenth-cen­tu­ry up­ris­ings, and a col­lec­tion of o­ver 200 firearms
. The walls of the tow­er are dec­o­rat­ed with por­trait paint­ing gal­lery with im­ages of Pol­ish kings and dukes, cre­at­ed in the sec­ond half of the 18th cen­tu­ry by an un­known artist. The ex­hi­bi­tion is sup­ple­ment­ed by sculp­tures and ob­jects of artis­tic crafts­man­ship, as well as nu­mer­ous his­tor­i­cal mem­o­ra­bil­ia con­nect­ed with Piotr­ków and its in­hab­i­tants.
| | |
| --- | --- |
| | There is an admission fee to the castle. |
| | |
| --- | --- |
| | No pets allowed in the castle. |
| | |
| --- | --- |
| | Interiors can be photographed. It is free of charge when you take pic­tures for your own pur­poses. |
---
T
he tow­er is sit­u­at­ed on Cas­tle Square in the old­er, for­mer­ly Jew­ish dis­trict of the city, about 300 me­ters east of the Mar­ket Square. A large car park is lo­cat­ed vis-a-vis the south­ern el­e­va­tion of the cas­tle, on Zam&shyko&shywa Street. Peo­ple trav­el­ling by train, af­ter leav­ing the rail­way sta­tion should head north on Pol­skiej Or­ga­ni­za­cji Woj­sko&shywej Street and then east on Woj­ska Pol­skie&shygo Street. A walk along this way takes 20 min­utes.
---
1. L. Kajzer, J. Salm, S. Kołodziejski: Leksykon zamków w Polsce, Arkady 2001
2. A. R. Sypek: Zamki i warownie ziemi mazowieckiej, TRIO 2002
3. Piotrków Trybunalski i okolice - przewodnik, it 1997
4. T. Ratajczak: Podróże władcy i architektura. Przebudowa królewskich rezydencji...
5. T. Ratajczak: Nie tylko Wawel. Przebudowy monarszych rezydencji w Królestwie Polskim...
6. T. Ratajczak: Udział mistrza Benedykta w przebudowie zamku wawelskiego, Studia Waweliana 2009
7. A. Wagner: Murowane budowle obronne w Polsce X-XVIIw., Bellona 2019

THE GROUND FLOOR OF THE TOWER: ABOVE THE WESTERN ELEVATION, BELOW THE NORTHERN ELEVATION
WITH AN ENTRANCE TO THE HALLWAY AND CELLARS
Castles nearby:
Piotrków Trybunalski-Byki - fortified manor house from the 15-17th century, 5 km
Sulejów - fortified Cistercian abbey from the 13-16th century., 21 km
Ujazd - relics of a knight's castle from the 15th century, 28 km
Mikorzyce - ruins of fortified manor house from the 16th century., 30 km
Majkowice - ruins of fortified manor house from the 16th century, 40 km
Pabianice - fortified manor house from the 16th century, 40 km
Bąkowa Góra - ruins of fortified manor house from the 15th century, 41 km

---
Sit­u­at­ed on Ta­de­usz Koś­ciusz­ko Square, the church and mo­na­stery of Ber­nar­di­nes, erect­ed in the first half of the 17th cen­tu­ry. The sacral build­ings rep­re­sent the Baroque style, with rich in­te­ri­or dec­o­ra­tion, where the "mirac­u­lous" im­age of Our La­dy from 1625, paint­ed on a cop­per sheet, is es­pe­cial­ly promi­nent. In the east­ern part of mo­na­stery there is a char­ac­ter­is­tic Baroque gate, while in the west there is a for­mer monas­tic gar­den, tak­en away from the Ber­nar­dines in the 19th cen­tu­ry and trans­formed in­to a park. On the op­po­site side of the square there are build­ings of the his­toric fe­male Do­mini­can mo­na­stery, which, when in­te­grat­ed in­to me­dieval de­fen­sive walls, are some of the most char­ac­ter­is­tic sym­bols of the city. Af­ter ren­o­va­tion in 2015, a cul­tur­al in­sti­tu­tion called the Cen­tre for Ideas To­wards Democ­ra­cy was opened here. Head­ing to­wards the cas­tle we pass the 14th cen­tu­ry Try­bu­nal­ski Mar­ket Square, the largest his­tor­i­cal square in the city with orig­i­nal ur­ban lay­out, con­sist­ing of eight streets in­ter­sect­ing at its four cor­ners. The cen­tral part of the mar­ket was oc­cu­pied by the town hall (no longer ex­ist­ing), prob­a­bly erect­ed in the 15th cen­tu­ry, in which the Crown Tri­bu­nal was held un­til 1792.
text: 2020
photographs: 2018
© Jacek Bednarek