PIOTRKÓW TRYBUNALSKI

late Renaissance mansion
RENAISSANCE MANSION, VIEW FROM THE NORTHEAST
---
T
he vil­lage of By­ki first ap­peared in doc­u­ments in 1416 as the prop­er­ty of Woj­ciech Ja­xa-By­kow­ski and Mi­ko­łaj Ja­xa-By­kow­ski of Gryf coat of arms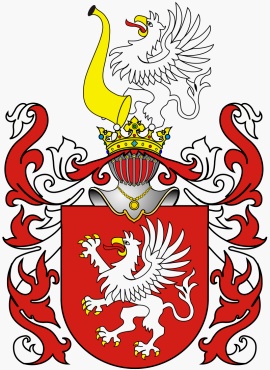 , who pre­sum­ably lived in some wood­en manor of un­known form. A brick manor house was prob­a­bly erect­ed here on­ly at the turn of the 16th and 17th cen­turies by the castel­lan of Łę­czy­ca, Jan Sta­ni­sław By­kow­ski (d. 1624), al­though there is an as­sump­tion that a small res­i­den­tial tow­er al­ready ex­ist­ed in By­ki around 1500, which lat­er be­came part of a Re­nais­sance palace.
EAST ELEVATION OF THE MANSION
A
f­ter Jan Bykows­ki's death, the fam­i­ly es­tate passed in­to the hands of his son Prze­my­sław of Kos­so­wo, castel­lan of Sie­radz (d. 1648), and when he died, By­ki was in­her­it­ed by his three sons: Alex­an­der (d. 1722), Sta­ni­sław (d. af­ter 1695) and Jan. Zo­fia, the daugh­ter of the lat­ter, af­ter mar­ry­ing Adam Skó­rzew­ski of Ogoń­czyk coat of arms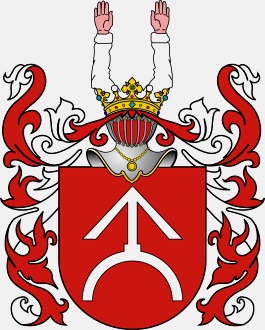 in 1693, brought him her in­her­i­tance as a mar­riage con­tri­bu­tion. Pre­sum­ably it was she and her hus­band who, in the 1720s, ex­pand­ed the man­sion in­to a small palace with a char­ac­ter­is­tic oc­tag­o­nal tow­er
. The next and last of the Skó­rzew­ski fam­i­ly to own the es­tate were the chil­dren of Zo­fia and Adam: Sta­ni­sław, Jan, Pe­tro­nel­la and Zu­zan­na, who, af­ter her mar­riage to An­to­ni Je­ło-Ma­liń­ski, gave him By­ki as hered­i­tary prop­er­ty.
I
n 1760 the broth­ers Alek­sander and Stanisław Ma­liń­ski sold the es­tate to Mi­chał Wę­żyk of Wąż (Snake) coat of arms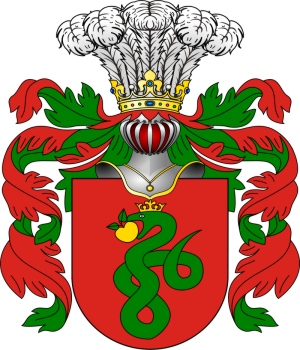 (d. 1791). The tech­ni­cal con­di­tion of the manor house at that time ap­par­ent­ly left much to be de­sired, as ev­i­denced by the fact that five years ear­li­er its west­ern part with the chapel had col­lapsed. The Wę­żyk fam­i­ly owned the By­ki es­tate for near­ly a cen­tu­ry, but did not live here, leas­ing it to less wealthy no­ble fam­i­lies. Af­ter Mi­chał, the palace was in­her­it­ed by his son Adam Wę­żyk, who sold it to Je­zio­rań­ski fam­i­ly in 1847. The new own­ers made some ren­o­va­tions and mod­ern­iza­tion here, but the ef­fect of these works was not awe-in­spir­ing, as ex­em­pli­fied by the opin­ion of Os­kar Flatt, a sight­seer and his­to­ri­an who lived at the time - he men­tioned in his ar­ti­cles that the build­ing had lost its charm of an­tiq­ui­ty be­cause of its mod­ern ar­chi­tec­ture.
EASTERN ELEVATION WITH RELICS OF THE BAY WINDOW
D
ur­ing World War I, the manor's in­te­ri­ors were dev­as­tat­ed by Ger­man troops sta­tioned there. To make mat­ters worse, the then own­ers (Je­zio­rańs­cy), lost a large part of their prop­er­ty, thus they were forced to sell the land in By­ki, of which Czar­nec­ki fam­i­ly be­came the new pro­pri­etor. Fur­ther de­struc­tion and dev­as­ta­tion of the build­ing was done by the Ger­mans dur­ing World War II, us­ing the man­sion for eco­nom­ic pur­pos­es, in­clud­ing keep­ing live­stock. The south­ern part suf­fered the most at that time, es­pe­cial­ly the tow­er-capel, whose con­di­tion af­ter the war was so bad that the then own­er de­cid­ed to de­mol­ish it.
VIEW OF THE MANSION FROM THE SOUTHEAST, IN THE FOREGROUND WE CAN SEE REMAINS OF THE DEMOLISHED CHAPEL (1957)
TOWER-CHAPEL AFTER RECONSTRUCTION (2006)
I
n 1961, the last pri­vate own­er of the man­sion, Mak­sym Czar­nec­ki, hand­ed it o­ver to state ad­min­is­tra­tion, which, af­ter a major ren­o­va­tion, opened an agri­cul­tur­al tech­ni­cal school here. In lat­er years, the man­sion housed a vet­eri­nary col­lege and a vo­ca­tion­al hor­ti­cul­tur­al school, and in 1980 it be­came home to of­fices of an agri­cul­tur­al ad­vi­so­ry cen­ter.
MANSION INTERIORS IN PHOTOS FROM 1957 (BEFORE RENOVATION)
DESCRIPTION OF THE MANSION
S
up­pos­ed­ly the old­est part of the man­sion is the tow­er stand­ing in its cen­tral part, the con­struc­tion of which is dat­ed to the sec­ond half of the 16th cen­tu­ry. Ori­gi­nally it was a free-stand­ing buil­ding, erec­ted on a rect­an­gu­lar plan with sides of 7x12 me­ters. At the end of the 16th cen­tu­ry, the tow­er was ex­pand­ed and a 28-me­ter long res­i­den­tial wing was added to the south.
CENTRAL TOWER: WEST ELEVATION IN 1957 / EAST ELEVATION TODAY
P
re­sum­ably, at the be­gin­ning of the 17th cen­tu­ry, the afore­men­tioned tow­er be­gan to serve as a main gate. The en­trance to it from the east was then dec­o­rat­ed with a gate por­tal framed by rus­ti­cat­ed se­mi-col­umns, as well as by a mas­caron and a coat of arms car­touche with an im­age of grif­fin. The more mod­est por­tals in the west­ern el­e­va­tion re­ceived dec­o­ra­tions with flo­ral mo­tifs: fruits, grape leaves and cones. The sec­ond floor of the tow­er is dec­o­rat­ed with rect­an­gu­lar Re­nais­sance win­dow frames, while on the third floor we can see three semi­cir­cu­lar win­dows with a coat of arms car­touche.
GATE PORTAL IN THE EASTERN ELEVATION
GATE AND WICKET PORTALS IN THE WESTERN ELEVATION
T
o the north and south the gate tow­er is ad­joined by res­i­den­tial wings, low­er than it by one sto­ry, at the ends of which tow­ers were added. In the south­ern part is the square tow­er-risalite, which pre­sum­ably housed a chapel, and on the north side stands the octag­o­nal tow­er with three minia­ture aps­es
serv­ing as shoot­ing posts or on­ly im­i­tat­ing them. The en­tire build­ing was or­na­ment­ed with sgraf­fi­to type dé­cor and cov­ered with a two (res­i­den­tial wings), four (gate tow­er, chapel) and six-sid­ed red tile roof. The man­sion is sur­round­ed by a park, which used to be larg­er and prob­a­bly ir­ri­gat­ed with canals.
GROUND FLOOR PLAN OF THE BUILDING: 1. CENTRAL TOWER, 2. CHAPEL TOWER,
3. OCTAGONAL TOWER (RECTANGULAR IN THE GROUND FLOOR), 4. RESIDENTIAL WINGS
BIRD'S EYE VIEW OF THE MANSION
---
T
he build­ing is pre­served in the form giv­en to it dur­ing the 19th-cen­tu­ry re­con­struc­tion, which is on­ly slight­ly dif­fer­ent from its 17th- and 18th-cen­tu­ry ap­pear­ance. Of the late Re­nais­sance ar­chi­tec­tural de­tails, the por­tals men­tioned ear­li­er have sur­vived, as well as some of the stone frames around the win­dows, frag­ments of in­te­ri­or por­tals and fire­places. In ad­di­tion, some of the rooms still have orig­i­nal vaults and wood­en ceil­ings. The man­sion hous­es the agri­cul­tur­al ad­vi­so­ry cen­ter.
RENAISSANCE DECORATION OF THE EASTERN ELEVATION
| | |
| --- | --- |
| | The mansion is open during office hours. You can enter it as a pe­ti­tio­ner, but you can­not visit it. |
| | |
| --- | --- |
| | It takes about 15-20 minutes to thorough­ly view the buil­ding from the out­side. |
| | |
| --- | --- |
| | You can walk around the park with your dog. |
OCTAGONAL TOWER IN THE NORTHERN PART OF THE MANSION
---
T
he mansion is located on Kasz­te­lań­ska Street, 4 km north­west of the city cen­ter, at the junc­tion of the S8 ex­pres­sway and the A1 high­way. You can get here from the city cen­ter by bus line 9.
| | |
| --- | --- |
| | There is a small par­king lot for pe­ti­tio­ners (free of charge). |
---
1. I. T. Kaczyńscy: Zamki w Polsce północnej i środkowej, Muza SA 1999
2. L. Kajzer: Małe czy duże, czyli o tzw. zamkach rycerskich na Niżu Polskim
3. P. Machlański, J. Podolska: Piotrków Trybunalski. Spacerownik po regionie, Gazeta Wyborcza 2008
4. Piotrków Trybunalski i okolice - przewodnik, it 1997
5. A. R. Sypek: Zamki i warownie ziemi mazowieckiej, TRIO 2002
6. A. Wagner: Murowane budowle obronne w Polsce X-XVIIw., Bellona 2019

WE CAN PARK A CAR NEAR THE GATE
Castles nearby:
Piotrków Trybunalski - royal castle from the 16th century, 5 km
Sulejów - fortified post-Cistercian abbey of the 13th-16th centuries, 23 km
Ujazd - relics of a knight's castle from the 15th century, 29 km
Mikorzyce - relics of a 17th century fortified mansion, 31 km
Pabianice - Renaissance mansion from the 16th century, 40 km
Majkowice - ruin of a 16th century fortified mansion, 45 km
Bąkowa Góra - ruin of a 15th century fortified mansion, 47 km
Inowłódz - ruins of a royal castle from the 14th century, 48 km
Łopatki - Renaissance mansion from the 16th century, 48 km

text: 2023
photos: 2005, 2018, 2021
© Jacek Bednarek