KRZYŻNA MOUNTAIN

relics of the Sokolec (Falkenstein) castle
THE WALLS OF THE SOUTH BUILDING ARE THE BEST-PRESERVED PART OF SOKOLEC CASTLE
---
I
t is not known on whose ini­tia­tive and when ex­act­ly So­ko­lec Cas­tle was built. Due to the fact that these lands be­longed to the Dukes of Wro­cław in the past, Duke Hen­ryk Bro­da­ty (the Beard­ed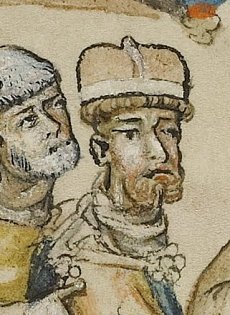 , d. 1238) or his son Hen­ryk II Po­boż­ny (the Pi­ous, d. 1241) are some­times iden­ti­fied as the al­leged founders of the rock strong­hold. How­ev­er, it seems more like­ly that the cas­tle was erect­ed by one of the Świd­ni­ca-Ja­wor dukes, in or­der to pro­tect a route lead­ing through the Bóbr val­ley or to guard sur­round­ing vil­lages.
HISTORICAL NAMES OF THE CASTLE
Ves­ten Wal­ken­stein (1362), Burg Fal­ken­stein (1372)
House Fal­ken­stein (1399), Fal­kin­stey­ne (XV w.)
Burg Fal­ken­stein (XIX w.), So­ko­lec (after 1945)
THERE IS A PICNIC AREA AT THE SITE OF THE FORMER EASTERN CASTLE COURTYARD
T
he first known bur­grave of So­ko­lec was Cler­i­cus Bol­cze, list­ed in doc­u­ments from 1369. This is the on­ly cer­tain in­for­ma­tion re­gard­ing the cas­tle in the 14th cen­tu­ry, as its sta­tus at that time is of­ten ques­tion­able. Ac­cord­ing to some his­to­ri­ans, Agnes of Hab­s­burg (d. 1392) leased the cas­tle to the knight Han­nos Rein­ba­ben in 1372, and af­ter his death (ca. 1385) it passed in­to the hands of Rudi­ger von Wilt­berg, court mar­shal of the dukes of Świd­ni­ca, who sold the rights to it to a cer­tain Ticz­ko von Schni­del. At the be­gin­ning of the 15th cen­tu­ry, the strong­hold be­longed to the Bo­hemi­an knight Wen­ces­las of Do­nin, then to his broth­ers Be­neš and Ště­pán, and lat­er to Jun­ge­lin von Tsche­schaw (1406). How­ev­er, this is on­ly one of two ver­sions of the his­to­ry of the place. Ac­cord­ing to the sec­ond one, the en­tire pe­ri­od of the cas­tle's ex­is­tence from the time of Cler­i­cus Bol­cze un­til its fall should be linked to the rep­re­sen­ta­tives of the von Tschirn fam­i­ly: Hein­rich (from 1372), his son Hans of Pło­ni­na (from 1406), Opitz and his broth­er Hayn von Tschirn.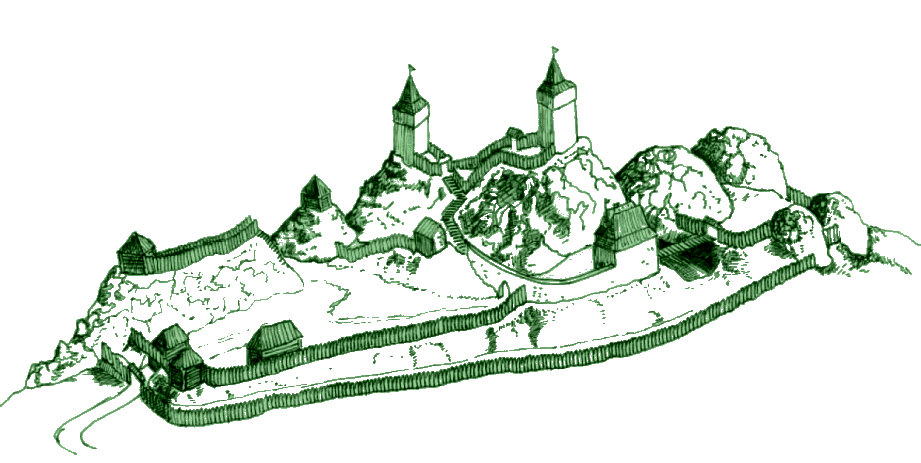 CASTLE RECONSTRUCTION BY M. SÝKORA, DRAWING BY J. OSTRADOVIEC
D
ur­ing the Hus­site Wars (1419-36), the own­ers of So­ko­lec re­peat­ed­ly took ad­van­tage of chaos and an­ar­chy that pre­vailed at the time to com­mit loot­ing and rob­be­ry. At the be­gin­ning of the war, they fa­vored the re­bel­lious Hus­si­tes, but lat­er de­cid­ed to go o­ver to the side of the bish­op and Si­le­sian cities. So, un­der the pre­text of a mil­i­tary meet­ing, they in­vit­ed to So­ko­lec the Hus­site com­man­ders: Bed­ř­ich of Stráž­ni­ce and Mi­chá­lek, and then cap­tured them to pass them in­to the hands of the bish­op of Wro­cław (Mi­chá­lek, how­ev­er, man­aged to es­cape). In an act of re­venge, on the night of Au­gust 11-12, 1434, the Hus­si­tes in­vad­ed the cas­tle, loot­ed it and then burned it down.
WESTERN COURTYARD SURROUNDED BY ROCKS
I
n 1442 the cas­tle be­longed to Con­rad von Nimptsch, then to his un­cle Hans Wies­se, and in 1448 to Hein­rich von Nimptch, Con­rad's broth­er. At the time, So­ko­lec, prob­a­bly af­ter some make­shift re­con­struc­tion, may have served as the seat of a not very wealthy knights or some bands of knights en­gaged in rob­bery. Ac­cord­ing to his­to­ri­ans, it was de­stroyed by roy­al Bo­hemi­an-Hun­gar­i­an troops op­er­at­ing here as part of an ex­pe­di­tion aimed against re­bel­lious cas­tles and their crews (1475/76). At the be­gin­ning of the 16th cen­tu­ry, Czech King Vla­di­slav II. Jag­el­lon­ský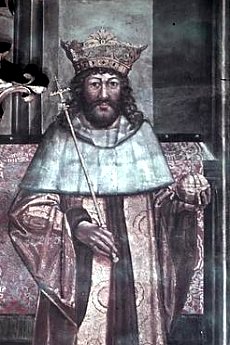 (d. 1516) is­sued a doc­u­ment trans­fer­ring these lands as a fief to An­ton Schaffgotsch of Choj­nik (d. 1508), in which the strong­hold was de­scribed as a ru­in. In 1604 Count Hans Ul­rich von Schaff­gotsch
(d. 1635) be­came the own­er of So­ko­lec.
REMNANTS OF BRICK CASTLE BUILDINGS: SOUTHERN (ABOVE) AND NORTHERN
A
t the be­gin­ning of the 19th cen­tu­ry, the So­ko­le Moun­tains be­longed to the vast do­main of Duke Wil­helm von Preussen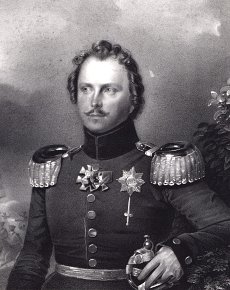 (d. 1851) and his wife Ma­ria von Hes­sen Hom­burg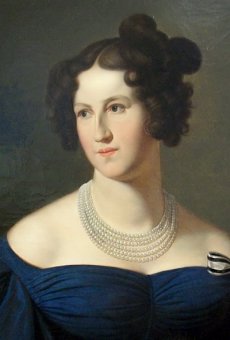 (d. 1846). Af­ter the duke's death, they passed to their daugh­ter Eli­za­beth von Preussen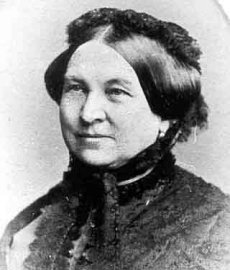 (d. 1885) and re­mained in the hands of the Hes­sen dy­nasty un­til the end of World War II. Mean­while, in 1904, ar­chae­ol­o­gists found iron spear­heads while ex­ca­vat­ing the cas­tle ru­ins. In the 1930s, these ar­ti­facts were pre­sent­ed to the pub­lic in the form of dis­tort­ed, fab­ri­cat­ed sketch­es to sup­port Na­zi pro­pa­gan­da about (al­leged) Ger­man­ic set­tle­ment in the area in the ear­ly Mid­dle Ages. In fact, the spear­heads prob­a­bly date back to the 15th cen­tu­ry, the pe­ri­od of the Hus­site Wars.
MEDIEVAL SPEARHEADS FOUND AT SOKOLEC CASTLE
Near the ru­ins is an im­pres­sive rock called Cross Moun­tain (Krzyż­na Gó­ra, Fal­ken­berg), which ris­es to an al­ti­tude of 654 me­ters above sea lev­el. Its name comes from the cross
that was placed on it in 1832 by or­der of Prin­cess Ma­ria von Hes­sen Hom­burg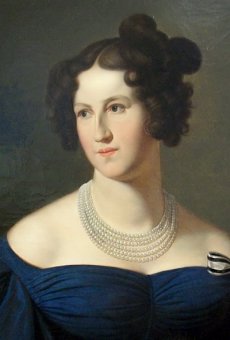 to com­mem­o­rate the up­com­ing 50th an­niver­sary of the birth of her hus­band Wil­helm von Preussen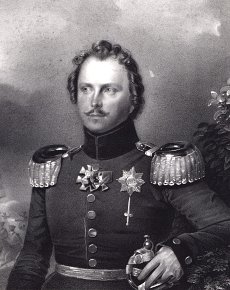 . This cross is 6 me­ters high, and its arms reach a span of 3.5 me­ters. It was cast at the Roy­al Foundry in Gli­wice.
PANORAMA OF KARKONOSZE VIEWED FROM KRZYŻNA GÓRA, PHOTOS TAKEN IN SPRING AND EARLY AUTUMN
VIEWS FROM KRZYŻNA GÓRA ARE AMONG THE MOST BEAUTIFUL IN POLAND
DESCRIPTION OF THE CASTLE
T
he cas­tle was built of gran­ite and par­tial­ly of wood, on a quad­ran­gu­lar plan mea­sur­ing about 32x20 me­ters. It was en­closed on three sides by a pe­ri­me­ter wall with round­ed cor­ners, while on the south it ad­joined a huge rock. Due to very scant re­mains a lay­out and spa­tial ar­range­ment of this moun­tain strong­hold can­not be iden­ti­fied be­yond rea­son­able doubt. It prob­a­bly con­sist­ed of three main seg­ments: a large east­ern court­yard, a cen­tral up­per cas­tle and a small­er west­ern court­yard, which may have been pro­tect­ed by guard tow­ers built on the rocks. The en­trance to the cas­tle led from the west through a gate flanked by two small build­ings of un­known pur­pose. In ad­di­tion to the walls and watch­tow­ers on the rocks, the cas­tle for­ti­fi­ca­tions in­clud­ed ditch­es and ram­parts.
HYPOTHETICAL ARRANGEMENT OF THE UPPER CASTLE ACCORDING TO P. RAJSKI
PLAN OF SOKOLEC CASTLE ACCORDING TO M. SÝKORA: 1. EAST COURTYARD, 2. WOODEN WATCHTOWER,
3. UPPER CASTLE, 4. TOWER, 5. SOUTHERN BRIDGEHEAD, 6. WEST COURTYARD
At a dis­tance of about one kilo­me­ter from the cas­tle ru­ins are two gran­ite rocks named So­ko­lik Du­ży and So­ko­lik Ma­ły. So­ko­lik Du­ży (642 me­ters above sea lev­el) is topped by a view­ing plat­form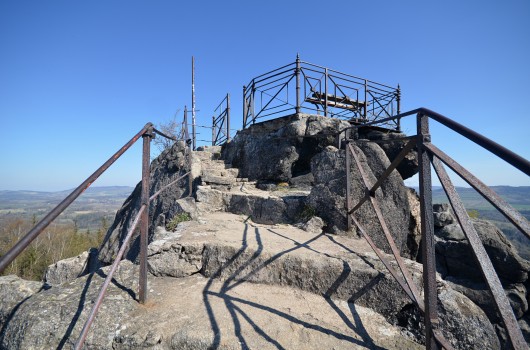 , of­fer­ing a mag­nif­i­cent pa­no­ra­ma of the Ru­da­wy Ja­no­wi­ckie and the Kar­ko­no­sze moun­tain range, as well as the Ka­czaw­skie and Izer­skie Moun­tains. In a clos­er view, one can see vil­lages scat­tered across the Je­le­nia Gó­ra Val­ley, in­clud­ing Trzciń­sko with its char­ac­ter­is­tic Baroque church of Our La­dy of Czę­sto­cho­wa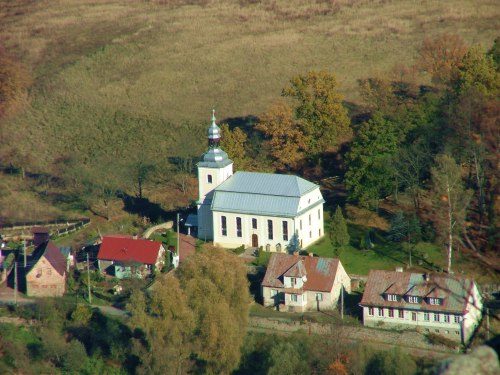 , as well as nu­mer­ous ponds and pic­turesque rock for­ma­tions. The place is pop­u­lar among rock clim­bers. It is worth men­tion­ing that all the great­est Pol­ish Hi­ma­la­yan clim­bers, in­clud­ing Wan­da Rut­kie­wicz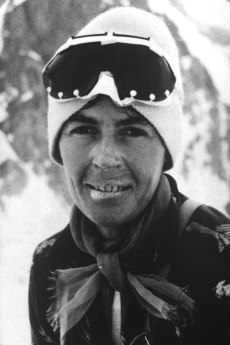 and Je­rzy Ku­kucz­ka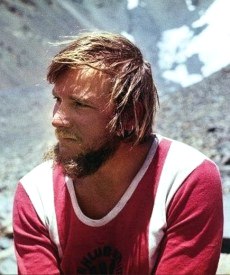 , trained here.
PICTURESQUE PANORAMAS SEEN FROM SOKOLIK WIELKI
---
T
he foun­da­tions of perime­ter walls, faint rem­nants of res­i­den­tial (?) build­ings, as well as relics of earth­en ram­parts and dry moat have been pre­served.
| | |
| --- | --- |
| | Free admission |
| | |
| --- | --- |
| | It will take you at least one hour to walk up from the tourist shel­ter, vis­it the top of the moun­tain, ex­plore the ru­ins and re­turn. |
| | |
| --- | --- |
| | You can vis­it the place with your dog. |
| | |
| --- | --- |
| | The stren­u­ous climb to the top of the moun­tain and the chal­leng­ing as­cent to the rock can be very dif­fi­cult for peo­ple with phys­i­cal dis­abil­i­ties. |
THE ASCENT TO THE TOP OF KRZYŻNA MOUNTAIN IS SHORT BUT CHALLENGING
VIEW FROM THE EAST ON THE RELICS OF SOKOLEC CASTLE
---
T
he ru­in is lo­cat­ed near the as­cent to the top of the rock form­ing the cul­mi­na­tion of Krzyż­na Moun­tain. The path to the cas­tle leads through Szwa­j­car­ka hos­tel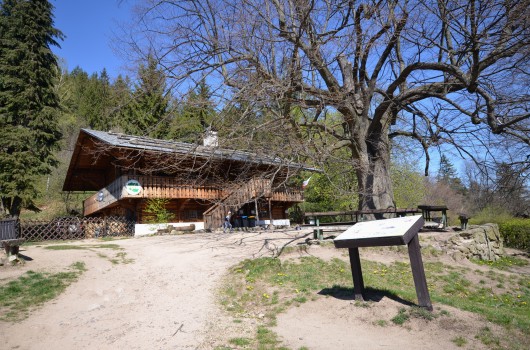 , from where one should fol­low the black trail to­wards So­ko­li­ki. Near the Hus­site Rocks view­point, the trail turns left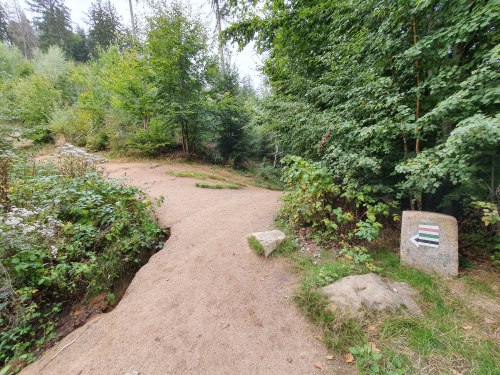 and con­tin­ues un­til it reach­es the stairs at the foot of the rock. Go­ing by car, one should head from Ja­no­wi­ce Wiel­kie in the di­rec­tion of Karp­ni­ki. The near­est rail­way sta­tion is in Ja­no­wi­ce Wiel­kie, 7 km away.
| | |
| --- | --- |
| | You can park your car at Karp­nic­ka Pass (about 1.5 km from the ru­ins, fee 15 PLN in 2022). Al­ter­na­tive­ly, you can drive up to the hos­tel, but: 1. there is a fee there too, 2. a driv­ing up is not rec­om­mend­ed for cars with low clear­ance, 3. there are usu­al­ly no free park­ing spaces there. |
| | |
| --- | --- |
| | The route from the hos­tel to the ru­ins, in my opin­ion, is not suit­able for cy­cling. I sug­gest leav­ing bikes at the hos­tel. |
ON THE HIKING TRAIL LEADING TOWARDS KRZYŻNA GÓRA
---
1. A. Boguszewicz: Zamki Piastów fürsten­ber­skich na po­gra­ni­czu księ­stwa ja­wor­skie­go..., 2010
2. M. Chorowska: Rezydencje średniowieczne na Śląsku, OFPWW 2003
3. M. Chorowska, T. Dudziak, K. Jaworski, A. Kwaśniewski: Zamki i dwory obronne w Sudetach, 2009
4. L. Kajzer, J. Salm, S. Kołodziejski: Leksykon zamków w Polsce, Arkady 2001
5. N. Poniatowska-Wasiak: Rudawy Janowskie, e-przewodnik turystyczny, 2016
6. A. Wagner: Murowane budowle obronne w Polsce X-XVIIw., Bellona 2019
7. https://www.jelonka.com/skarby-zamku-sokolec-103026
VIEWS FROM THE KRZYŻNA MOUNTAIN, IN THE PHOTOS WE SEE (FROM THE TOP): ŚNIEŻKA PEAK, KARPNIKI CASTLE,
WESTERN RANGE OF KARKONOSZE WITH ITS HIGHEST PEAK - SZRENICA
Castles nearby:
Karpniki - the castle from the 14th century, 4 km
Janowice Wielkie - Bolczów castle ruins from the 14th century, 5 km
Bukowiec - the fortified mansion from the 16th century, 8 km
Czarne - the fortified mansion from the 16th century, 16 km
Dziwiszów - the Renaissance mansion from the 16th century, now palace, 19 km
Płonina - the ruins of Niesytno castle from the 14th century, 19 km
Siedlęcin - the residential tower from the 14th century, 21 km
Lipa - the ruins of a knight's castle from the 14th century, 22 km
Kamienna Góra - the ruins of Kreppelhof Castle from the 16th century, 24 km
Rybnica - the castle ruins from the 14th century, 24 km
Chojnik - the ruins of a ducal castle from the 14th century, 25 km
Stara Kraśnica - the fortified mansion from the 16th century, 25 km
Bolków - the ruins of a ducal castle from the 13th century, 28 km
Stara Kamienica - the ruins of a knight's castle, 28 km
Świny - the ruins of a knight's castle from the 14th century, 30 km

---
Rudawy Janow­ick­ie - not very high, but a very at­trac­tive moun­tain range, where it is worth see­ing the Szwa­j­car­ka hos­tel at the foot of Krzyż­na Moun­tain, Soko­lik Moun­tain, as well as col­or­ful lakes formed as a re­sult of the ex­ploita­tion of pyrite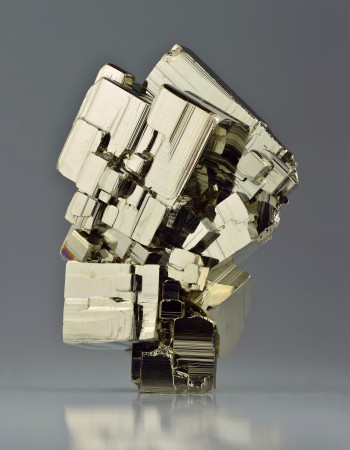 , called "fool's gold". Hik­ing in the Rudawy, we can al­so find nu­mer­ous pic­turesque rocks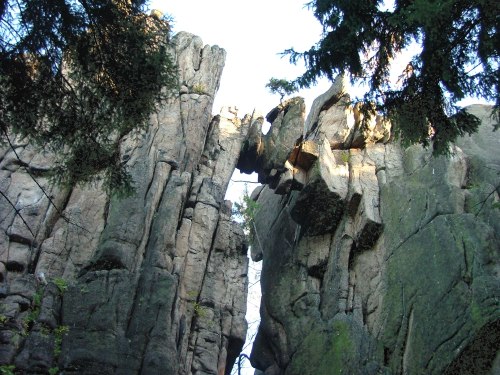 . In the north­east­ern part of the range (9 km from the cas­tle) are the re­mains of the min­ing town of Miedzian­ka, which, af­ter 450 years of ex­is­tence, was de­mol­ished in the 1960s and its pop­u­la­tion re­set­tled in Je­le­nia Góra city. The rea­son for the de­mo­li­tion was col­lapse of hous­es caused by the ex­is­tence of a ura­ni­um mine at the site. In fact, on­ly the church and the for­mer Ger­man Schwarz­er Adler inn have sur­vived.
MIEDZIANKA VILLAGE, ST. JOHN THE BAPTIST CHURCH
GASTHOF "SCHWARZER ADLER" IN THE 1930S AND TODAY
ONLY THE BRICK PILLARS OF THE GATE REMAIN FROM THE BAROQUE MANOR HOUSE
It is worth com­ing here at least for a while to com­pare the cur­rent ap­pear­ance of the set­tle­ment with archival pho­tographs of the town - such a com­par­i­son may come as a shock!
MIEDZIANKA MARKET SQUARE ON A POSTCARD FROM 1907, ON THE LEFT - ST. JOHN THE BAPTIST CHURCH
ABANDONED TOWNHOUSES AT THE MARKET JUST BEFORE THEY WERE DEMOLISHED, 1967
"MARKET SQUARE" IN MIEDZIANKA NOW, ON THE LEFT - ST. JOHN THE BAPTIST CHURCH
FOUNDATIONS OF ONE OF THE TOWNHOUSES
HERE 60 YEARS AGO STOOD BRICK TOWNHOUSES
text: 2022
photographs: 2020, 2022
© Jacek Bednarek