ZAPUSTA

Rajsko castle
IN FRONT OF THE CASTLE RAJSKO
---
T
he his­to­ry of Raj­sko is so mys­te­ri­ous that to this day ex­perts ar­gue whether a me­dieval cas­tle even ex­ist­ed at the site. Ac­cord­ing to some opin­ions, what we see now is just a 19th-cen­tu­ry im­i­ta­tion of a re­al cas­tle; ac­cord­ing to oth­ers, on the con­trary, a watch­tow­er op­er­at­ed here, be­ing a link in a chain of prince­ly bor­der strong­holds. In our fur­ther nar­ra­tive, we'll fol­low the tra­di­tion that a hunt­ing manor stood on this site in the Mid­dle Ages, which, as a re­sult of ex­pan­sion, was trans­formed in­to a cas­tle called Niet­burg. It is not known who erect­ed it, and when ex­act­ly. The on­ly, though not very re­li­able, clue for us may be an old leg­end nam­ing the rau­brit­ter Job­st von Kol­ditz as the land­lord of Raj­sko. The cas­tle may have been de­stroyed dur­ing the Hus­site wars, and then aban­doned fell in­to ru­in.
CASTLE ON A 1920S POSTCARD
T
he sec­ond life of the build­ing af­ter a hia­tus of more than 400 years was giv­en in the 19th cen­tu­ry by the own­er of the near­by palace in Bie­drzy­cho­wi­ce
- Count Alex­an­der von Min­u­to­li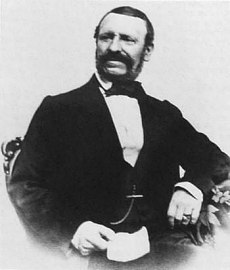 (d. 1887), a great lover, col­lec­tor and con­nois­seur of art. In 1863 he bought the old, ru­ined ed­i­fice and in 1875-78 re­con­struct­ed it in the style of Rhine­land Neo-Goth­ic, us­ing orig­i­nal de­tails of stone vaults and stuc­co. In the in­te­ri­or of the ren­o­vat­ed "cas­tle" he set up a kind of art gal­lery in­clud­ing col­lec­tions of Ve­ne­tian glass and ce­ram­ics, Afri­can trib­al masks, an­tique cups, mil­i­taria, fur­ni­ture and paint­ings by artists such as Al­brecht Dür­er, Pao­lo Ve­ro­ne­se, Die­go Ve­la­squez, Lu­cas Cra­nach and Rem­brandt.
VIEW OF THE GATE FROM THE TOWER, BEFORE (2005) AND AFTER RENOVATION (2020)
Alexan­der von Min­u­toli en­joyed mak­ing his col­lec­tion of ap­plied art­works avail­able to the pub­lic, as he be­lieved they could serve as ex­am­ples and in­spi­ra­tion for his con­tem­po­raries. In 1844-55, to­geth­er with pho­tog­ra­pher Lud­wig Be­lit­sky, he pub­lished Vor­bilder für Fab­rikan­ten und Handw­erk­er (De­signs for Man­u­fac­tur­ers and Crafts­men), pre­sent­ing part of his vast col­lec­tion (to­tal­ing 28,000 pieces). It was the world's first cat­a­log of art an­tiq­ui­ties en­tire­ly il­lus­trat­ed with pho­tographs.
FRAGMENT OF COUNT VON MINUTOLI'S ART COLLECTION, "VORBILDER FÜR FABRIKANTEN UND HANDWERKER" 1844-55
D
ur­ing the rev­o­lu­tion­ary ri­ots of 1919, Raj­sko was seized and loot­ed by poor in­hab­i­tants of the sur­round­ing vil­lages. Part of the valu­able col­lec­tion was lost ir­re­triev­ably then, and the re­main­ing and sur­viv­ing ex­hibits were soon trans­ferred to the palace in Bie­drzy­cho­wi­ce
. By this time Count von Min­u­to­li was no longer alive, and the es­tate was ad­min­is­tered by his daugh­ter An­ne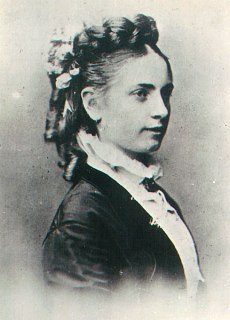 (d. 1936) and her hus­band Jo­achim von Pfeil und Klein Ell­gut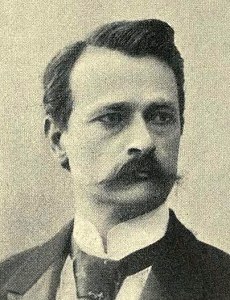 (d. 1924), an en­thu­si­as­tic trav­el­er and ex­plor­er of Afri­ca. A year af­ter her hus­band's death, An­ne leased Raj­sko cas­tle for 30 years to the Ver­band Für Deu­tsche Ju­gend­her­ber­gen (Youth Hos­tel As­so­ci­a­tion), which set up a tour­ist hos­tel here called Graf Jo­achim Pfeil-Ju­gend­her­ber­ge. The last pre-war own­er of the es­tate was the adopt­ed son of An­ne and Jo­achim, Or­twin Count von Pfeil-Min­u­toli, who died in 1942 while fight­ing on the East­ern Front.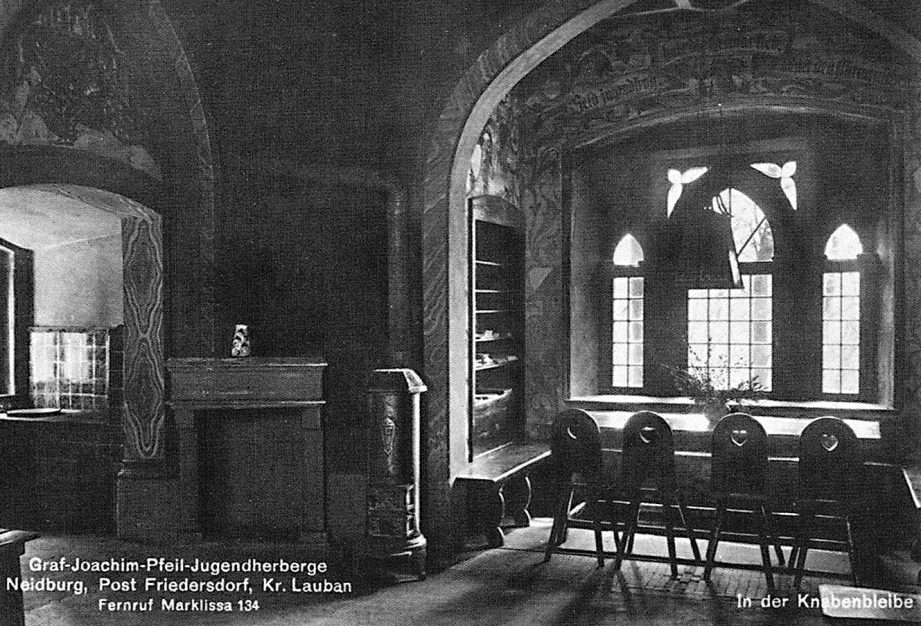 INTERIORS OF THE YOUTH HOSTEL AT RAJSKO CASTLE (1930S)
L
it­tle is known about the his­to­ry of the cas­tle from short­ly af­ter the end of World War II. Cer­tain­ly still at the end of the war it was plun­dered ei­ther by So­vi­et sol­diers or Pol­ish loot­ers com­ing from the east, or per­haps by both. From then on, the ed­i­fice de­te­ri­o­rat­ed and grad­u­al­ly fell in­to ru­in un­til 2010, when a group of en­trepreneurs ren­o­vat­ed it (2010-14), and then ar­ranged a charm­ing ho­tel of high stan­dard here.
RAJSKO CASTLE BEFORE AND AFTER REVITALIZATION (2005 VS 2020)
DESCRIPTION OF THE CASTLE
B
oth the pre-war and con­tem­po­rary form of the cas­tle rep­re­sents on­ly a ro­man­tic vi­sion of what it might have looked like in the me­dieval pe­ri­od. The 19th-cen­tu­ry ed­i­fice was built of bro­ken stone and fin­ished with brick. Its dom­i­nant fea­ture is a slen­der tow­er with a view­ing plat­form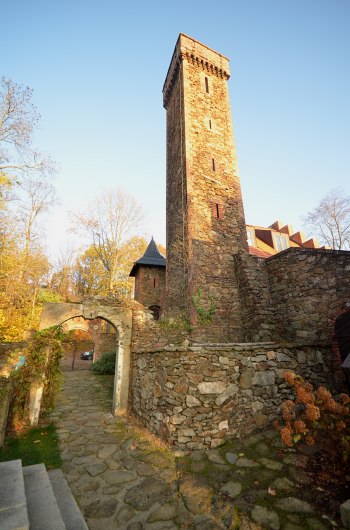 , reached by a nar­row spi­ral stair­case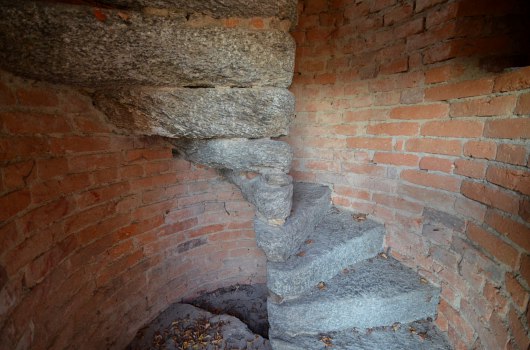 . Right next to the gate, a sec­ond tow­er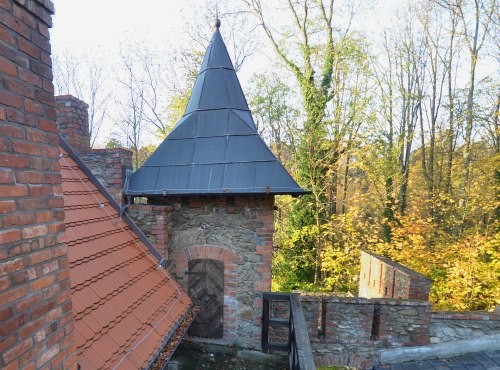 was erect­ed, much low­er, and topped with blanks and a con­i­cal roof. Be­tween the tow­ers is a ter­race, the en­trance to which is through a late Goth­ic por­tal, prob­a­bly orig­i­nat­ing from one of the Si­le­sian church­es. The cur­rent lay­out of the cas­tle in­cludes 5 suites with bath­rooms, a liv­ing room, a kitchen and a util­i­ty base­ment.
RAJSKO CASTLE, HISTORIC PORTALS
---
R
a­jsko is lo­cat­ed on a steep rock on the right bank of the Kwi­sa Riv­er, be­tween Złot­nic­kie and Leś­niań­skie lakes. As men­tioned ear­li­er, it is a 19th-cen­tu­ry build­ing, which may have been erect­ed based on relics of a me­dieval cas­tle. Al­though, ac­cord­ing to lo­cal tra­di­tion, the pre­served walls hide dec­o­ra­tive stone­work de­tails orig­i­nat­ing from the for­mer Pi­ast strong­hold, in fact, the vast ma­jor­i­ty of them were im­port­ed in the 19th cen­tu­ry from Rhine­land.
THERE IS A VIEWING PLATFORM AT THE TOP OF THE TOWER
T
o­day the cas­tle op­er­ates as a very ex­pen­sive ho­tel for 10-12 peo­ple, which can on­ly be rent­ed as a whole. It is in­ter­est­ing to note that in 2018 the world-fa­mous mu­si­cian and com­pos­er Ed Sheer­an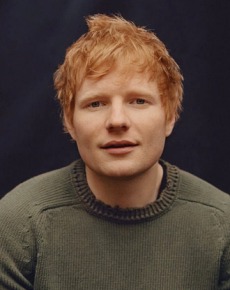 and a group of his friends stayed here for a few days. In 2022, the prop­er­ty was put up for sale.
| | |
| --- | --- |
| | The cas­tle is oc­ca­sion­al­ly open to the pub­lic (when is not rent­ed). Tour in­cludes the ter­races and the tow­er, with­out ac­cess to the suites. |
| | |
| --- | --- |
| | The tour of the cas­tle should not take more than 15-20 min­utes. |
| | |
| --- | --- |
| | Easy ac­cess with a wheelchair to the court­yard. Fur­ther on we face stairs, which is due to the steep ter­rain. |
---
R
a­jsko is sit­u­at­ed on the edge of the for­est be­tween the vil­lages of Za­pus­ta and Bożkow­ice, near the road lead­ing from Leś­na to Biedrzy­chow­ice. To find it, in the vil­lage of Za­pus­ta, turn south in­to a road paved with con­crete slabs, which leads di­rect­ly to the cas­tle. You can al­so get here by fol­low­ing a hik­ing trail along the lake shore.
| | |
| --- | --- |
| | There is a small free parking area on site. |
---
1. J. Lamparska: Tajemnice, zamki, podziemia, Asia Press 1999
2. M. Perzyński: Arystokraci i ich niezwykłe zamki, dwory i pałace na Dolnym Śląsku, WDW 2008
3. R. Strzelewicz: Sztuczny zamek nad jeziorem, Sudety nr 10/2003
4. M. Świeży: Zamki, twierdze, warownie, Foto art. 2002
5. A. Wagner: Murowane budowle obronne w Polsce X-XVIIw., Bellona 2019
6. dzs.biedrzychowice.dolnyslask.pl: Dzieje Biedrzychowic
| | |
| --- | --- |
| | |
Castles nearby:
Leśna - Czocha castle, 6 km
Rząsiny - relics of Podskale castle from the 13th century, 10 km
Świecie - ruins of ducal castle from the 14th century, 11 km
Proszówka - ruins of Gothic castle Gryf from the 13th century, 12 km
Gościszów - ruins of ducal castle from the 13th century, 23 km
Radłówka - castle ruins from the 16th century, 24 km
Płakowice - Renaissance castle from the 16th century, 26 km
Rakowice Wielkie - two residential towers from the 15th/16th century, 26 km
Rybnica - Gothic castle ruin from the 14th century, 28 km
Stara Kamienica - castle ruin from the 16th century, 28 km
Wleń - ruins of ducal castle from the 12th/13th century, 31 km
Siedlęcin - residential tower from the 14th century, 34 km
Czarne - Renaissance mansion from the 16th century, 39 km

text: 2023
photographs: 2005, 2020
© Jacek Bednarek