ŚWIECIE

ruins of the ducal castle
RUIN OF THE DUCAL CASTLE IN ŚWIECIE, VIEW FROM THE NORTH
---
T
he brick cas­tle in Świecie was prob­a­bly built by Duke Ber­nard of Świd­ni­ca-Ja­wor (d. 1326) or his younger broth­er Hen­ry I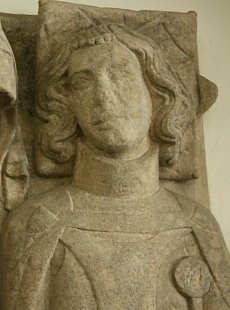 (d. 1346). The old­est pre­served doc­u­ments con­cern­ing the strong­hold date back to 1329, when it, then called cas­trum Swe­ta, served as one of the el­e­ments of the de­fence sys­tem pro­tect­ing the south-west­ern bor­der­lands of Si­le­sia against Czech in­va­sions and guard­ing the trade route lead­ing from Lu­sa­tia to Je­le­nia Gó­ra. In 1337, fol­low­ing an agree­ment with King John of Lux­em­burg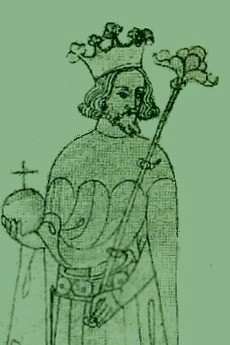 (Jo­hann von Lux­em­burg, d. 1346), Duke Hen­ry I ced­ed to him part of the Lu­sa­tian dis­trict in­clud­ing the cas­tle, re­ceiv­ing in re­turn the right to rule the Duchy of Gło­gów for life. Un­der Czech rule, Świe­cie lost its po­si­tion, first­ly strate­gi­cal­ly (as it was no longer a bor­der cas­tle), and short­ly af­ter­wards al­so eco­nom­i­cal­ly, when the road lead­ing near it was down­grad­ed to a sec­ondary route (its func­tions were tak­en o­ver by Via Re­gia - the roy­al route run­ning through Zgo­rze­lec).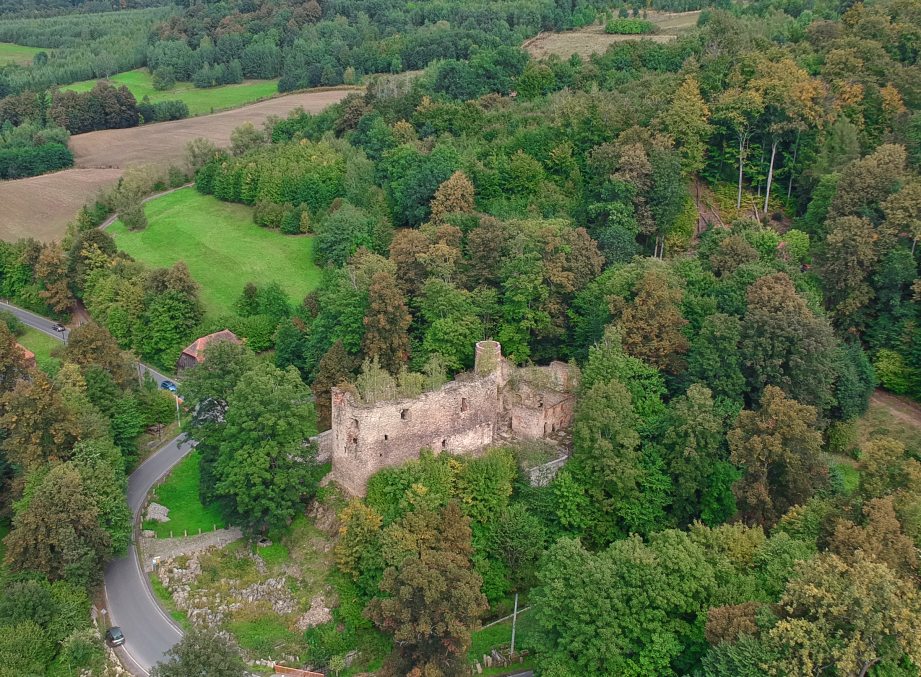 BIRD'S EYE VIEW OF THE RUINS FROM THE SOUTHWEST
HISTORICAL NAMES OF THE VILLAGE
Sweta (1329), Zwet (1337), Schewerthe (1346)
Swete (1398), Swethaw (1399), Schwerta (1536)
Schwertburg (before 1945), Swaratów (1945), Świecie (since 1947)
IN FRONT OF THE ENTRANCE GATE
I
n the sec­ond half of the 14th cen­tu­ry Świe­cie came in­to the pos­ses­sion of Bo­hemi­an knight­ly fam­i­lies. From 1385 it be­longed to Hein­rich von Uech­tritz (d. ca. 1427) and from then un­til 1638 it served as the seat of rep­re­sen­ta­tives of var­i­ous lines of this no­ble fam­i­ly. A fire broke out in the cas­tle at East­er 1527, de­stroy­ing the en­tire ar­chive, a mill and a near­by tav­ern, while the own­er Ka­ther­ine von Uech­tritz and her chil­dren mirac­u­lous­ly es­caped death by flames. Short­ly af­ter this dra­mat­ic event, the strong­hold was re­built and its walls mod­ernised to en­able ac­tive ar­til­le­ry de­fence.
RESIDENTIAL TOWER, VIEW FROM THE EAST
A
f­ter 1638 the cas­tle be­longed to the von Meur­er fam­i­ly, and in 1665 it passed to a cer­tain Da­niel von Lö­ben. He was suc­ceed­ed by Fer­di­nand Adolph (d. 1705), and then by Jo­hanne Vic­to­rie Tu­gen­dre­ich von Lö­ben (d. 1747), wife of the Duke of Cour­land Mau­rice de Saxe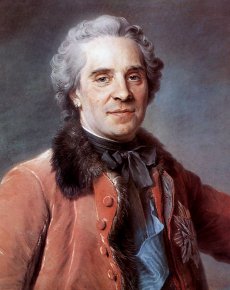 (d. 1750), who (she) in 1719 sold Świe­cie and the sur­round­ing lands to the Roy­al Mar­shal Ja­kob Hein­rich Flem­ming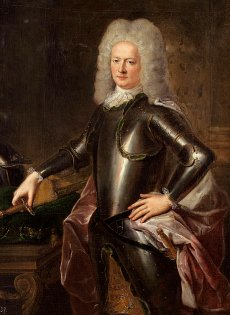 (d. 1728). Around this time, the cas­tle burst in­to flames again. Dur­ing its re­pair, a com­fort­able Baroque ma­nor house was erect­ed in the east­ern part of the court­yard, which rad­i­cal­ly changed the char­ac­ter of the en­tire build­ing.
THE CASTLE AND BAROQUE MANOR HOUSE ON A POSTCARD FROM THE 1920S
THE MANOR HOUSE IS NOW A COMPLETE RUIN
I
n 1725, Jakob Flem­ming sold Świecie to the Pol­ish-Sax­on min­is­ter Jan Ka­zi­mierz Ray­sky. How­ev­er, the lat­ter lost it just four years lat­er to King Au­gust II the Strong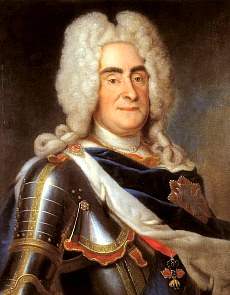 (d. 1733), who soon af­ter­wards gave these lands for 52,000 thalers to Wolf Adolph von Gers­dorff (d. 1749), a Sax­on gen­er­al. Af­ter the gen­er­al's death, the lo­cal es­tate was in­her­it­ed by his mi­nor nephew Adolph Tru­gott von Gers­dorff
(d. 1809), a fu­ture phi­lan­thropist, nat­u­ral­ist and sci­en­tist deal­ing with phe­nom­e­na of at­mo­spher­ic elec­tric­i­ty. He did not live in the cas­tle, of course, but in the fam­i­ly es­tate of Ren­gens­dorff and lat­er in the beau­ti­ful palace in Po­bied­na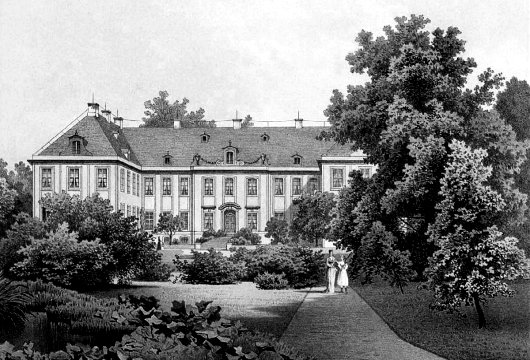 . By this time, tech­ni­cal con­di­tion of the me­dieval strong­hold was so bad that it was aban­doned around 1760.
TURRET IN THE EASTERN PART OF THE CASTLE, AS IT STOOD IN THE 1930S AND TODAY (2022)
I
n 1827, a fire broke out at the cas­tle, ir­re­versibly turn­ing it in­to a ru­in. At the be­gin­ning of the 20th cen­tu­ry, it was pur­chased by Ernst Güt­schow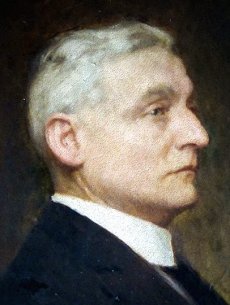 (d. 1946), a wealthy in­dus­tri­al­ist and own­er of the Czo­cha es­tate. He planned to re­con­struct the for­mer ducal strong­hold, but even­tu­al­ly aban­doned this idea, fo­cus­ing his ef­forts on a ma­jor re­build­ing of Czo­cha cas­tle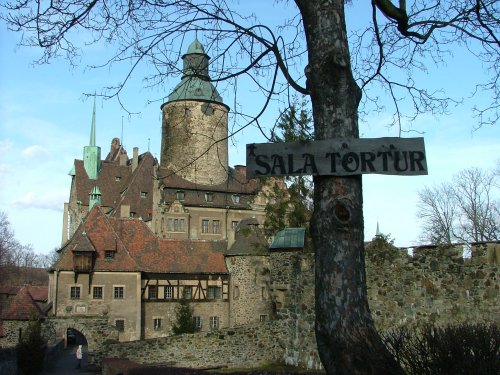 , in which he used, among oth­ers, orig­i­nal stone­work from Świe­cie cas­tle. To some ex­tent, how­ev­er, Güt­schow con­tribut­ed to the par­tial 're­vival' of the ru­ins by or­gan­is­ing a small inn in the manor house.
THE CASTLE ON OLD GERMAN POSTCARDS
T
he cas­tle suf­fered no dam­age dur­ing the Sec­ond World War and the east­ern part of the manor house was still hab­it­able. On­ly lat­er, un­der the ad­min­is­tra­tion of state in­sti­tu­tions, did it fall in­to ne­glect and grad­u­al­ly de­te­ri­o­rate o­ver time. In 2002, the ru­in passed in­to pri­vate hands and since then work has been car­ried out to re­vi­talise it.
CASTLE COURTYARD IN 2004 (PHOTO ABOVE) AND IN 2022
DESCRIPTION OF THE CASTLE
T
he cas­tle has a plan sim­i­lar to an oval, cor­re­spond­ing to the shape of the hill on which it was built. Its bulk is dom­i­nat­ed by a four-storey stone res­i­den­tial tow­er mea­sur­ing 27 me­tres in length and 11 me­tres in width, with a small ir­reg­u­lar court­yard in the east­ern part. The two low­er storeys of the tow­er had bar­rel vaults, while the rooms above were cov­ered with wood­en ceil­ings. Light ac­cess to the in­te­ri­ors was pro­vid­ed by win­dows of vary­ing pro­por­tions: rect­an­gu­lar and point­ed.
RESIDENTIAL TOWER, VIEW FROM THE NORTH
INSIDE THE TOWER, THE NEGATIVES OF THE CEILING BEAMS ARE CLEARLY VISIBLE
T
he cas­tle was sur­round­ed by a wall, which in the north­ern part had (since the 16th cen­tu­ry) a small ar­tillery bas­tion. This wall closed the out­er court­yard, in the north-east­ern part of which a ma­son­ry build­ing (res­i­den­tial, out­build­ing?) at­tached to a chapel and oc­tag­o­nal tur­ret was erect­ed in the ear­ly 18th cen­tu­ry. Ac­cess to the stronghold was re­strict­ed to the north by a moat and to the south by a steep rock and a stream flow­ing un­der­neath.
VIEW OF THE RUINS FROM THE WEST, M. CHOROWSKA "REZYDENCJE ŚREDNIOWIECZNE NA ŚLĄSKU"
NORTHERN WALL, PARTIALLY RECONSTRUCTED
I
n the 18th cen­tu­ry, a Baroque manor house was erect­ed to the east of the tow­er - per­haps us­ing parts of an old­er chapel. It was a base­ment, two-sto­rey build­ing with a ter­race to the south. It had large, sym­met­ri­cal­ly placed win­dows, dec­o­ra­tive rus­ti­ca­tion and a gabled roof. The manor house was the longest-used part of the cas­tle grounds - even in the 1960s it still served as flats for the work­ers of the lo­cal kol­khoz.
PLAN OF THE CASTLE: 1. RESIDENTIAL TOWER, 2. SOUTH COURTYARD, 3. OUTER COURTYARD,
4. INN, 5. CHAPEL / OCTAGONAL TURRET, 6. BAROQUE MANOR HOUSE
---
D
e­spite the con­sid­er­able de­com­po­si­tion of the ru­ins, the lay­out of the me­dieval strong­hold can be eas­i­ly dis­cerned. This is be­cause an ex­cel­lent part of the Goth­ic perime­ter walls and the res­i­den­tial tow­er have sur­vived. The ru­ined manor house, chapel and out­build­ings have al­so re­mained. The cas­tle was unat­tend­ed and un­til the end of the 20th cen­tu­ry - now pri­vate own­ers, us­ing tra­di­tion­al build­ing meth­ods, are try­ing to save it from fur­ther degra­da­tion.
THE OUTBUILDING IS BEING RECONSTRUCTED VIRTUALLY FROM SCRATCH
| | |
| --- | --- |
| | Admission paid (2 € in 2022), but opening hours ir­re­gu­lar. |
| | |
| --- | --- |
| | We visit the tower ruin, the manor cellars and the chapel. It will take us about 15-30 mi­nutes. |
| | |
| --- | --- |
| | Entry with a dog must be agreed with the ow­ners. |
| | |
| --- | --- |
| | The ruin is not adapted for visitors with phy­si­cal dis­abi­li­ties (see pho­tos). |
---
T
he cas­tle is situated just by the road no. 358, about 4 km south of the town of Leś­na. In­ter­ci­ty bus­es run through the vil­lage - the bus stop is lo­cat­ed near the ru­ins.
| | |
| --- | --- |
| | You can park your car on the road, in front of the gate. |
---
1. M. Chorowska: Rezydencje średniowieczne na Śląsku, OFPWW 2003
2. I. T. Kaczyńscy: Zamki w Polsce południowej, Muza SA 1999
3. L. Kajzer, J. Salm, S. Kołodziejski: Leksykon zamków w Polsce, Arkady 2001
4. R. Łuczyński: Zamki, dwory i pałace w Sudetach, Wspólnota Akademicka 2008
5. M. Perzyński: Dolnośląskie zamki, dwory i pałace, Wrocławski Dom Wydawniczy 2012
6. M. Świeży: Zamki, twierdze, warownie, Foto Art 2002
7. A. Wagner: Murowane budowle obronne w Polsce X-XVIIw., Bellona 2019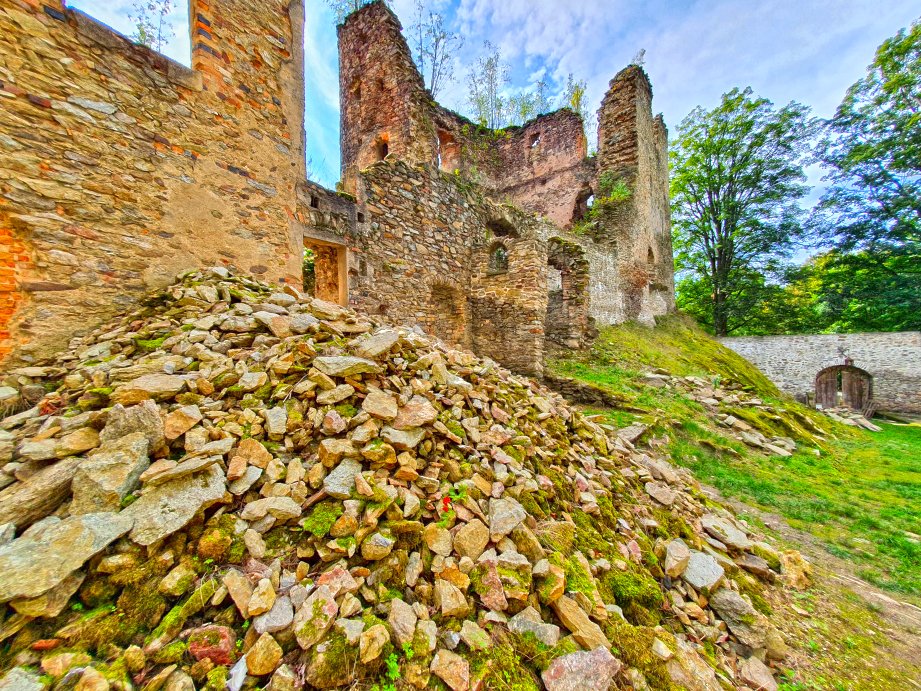 Castles nearby:
Leśna - Czocha Castle form the 13th/14th century, 6 km
Zapusta - Rajsko Castle from the 13th century, reconstructed, 11 km
Proszówka - ruins of Gryf Castle from the 13th century, 16 km
Rząsiny - relics of Podskale Castle from the 13th century, 24 km
Stara Kamienica - ruins of a knight's castle from the 16th century, 29 km
Gościszów - ruins of a 13th-century ducal castle, 31 km
Radłówka - Renaissance castle ruin from the 16th century, 33 km
Płakowice - Renaissance castle from the 16th century, 35 km
Rakowice Wielkie - two residential towers dating from the 15th/16th century, 36 km
Rybnica - Gothic castle ruins from the 14th century, 36 km
Wleń - ruins of a ducal castle from the 12th/13th century, 39 km
Siedlęcin - Gothic residential tower from the 14th century, 40 km

text: 2023
photos: 2004, 2022
© Jacek Bednarek