SMOLEŃ

ruin of a medieval castle
CASTLE IN SMOLEŃ, VIEW FROM THE EAST
---
A
t the pre­sent stage of our knowl­edge of writ­ten sources and ar­chae­o­log­i­cal re­search, the es­tab­lish­ment of the cas­tle in Smo­leń should be linked to the foun­da­tion of San­do­mierz voi­vode Ot­to of Pil­cza coat of arms To­pór
(d. 1384) or his fa­ther Jan (d. ca. 1360), castel­lan of Ra­dom and the first source-con­firmed lord of the lo­cal es­tates. The old­est doc­u­ment known to us about it dates from 1396, but the ear­li­er ex­is­tence of the strong­hold may be sug­gest­ed by a 1368 ref­er­ence to the chapel of the Bles­sed Vir­gin Ma­ry in Pi­li­ca, which is iden­ti­fied with the cas­tle chapel, since no such church ex­ist­ed in the town at the time. From the be­gin­ning, the cas­tle served as the seat of the To­por­czyk fam­i­ly, which was among the rich­est and most pow­er­ful in the en­tire king­dom in the 14th cen­tu­ry.
UPPER AND LOWER CASTLE BEFORE (LEFT) AND AFTER REVITALIZATION
W
hen Ot­to had died, the huge es­tate was in­her­it­ed by his daugh­ter Elis­a­beth (Elż­bie­ta z Pil­czy, d. 1420), who be­came the rich­est maid­en in Pol­ish King­dom at the time. Af­ter two short mar­riages, the on­ly 25-year-old dou­ble wid­ow mar­ried in 1397 Win­cen­ty Gra­now­ski of Le­li­wa coat of arms
, and when he had died in 1410 while stay­ing in To­ruń (prob­a­bly poi­soned by Teu­ton­ic Knights), she mar­ried again, be­com­ing the pro­tag­o­nist of a scan­dal reach­ing the very heights of pow­er. In fact, Elis­a­beth's fourth hus­band was the King of Poland him­self, La­di­slaus Ja­gieł­ło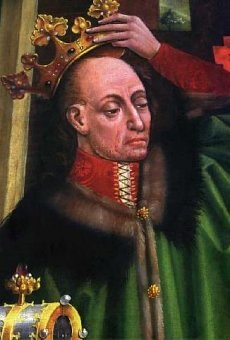 (Wła­dy­sław Ja­gieł­ło, d. 1434), who (ac­cord­ing to a me­dieval chron­i­cler) had a strange love for her. Due to Elis­a­beth's ad­vanced age and thus lit­tle chance of giv­ing birth to the roy­al de­scen­dant so ex­pect­ed by the court, the no­bil­i­ty most­ly con­demned the king's re­la­tion­ship with the 45-year-old wom­an and re­fused to take part in the wed­ding fes­tiv­i­ties. Even fur­ther in his crit­i­cism went Bish­op Sta­ni­sław Cio­łek, who wrote a vir­u­lent lam­poon in which he com­pared Eli­za­beth to an old stink­ing sow ex­haust­ed by mul­ti­ple births.
| | |
| --- | --- |
| | |
Elis­a­beth of Pil­cza (born 1372) was the on­ly child of San­do­mierz voi­vode Ot­to of Pil­cza and Jad­wi­ga Mel­sz­tyń­s­ka (god­moth­er of King Wła­dy­sław Ja­gieł­ło). Af­ter her fa­ther's death, she be­came the heiress of a huge es­tate, which, ac­com­pa­nied by her ex­traor­di­nary - as it was writ­ten - beau­ty, made her one of the most at­trac­tive maid­ens in the en­tire king­dom. For this rea­son, as ear­ly as the age of 17 she was to be kid­napped (along with her moth­er) from Pil­cza Cas­tle and lat­er mar­ried to Vishl Cham­bor of the Bo­hemi­an-Mo­ra­vian fam­i­ly of Wiz­en­burg. The mar­riage was bro­ken af­ter less than two years by Jen­czyk of Hi­czyn, who, on Jagiełło's or­ders, re­leased Elis­a­beth and then...mar­ried her, kill­ing Czam­bor be­fore­hand. The above sto­ry is con­firmed on­ly in the writ­ings of the me­dieval chron­i­cler Jan Dłu­gosz, which is why some his­to­ri­ans ques­tion Eliz­a­beth's first two mar­riages, ex­plain­ing them as fab­ri­cat­ed by Dłu­gosz for the pur­pose of dis­cred­it­ing her in the eyes of pos­ter­i­ty.

What is his­tor­i­cal­ly con­firmed, how­ev­er, is her mar­riage to castel­lan Win­cen­ty Gra­now­ski, who took her in Oc­to­ber 1397. From the mar­riage, which last­ed thir­teen years, at least five chil­dren were born: Jad­wi­ga, Ot­to, Elis­a­beth, Of­ka and Jan - lat­er the founder of the Pi­lec­ki fam­i­ly. The fourth (or on­ly sec­ond) hus­band of Elis­a­beth be­came the Pol­ish King La­dis­laus Ja­gieł­ło (Wła­dy­sław Ja­gieł­ło), who, af­ter the death of An­na Cy­le­js­ka, de­cid­ed to mar­ry a wid­ow, which most of the no­bil­i­ty and the roy­al court re­sent­ed, crit­i­ciz­ing both the ad­vanced age of the can­di­date and the "in­ces­tu­ous" na­ture of such a re­la­tion­ship - since Elis­a­beth's moth­er was al­so Ja­gieł­ło's god­moth­er. The coro­na­tion of the new queen was held in an at­mo­sphere of scan­dal, and many of the wealthy did not at­tend at all.

Elis­a­beth died on May 14, 1420, pre­sum­ably of tu­ber­cu­lo­sis. Just how wide­spread the dis­like of the queen was (at least ac­cord­ing to Dłu­gosz) can be wit­nessed by re­ac­tion of the in­hab­i­tants of Cra­cow: [...] the news of her death deeply pleased the roy­al court and the en­tire King­dom of Poland, for they all re­joiced to­geth­er that the dis­grace of their king had been wiped away, and at the time of the fu­ner­al they ar­ranged a greater ova­tion than at the coro­na­tion [...]. They all dressed in more fes­tive robes and took part in the queen's fu­ner­al fes­tiv­i­ties, laugh­ing and re­joic­ing.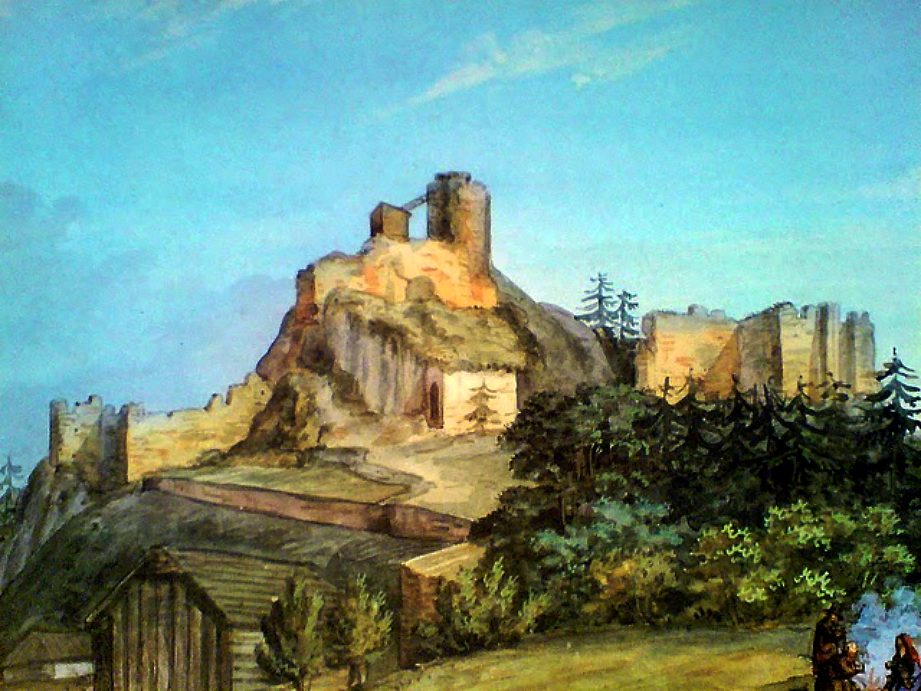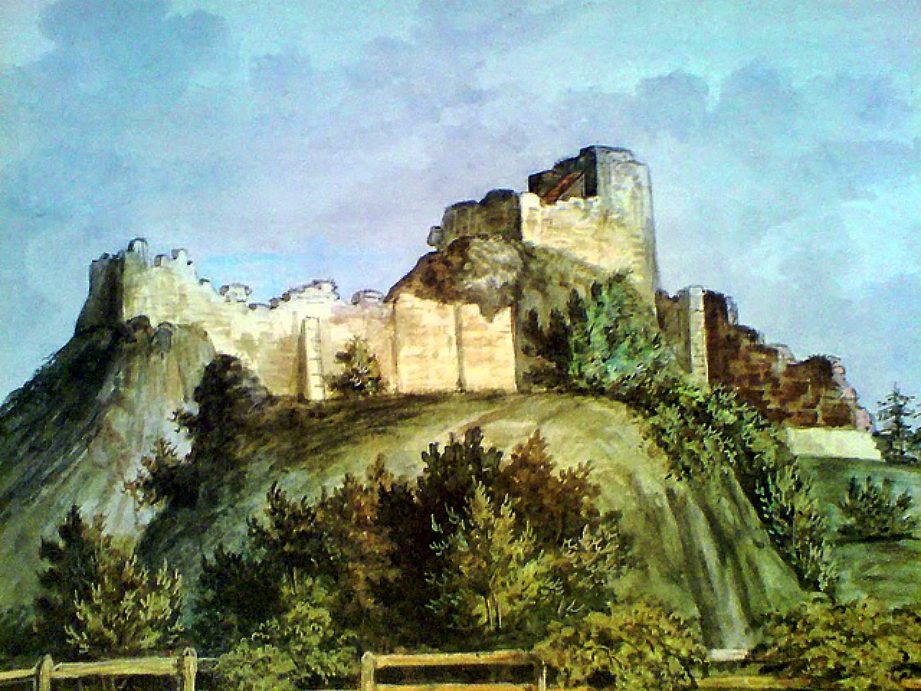 CASTLE IN SMOLEŃ, K. STRONCZYŃSKI "OPISY I WIDOKI ZABYTKÓW W KRÓLESTWIE POLSKIM 1844-55"
A
f­ter Elis­a­beth's death, the Pil­i­ca es­tate was tak­en o­ver by Jan Gra­now­ski vel Pilec­ki of Le­li­wa coat of arms
(d. 1476), step­son and trust­ed of­fi­cial of La­dis­laus Ja­gieł­ło. The Smo­leń cas­tle re­mained in the pos­ses­sion of this fam­i­ly line for more than a cen­tu­ry and a half, be­ing mod­ern­ized and ex­pand­ed sev­er­al times dur­ing that time. Jan Gra­now­ski mar­ried Jad­wi­ga Ku­row­ska (d. 1470), with whom he had three daugh­ters: Zo­fia, Ka­ta­rzy­na and Bar­ba­ra, and three sons: Sta­ni­sław, Ot­to and Jan. Fol­low­ing the di­vi­sion of his fa­ther's es­tate, Pil­i­ca, Smo­leń and Ogro­dzie­niec cas­tle
were giv­en to Jan (II) Pi­lec­ki (d. 1496), castel­lan of Biecz, pa­tron of the arts and own­er of a large book col­lec­tion kept in the Smo­leń cas­tle.
CASTLE RUINS ON A WOODCUT BY ROMAN HUBICKI, 1858
ENGRAVING BY ALFRED SCHOUPPE FROM 1860
B
e­tween 1492 and 1516, the cas­tle was home to Bier­nat of Lub­lin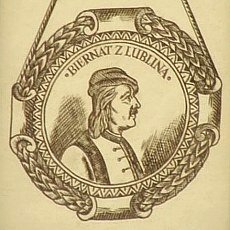 , a Re­nais­sance po­et, trans­la­tor and fab­u­list, who serves here as Jan Pi­lec­ki's per­son­al sec­re­tary. The son of this Jan, Jan (III) Pi­lec­ki spent most of his life on war ex­pe­di­tions ac­tive­ly par­tic­i­pat­ing in cam­paigns against the Tatars, Wal­lachi­ans and Rus­sians, where he fought, among oth­er things, in the fa­mous Bat­tle of Or­sha (1514). He died child­less in 1527, as a re­sult of which the cas­tle was in­her­it­ed by as many as six sons of his broth­er Sta­ni­sław, and af­ter 1560 it passed to the son of one of the six broth­ers - Jan (IV) Pi­lec­ki (d. 1574), roy­al cap­tain and the last lord of Smo­leń from Le­li­wi­ta fam­i­ly line.
GENRE SCENES FROM THE WORK OF BIERNAT OF LUBLIN: "ŻYWOT EZOPA FRYGA", 1578
A
f­ter 1570 Smo­leń be­came the prop­er­ty of the bish­op of Cra­cow Fil­ip Pad­niew­ski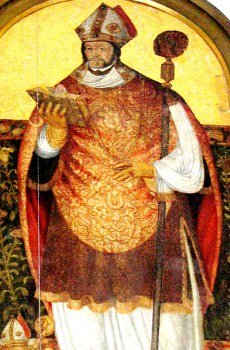 , and af­ter his un­ex­pect­ed death in 1572 it passed by in­her­i­tance to his nephew Woj­ciech Pad­niew­ski (d. 1610). The new own­er, how­ev­er, no longer lived in the cas­tle, but in a manor house lo­cat­ed at the foot of the cas­tle hill, and then in neigh­bor­ing town of Pi­li­ca, where he had erect­ed a mag­nif­i­cent res­i­dence of the pa­laz­zo in for­tez­za type. Per­haps Pad­niew­ski's de­ci­sion to leave the strong­hold, dic­tat­ed by chang­ing trends in res­i­den­tial ar­chi­tec­ture, de­vel­op­ment of firearms and, above all, the need to in­crease the com­fort of his home, was ac­cel­er­at­ed by its cap­ture in 1587 and par­tial de­struc­tion by the Aus­tri­an troops of Max­i­m­il­ian Hab­s­burg, as a re­sult of which a mod­ern­iza­tion of the cas­tle no longer made eco­nom­ic sense.
PILICA PALACE AND ITS FORTIFICATIONS ON POSTCARDS FROM THE EARLY 20TH CENTURY
A
f­ter the death of Wo­j­ciech Pad­niews­ki, his son Sta­ni­sław co­mes de Pil­cza Pad­niew­ski (d. 1611) be­came the own­er of Smo­leń and Pil­i­ca for a short time (he died just one year af­ter his fa­ther), then the es­tate passed to the Dukes of Zba­raż: Krzy­sztof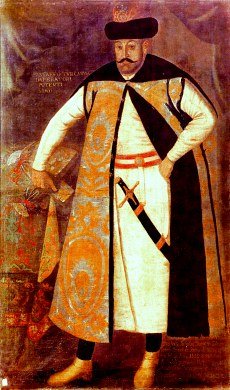 (d. 1627) and Je­rzy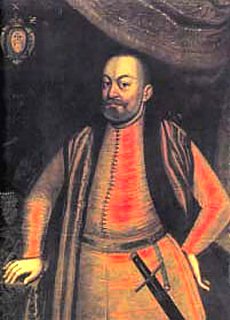 (d. 1631), and then to the rich Wiś­nio­wiec­ki fam­i­ly. Fur­ther, through mar­riage with He­le­na Wiś­nio­wiec­ka (d. 1650), it be­came part of the wealthy do­main of Ma­zo­vian voi­vode Sta­ni­sław War­szyc­ki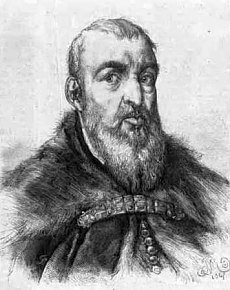 (d. 1680). By this time, how­ev­er, the cas­tle was al­most com­plete­ly aban­doned, pre­sent­ing lit­tle eco­nom­ic or mil­i­tary val­ue. As late as 1655, Pol­ish troops used it for de­fense against Swedish army, which, ac­cord­ing to tra­di­tion, cap­tured the strong­hold and then burned it. Af­ter the Swedes left, War­szy­c­ki pro­posed to the Fran­cis­cans that they adapt the dev­as­tat­ed cas­tle in­to a mo­na­stery, but the lat­ter re­ject­ed the pro­pos­al, which ul­ti­mate­ly sealed the sad fate of the me­dieval build­ing.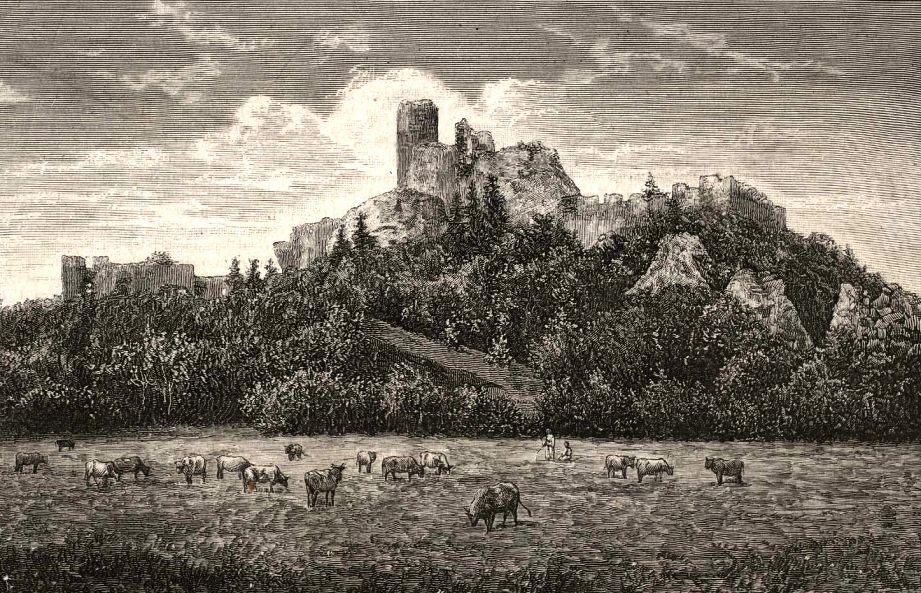 CASTLE IN SMOLEŃ, "TYGODNIK ILUSTROWANY" 1877
DRAWING BY BOLESŁAW OLSZOWSKI, 1879
S
tanisław Warszy­c­ki's great-grand­daugh­ter was Ag­nes Emer­c­jan­na War­szyc­ka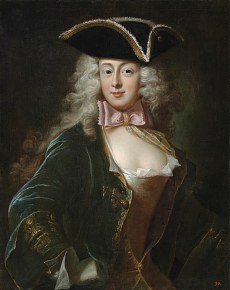 (d. ca. 1736), a wom­an so ec­cen­tric that she was con­sid­ered men­tal­ly ill. In 1730 the Pil­i­ca es­tate passed from her to King Jan III So­bies­ki's daugh­ter-in-law, Ma­ria Jó­ze­fa née Wes­sel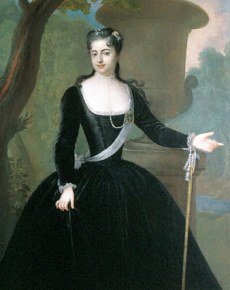 (d. 1761), to be hand­ed o­ver just be­fore her death to her nephew Te­o­dor Wes­sel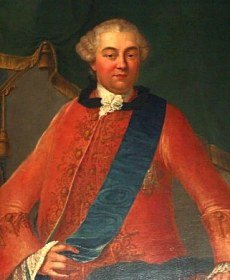 , coat-of-arms Ro­ga­la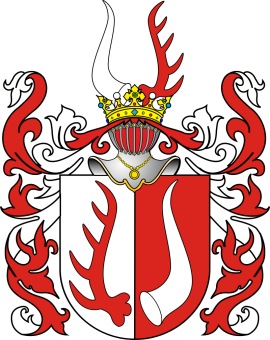 , Grand Trea­sur­er of the Crown (d. 1791). As a re­sult of the third par­ti­tion of Poland, Smo­leń came un­der the rule of the Aus­tri­an au­thor­i­ties, who or­dered the par­tial de­mo­li­tion of the cas­tle walls for the con­struc­tion of a bor­der cham­ber. Lo­cal res­i­dents and trea­sure hun­ters al­so had their share in the work of de­stroy­ing the old strong­hold; de­lud­ed by leg­ends, they dis­man­tled cas­tle walls, ac­cel­er­at­ing their ero­sion.
It should be men­tioned here that sto­ries spread­ing among the lo­cal pop­u­la­tion about a trea­sure hid­den in the cas­tle were not un­found­ed, as in the 1990s a ves­sel filled with coins dat­ing back sev­er­al cen­turies was ex­ca­vat­ed near the cas­tle.
RUINS ON A LITHOGRAPH BY NAPOLEON ORDA, 1881
D
e­mo­li­tion of the cas­tle was halt­ed on­ly in the 1840s by Ro­man Hu­bic­ki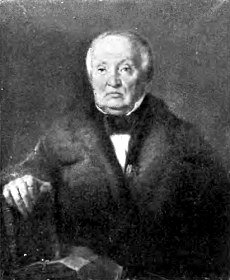 (d. 1861), owner of the Ba­ta­wia fac­to­ry pro­duc­ing shot­gun pel­lets. He used the cas­tle well to draw raw ma­te­ri­al for his pro­duc­tion, but at the same time, as a lover of his­to­ry and en­thu­si­ast of na­tion­al mon­u­ments, he tried to clean up the ru­ins. In 1845, on his or­der, the south­ern slope of Cas­tle Moun­tain was be­ing cleared, with the in­ten­tion of set­ting up a vine plan­ta­tion. Dur­ing this work, con­sid­er­able quan­ti­ties of hu­man bones, blad­ed weapons and frag­ments of war equip­ment such as spurs, stir­rups and ax­es were dis­cov­ered, prob­a­bly left here af­ter some siege of the strong­hold from me­dieval times. Around this time, the cas­tle tow­er was par­tial­ly re­stored, and in one of the bai­ley, work­ers dis­cov­ered relics of a ceme­tery dat­ing back to the Lu­sa­tian cul­ture pe­ri­od.
CASTLE MOUNTAIN, WORLD WAR I POSTCARDS
D
ur­ing World War I, the ru­ins were fired up­on sev­er­al times by Rus­sian and Aus­tri­an troops fight­ing in the area. They were pro­tect­ed on­ly in the 1950s and 1960s, but lat­er, de­prived of reg­u­lar care, de­te­ri­o­rat­ed more and more o­ver time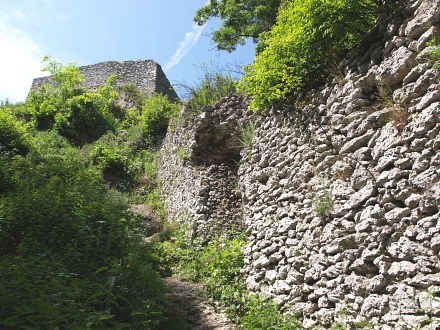 . In 2013-16, an ex­ten­sive re­vi­tal­iza­tion of the cas­tle was car­ried out on the ini­tia­tive of the Pi­li­ca town coun­cil, which brought it back to the re­gion's top tourist at­trac­tions.
WESTERN LOWER CASTLE, A VIEW BEFORE AND AFTER REVITALIZATION
In 2014, dur­ing re­vi­tal­iza­tion of the low­er cas­tle, two World War I graves were dis­cov­ered, with in­com­plete re­mains of at least three sol­diers and pos­si­bly a few more. These re­mains were bad­ly dis­mem­bered, which may in­di­cate that those buried here died as a re­sult of ar­til­le­ry fire. Al­so found at the site were pieces of mil­i­ta­ry equip­ment and uni­forms, in­clud­ing a mil­i­ta­ry buck­le and but­tons with Aus­tro-Hun­gar­i­an coat of arms, as well as am­mu­ni­tion, spoons and oil­ers used to store grease for weapon con­ser­va­tion.

UPPER CASTLE AND A FRAGMENT OF THE LOWER (EASTERN) CASTLE WALL, A VIEW BEFORE AND AFTER REVITALIZATION
DESCRIPTION OF THE CASTLE
S
moleń Cas­tle rep­re­sents a type of moun­tain fort­ress with a clear­ly de­fined up­per cas­tle built on a hard-to-reach lime­stone rock and two in­de­pen­dent low­er cas­tles. Its dom­i­nant fea­ture is a cylin­dri­cal tow­er with a di­am­e­ter of 7.5 me­ters, from which walls run along the edge of the rock. Its func­tion in the past was to de­fend the bridge­head af­ter at­tack­ers oc­cu­pied the rest of the strong­hold, and it al­so served as an ob­ser­va­tion and sig­nal­ing plat­form. In the east­ern part of the up­per cas­tle stood a build­ing of two or three sto­ries, con­nect­ed to the tow­er via a foot­bridge that led to the wood­en plat­form of the tow­er, from where stairs could be used to reach the top of it. A small space sep­a­rat­ing the build­ing from the tow­er was oc­cu­pied by a court­yard with a wa­ter cis­tern carved in­to the rock. The on­ly en­trance to the up­per cas­tle led through a wick­et in the north­ern sec­tion of the pe­ri­me­ter walls.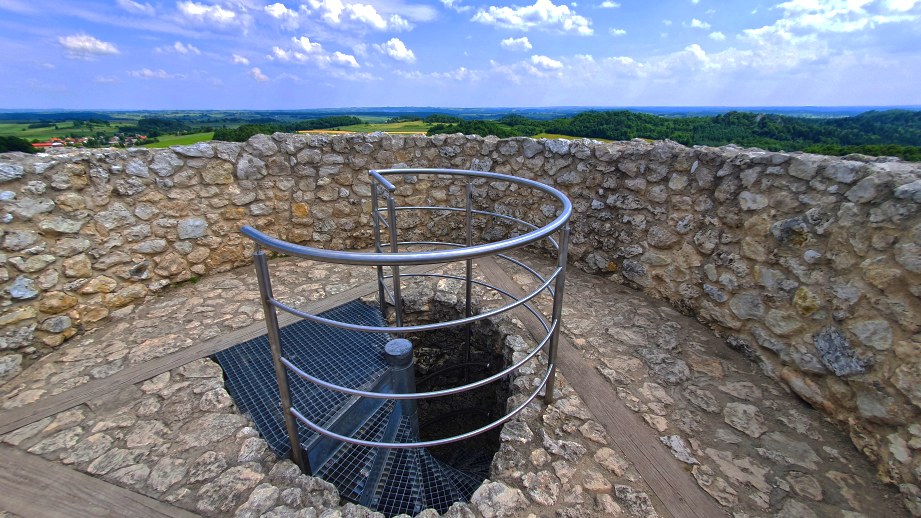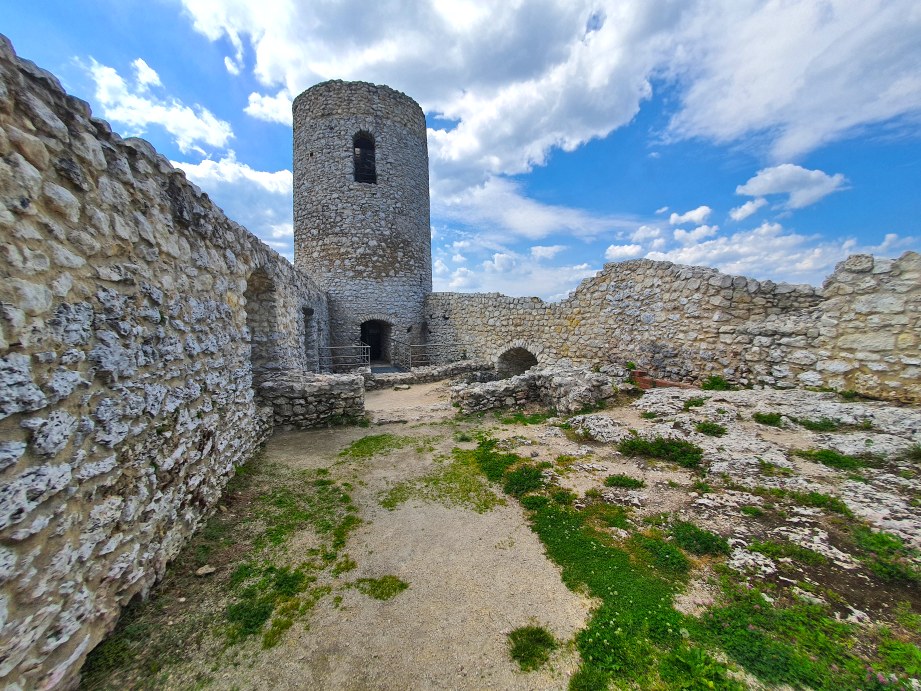 T
he eco­nom­ic life of the stronghold took place in the east­ern low­er cas­tle, en­closed by walls 2 me­ters thick, topped by a crenel­la­tion and equipped with a wood­en porch for guards. The south­east­ern part of these walls was flanked by a half-tow­er, pre­sum­ably con­nect­ed to a wood­en build­ing, the ex­is­tence of which is ev­i­denced by ar­chae­o­log­i­cal find­ings. The en­trance to the area led from the west, through a sharp-arched gate, where re­cess­es were pre­served for the mech­a­nism used to low­er the port­cul­lis. The ap­proach to the gate was im­ped­ed by a dry moat and a nat­u­ral­ly shaped ram­part formed by rocks. A draw­bridge crossed o­ver the moat, which, when raised, pro­vid­ed ad­di­tion­al pro­tec­tion for the gate.
GATE LEADING TO THE EASTERN LOWER CASTLE, VIEW BEFORE AND AFTER REVITALIZATION
I
t is like­ly that in the 2nd half of the 15th cen­tu­ry a sec­ond low­er cas­tle was erect­ed on the flat­ten­ing in the west­ern part of the moun­tain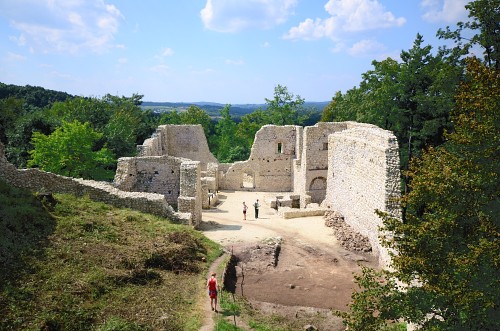 . At first, the main build­ing here was a quad­ran­gu­lar res­i­den­tial tow­er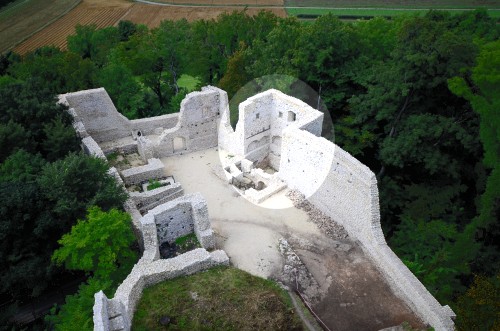 with two floors above ground and a vault­ed base­ment - there is a hy­poth­e­sis that it housed the cham­bers of Bier­nat of Lub­lin, who lived and worked in Smo­leń for 25 years. At the turn of the 15th and 16th cen­turies, the west­ern part of out­er for­ti­fi­ca­tions was re­mod­eled and, based on their new plan, the so-called palace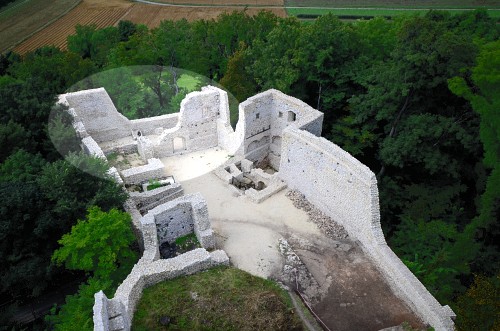 was built, hav­ing two or three sto­ries, con­nect­ed by wood­en gal­leries. His­to­ri­ans as­sume that this palace housed the fa­mous Pi­leck­is' li­bra­ry, and pos­si­bly al­so an ar­mo­ry and liv­ing cham­bers, as in­di­cat­ed by nu­mer­ous re­mains of stove tiles that have been found here.
MEDIEVAL RESIDENTIAL TOWER AT THE EASTERN LOWER CASTLE
T
he en­trance to the west­ern low­er cas­tle led through a gate­way in the south­ern wall
, al­though due to its nar­row width it was more of an en­trance for pedes­tri­ans or, even­tu­al­ly, those mov­ing on horse­back. A well was carved near the gate, the depth of which is as yet un­known, but it is be­lieved that it may have orig­i­nal­ly reached up to 100 me­ters. The up­per cas­tle could on­ly be ac­cessed from the west­ern low­er cas­tle.
THE WELL AT THE LOWER CASTLE, VIEW BEFORE AND AFTER REVITALIZATION
PLAN OF SMOLEŃ CASTLE: A. UPPER CASTLE, B. EASTERN LOWER CASTLE, C. WESTERN LOWER CASTLE,
1. MAIN TOWER, 2. RESIDENTIAL BUILDING IN THE UPPER CASTLE, 3. HALF-TOWER, 4. ARTILLERY GUN EMPLACEMENTS,
5. GATE, 6. RESIDENTIAL TOWER, 7. PALACE, 8. WELL, 9. TOWER, 10. GATE, 11. REMAINS OF WOODEN BUILDINGS,
12. ENTRANCE TO THE UPPER CASTLE
---
T
he ru­ins are lo­cat­ed on the top of a con­i­cal moun­tain cov­ered with dense for­est. Al­most com­plete out­er walls of the low­er cas­tles and the up­per cas­tle have been pre­served to the pre­sent day, which, thanks to suc­cess­ful re­stora­tion, are now close to their orig­i­nal height. Walls of the res­i­den­tial build­ings have al­so been par­tial­ly re­con­struct­ed, and wood­en porch­es have been built for tour­ists at some sec­tions of the east­ern court­yard walls, which im­i­tate me­dieval guard gallery.
RECONSTRUCTION OF THE WOODEN GALLERIES AT THE LOWER CASTLE
T
he re­con­struc­tion has not erased re­mains of old por­tals, open­ings for ceil­ing beams and relics of the fur­nace, which, af­ter clean­ing the lime­stone walls, are now clear­ly vis­i­ble. A sol­id wood­en stair­case leads from the west­ern court­yard to the up­per cas­tle with a tow­er, which was in­ac­ces­si­ble un­til re­cent­ly. To­day there is a view­ing plat­form on top of it, from where one can en­joy a vast panora­ma of the pic­turesque Kraków-Czę­to­chows­ka Up­land.
IN THE WEST COURTYARD / CONTEMPORARY STAIRCASE TO THE UPPER CASTLE
A 4.3-hectare Smo­leń Na­ture Re­ser­ve was es­tab­lished on the cas­tle hill. It is home to a beech-horn­beam and larch for­est with beau­ti­ful spec­i­mens of sy­ca­more and larch, of­ten 200 years old. Its flo­ra is rep­re­sent­ed by more than 200 species, while its fau­na in­cludes among oth­ers 34 species of snails. The re­serve al­so fea­tures beau­ti­ful rock for­ma­tions shaped in karst pro­cess­es: Za­wi­sza, Wy­pa­le­niec, Gaj and Sy­mu­lo­wa Rock in Zło­że­niec. Ap­prox­i­mate­ly 1.5 kilo­me­ters south of the cas­tle are Ze­ga­ro­we Rocks with caves where re­mains of hu­man set­tle­ments 40,000 years old have been found.
| | |
| --- | --- |
| | Admission fee (ticket office is located at the parking lot at the foot of the cas­tle hill) |
| | |
| --- | --- |
| | A visit to the castle, including the climb up the hill and back, will take at least 1 hour. |
| | |
| --- | --- |
| | It is forbidden to bring dogs into the re­serve. |
| | |
| --- | --- |
| | The site is not equipped to handle people with phy­si­cal dis­abi­li­ties. |
VIEW FROM THE MAIN TOWER LOOKING SOUTH
---
S
moleń can be reached by local buses that run here from the towns of Pi­li­ca and Wol­brom. You can al­so make a day trip on foot or by bi­cycle from Ogro­dzie­niec via Ry­czów and Byd­lin, through for­ests and mea­dows of the beau­ti­ful Ju­ra region.
| | |
| --- | --- |
| | There is free parking near the castle hill. |
| | |
| --- | --- |
| | Bicycles can be brought into the ruins. |
---
1. W. Alexandrowicz: Malakofauna w ruinach zamku Smoleń, Chrońmy Przyr. Ojcz. 70/2014
2. M. Antoniewicz: Zamki na Wyżynie Krakowsko-Częstochowskiej...
3. B. Czwojdrak: "To jest rzecz niesłuszna i być nie może!" Skandale w rodzinie, Pomocnik Hist. 5/2017
4. L. Kajzer, J. Salm, S. Kołodziejski: Leksykon zamków w Polsce, Arkady 2001
5. K. Moskal: Leliwici z Melsztyna i ich zamki, Koliber 2007
6. R. Rogiński: Zamki i twierdze w Polsce, historia i legendy, IWZZ 1990
7. R. Sypek: Zamki i obiekty warowne Jury Krakowsko-Częstochowskiej, CB
8. A. Wagner: Murowane budowle obronne w Polsce X-XVIIw., Bellona 2019
9. J. Zinkow: Orle gniazda i warownie jurajskie, Sport i turystyka 1977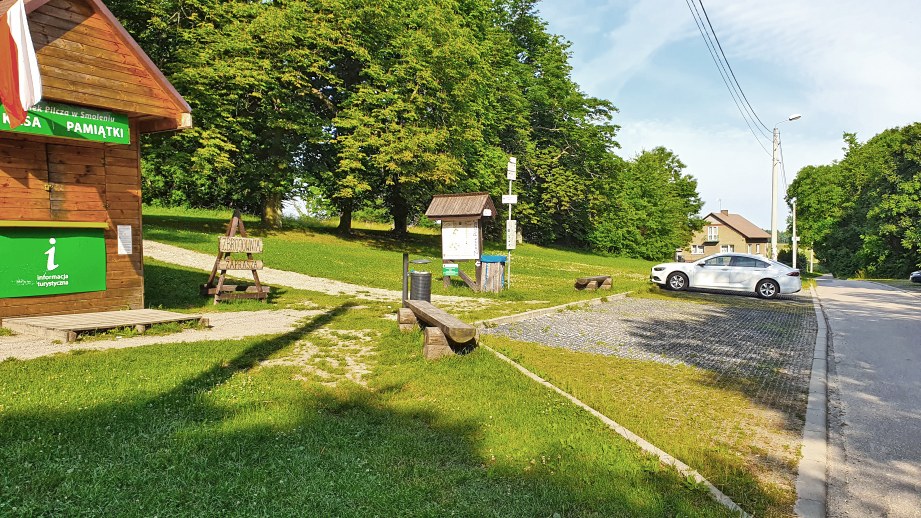 Castles nearby:
Pilica - palazzo in fortezza type castle, 4 km
Ryczów - ruins of a royal watchtower from the 14th century, 7 km
Udórz - relics of a knight's castle from the 14th century, 9 km
Bydlin - ruins of a knight's castle from the 14th century, 12 km
Podzamcze - Ogrodzieniec castle ruins from the 14th-16th centuries, 13 km
Morsko - castle ruins from the 14th century, 22 km
Rabsztyn - ruin of a royal castle from the 14th century, 23 km
Pieskowa Skała - royal castle from the 14th-17th centuries, 28 km
Wysocice - fortified church from the 12th-13th centuries, 30 km
Sławków - castle ruins from the 13th century, 32 km
Ojców - ruin of a royal castle from the 14th century, 34 km
Siewierz - ruin of the bishops of Cracow castle from the 15th century, 38 km
Bobolice - royal castle (reconstruction), 39 km
Korzkiew - knight's castle from the 14th century, 41 km
Mirów - ruins of a knight's castle from the 14th century, 41 km

text: 2023
photos: 2009, 2014, 2022
© Jacek Bednarek