BYDLIN

ruined knight's castle
BYDLIN, AERIAL VIEW OF THE RUINS
---
D
ue to the lack of pri­ma­ry sources, we are not able to de­ter­mine be­yond a rea­son­able doubt who erect­ed the cas­tle in By­dlin and when it took place. The old­est doc­u­ment we know of, that men­tions cas­trum in By­dlin, dates back to 1398. Its own­ers at the time were Peł­ka and Nie­mie­rza, heirs of Nie­mie­rza of Goł­cza (d. 1351), who is wide­ly be­lieved to be the founder of the strong­hold (al­though there is no ev­i­dence of this). Peł­ka and Nie­mie­rza were of­fi­cial­ly the sons of Nie­mie­rza of Goł­cza, but ac­cord­ing to some his­to­ri­ans, their bi­o­log­i­cal par­ents were King Ca­si­mir the Great (Ka­zi­mierz Wiel­ki)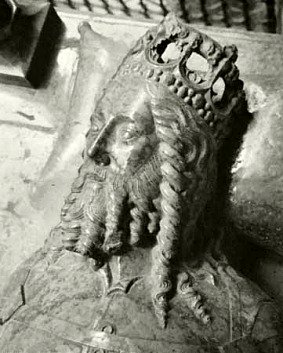 of Poland, and Nie­mie­rza's wife and the king's mis­tress, a cer­tain Cud­ka.
RECONSTRUCTION OF THE CASTLE BY B. DREJEWICZ, R. SYPEK "ZAMKI I OBIEKTY WAROWNE JURY KRAKOWSKO-CZĘSTOCHOWSKIEJ"
I
n the sec­ond half of the 15th cen­tu­ry By­dlin be­longed to the Szcze­pa­now­ski fam­i­ly, lat­er its own­ers were the Brze­zic­ki fam­i­ly, and then the Bo­nars, who con­vert­ed the cas­tle in­to a church in the ear­ly 16th cen­tu­ry. In 1546 Zo­fia Bo­nar gave the vil­lage as a mar­riage dowry to Jan Fir­lej of Le­wart coat of arms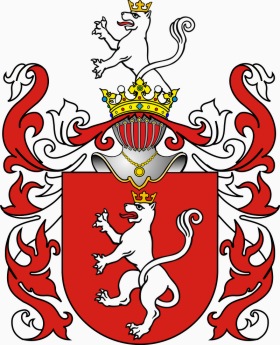 (d. 1574), a roy­al deputy and sup­port­er of Cal­vin­ism, who turned the Ca­tho­lic tem­ple in­to a Pro­tes­tant church. How­ev­er, as ear­ly as 1594 his son Mi­ko­łaj
(d. 1601) gave the build­ing back to the Ca­tho­lics, but be­fore that he re­built and ren­o­vat­ed it. As a re­sult of these works, a pe­ri­me­ter wall and a gate tow­er were de­mol­ished, the win­dow lay­out was changed, as well as the in­te­ri­or lay­out and dec­o­ra­tion. The church then re­ceived the name of Holy Cross.
STAIRS LEADING TO THE CASTLE
I
n 1655, the church was in­vad­ed, loot­ed and burned by Swedish oc­cu­piers. And al­though the Mę­ciń­ski fa­mi­ly re­built it in the 1730s, fre­quent lat­er rob­bery at­tacks, ne­glect and fires left it in ru­ins by the end of the 18th cen­tu­ry. From then on, the cas­tle stood aban­doned and for­got­ten for 200 years. It was on­ly in 1989 that ar­chae­ol­o­gists dis­cov­ered here, among oth­er things, foun­da­tions of the gate tow­er and a crypt with two rock-cut graves con­tain­ing hu­man re­mains. They al­so found a denar­ius of Louis of Hun­gary and so­li­di of Si­gis­mund III Va­sa, as well as nu­mer­ous frag­ments of pot­tery and stove tiles.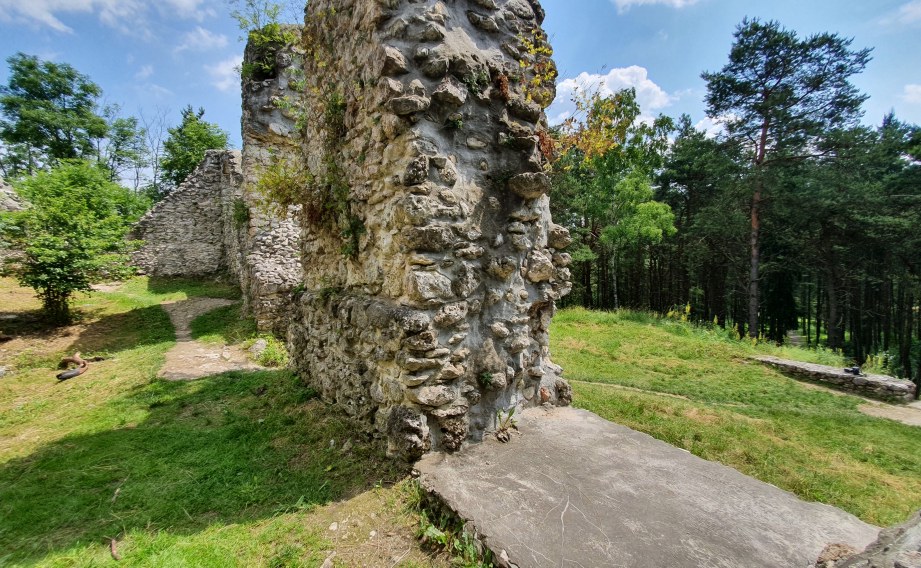 The cas­tle ru­in is lo­cat­ed near two vil­lages: Krzy­wo­pło­ty and Za­łę­że. There, on Nov­em­ber 17 and 18, 1914, a bat­tle took place be­tween Pol­ish troops (be­long­ing to the Aus­tri­an army) un­der the com­mand of Ma­jor Mie­czy­sław Ryś Tro­ja­now­ski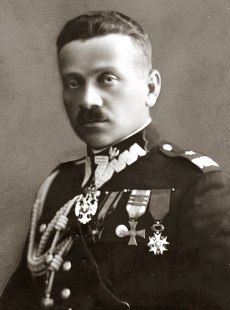 and the Tsarist Si­beri­an Ri­fle Di­vi­sion. The Poles dug in on hills in the vil­lages of By­dlin and Krzy­wo­pło­ty, while the Rus­sians took their po­si­tions in forests near Smo­leń and Do­ma­nie­wi­ce. As a re­sult of fierce fight­ing, both sides suf­fered sig­nif­i­cant loss­es - on­ly on the Pol­ish side there were 46 killed and 131 wound­ed or cap­tured. One of those killed was Lt. Sta­ni­sław Pa­de­rew­ski, step-broth­er of Pol­ish Prime Min­is­ter Ig­na­cy Pa­de­rew­ski.

To this day, trench­es and oth­er field for­ti­fi­ca­tions made by Aus­tri­an sap­pers (sup­port­ing the Pol­ish troops) have been pre­served on the slopes of the cas­tle hill. Trench­es and ditch­es wrap vir­tu­al­ly the en­tire hill, and their to­tal length is about 1 kilo­me­ter.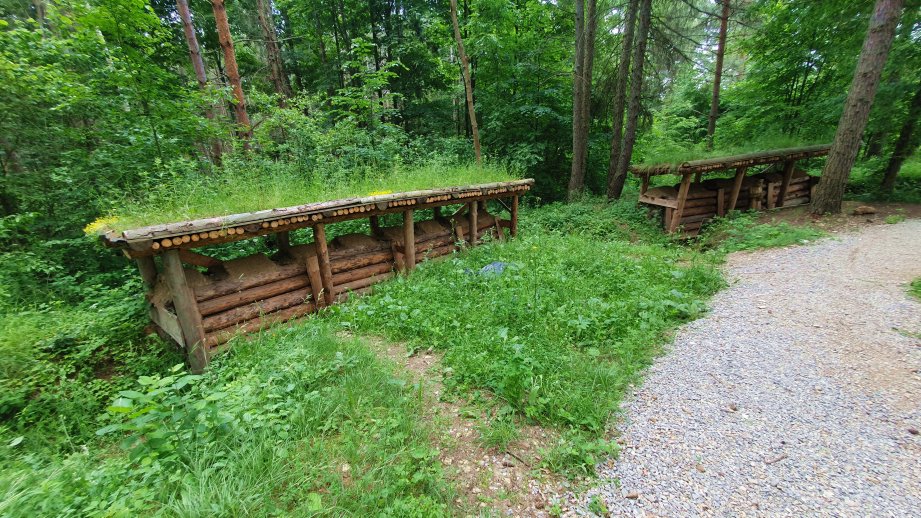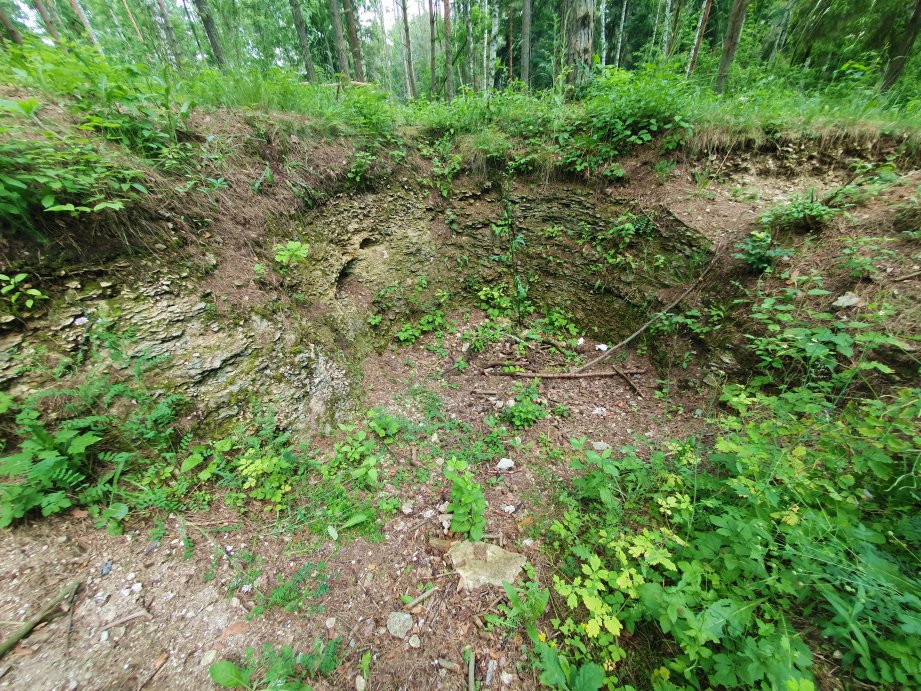 WORLD WAR 1 TRENCHES AT THE FOOT OF THE CASTLE HILL
DESCRIPTION OF THE CASTLE
T
he dom­i­nant el­e­ment of the cas­tle was a three-sto­ry res­i­den­tial tow­er, built on a rect­an­gu­lar plan with sides of about 11x24 me­ters, fea­tur­ing cor­ner but­tress­es that sup­port­ed walls up to 2.3 me­ters thick. Its ceil­ings were made of wood, and its par­ti­tion walls - of wood and clay. The en­trance to the tow­er led through a por­tal lo­cat­ed 2.5 me­ters above ground lev­el, to which a wood­en stair­case or porch was at­tached. Ogee win­dows and small­er slit-type win­dows pro­vid­ed light ac­cess to its in­te­ri­or. In the sec­ond phase of con­struc­tion, prob­a­bly still in the 14th cen­tu­ry, a pe­rime­ter wall with a gate tow­er was added to the res­i­den­tial tow­er from the south, thus form­ing a small court­yard. The cas­tle was sur­round­ed by an earth­en ram­part and a dry moat.
FREE INTERPRETATIONS OF THE CASTLE'S APPEARANCE IN THE MEDIEVAL PERIOD (ABOVE) AND AFTER CONVERSION TO A CHURCH
S
ome of win­dows in the tow­er were bricked up as part of the cas­tle's con­ver­sion to a church in the 16th cen­tu­ry. At that time, its in­te­ri­or was di­vid­ed in­to three small­er ar­eas: a nave, a chan­cel and a small cham­ber, which prob­a­bly served some aux­il­iary func­tion - per­haps a porch or chapel. Ad­di­tion­al win­dows were al­so made on the court­yard side to bright­en in­te­ri­ors of the new tem­ple.
PLAN OF THE CASTLE IN BYDLIN: 1. RESIDENTIAL TOWER (CHURCH), 2. WALL, 3. GATE TOWER, 4. ESCARPMENT
RUIN OF A RESIDENTIAL TOWER (CHURCH)
---
T
he res­i­den­tial tow­er, foun­da­tions of the pe­ri­me­ter walls and ditch­es left by the moat have par­tial­ly sur­vived to the pre­sent day. The south wall of the tow­er col­lapsed in 2009, but it was re­con­struc­ted three years lat­er (p. pho­tos be­low). As part of the ren­o­va­tion work car­ried out at the time, joints in the walls were re­plen­ished, wild veg­e­ta­tion over­grow­ing the plateau was re­moved and the stairs were re­paired.
BYDLIN CASTLE BEFORE THE COLLAPSE OF THE SOUTH WALL (ABOVE) AND AFTER PARTIAL RECONSTRUCTION
| | |
| --- | --- |
| | Free admission |
| | |
| --- | --- |
| | Dogs allowed |
| | |
| --- | --- |
| | It takes about half an hour to explore the ruins and war tren­ches (in­cluding the walk to and from the par­king lot). |
| | |
| --- | --- |
| | The site is not friendly to people with mo­bi­li­ty dis­abi­li­ties (loose road sur­face, steep stairs). |
| | |
| --- | --- |
| | Military flight zone. Its status can be checked in the DRONE­RADAR app. |
RUIN OF THE RESIDENTIAL TOWER
---
B
ydlin is located about 15 kilo­me­ters north­east of Ol­kusz and about 10 ki­lo­me­ters south of Smo­leń cas­tle. You will find the ruin in the north­ern part of the vil­lage, on a hill next to the ce­me­tery.
| | |
| --- | --- |
| | Free parking at the cemetery (By­dlin, Za­wad­ka Street, about 200 me­ters away from the ruins). |
| | |
| --- | --- |
| | Bicycles can be brought up the cas­tle hill. |
TOURIST SHELTER AT THE FOOT OF THE CASTLE HILL
---
1. M. Antoniewicz: Zamki na Wyżynie Krakowsko-Częstochowskiej...
2. I. T. Kaczyńscy: Zamki w Polsce południowej, Muza SA 1999
3. L. Kajzer, J. Salm, S. Kołodziejski: Leksykon zamków w Polsce, Arkady 2001
4. R. Sypek: Zamki i obiekty warowne Jury Krakowsko-Częstochowskiej
5. J. Zinkow: Orle gniazda i warownie jurajskie, Sport i Turystyka 1977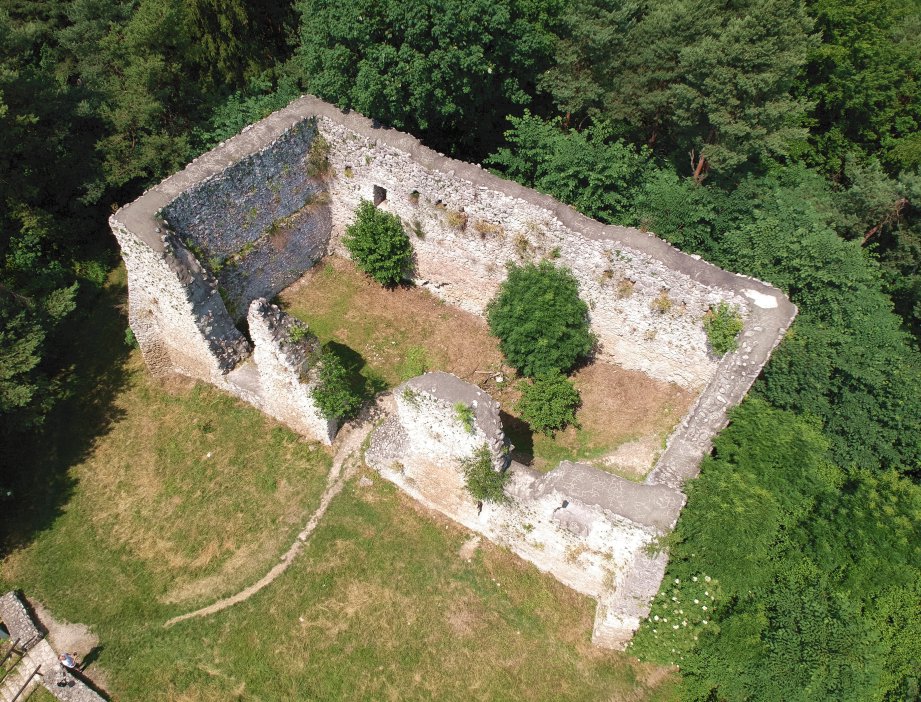 Castles nearby:
Smoleń - ruins of a knight's castle from the 14th century, 12 km
Udórz - relics of a knight's castle from the 14th century, 12 km (by bike), 19 km (by car)
Ryczów - ruins of a royal watchtower from the 14th century, 13 km
Pilica - a knight's castle from the 14th century, rebuilt, 15 km
Rabsztyn - ruins of a royal castle from the 14th century., 14 km
Podzamcze - ruins of Ogrodzieniec castle from the 14th-16th centuries, 17 km
Pieskowa Skała - a royal castle from the 14th-17th centuries, 26 km
Sławków - relics of a 13th century bishop's castle, 28 km
Wysocice - a fortified church from the 12th-13th centuries, 28 km
Morsko - ruins of a castle from the 14th century, 30 km
Ojców - ruins of a royal castle from the 14th century, 33 km
Korzkiew - a knight's castle from the 14th/15th century, 39 km
Mirów - ruins of a knight's castle from the 14th century, 39 km
Bobolice - a royal castle (reconstructed), 40 km
Siewierz - ruins of the Cracow bishops' castle from the 15th century, 40 km

---
The ceme­tery, lo­cat­ed at the foot of the cas­tle hill, con­tains war quar­ters where 46 Pol­ish sol­diers killed in the bat­tle of Krzy­wo­pło­ty and 284 un­named sol­diers of the Rus­sian and Aus­tri­an armies (main­ly Hun­gar­i­ans, Slo­vaks, Czechs and Poles) were buried. At the en­trance to the ceme­tery a brick chapel erect­ed in the 18th cen­tu­ry on the site of a for­mer her­mitage.
---
About 10 kilo­me­ters away from By­dlin (south­west di­rec­tion) is Poland's largest area of sand called the Błę­dow­ska Desert, 10 kilo­me­ters long and 4 kilo­me­ters wide. To­day, the desert has been most­ly over­grown with bushes, but large ar­eas of ex­posed sand still re­main. The most in­ter­est­ing view of the desert is of­fered from the van­tage point in the vil­lage of Che­chło, while its most im­pres­sive panora­ma can be seen from the ob­ser­va­tion ter­race in Klu­cze.
text: 2022
photographs: 2009, 2021
© Jacek Bednarek